A hearty, flavorful and healthy salad made with leftover turkey or chicken, this Turkey Cranberry Salad with Pecans is a great lunch idea during the holiday season, or anytime!  It's Paleo, low carb, and Whole30 friendly, and can be served warm or cold.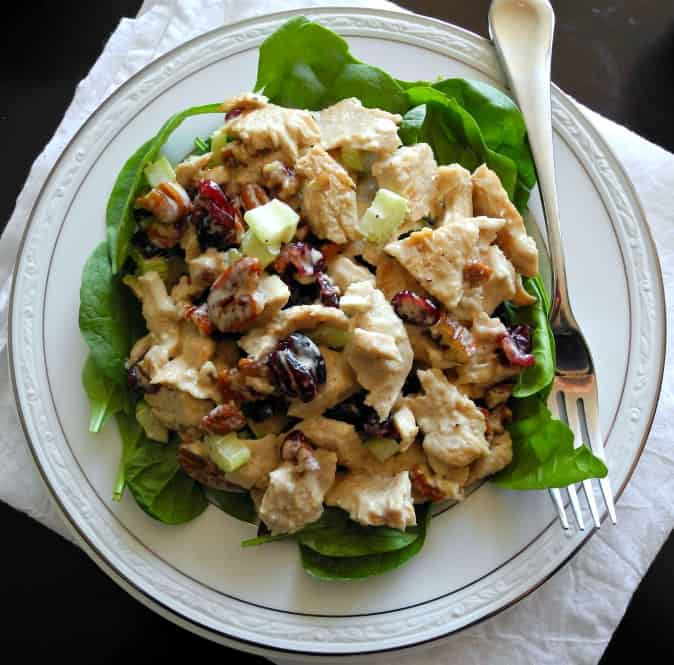 Anything warm just sounds really good right about now.  Oops that was another weather reference.  Getting old, I know.  Anyway, this Paleo turkey cranberry salad with walnuts is meant to be served warm, which makes it the perfect kind of salad for winter!
I think it's so funny that I still get that "feel good Friday" thing even though Fridays now don't mean much of anything fun or feel good, and haven't for a long time, since weekends can be just as much work as weekdays (if not more!)  Especially if I have an early, cold  (weather again) long run planned like I do for tomorrow.
Why do I do this to myself?  Because I feel awesome when I come back, yes, right.  And because the long run will not run itself, you have to show up to gain that fitness.  And after that's done with, the real fun for the weekend can finally begin.  With laundry, the dishwasher, and cleaning up toys it's just one big party.   There is seriously no greater feeling than stepping in the house after a long winter run, regardless of what goes on afterwards.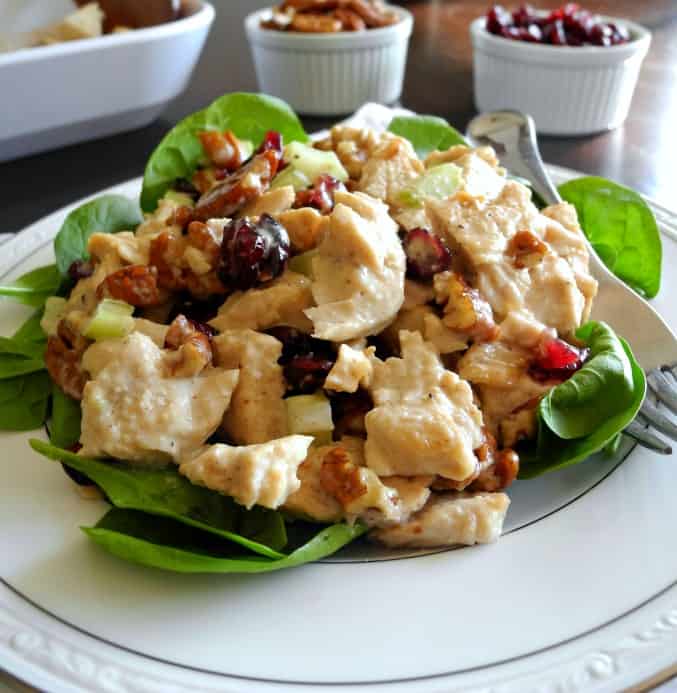 Back to food, and back to this salad.
I love chicken salad made with homemade mayo, we all know that by now and it's not changing.  I decided to do a little variation on it, a delicious "winter" version, if you will.  So it's not chicken at all, it's turkey, and it's served warm, so there's less waiting.  When you're hungry waiting is just no fun!
Also, unlike a cold chicken salad, you don't have to plan this in advance, you can be spontaneous and spur of the moment and all that good stuff (don't feel committed to serving it warm, though, it's just as good cold!)  You can make this with turkey cutlets or make good use of leftover roasted turkey (or chicken) for a quick meal.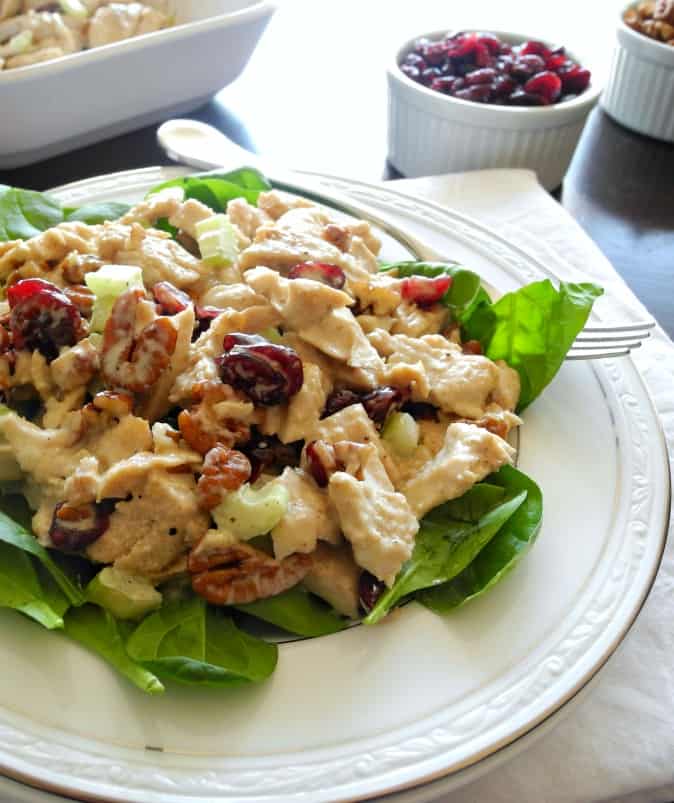 Warm Turkey Cranberry Walnut Salad
A Paleo friendly, warm turkey salad made with pan fried turkey breasts, homemade mayonnaise, dried cranberries and chopped walnuts. Grain free, gluten free, dairy free, paleo.
Prep Time: 10 minutes
Cook Time: 10 minutes
Total Time: 20 minutes
Course: Salad
Cuisine: Paleo
Servings: 4 servings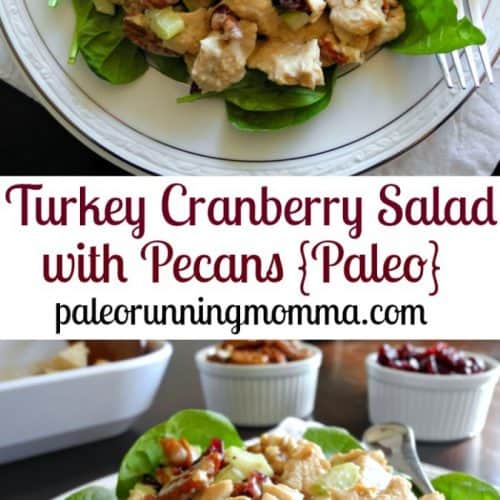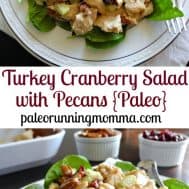 Ingredients
1 lb Turkey breast cutlets or tenderloin if you don't have leftover turkey or chicken OR
chopped/shredded leftover turkey or chicken meat 3 cups
1/2 tsp sea salt pepper
1 tsp onion powder
2 tbsp lard tallow, ghee, coconut oil or other cooking fat
1/2 cup homemade mayo* or preferred mayo
1/2 chopped pecans
1/2 cup dried cranberries
Instructions
Flatten or slice the turkey cutlets so they are about 1/2-3/4 inch thickness, and season with sea salt, pepper, and onion powder (skip this is you're using leftover meat)

Heat a large skillet over medium heat and add the 2 tbsp cooking fat

Once heated, add the turkey to the pan and cook about 5 minutes on each side, or until cooked through (no longer any pink in the middle)

While the turkey cooks, make your mayo*

Once the turkey is done, place it on a cutting board and let it cool slightly before chopping it into bite size pieces.

In a large bowl, add the chopped turkey (or leftovers), cranberries, chopped pecans, and toss with about 1/4 cup of mayo. Add more mayo to suit your preference. (If you're making this a warm salad, the mayo will melt and look more like a glaze or sauce.)

Serve right away over greens, in lettuce boats, or however you'd like. You can save leftovers in an air tight container in the fridge.
*Here is my recipe for homemade mayo.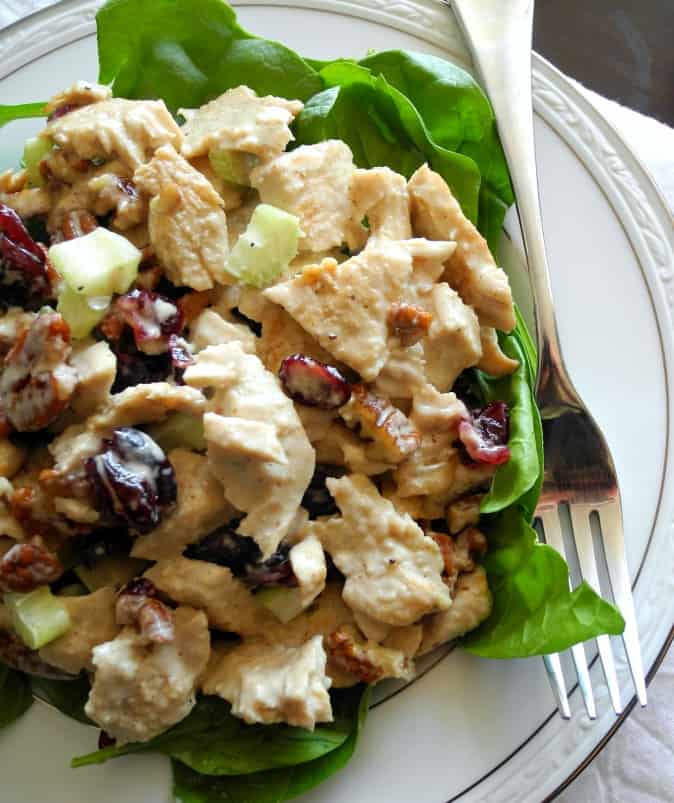 Perfect for a weekend lunch, and yes, you can eat the leftovers cold, I mean "chilled" (if you're fancy.)  Heck, you can make the whole thing into a cold salad by letting the turkey cool completely or using cold leftover turkey if that's more appealing to you. Whatever floats your lettuce boat is just fine with me 🙂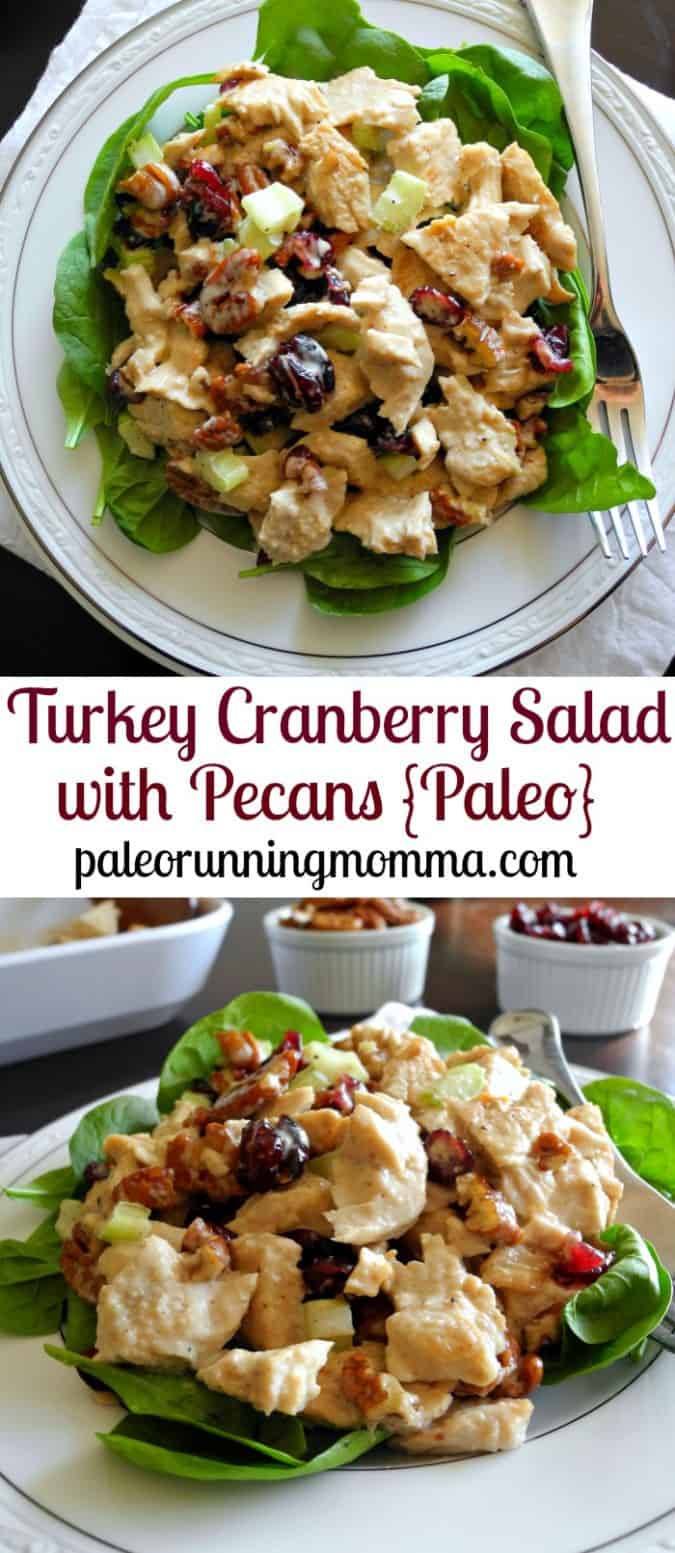 Do you get that "fun Friday" feeling? 
Have you used mayo in a warm dish?  It's way better than you might think!
Enjoy your weekend everyone!