These strawberry shortcake cookies are super soft and cake-like with buttery flavor, loads of sweet juicy strawberries and maple glaze.  They're paleo, grain free, gluten-free, kid approved, and irresistibly delicious!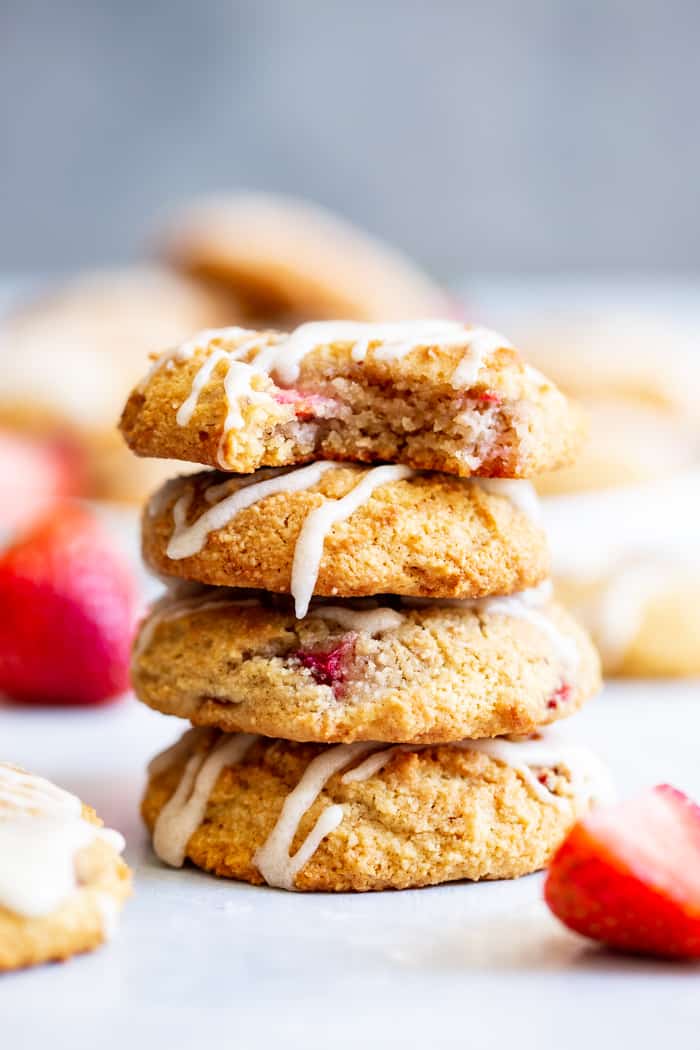 Since we're all putting berries in everything lately I decided it was time for cookies to have their chance.    I thought about blueberry muffin cookies (still working on those) but made these strawberry shortcake ones first and HAD to share ASAP.
Now, you might be wondering what makes these strawberry "shortcake" cookies rather than simple strawberry cookies, and I do have an answer.
The cookies themselves turn out cake-like due to the flour combo along with extra moisture from the strawberries.  They're soft and buttery sweet, with a creamy glaze that will absolutely make you think of strawberry shortcake!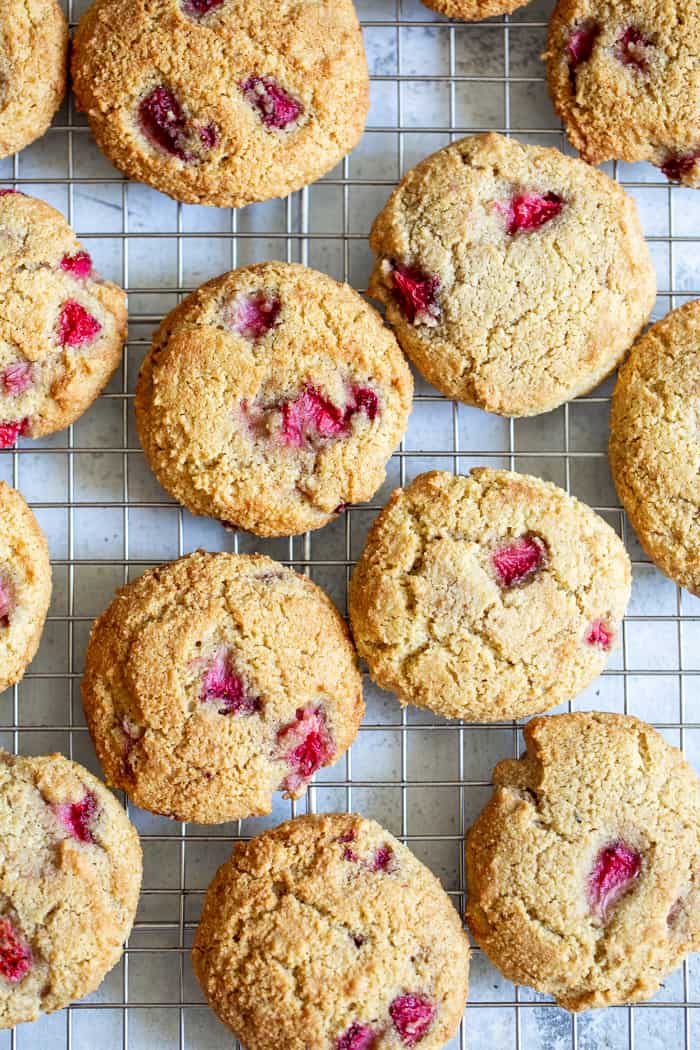 Of course, these cookies faster and easier than making actual paleo strawberry shortcakes.  If you happen to be inclined though, check out this recipe for the real deal – so good!
If you're sticking with the cookies for now, you're in for a major treat though – and one that's ready from start to finish in 30 minutes – no dough chilling at all!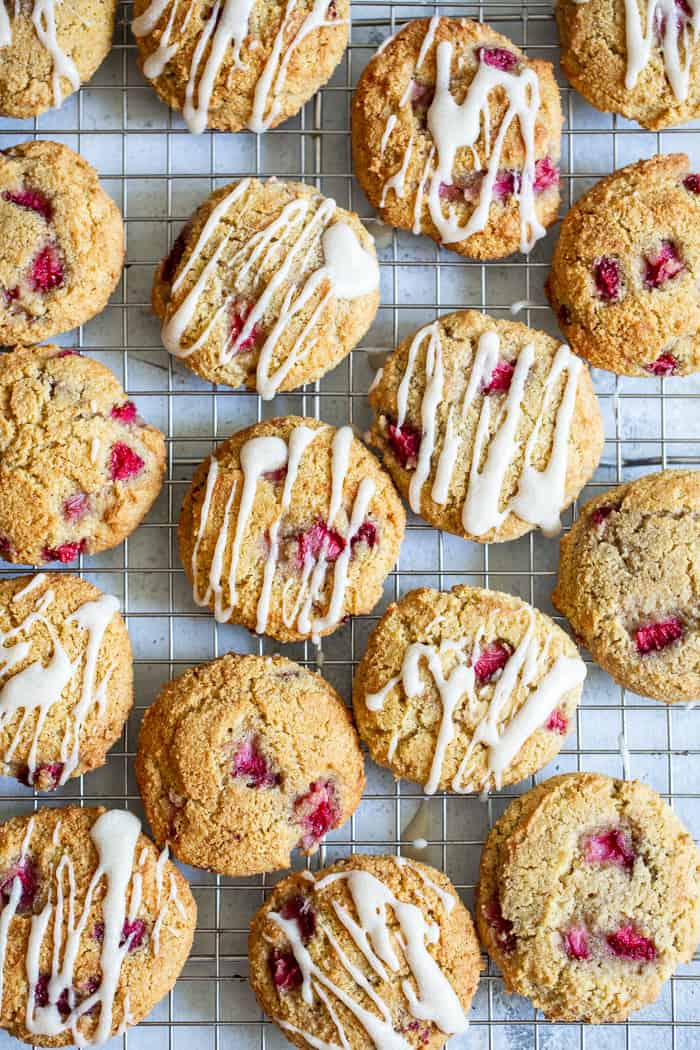 We start with fresh strawberries.  Chop them and let them drain on paper towels while you prepare the dough.  It's ghee (for that amazing buttery flavor!), maple sugar, and a combination of almond and tapioca flours that make up the base of these cookies.
Once the dough is mixed, squeeze extra water out of the strawberries and fold them in.  Scoop the dough onto parchment lined cookie sheets, and press down just a bit since they'll only spread a little.
These cookies bake a little bit longer than most – about 12 minutes in a 375° F oven – or until lightly browned all over.  They'll be super soft at first, but will firm up while cooling.
However, because of the moisture from the strawberries, they'll remain soft.  The texture is a cross between a cake and a cookie, and the flavor is just perfect.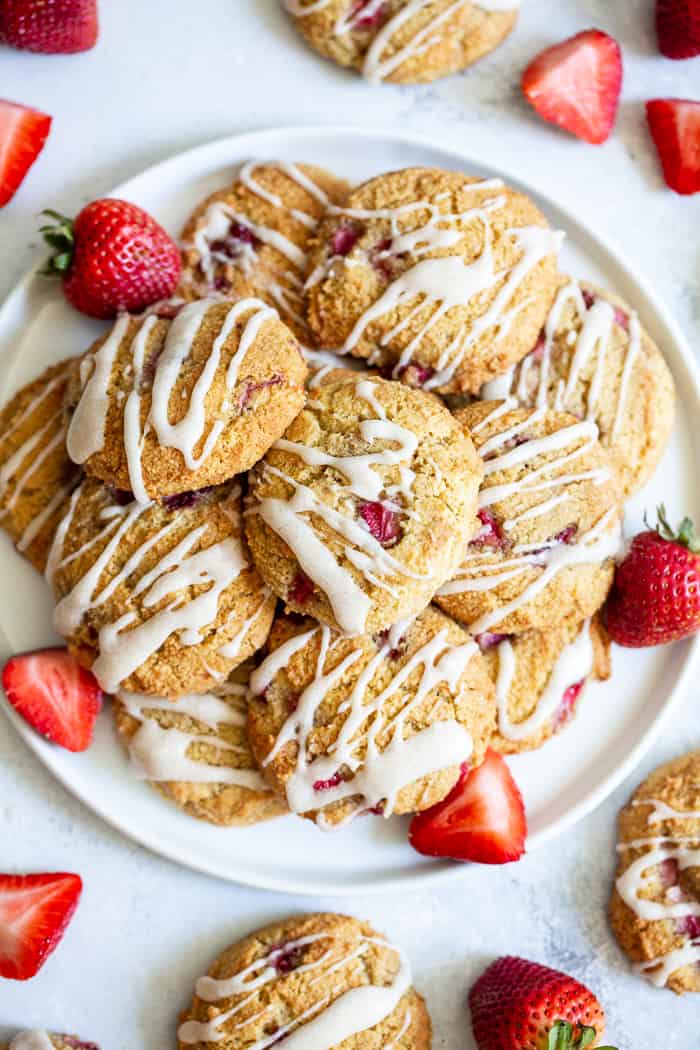 The glaze can be made with either maple sugar or organic powdered sugar.  For the photos, I used organic powdered sugar because it creates a white icing that contrasts beautifully with the golden brown cookies.
The maple sugar icing (see notes) will be a light caramel color, and the flavor is even better than the white icing in my opinion.  You can drizzle on the glaze when they're still a bit warm since it will harden as the cookies cool.
I hope you're ready for paleo strawberry shortcake cookies that will rock your BERRY world and make everyone in the family happy!  Not that I'm telling you to share – because obviously you don't have to.  But, you do HAVE to make these, so let's go!
Paleo Strawberry Shortcake Cookies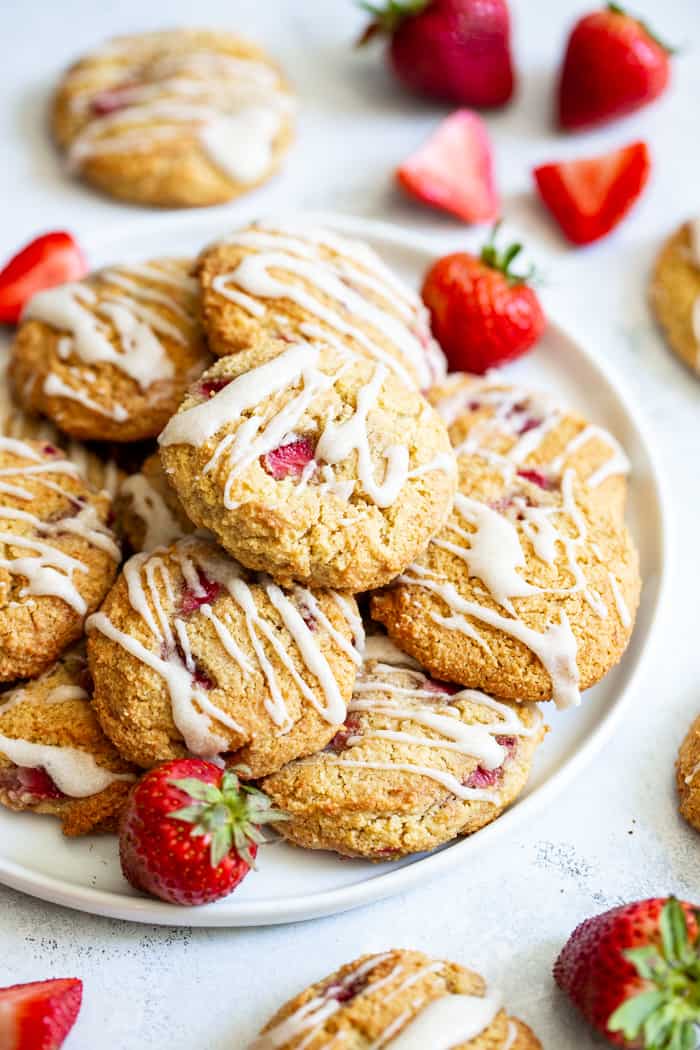 Paleo Strawberry Shortcake Cookies
These strawberry shortcake cookies are super soft and cake-like with buttery flavor, loads of sweet juicy strawberries and maple glaze. They're paleo, grain free, gluten-free, kid approved, and irresistibly delicious!
Prep Time: 15 minutes
Cook Time: 12 minutes
Cooling time: 15 mins
Course: Baking/Dessert
Cuisine: Paleo
Servings: 16 cookies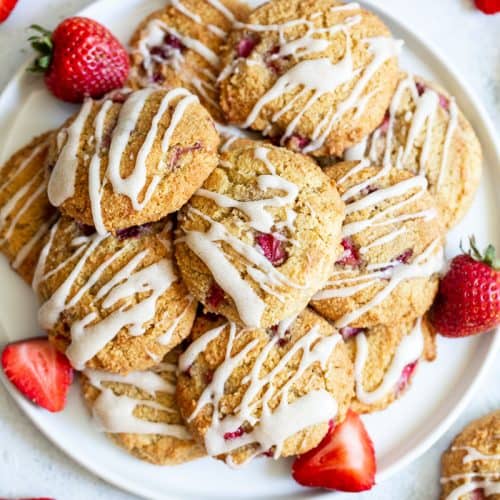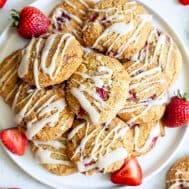 Ingredients
Glaze:
1/2 cup powdered maple sugar (see note) OR organic powdered sugar
1-2 Tbsp coconut cream or milk see instructions
Instructions
Before beginning, chop the strawberries and place on paper towels while you prepare the dough.

Preheat your oven to 375° F and line a large cookie sheet with parchment paper. Place the ghee and maple sugar in a large bowl and beat until smooth with an electric hand mixer or whisk. Beat in the egg and vanilla until smooth and creamy.

In a separate bowl, combine the dry ingredients, then stir into the wet mixture until a thick dough forms. Gently squeeze the chopped strawberries between the paper towel, then fold them into the dough.

Scoop dough with a medium cookie scoop onto the parchment lined baking sheet, to make 16-18 cookies. Bake them in batches if necessary. Gently press down on each one to flatten them just a bit, then bake in the preheated oven for 12 minutes for until lightly browned on top. Cool on cookie sheet for 5 minutes, then transfer to wire racks to cool completely.

While cookies are cooling, make the glaze. Stir together the powdered maple sugar (see notwith 1 Tbsp of the coconut cream or milk. Slowly add additional milk to get a drizzly consistency.

Drizzle the glaze over the partially cooled or cooled cookies, and allow them to sit another 20 minutes so the glaze can set. Store cookies loosely covered at room temperature for 1 day, then store leftovers covered in the refrigerator for another week. Enjoy!
Recipe Notes
Note: Making powdered sugar from maple sugar is surprisingly easy. Simply blend your maple sugar in a NutriBullet (what I use), high speed blender, or food processor until you have a powdery consistency. You'll want to measure the sugar after blending to make sure you're adding the right amount.  If you prefer, you can use organic powdered sugar.
Nutrition
Calories: 133kcal
Carbohydrates: 7g
Protein: 3g
Fat: 11g
Saturated Fat: 3g
Cholesterol: 20mg
Sodium: 44mg
Potassium: 19mg
Fiber: 2g
Sugar: 2g
Vitamin A: 15IU
Vitamin C: 4mg
Calcium: 34mg
Iron: 0.7mg
Shop Products and Ingredients: 
Want More Paleo Cookie Recipes?  Try One of These!
Orange Cranberry Chocolate Chip Cookies
Ultimate Paleo + Vegan Chocolate Chip Cookies
Note: This post contains Amazon affiliate links. This means that if you click on a link and make a purchase, I will receive a small commission at no cost to you. Thank you for supporting Paleo Running Momma!