Another days of my eats awaits you.  I know you must be excited, rah rah.
This was a rest day (last Sunday) and I was definitely feeling low on energy even after decent sleep.  I tend to feel this way on days I don't run, but possibly due to the 20 miles the day before, it seemed to be exaggerated today.  Not that that has anything really to do with my food, but just thought I'd mention it.
I don't tend to eat anything different on purpose based on how much I run, but rather just eat what I want, what makes sense given the circumstances of my day, and more or less depending on how hungry I am.  You know, no over-thinking or calculating.  Intuitive eating, if you like that term.  But not too intuitive, because I have 3 kids you know and it's hard to be all intuitive with lots of kids around.
Thanks to Jenn for the what I ate party.  Because partying means taking time out of your day to find out what other people eat when you're not looking.  I'm cool with it.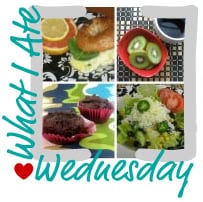 I woke up at 6am and wrote a blog post.  My husband was out coaching again all day and so when the kids woke up at 7, I was just finishing up the post and started getting breakfast ready for everyone.  I don't remember what the kids had, but here's what I had.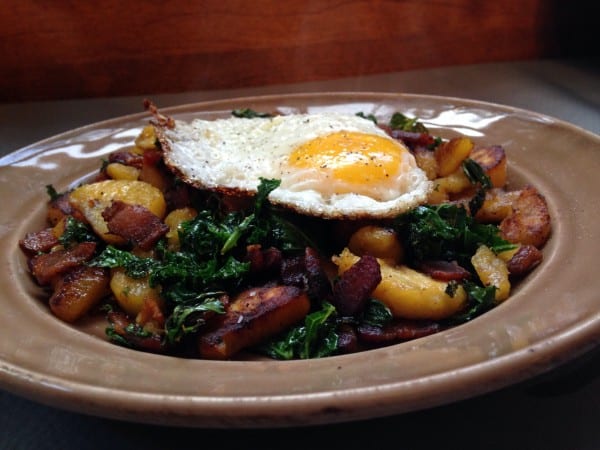 Now if that doesn't look like every other breakfast I've ever posted on here, well, yup, it does.  Fried plantains, bacon, kale and a toasty little fried egg on top.  Plus coffee in that gosh-ugly travel mug I use every day.  No picture, but if you're really that interested I'll link to an old post with one.  Please don't click just to see the ugly mug.
After breakfast I prepped a pork roast for the slow cooker and threw it in there to have for dinner later.  You'll have to read the rest of this though to get the recipe.
My older daughter had her first performance with the dance company she just joined, so she was really excited.  It was at our local street fair and my parents came to watch too.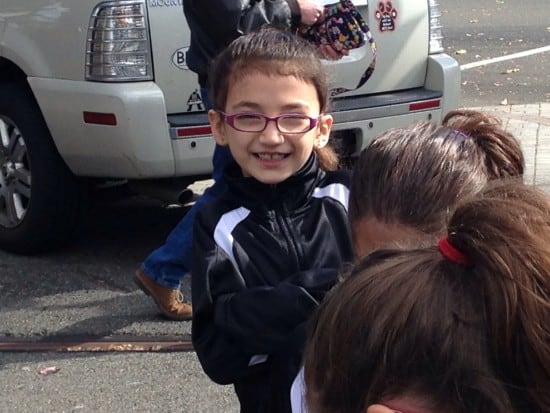 She was thrilled to perform and did a great job.  Afterwards at about 12:30 we walked over to the diner in town for lunch.  My kids associate my parents and diners with pancakes lately, so my tow younger ones had chocolate chip pancakes in the shape of Mickey Mouse.   I opted for a burger with bacon and a side salad with balsamic vinaigrette.  Just learned how to spell that word "vinaigrette." Blogging is like being back in elementary school sometimes.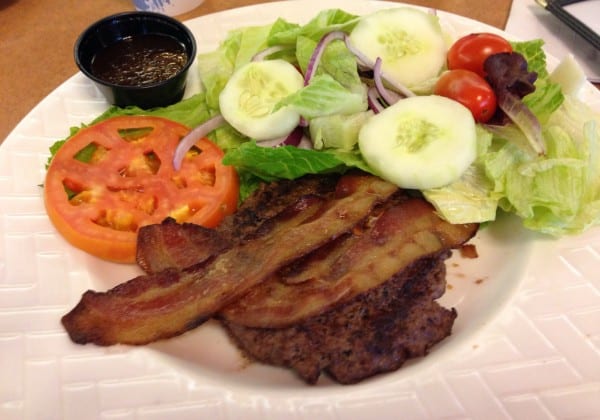 This really didn't fill me up since I'm used to eating bigger or more nutrient dense meals I suppose, plus it had been a heck of a long time since breakfast.  When I got home I had some coconut water and hung out with my parents for a couple of hours.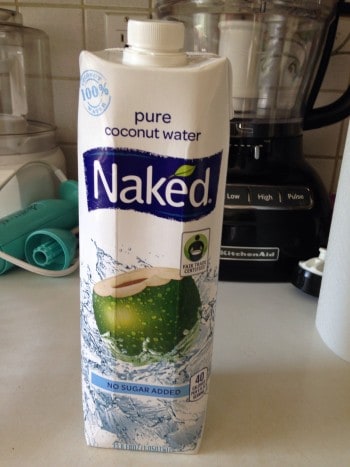 Around 3 I had a snack.  Cut up Applegate grassfed hotdog and half an avocado.  I always eat my snacks in kid bowls apparently.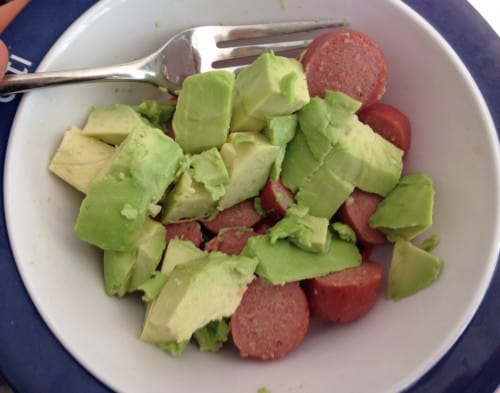 And now for the pork recipe.  My older daughter and I are fan of pulled pork and shredded beef and all slow cooked meat really, but the other family members have made it clear that stuff is not their favorite.  So, I decided to challenge that and make a really simple but good pulled pork.  And if they didn't like it, at least I'd have leftovers to eat for days.
Kid Friendly Pulled Pork Recipe
Easy, kid friendly recipe for pulled pork made in the slow cooker.
Prep Time: 10 minutes
Cook Time: 8 hours
Total Time: 8 hours 10 minutes
Course: Pork
Cuisine: Paleo
Servings: 2 -3 lb roast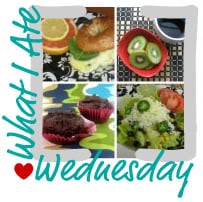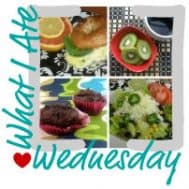 Instructions
Take your sea salt and rub a generous amount into the roast on all sides.

Mix the other seasonings together in a small bowl, and then rub the mixture on all sides as well

Place the roast in your slow cooker, and pour the water over it. Use less water for a smaller roast and more for a bigger one. I used 1/4 cup for a 2.4 lb roast and it was perfect.

Cook on the "low" setting for 7-8 hours. Once done, take a fork or two and start shredding it.

Used it for anything and everything!
So that night I had the pork over spinach and topped with avocado, and the past two mornings I've had leftovers with plantains, kale and eggs.  It's delicious and even my pickiest eaters cleaned their plates.  Good feeling!
For a snack before bed, I peeled, sliced, and sauteed an apple in coconut oil and then topped with some cashew butter and dark chocolate (85%.) I highly recommend it if you're out of bananas.  Actually, I've been eating that for a few days now because after I stumbled upon it I wasn't about to give it up right away.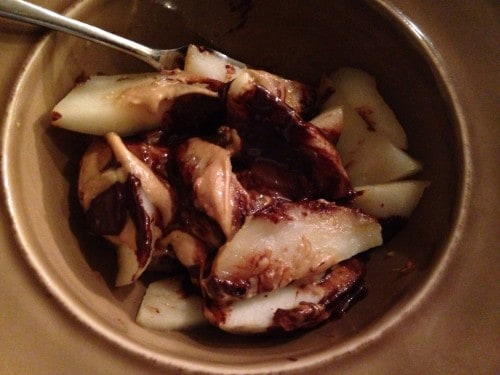 What's your favorite way to eat pulled pork?  Do you ever feel like the food you make it home is better than what you get if you go out?  Who's ever topped apples with chocolate?