This healthy from-scratch recipe for Paleo Chipotle Ranch Chicken Salad is packed with flavor and so versatile!  Have it over salad, in lettuce wraps, or even use it as a dip for raw veggies.  Made with homemade mayo, it's Paleo, Whole30 friendly, soy, dairy, and sugar free.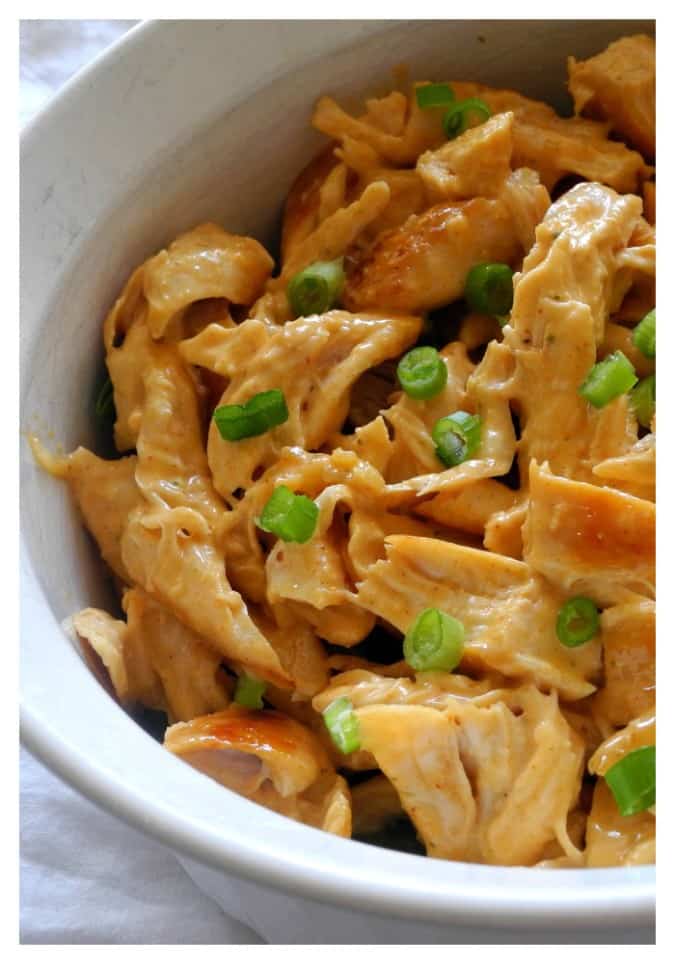 Do you like chicken salad?  Check.  Do you like chicken salad packed with so much flavor that it's as addicting as chips?  Sign me up.
So, I have a bit of a thing for chicken salad that goes way back to my childhood days eating at diners with my family.  I think I ordered chicken salad on an everything bagel for 2 years straight, right after a one year spinach pie stint and a 3 year cheeseburger obsession.
That reminds me I need to make a paleo spinach pie – good thing I mentioned that.
Anyway, let's move ahead to chapter 2 kids!  This is a spicy Chipotle ranch flavored chicken salad and it is SO good.  Like licking the bowl kind of good – I'm not kidding when I said you'll get addicted.
Luckily, it's made with all real food ingredients so you have the go-ahead, at least from me.  And, if you eat bread, you can even have it on a sandwich.  Is sandwhich a dirty word if we're doing Whole30?  Look, I'm just as scared of the Paleo po-po as you, so maybe just don't mention the s-word thing.  Your secret is safe with me.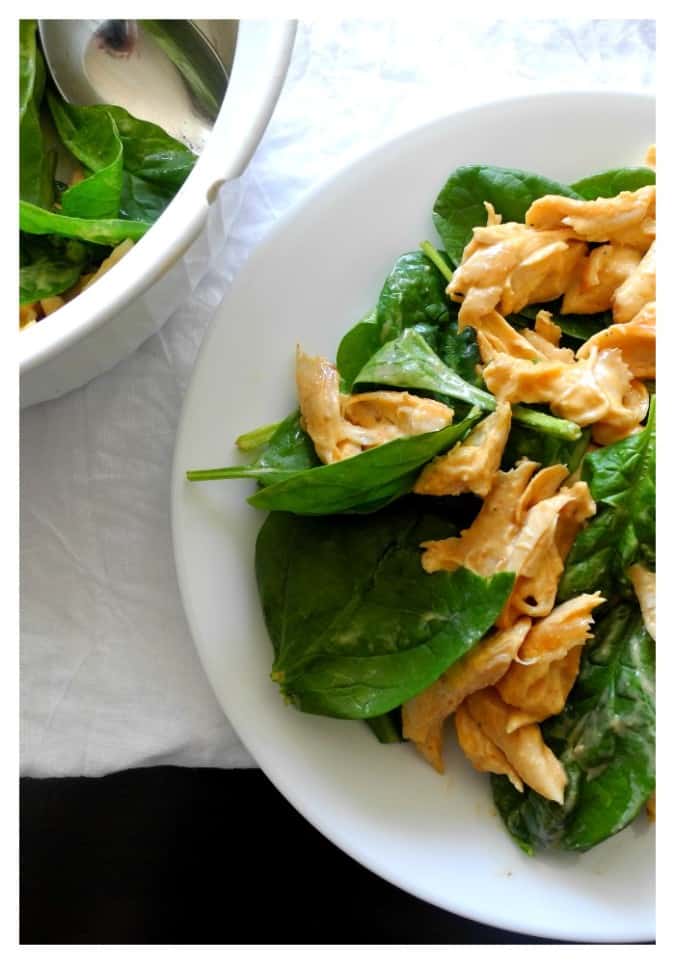 Don't be intimidated by the homemade mayo for even a second – it's super easy to learn how to do and very much worth making, since it will save well as long as you have a fridge around and there are SO many great uses for it.
I learned how to make homemade mayo when I did my first Whole30, and have since tweaked my own recipe to make it perfect for whatever I'm adding it to. I originally learned this from the book Well Fed: Paleo Recipes for People Who Love to Eat
 by Melissa Joulwan, which was my first intro into the culinary paleo world.  This was a life-changer for me, and the seeds were sown for great things to happen next!
My easy homemade mayo is almost always the base for dips, dressings and sauces I've made since eating paleo.  The version in this recipe is based on my original, with spices added to give it that amazing smoky, chipotle ranch flavor!  I definitely encourage you to experiment on your own with different seasonings in your mayo recipes to find what suits you best.
Paleo Chipotle Ranch Chicken Salad - Whole30
Spicy Paleo Chipotle Ranch Chicken Salad that's also Whole30 friendly! Packed with flavor and so versatile - wrap in lettuce, serve over salad with avocado, or use as a dip for veggies or plantain chips.
Prep Time: 15 minutes
Cook Time: 15 minutes
Total Time: 30 minutes
Course: Chicken
Cuisine: Paleo
Servings: 3 -4 servings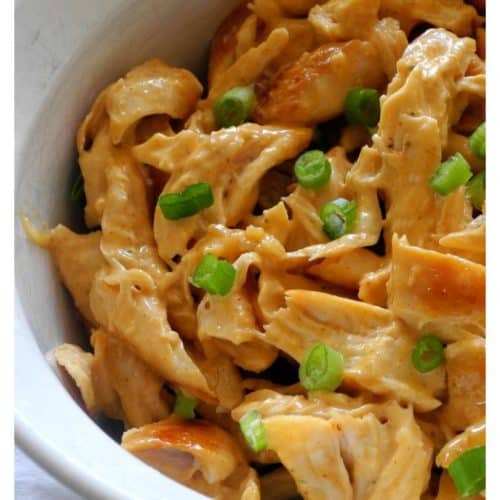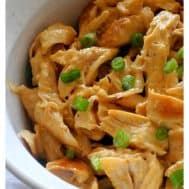 Ingredients
1 lb boneless skinless chicken breasts - cooked, cooled, and chopped (I sauteed mine in coconut oil but you can cook anyway you want.
For the Mayo: (This will make 1 cup homemade mayo, but you will use 1/2 for this recipe. Save the leftover half stored in an air tight container in the fridge.)
1 egg
2 tsp fresh lemon juice
1/4 tsp salt
1 tsp brown mustard
2/3 cup light flavored olive oil or avocado oil
Chipotle Ranch Seasoning Blend
Instructions
Have your cooked, cooled, and chopped chicken breasts set aside in a large bowl.
*To make the mayo, you will need an immersion/stick blender or handheld mixer
In a tall cup, add the mayo ingredients in order and put your stick blender in the bottom but don't turn on. Once it's all the way down, turn it on and mix for 30 seconds before slowly moving it up toward the top to fully blend the mayo.

From the mayo you made, take a half cup and store for later use.

For the remaining half cup, add the Chipotle Ranch Seasoning ingredients and mix well with a spoon to incorporate. You can taste and adjust to preference if necessary.

Add the chipotle flavored mayo to the chopped chicken breast and mix well to fully incorporate. Now you just have to figure out what you want to eat it with. I ate mine over a green salad of spinach, avocado and tomatoes. But any way will do. Goes well with plantain chips too. Just a hint 🙂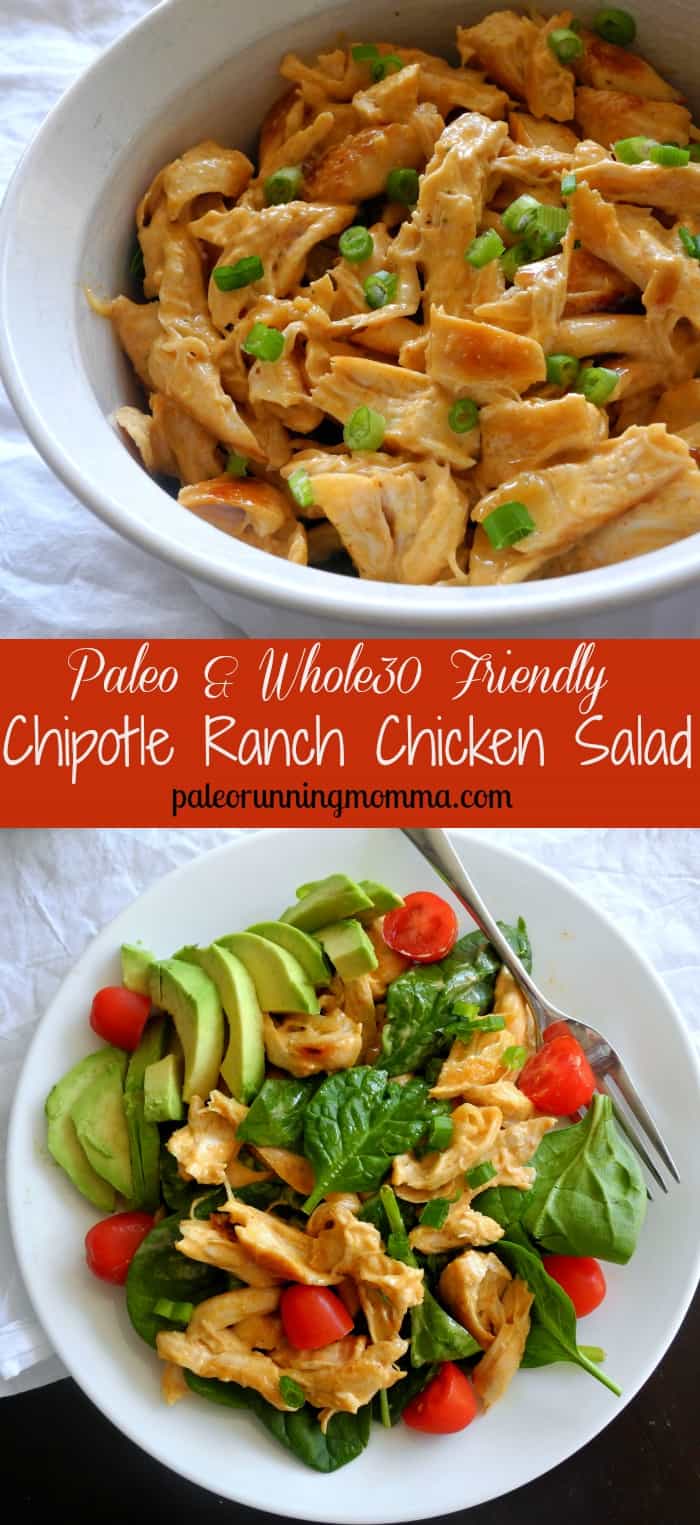 Do you make homemade chicken salad?  
How about homemade mayo?
Any Paleo/real food recipes that made Paleo really work for you?