A sweet and savory breakfast or brunch treat for fall and winter!  This Winter Squash Frittata with Apples and Bacon pairs sweet creamy kabocha squash with crisp sweet apples and savory bacon and eggs for an amazing meal or snack that's Paleo, Whole30 compliant, dairy free.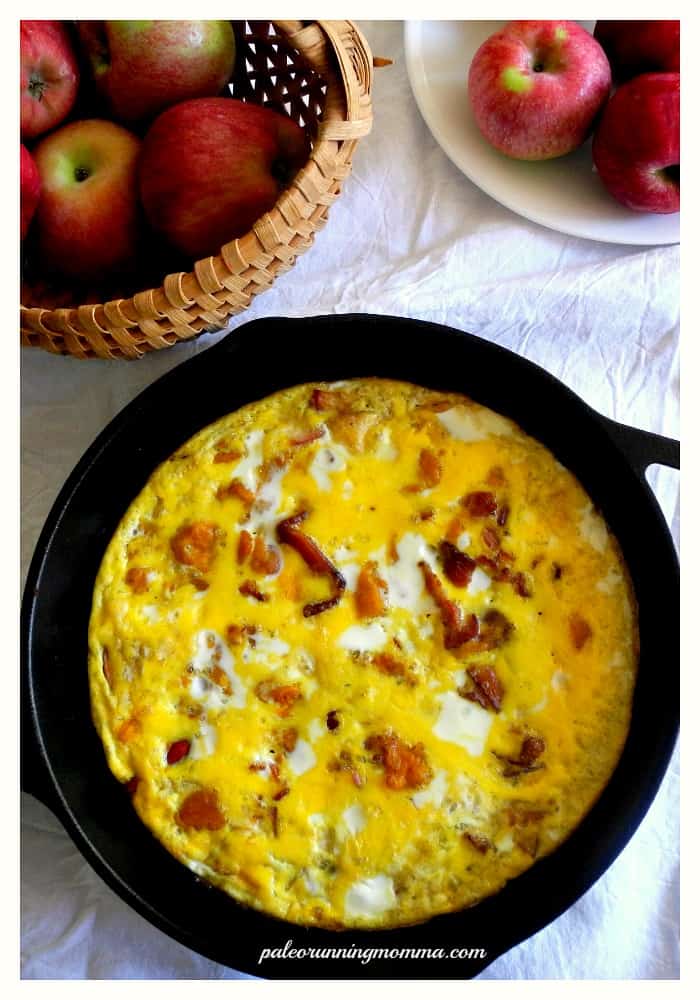 What's that quote about letting a butterfly go?  Let it go, and if it comes back it's meant to be, right?  Anyway that happened with Adam and eggs.
I had stopped making him breakfast every morning right around the beginning of the school year because it was a lot on me, and, the kids are first priority there.  Plus, I've seen him make eggs and he's capable.
So, apparently he's been having various fast food breakfast options and realized he wasn't feeling so great, and, he very sweetly asked me to start making him breakfast again.
Remember that he is someone who ate a cinnamon raisin bagel with nothing on it for breakfast every day for 15-20 years.  This real food stuff works, people!  That's all I'm saying here!
Enter the frittata.  It's the perfect make-ahead breakfast option in my opinion.  You can put in a frittata anything you'd put in a hash, add lots of whisked eggs and toss in the oven.  You can save it for whenever you need a quick meal or snack!  There, I just basically gave you the recipe.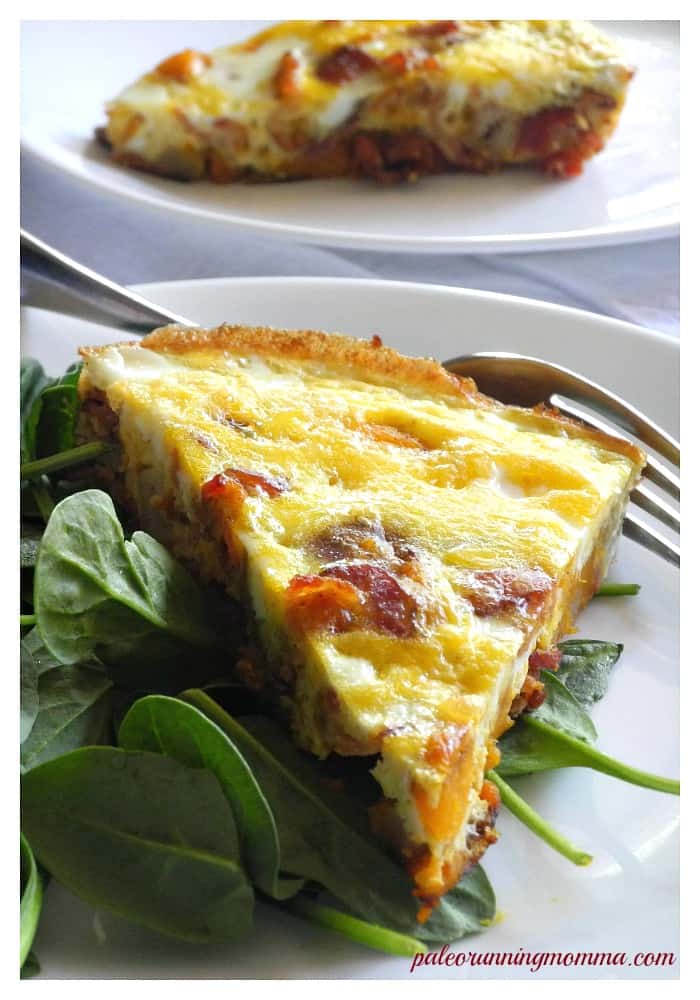 Do I really have to justify my love for these ingredients?  They're awesome and very seasonal right now, so jump on board with me!
When I go to the grocery store in the fall, I always wind up buying lots of squash, and this year I actually have a greater purpose for all of it other than displaying on my front step until it rots.  Who knew these pretty and festive decorations were edible all along?
I've been making a lot of breakfasts using squash and felt like kabocha would stand up well in a frittata.  And what better to keep it company than one of the 200 apples we still have leftover from picking.  So here it is.
Fall Flavors Frittata: Kabocha Apple Bacon
An easy frittata recipe using roasted kabocha squash, apples, and bacon plus eggs whisked with fall spices.
Prep Time: 15 minutes
Cook Time: 30 minutes
Total Time: 45 minutes
Course: Frittata
Cuisine: Paleo
Servings: 6 -8 servings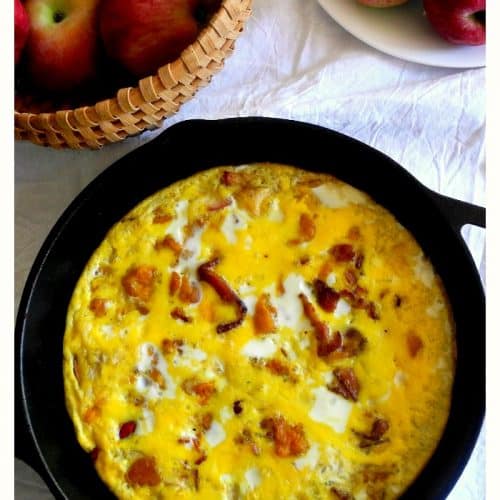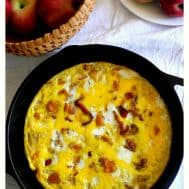 Ingredients
Instructions
Roast the squash ahead of time! Cut it in half, scoop out the seeds and place both halves face down on a foil lined baking sheet and bake at 400 degrees for about 30 minutes, or until the flesh is tender but not too soft, kind of like cantaloupe consistency. I had pre-roasted and refrigerated my squash prior to beginning.

Once you're ready to begin, preheat your oven to 375 degrees and heat a med-large oven proof skillet (I used cast iron) over med-high heat.

Cut your bacon into 1 inch pieces. Add the bacon to the pan and stir so it browns evenly.

Cut your roasted kabocha into half inch chunks (leave the skin behind!)

Once the bacon is cooked crisp, set aside to drain on paper towel. Retain 2 tbsp bacon fat to cook with.

Add the chopped apples and squash to the pan and sprinkle with spices. Cook over med heat in the bacon fat until soft. Add the bacon back to the pan and mix.

Carefully pour the whisked eggs over the apple, bacon, squash mixture to evenly coat and sprinkle with salt. Keep over heat for 30 seconds or so, until the eggs begin to dry around the edges.

Transfer the skillet to the preheated oven and bake about 15 minutes, minutes until just set. Let cool before serving. Store leftovers in the fridge for up to 4 days to reheat as needed.

Enjoy!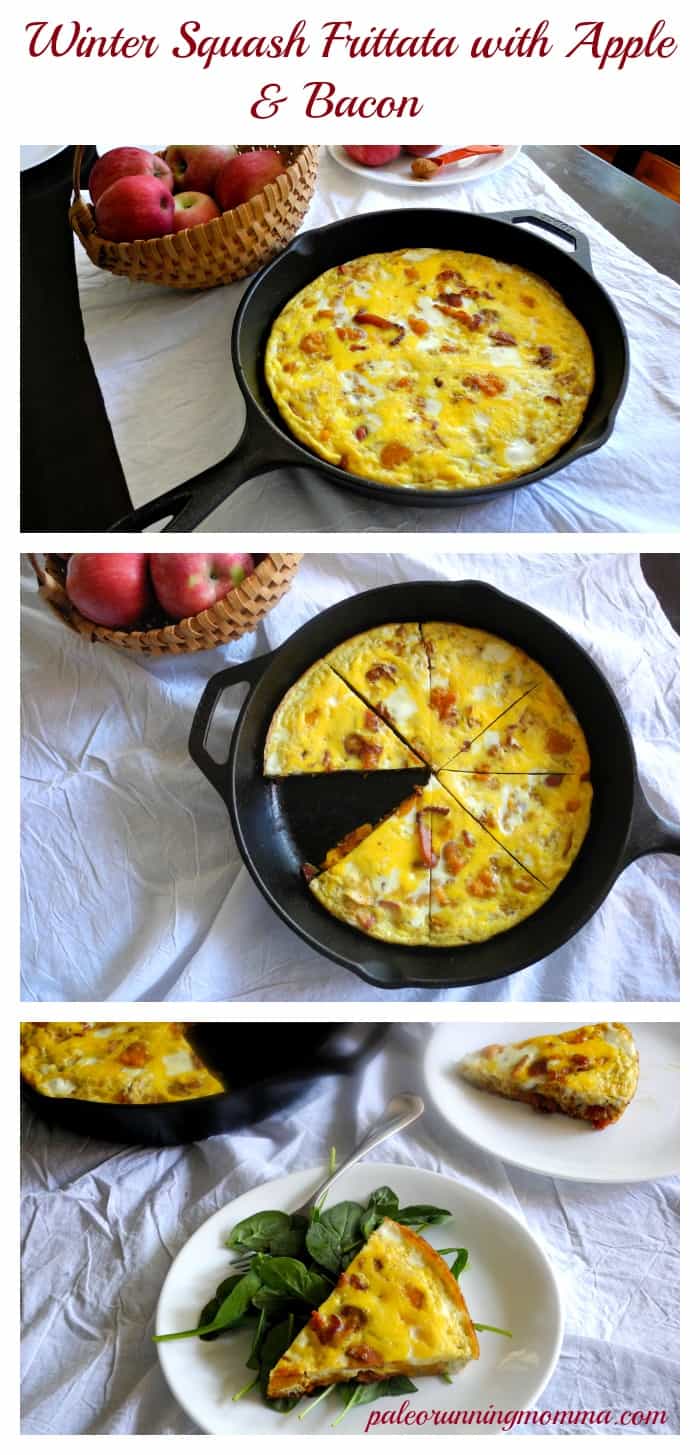 Do you prepare breakfasts ahead of time for something healthy and quick in the morning?  What's your favorite make-ahead breakfast?  Favorite fall food?