It's me and my food again for your viewing pleasure.  This was just another oh so typical day of eats with nothing special going on really.  I'm in my peak week of marathon training right now and the hunger is full on as would be expected.  I feel like my body is in that almost-over-the-brink state and will be ready to taper as of Sunday.  Okay sorry, I know this post is about food and not running but clearly all I can think about lately is running!  But back to the food.  Here's my food, it's Wednesday.
Big thank you to Jenn @ Peas and Crayons for hosting the "What I Ate Wednesday" link up so we can all get inside each others bell-ays!  Gross, but maybe just inside my kitchen? Uhh,  that's gross too.  Trust me 🙁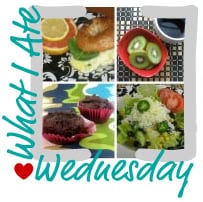 Okay folks let's begin at the beginning.  I woke up at 5, went for a 9 mile easy paced run (this did not feel easy today unfortunately) and then somewhere around 7:30-8am ate this breakfast.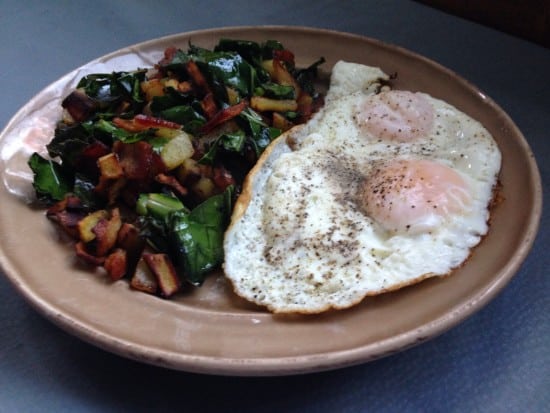 It's bacon from U.S. Wellness Meats (the best, my favorite, just darn good) with a chopped Japanese sweet potato (a smallish one) some collard greens, and two salt-and-peppered eggs.  I cook the bacon first and then use the fat to cook the rest.  Just an FYI after I post my breakfast pics I make the eggs do a face plant over all the other stuff to get all the benefits of the creamy yolks.  Ugh, I said creamy.  It's good though.
So we were out of coffee this particular morning but instead of crying I went to dunkin donuts after school drop off and got a medium dark roast and drank it black.  I was also out of coconut milk.  This is me drinking my coffee people!  I am not this happy all day, it was probably just this 5-10 minutes.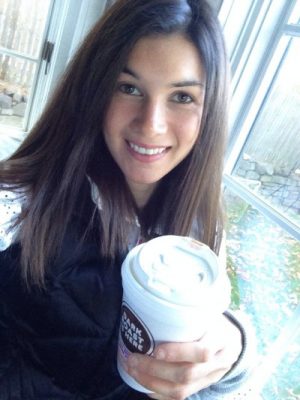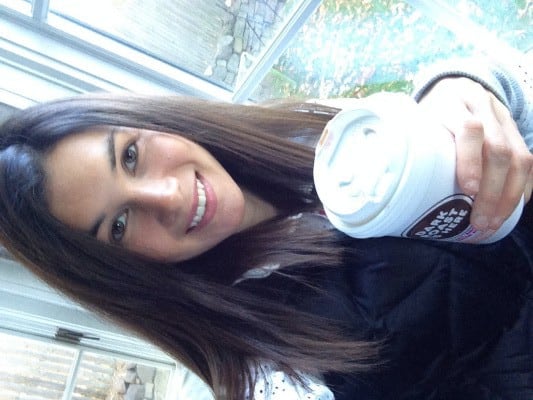 I wrote kind of a heavy blog post all morning so I needed that dark roast coffee.  In case you missed it, here it is.  When I was done with that I realized I had almost no time to have lunch before picking up my son.  I threw together a salad of spinach, roasted beets (pre-cooked in my slow cooker) half an avocado and sardines in olive oil with cracked pepper.  I'm not really a cracked pepper fan, it was an experiment and I won't buy it again.  I like my sardines in olive oil and I don't need much else going on.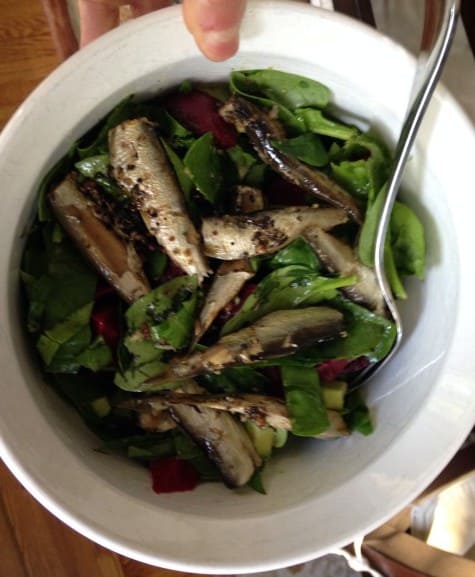 Around 2:45 before I picked up my daughters, I quickly sauteed some more chopped japanese sweet potato in bacon fat, sprinkled with a little salt and ate it with the other half of my avocado from lunch, chopped.  I had some water too, not pictured.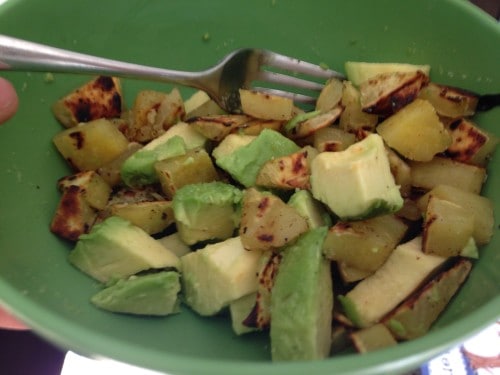 By the time we get home from the girls' dance practice it's 5:30 and I do everything I can to get dinner ready by 6:15 so we have time for bath/shower, homework, and other bedtime stuff.  This night I made chicken thighs with collard greens and Crispy Roasted Carrots.  The carrots are really just like the other baked fries I make, but I gave them a fun name.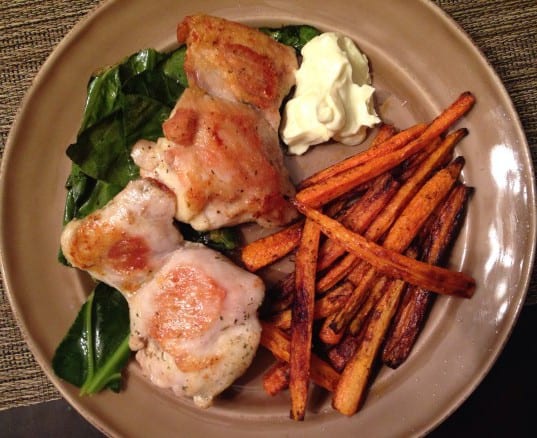 Here's what I did with the carrots.  I was happy and dipped them in homemade mayo for an extra kick.  Yum!
Crispy Roasted Carrots
Carrots cut into thin sticks, seasoned and roasted to crispy carrot perfection!
Prep Time: 10 minutes
Cook Time: 35 minutes
Total Time: 45 minutes
Course: Side Dish
Cuisine: Veggie
Servings: 4 servings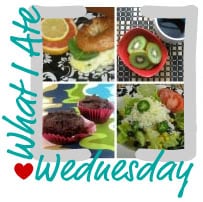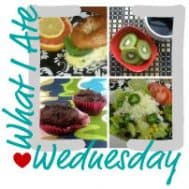 Instructions
Preheat your oven to 425 degrees

Line a large baking sheet - or 2 if you need - with parchment paper.

Cut the carrots into 1/4-1/2 inch sticks. The thinner the better if you want them crispy!

Toss the carrots with the oil, salt, pepper, onion powder and dill

Line them up on the baking sheet or sheets so they do not overlap or touch each other. This will prevent steaming and get them crispy!

Bake in the preheated oven for 20 minutes. Then check on them and move the ones on the edges of the baking sheets to the middle and the middle ones to the edges. I find that this helps them brown more evenly and ensure no one is left with the soggier middle carrots.

Bake for another 10-15 minutes or until nice and brown and crisp. Since oven times can vary, check often to make sure they are not burning!
Around 8pm my kids and I all had a snack.  This is routine for us and I usually eat with them or right after they're in bed.  I had a sliced banana topped with some trail mix I chopped up sort of half-assed and unsweetened coconut flakes.  The trail mix was almonds, raisins, cherries, and cranberries.  It was a good amount of dried fruit, and I don't do this often but it actually didn't bother my stomach and was delicious.
After the kids went to bed I had some peppermint tea.  It's tea season, I feel it.
I made it to bed by 9:45 but probably didn't fall asleep until 10:30.  All the noises get to me!  Plus my brain is just in overdrive.  I've been thinking about the marathon A LOT and it's definitely keeping me from falling asleep.  I wound up sleeping relatively well based on the past week.
What's your number one favorite veggie to roast?  Do you drink tea in the fall/winter?  If you could create the perfect trail mix, what would you put in it?