These Paleo Gingerbread Waffles are a fun and healthy idea for a sweet weekend breakfast!  They're kid friendly, with just the right amount of spices, and can be made into pancakes in case you don't have a waffle iron.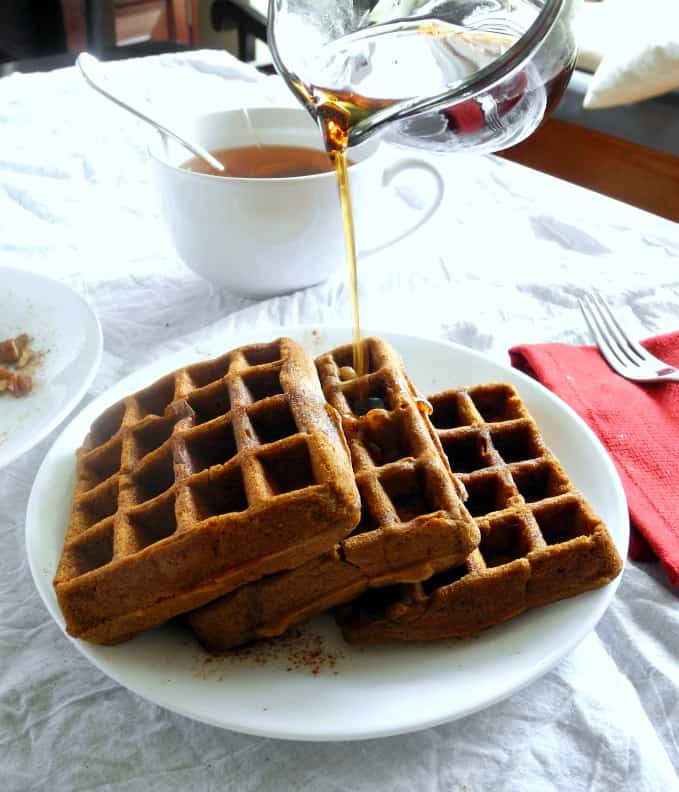 My kids were more than thrilled to take turns pouring syrup on these Paleo gingerbread waffles.  Can't say I blame them! I also can't say I know what it's like to have a mom constantly taking pictures of food and syrup-pouring and calling it "work."  They have to know it's not typical!  Then again, I wouldn't be complaining about extra waffles and syrup if I was a kid – and they definitely did not complain about these.
Of course, they absolutely took the opportunity to criticize each other's pouring skills based on how they thought the pictures came out.  I won't say who helped out in the one above, but she definitely thought she came out on top.  This is also daughter who convinces me to let her "bite" if a photo needs biting (like this chocolate chip cookie dough fudge) even though she has no front teeth.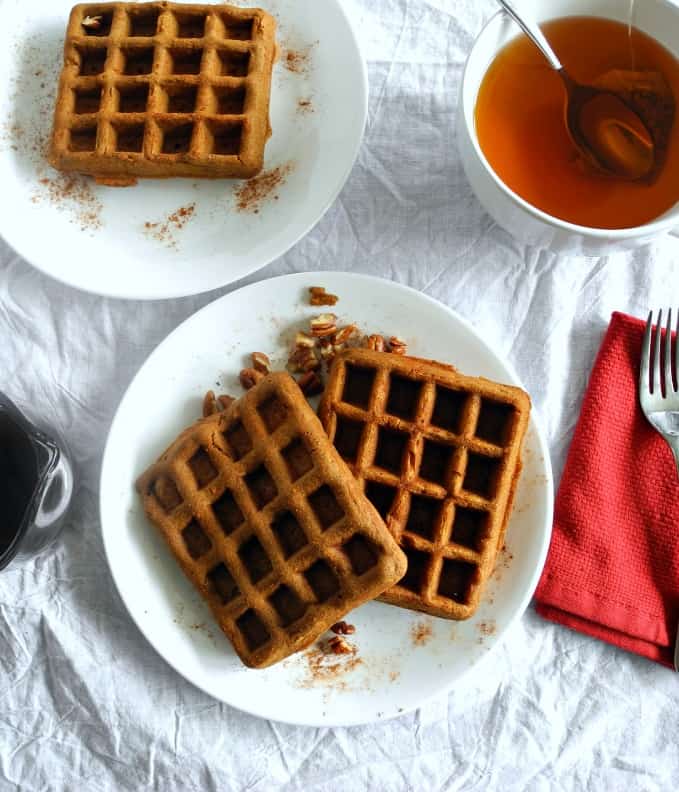 But ooh, ah, waffles.  You might remember last week (or 2 weeks ago?) when I talked about having a meltdown when the second batch of these Paleo gingerbread waffles didn't come out quite as neat as the first.  Sure, I had put a lot on my plate for that day, trying to get a little too much done, and that usually means nothing but trouble.  I was lucky I didn't screw up the first batch, because the second batch meltdown wasn't easy to recover from.
Anyway, I don't want you to think now that these are difficult to make.  If you preheat and grease your waffle iron properly they will turn out fine and you'll wonder why you don't make waffles a whole lot more often.  You might even start dreaming up decadence like Paleo waffle sundaes with caramel sauce, bananas, coconut whip cream, and chocolate chips.  Doesn't that sound good?   Maybe we'll add some nut butter somewhere in there too, alongside the caramel.
Next time, perhaps.  And if there is a next time, I'll make sure to have a good window of time carved out, because the waffle sundaes sound like a lot of steps now that I'm talking about it.  But let's go back to these gingerbread waffles, which really aren't too many steps at all and come together really quickly.  If you don't have a waffle iron, I'm certain this recipe will make great pancakes as well!
Paleo Gingerbread Waffles with Coconut Flour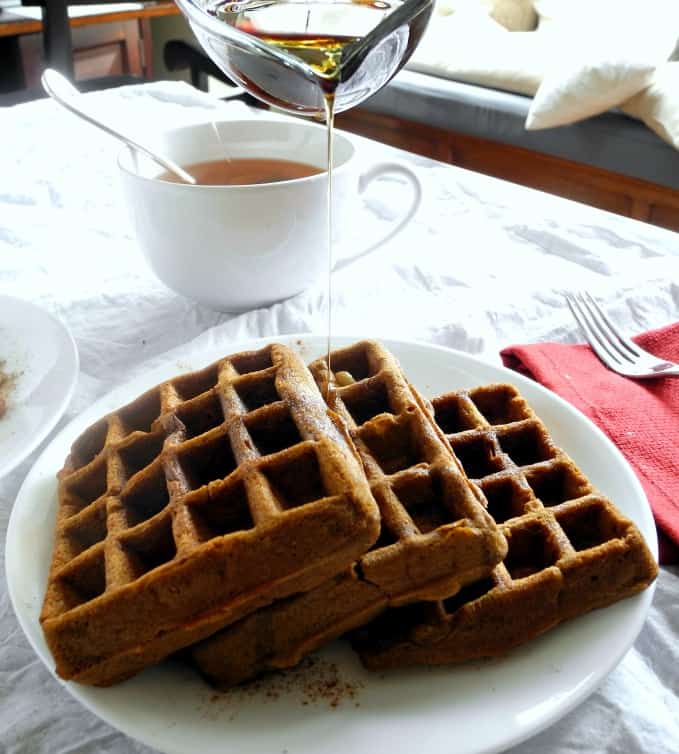 Paleo Gingerbread Waffles
These Paleo Gingerbread waffles make a sweet, festive, healthy and cozy breakfast on a cold weekend morning. If you don't have a waffle iron, they can be made into pancakes!
Prep Time: 15 minutes
Cook Time: 5 minutes
Total Time: 20 minutes
Course: Waffles - Breakfast and Brunch
Cuisine: Paleo
Servings: 6 servings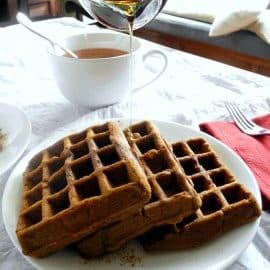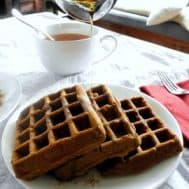 Instructions
To prepare your waffle iron, use a pastry brush to thoroughly grease with coconut oil, butter, oil, or spray with a nonstick spray if you prefer.

Have your ingredients close to room temperature when you begin. In a large bowl, whisk the 4 eggs well and add the almond milk, almond butter, molasses, vanilla, and coconut oil*

In a second smaller bowl, combine the coconut and tapioca flours, the baking soda and powder, and all the spices.

Slowly stir the dry ingredients into the wet until fully combined, but don't overmix

Make sure your waffle iron is preheated and thoroughly greased (follow the directions of your model) and either pour or ladle the batter into the waffle iron, close, and cook until the machine indicates they're done (or follow directions for your model)

This recipe should make about 6 full sized waffles, so you'll likely have to make them in batches*

Serve with extra cinnamon, maple syrup,nuts, fruit, or however you like. Enjoy!
Recipe Notes
*For the second batch, make sure you re-grease and preheat the waffle iron

If you're a blogger, do your kids "help" you out with pictures and such?
What's your perfect vision of a waffle sundae?