This paleo fruit pizza has a sugar cookie crust with a cashew "cream cheese" icing and all your favorite seasonal fruit on top!  It's gluten-free, grain free, paleo, and the perfect dessert for summer gatherings.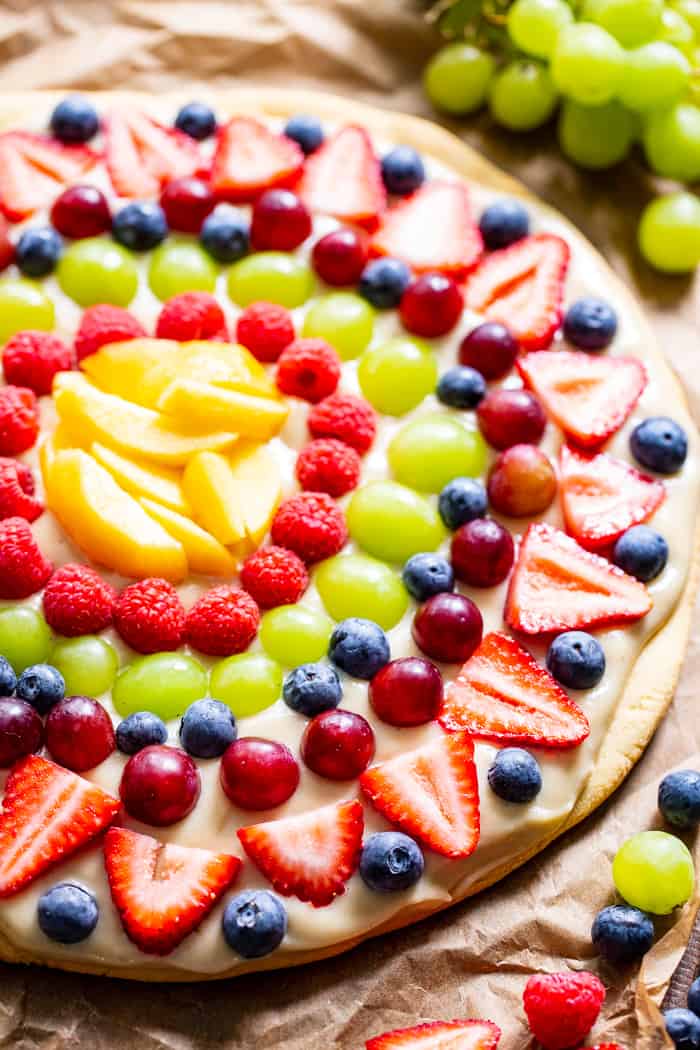 One of my favorite pre-paleo desserts to make for summer was a fruit pizza.  Refrigerator cookie dough, store bought cream cheese frosting, and all my favorite summer fruit.
But, as it turns out, making a healthier homemade version isn't that much harder.  And, it's a whole lot more satisfying to know the ingredients are actually good for you – fruit, nuts, raw honey, and more.
This paleo fruit pizza is perfect to serve a crowd for any gathering really, but my favorite is for summer BBQs –  especially July 4th!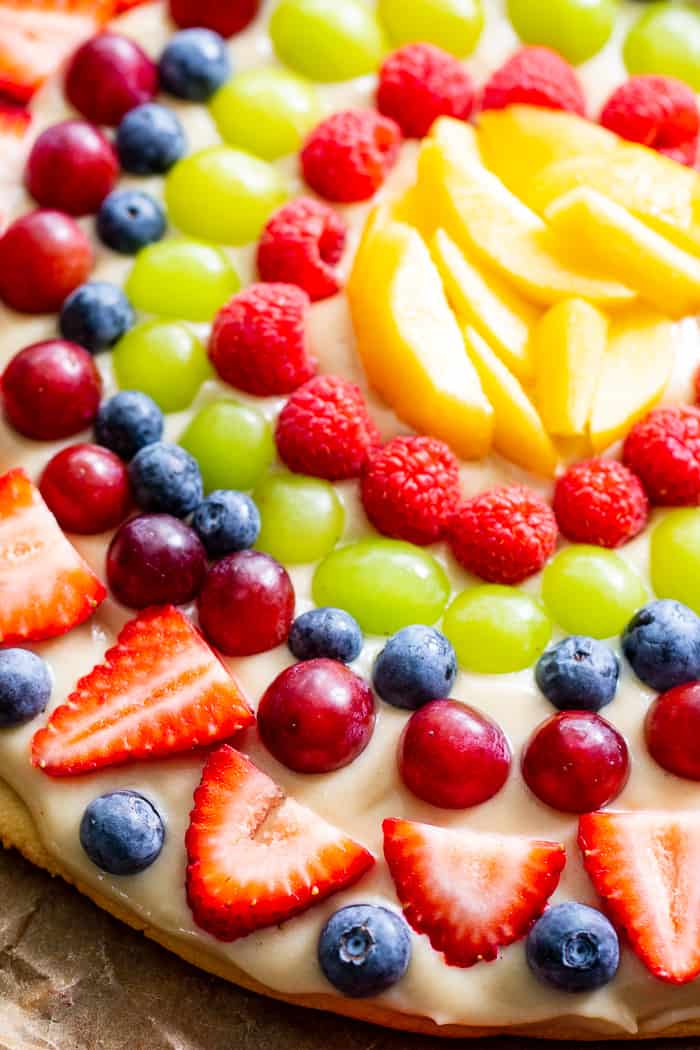 I recommend making the frosting before anything else since it's best chilled for at least an hour.  It's a simple mix of raw cashews, lemon juice, coconut cream and raw honey to sweeten.
You can easily adjust the sweetness to your taste as well.  After blending, you can refrigerate the frosting for up to 24 hours before using it – helpful if you want to get the prep done ahead of time!
The flavor tastes really similar to vegan cheesecake and is perfect with all the fruit.  Depending on the type of food processor or blender you use, the texture will be anywhere from thick and mostly smooth, to super smooth and creamy.  I typically use a Vitamix for this frosting, making it ultra smooth.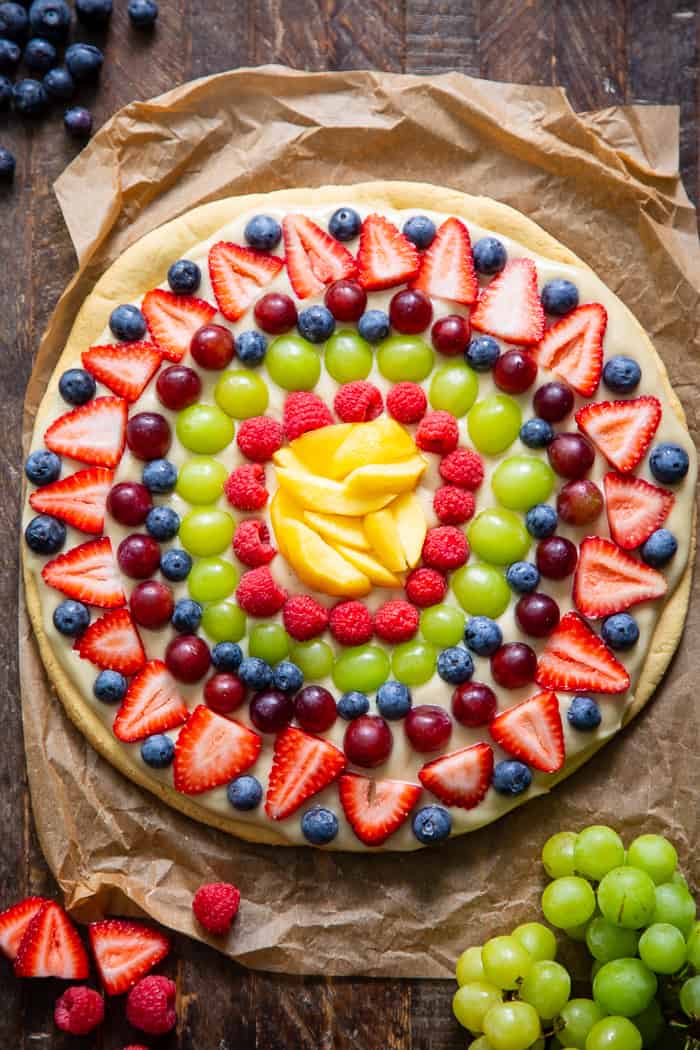 The crust is an almond flour based sugar cookie dough spread out on a pizza pan before baking.  It's simple, sweet and a little chewy, and can be made all in one bowl.
You'll need to chill the cookie dough for about 30 minutes after mixing it, so make sure you account for that in your timing.
After baking, you can slice up all your fruit and prepare to assemble the layers!  Make sure you wait until the crust reaches room temperature before spreading the frosting though so it doesn't melt.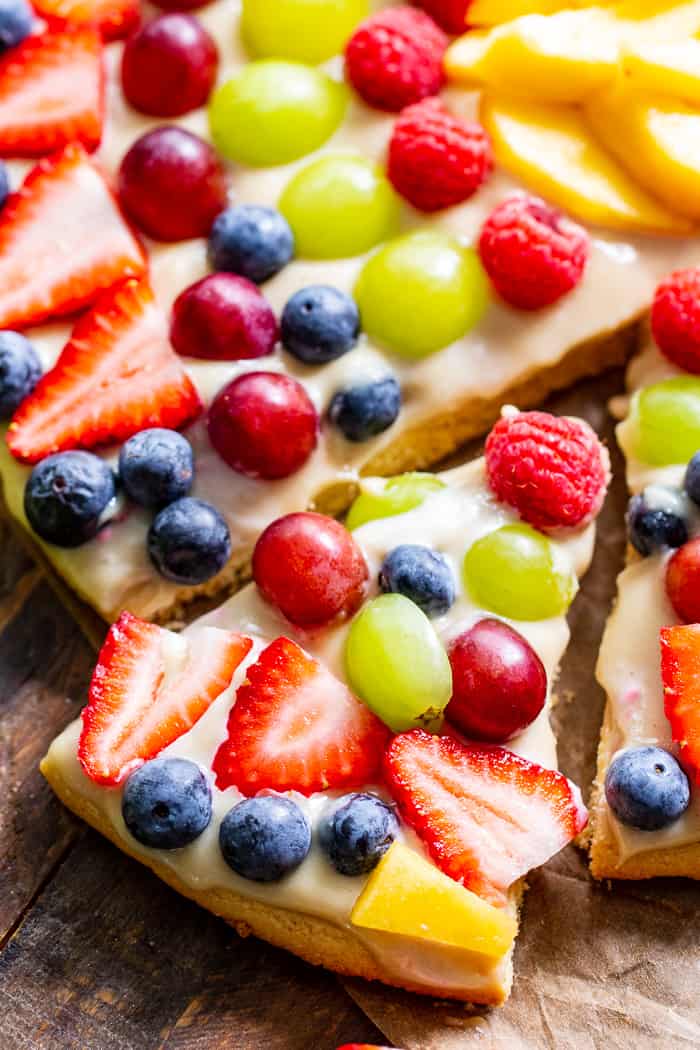 For the fruit, you can really use anything your heart desires!  Go with berries, sliced peaches or nectarines, grapes, mandarine oranges, kiwi, and even bananas.
Once the fruit pizza is assembled, it's best to serve right away, but you can also refrigerate for a few hours until ready to serve.  Any leftovers will store well in the refrigerator for about 3 days.
I hope you're ready for one of my favorite nostalgic summer treats made healthier – grab your ingredients and your favorite pizza pan and lets go!
Paleo Fruit Pizza with "Cream Cheese" Frosting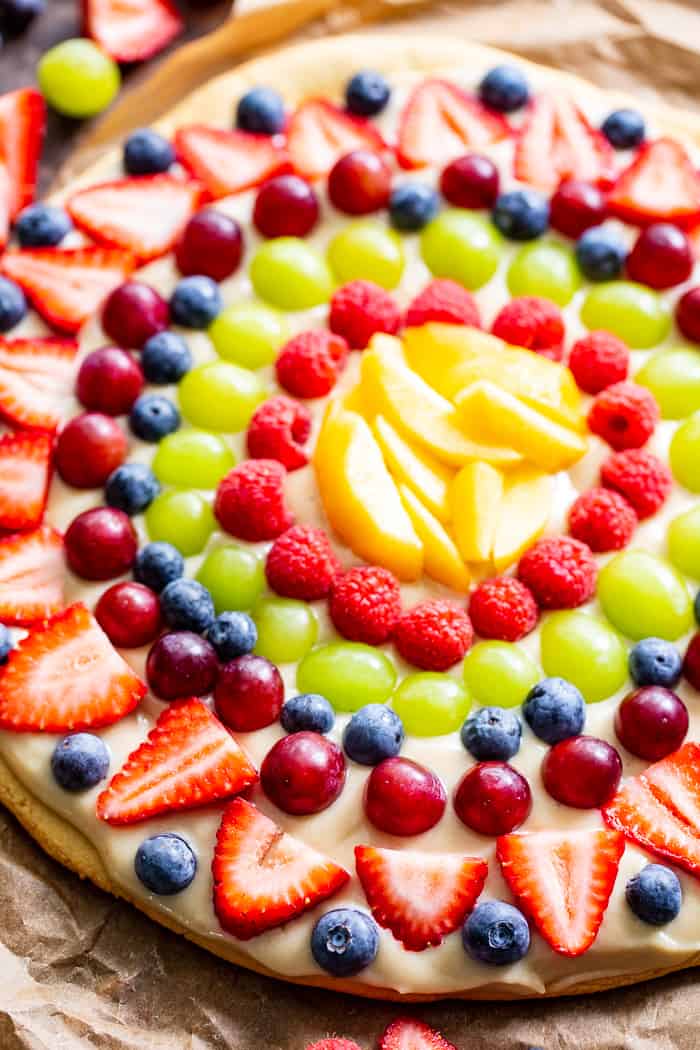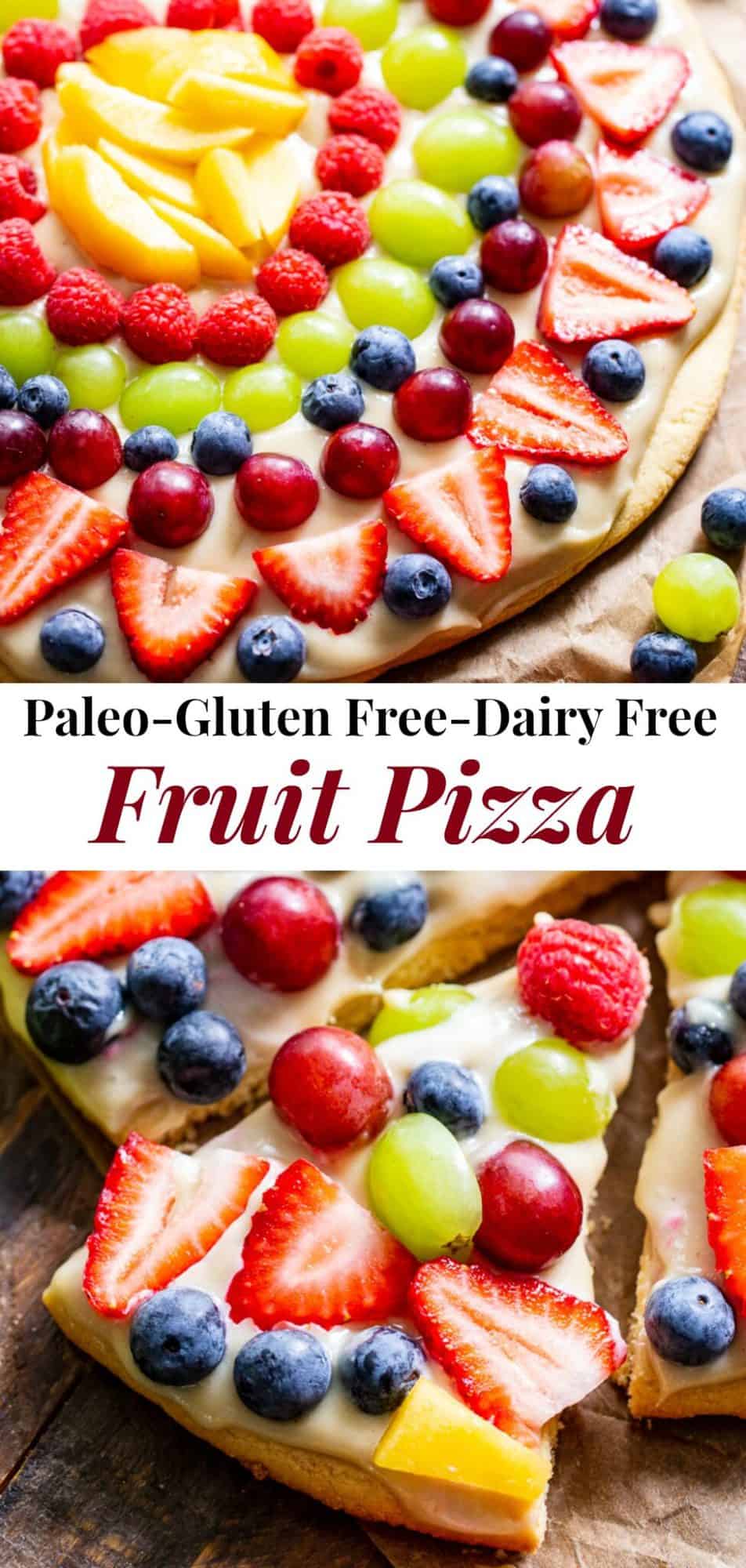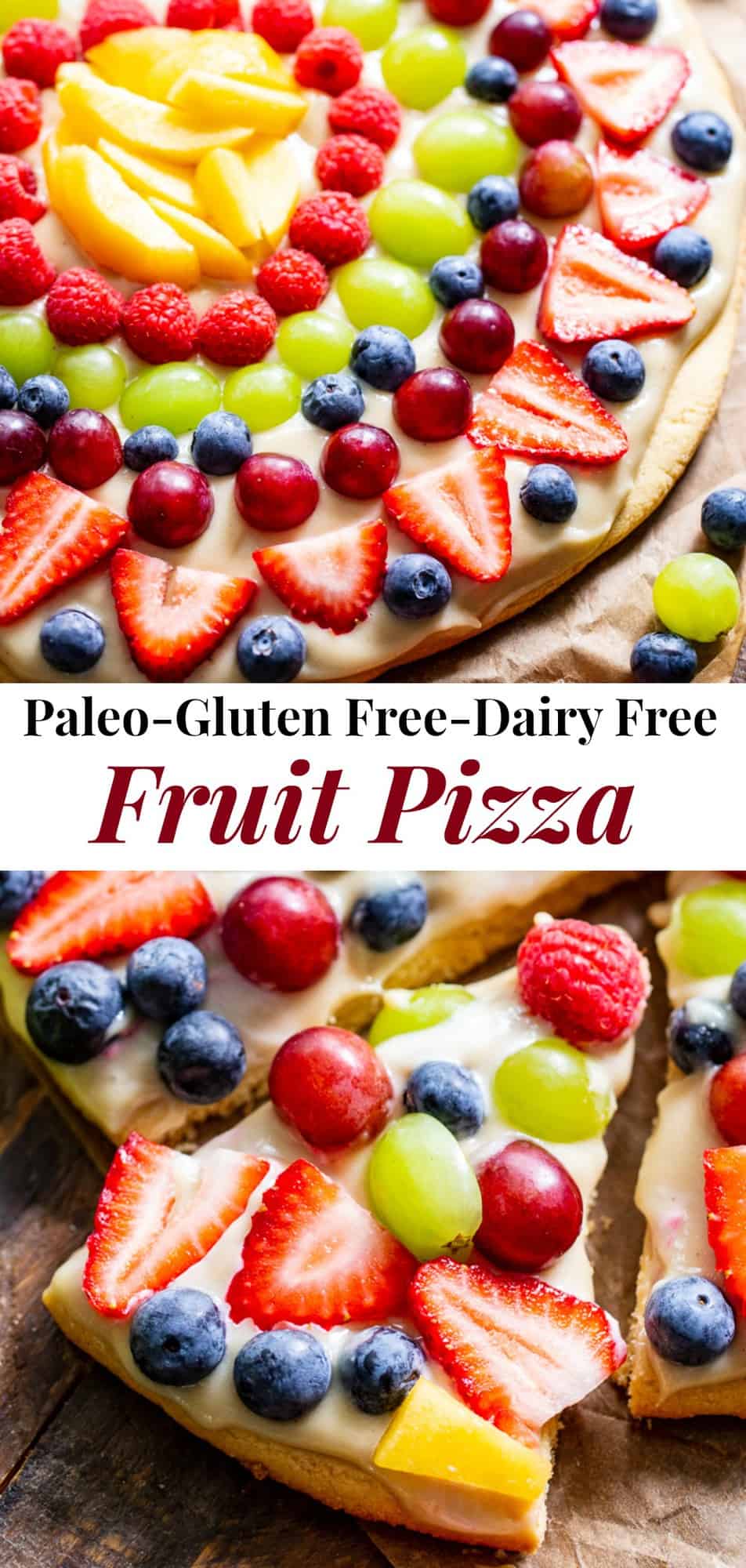 Paleo Fruit Pizza with Cream Cheese Frosting
This paleo fruit pizza has a sugar cookie crust with a cashew "cream cheese" icing and all your favorite seasonal fruit on top! It's gluten-free, grain free, paleo, and the perfect dessert for summer gatherings.
Prep Time: 20 minutes
Cook Time: 12 minutes
Chill Time: 30 mins
Course: Baking/Dessert
Cuisine: Paleo
Servings: 12 servings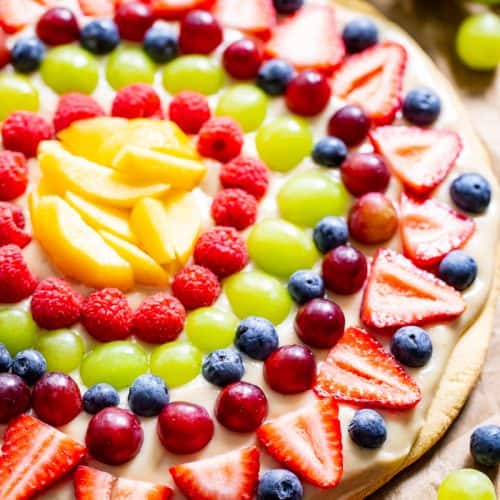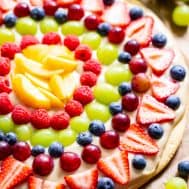 Instructions
Frosting:

Make the frosting first. Place all ingredients in a food processor or high powered blender and blend until smooth, or relatively smooth. Chill until ready to top the crust.

Crust:

Use an electric hand whisk to cream together the ghee and maple sugar until smooth. Add in the vanilla and egg and continue to beat until smooth. Stir in the almond flour, tapioca, baking soda, and salt until a dough forms. Chill the dough in the refrigerator for 20-30 minutes. At this time, preheat your oven to 350° F.

Line a 12" round pizza pan with parchment paper. Press chilled cookie dough evenly over the parchment to form a round crust.

Bake the crust for 10-12 minutes or until set and beginning to turn light brown. Remove and cool completely on wire racks. While the crust cools, slice your fruit to top.

Once crust is room temperature, spread the chilled frosting all over starting in the middle and working your way out, leaving a 1" border on the outside. Top frosting with sliced fruit and either serve right away, or refrigerate util read to serve. Enjoy!
Recipe Notes
*I used strawberries, blueberries, grapes, raspberries and nectarines but you can also go with kiwi, banana, mandarine orange or anything you like!
Nutrition
Calories: 346kcal
Carbohydrates: 24g
Protein: 8g
Fat: 26g
Saturated Fat: 9g
Cholesterol: 33mg
Sodium: 108mg
Potassium: 157mg
Fiber: 3g
Sugar: 14g
Vitamin A: 20IU
Vitamin C: 1.2mg
Calcium: 54mg
Iron: 2.2mg
Shop Products and Ingredients:
Want More Paleo Dessert Recipes?  Try One of These!
Carrot Cake with Cream Cheese Frosting
Note: This post contains Amazon affiliate links. This means that if you click on a link and make a purchase, I will receive a small commission at no cost to you. Thank you for supporting Paleo Running Momma!