This delicious Cranberry Orange Bundt Cake was sponsored by King Arthur Flour and all opinions are my own as always.  Shop their new Paleo Baking Flour and Blanched Almond Flour here.
This Paleo Cranberry Orange Bundt Cake is perfectly moist  bursting with sweet orange flavor and tart juice cranberries.  A cinnamon swirl plus sweet maple glaze make this bundt cake a holiday showstopper!  It's gluten-free, grain free, refined sugar free and has a dairy-free option.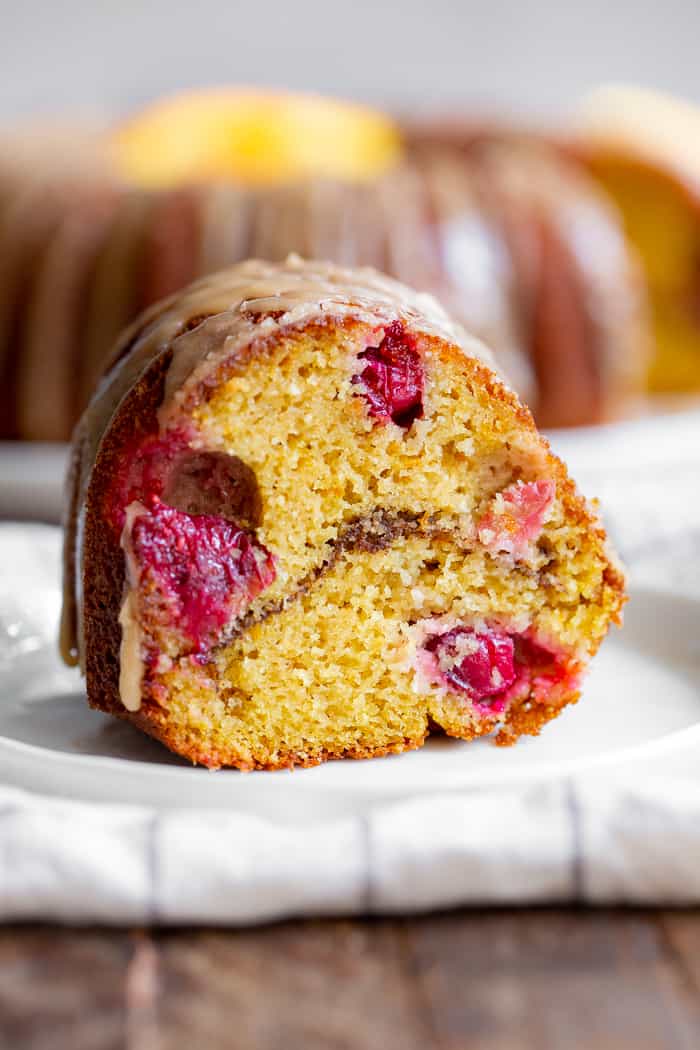 A moist, sweet, and tender cranberry orange cake with a sweet glaze and juicy tart cranberries?!  Sign me up, no matter what time of year it is!
While this epic bundt cake will make any holiday gathering a little sweeter, there's definitely no need to wait to try it out – now's the time to let this cake ROCK your (paleo) world.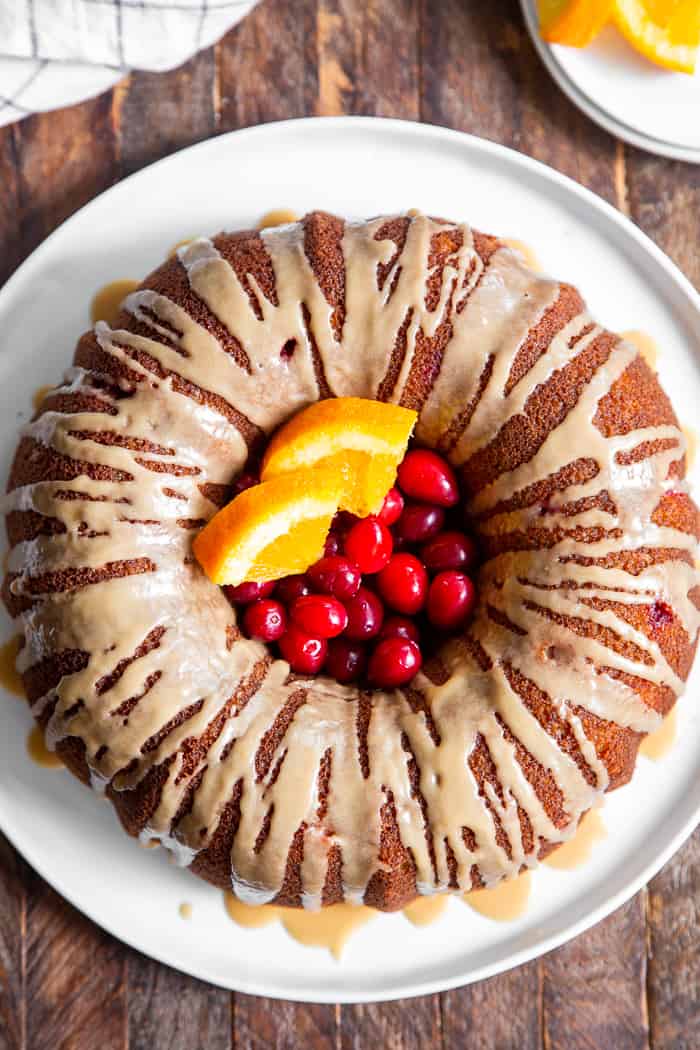 What You'll Need to Make This Cranberry Orange Bundt Cake:
Let's talk details!  This cake is a little bit different from my others because I used a NEW paleo baking flour blend (which I'll get to in a moment!) Other than that, the ingredients are simple:
10" Bundt Cake Pan
Avocado Oil Cooking Spray
King Arthur Flour Paleo Baking Flour Blend
Baking Powder
Baking Soda
Ghee, or coconut oil
Maple Sugar, or coconut sugar
Orange zest
Fresh orange juice
Coconut or almond milk
Eggs
Vanilla Extract
Fresh or frozen cranberries
Ground cinnamon, ginger, and cloves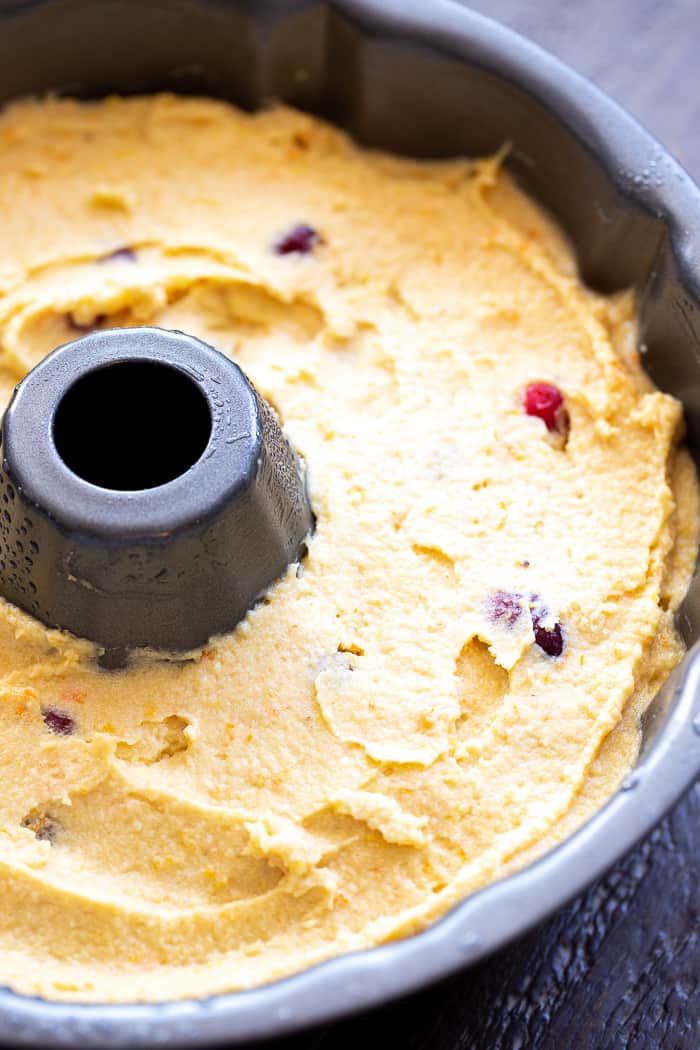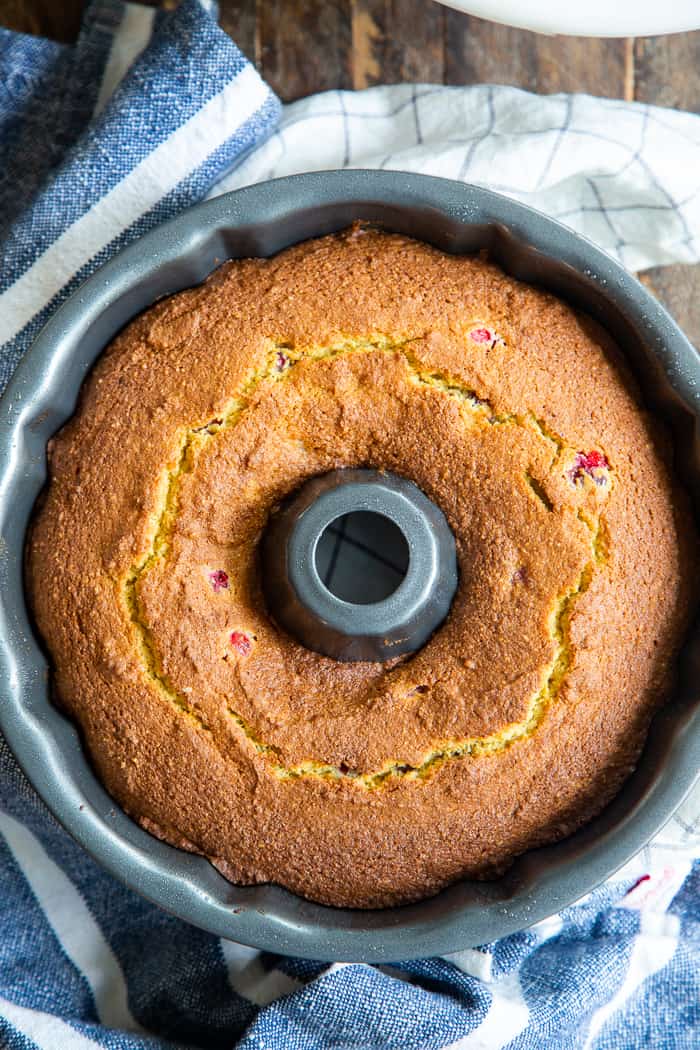 What's In the Paleo Baking Flour Blend?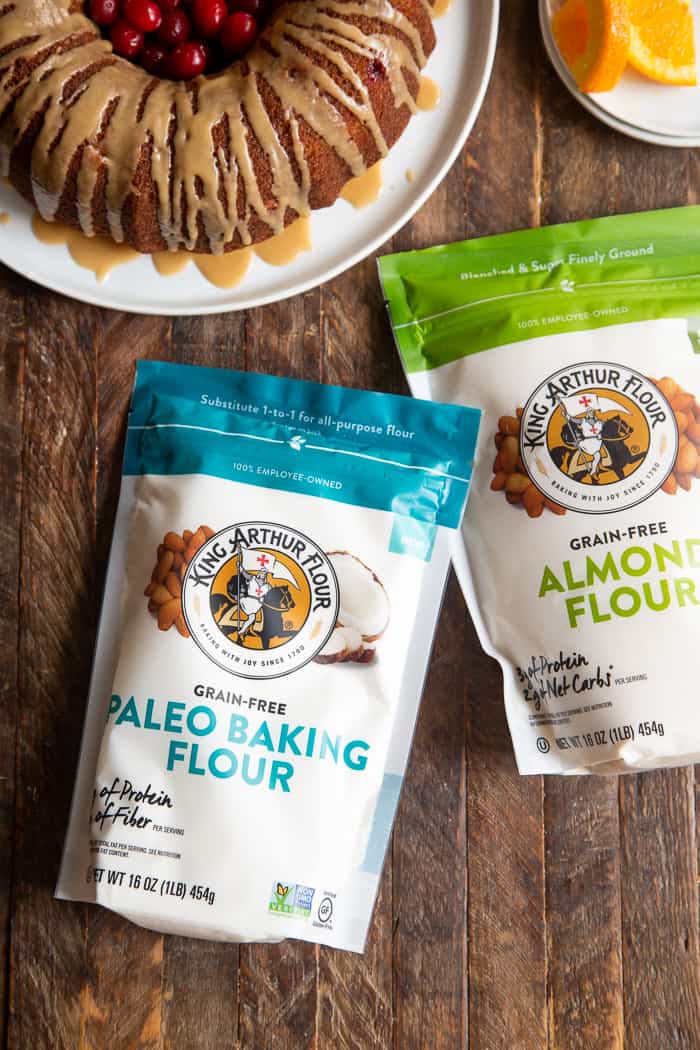 I'm very excited about this new Paleo Baking Flour blend from King Arthur Flour because it simplifies the ingredients in many recipes.  Instead of measuring out two or three different flours, you only need one here!
The flour consists of blanched almond flour, coconut flour, and cassava flour.  King Arthur Flour states that you can sub this in using the same amount, by volume, for conventional all purpose flour, which is amazing if you ask me!
Based on my recipe testing, this flour is seriously a dream to work with.  Plus, you need less of it than when you bake with blanched almond flour.
I always find that I need about 1 1/2 – 2 cups almond flour for every cup of conventional flour in a recipe.  This blend takes a lot of guess work out of paleo baking – especially when you're trying to make a traditional recipe paleo friendly.  Find out more about King Arthur Flour Paleo Baking Blend here.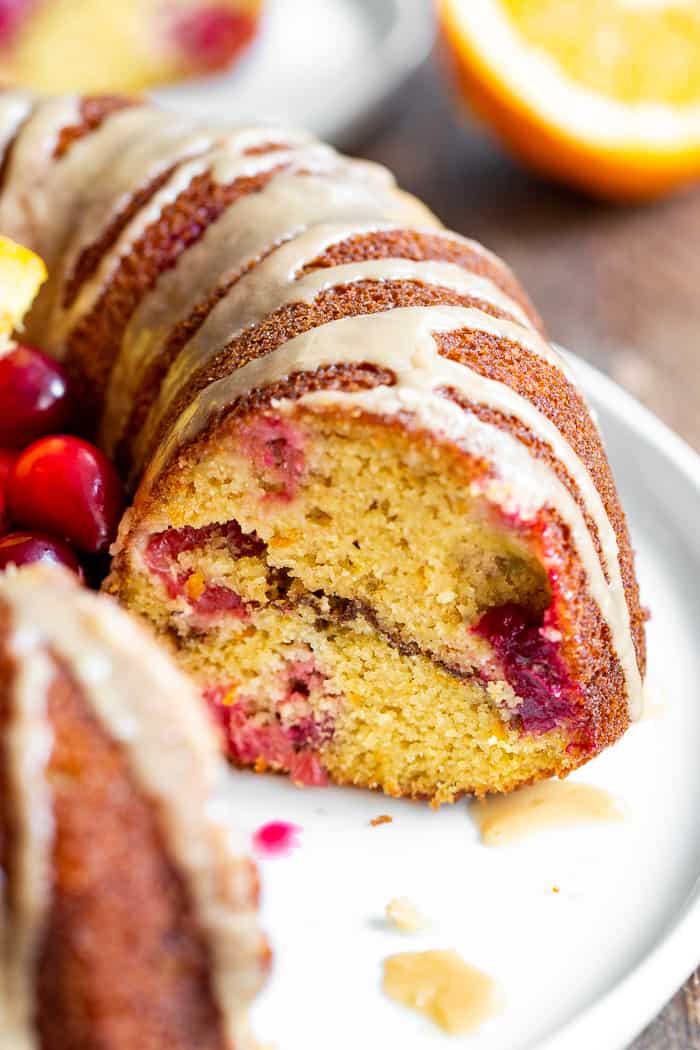 How to Make Paleo Powdered Sugar
For all my icings and glazes I love to make my own powdered sugar from maple sugar.  It's lighter in color than coconut sugar, and already has a fine texture, so it's easy to blend it to a fine powder in most blenders.
I use a NutriBullet and it takes less than a minute to get a smooth, powdery consistency that makes great icing.  It's best to measure the sugar after blending it, and then mix it with the other icing ingredients – in this case, orange juice – to get a nice drizzly glaze or icing that no one will guess is free of refined sugar.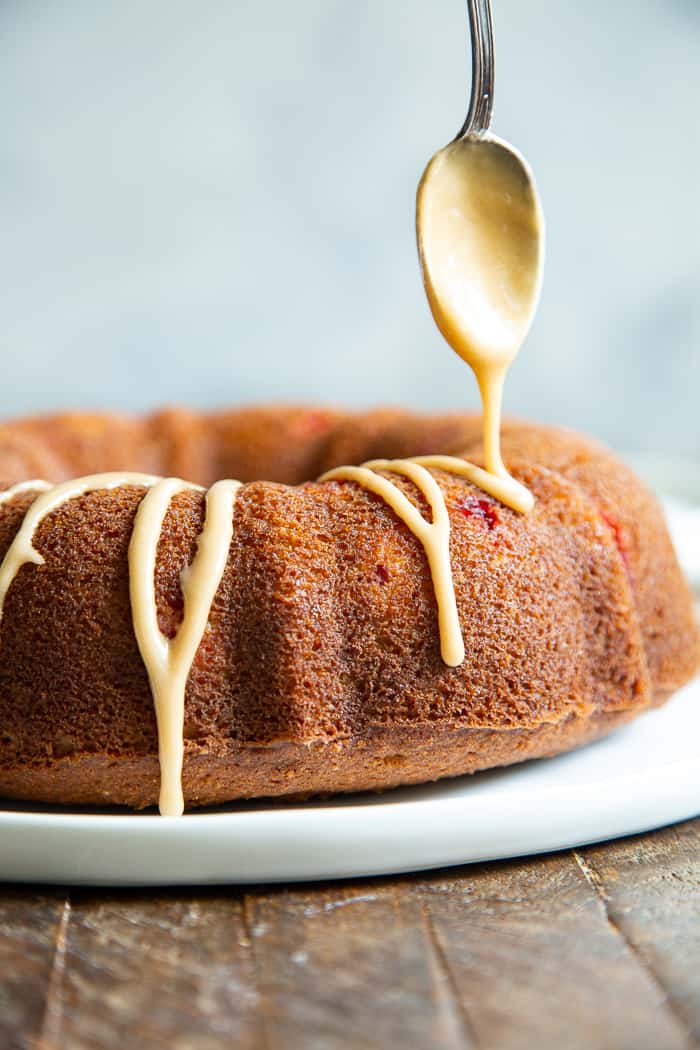 How Do I Store this Cranberry Orange Bundt Cake?
This cake stores very well loosely covered at room temperature for the first 24 hours.  If you're waiting longer to serve it, you can refrigerate it, covered, without icing for 3 days before serving.  In this case, allow the cake to sit at room temperature for a couple of hours, and then ice the cake before serving.
The cake also freezes very well!   Cool the cake, wrap it tightly in plastic wrap (without icing) and freeze for up to 2 weeks.  Thaw it in the refrigerator, then allow it to sit at room temperature for a few hours before serving.  You can ice the cake after it's thawed, or right before serving.
I hope you're ready for sweet tart cranberry orange bliss!  Grab your ingredients and preheat the oven because it's time to bake – let's go!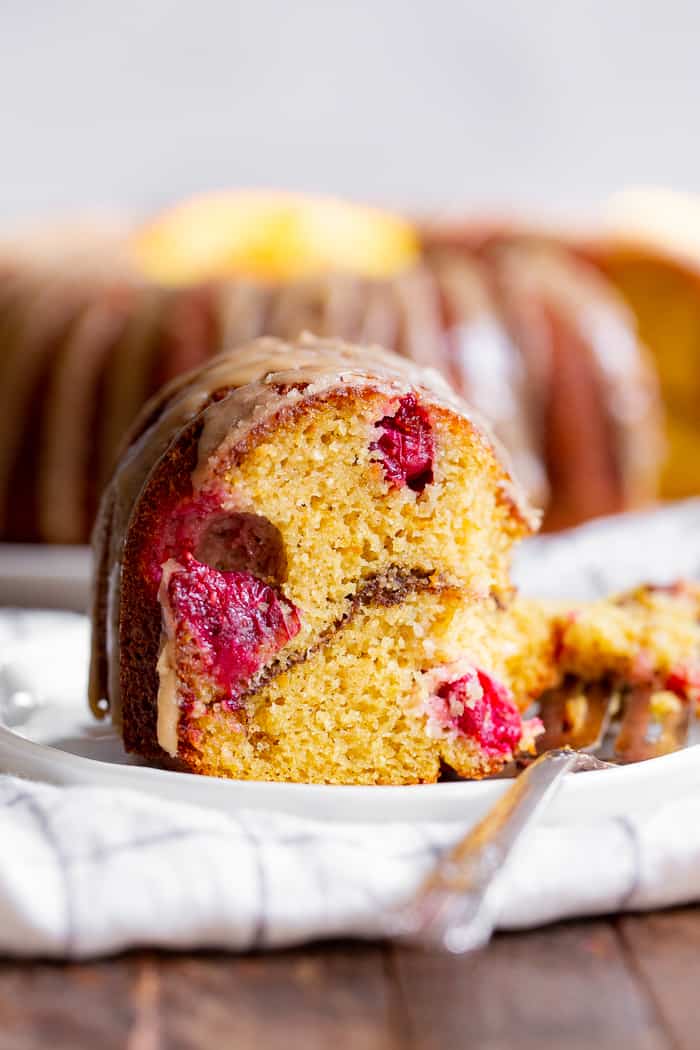 Paleo Cranberry Orange Bundt Cake
This Paleo Cranberry Orange Bundt Cake is perfectly moist bursting with sweet orange flavor and tart juice cranberries. A cinnamon swirl plus sweet maple glaze make this bundt cake a holiday showstopper! It's gluten-free, grain free, refined sugar free and has a dairy-free option.
Prep Time: 25 minutes
Cook Time: 35 minutes
Cooling Time: 1 hr
Course: Baking/Dessert
Cuisine: Gluten-free, Paleo
Keyword: baking, cake, christmas, cranberry, dessert, holidays, maple sugar, orange
Servings: 12 servings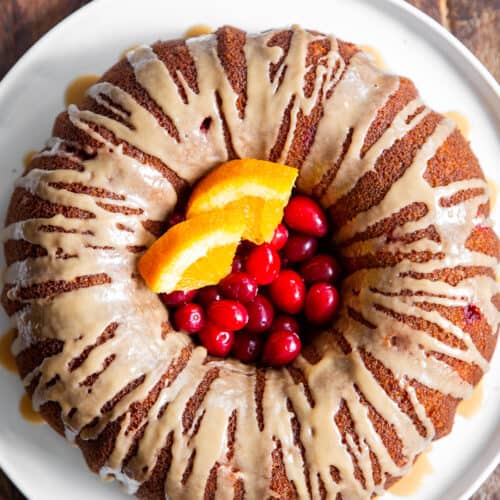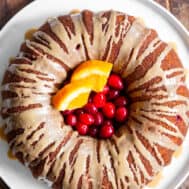 Ingredients
Icing:
3/4 cup powdered maple sugar ** see note for how to make powdered sugar
1 1/2-2 Tbsp fresh orange juice
Instructions
For the Cake Batter:
Preheat your oven to 350° F and spray a 10" bundt pan with avocado oil or coconut oil cooking spray. Place your oven rack in the upper half of your oven.

In a small bowl, toss the cranberries with 2 tsp of the flour. In a separate bowl, combine the 2 1/2 cups flour, baking powder***, baking soda, and salt, set aside.

To mix the cake batter, you can use a stand mixer or an electric hand mixer. In a large bowl or bowl of the stand mixer, cream together the ghee or coconut oil with 1 cup of the maple sugar until smooth. Beat in the orange zest, eggs, milk, orange juice, and extracts until well combined. On low speed, beat in the flour mixture until thick and creamy. Stir in the cranberry/flour mixture to distribute evenly.

In a small bowl, combine the spices with the remaining 2 Tbsp of maple sugar for the filling, set aside.

Transfer half of the cake batter into the prepared bundt pan, then sprinkle the spice/sugar mixture over the top, followed by the remaining cake batter. Spread the top of cake batter evenly.

Bake in the preheated oven for 40 minutes or until a toothpick inserted near the center of the cake comes out clean or with a few crumbs. Cool the cake for 20-30 minutes in the pan placed on a wire rack. Gently release the cake from the pan and continue to cool on the wire rack before icing.
For the Icing:
While the cake cools, prepare the icing. Whisk together the powdered maple sugar (see note) with 1 1/2 Tbsp of the orange juice, adding the remaining juice if needed to achieve a drizzly texture.

Using a spoon or small whisk, drizzle the icing over the cooled cake (it can still be slightly warm). Slice, serve, and enjoy! Store leftovers covered tightly in the refrigerator for up to 4 days.
Recipe Notes
*Frozen cranberries can be used as well. Do not thaw them - follow instructions directly from the freezer.
** To make powdered maple sugar, blend 1 cup maple sugar in a food processor or high speed blender until it reaches a powdery consistency. Use 3/4 cup for this recipe.
***To make your own paleo friendly baking powder, mix 1 tsp of baking soda with 2 tsp cream of tartar.  Use just 1 tsp of the mixture for this recipe.
****To sub in blanched almond flour for the flour in this recipe, use 3 cups + 2 Tbsp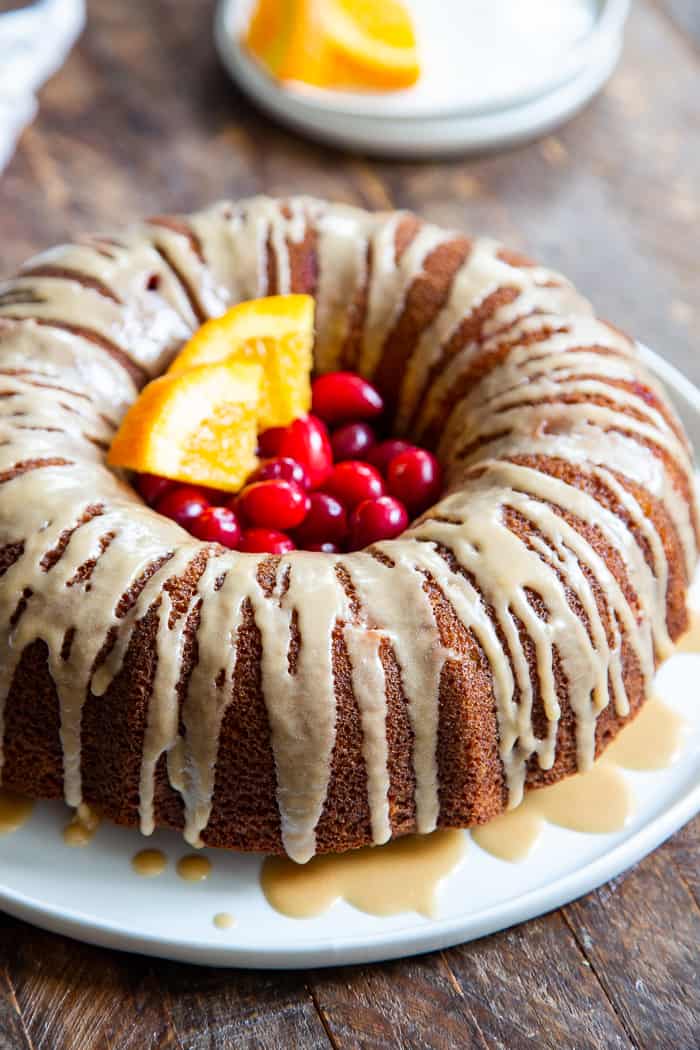 Want More Paleo Holiday Baking Recipes?  Try One of These!
Cranberry Pecan Orange Muffins