Ripe plantains have so much flavor, but this recipe brings out every bit of sweetness, like plantain candy!  These sweet caramel cinnamon baked plantains are paleo, vegan, and contain no refined sugar.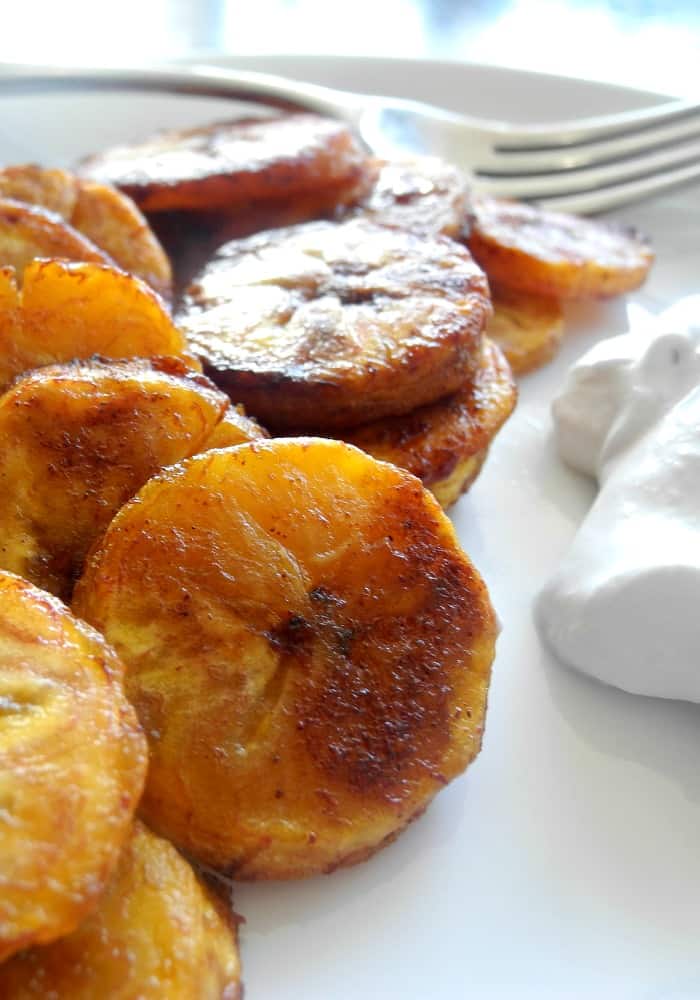 Let the truth speak for itself – plantains just deliver and we can't deny that.  What I mean is, they give a lot without much effort on our part, and it's hard to argue with a food that makes life easy, healthy, and delicious.
I whined about needing a cooking break and I meant it – this week I was not feeling passionate at all about creating something new and fancy.  So, I just went with the obvious – my plantain stash.
It's not that I hoard plantains in all stages of ripeness or anything, it's just that actually I do exactly that.  And it works out really well because I can always count on them when I need a quick snack or side dish!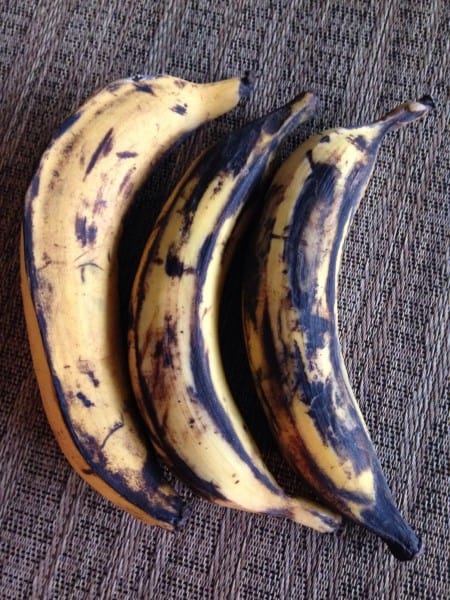 I took things to new territory with this recipe though.  You see, plantains are really just awesome without messing with them at all, so really I don't, ever.  I thinly slice the green ones and fry them in coconut oil or bacon fat for chips, just seasoning with a little salt.  For the ripe ones I slice them a bit thicker and fry and season them the same way.  If it ain't broke, don't fix it.  But it's okay to branch out once in a while, to think outside the frying pan for a minute.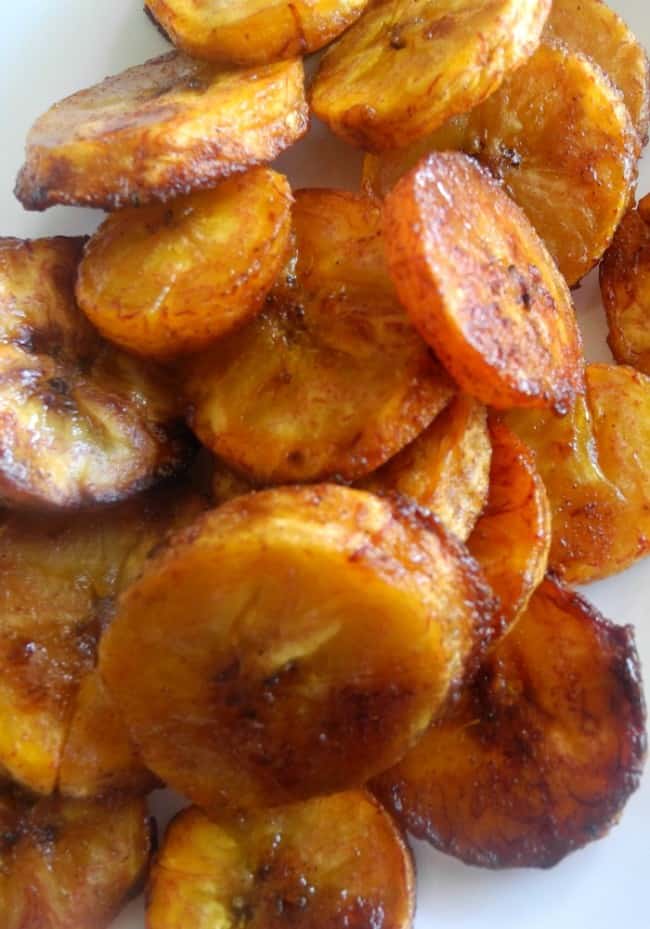 So here we go.  I was having a bit of a sweet craving this week after lots of holiday weekend dessert eating.   It happens even to the most paleo of us now and then.  Yup, these things happen and fighting doesn't have to be the answer. Instead, I basically turned my ripe plantains into candy and I'm here today to share that love with you.  Accept it freely, there's no need to thank me or send gifts, really, stop it, I don't need any more Lululemon and I definitely don't need new running shoes!
Sidetracked, once again, but let me present you now with the easiest of easy recipes.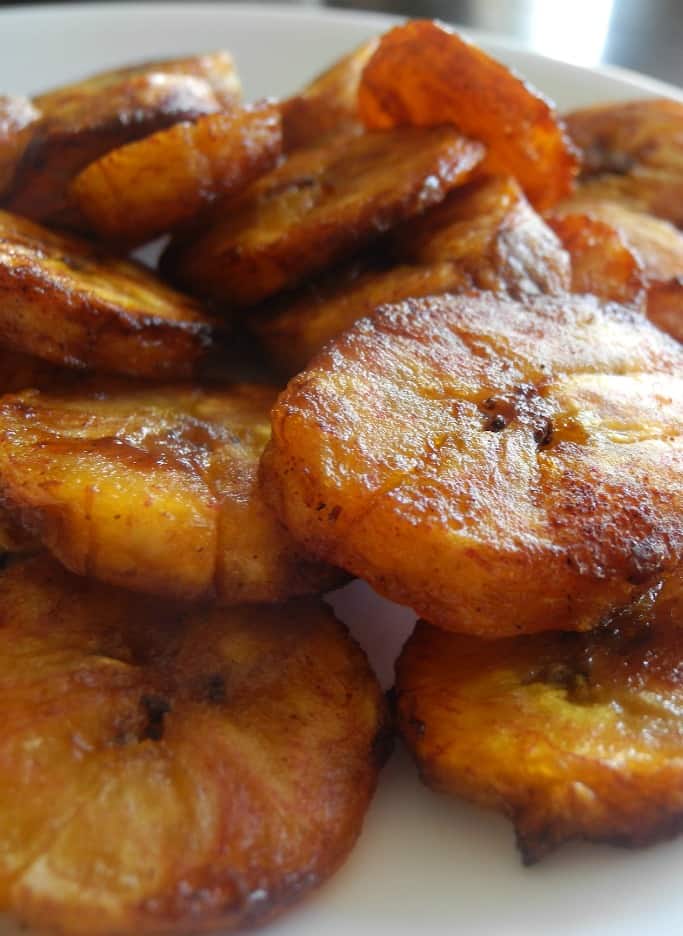 Sweet Caramel Cinnamon Baked Plantains
Ripe plantains tossed with coconut oil and sprinkled with coconut sugar, cinnamon and a pinch of sea salt, then oven baked for a sweet snack or treat! These sweet caramel cinnamon baked plantains can be eaten alone or dipped in coconut whipped cream for a decadent dessert.
Prep Time: 10 minutes
Cook Time: 25 minutes
Total Time: 35 minutes
Course: Snack/Treat
Cuisine: Paleo, Vegan
Servings: 4 servings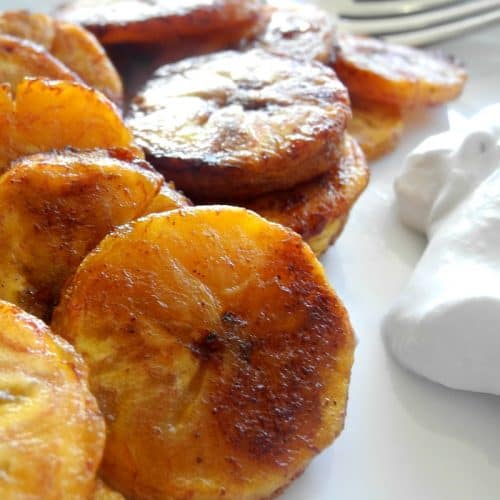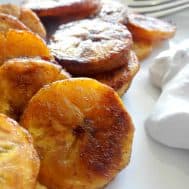 Instructions
Peel the plantains by cutting off the ends and cutting two lengthwise slits in the peel, then carefully opening up the peel.

Preheat the oven to 350 degrees. Cut the plantains into rounds, about 1/4 inch in thickness.

Put the plantains in a bowl and toss with the melted coconut oil. Line a large baking sheet with parchment paper, and spread the plantains in a single layer onto the parchment.

In a small bowl or measuring cup, combine the coconut sugar, cinnamon and salt. Sprinkle the mixture evenly over the plantains.

Bake in the preheated oven for about 25 minutes, turning once after about 15 minutes. Check them often to make sure they don't burn.

Remove from oven, let cool, and serve warm!

What's your go-to way to cook plantains?  
Is there any food you "hoard" (or buy every time you're at the store) so you never run out?
Happy Friday to everyone!!