This recipe for crispy, Savory Paleo Yuca Hash Browns  will quickly become a favorite alternative to the traditional potato kind!  The addition of bacon, red peppers, green onions, and spices makes for a delicious and unique breakfast or brunch dish to serve alongside fried eggs.  It's Paleo, Whole30 friendly and low FODMAP.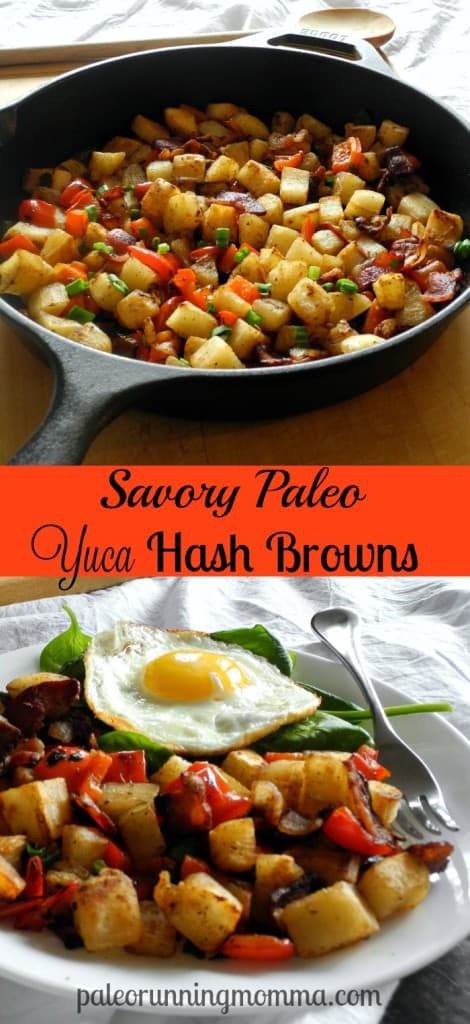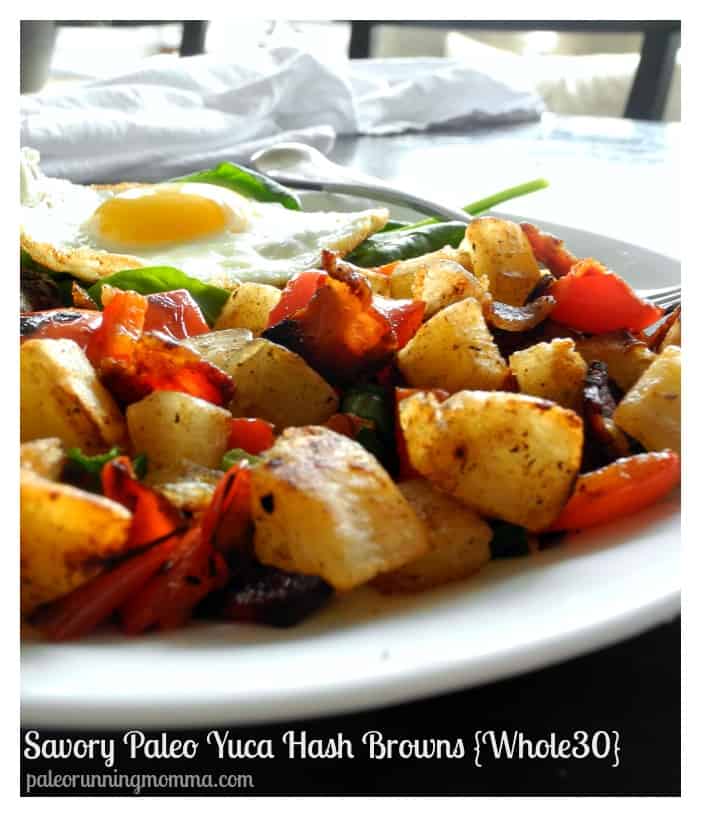 Surprise surprise!  It's another recipe for hash browns – this time using yuca – a favorite starchy tuber (that word makes me giggle) that I don't give enough love to in my posts.
Remember the baked yuca fries way back when?  If you liked those (or even if you think you'd like them) then you're in for a treat with this recipe!
This is a crispy and savory yuca hash recipe with the addition of peppers, bacon, some spice and green onions that I've eaten for two meals so far and wouldn't at all mind eating for a third. Good thing I have another yuca on hand because now I'm seriously getting hungry!
You know what else has me starving lately, regardless of how much I've eaten?  Pinterest!
I know I mentioned Pinterest last week (I think) but I'm still kind of obsessed and fascinated with it now.  Please follow me if you aren't already, I've been pinning up a storm of delicious looking recipes and I promise you will not be disappointed 🙂 (Is it not obvious that I struggle with self promotion? #awkward.)
I'm especially drooling over all the food photography inspiration (is there a "spo" hashtag for that?) which just completely blows my mind.
I'm not sure I'll ever really be into photography, but I definitely have a huge appreciation for it and I'm easily impressed by practically everything I see.  Isn't it fun discovering new things?  Yup, that sounds nerdy.  But I still feel that way all the time, like Alice falling down the rabbit hole or the kids in Mary Poppins jumping into the paintings.  I want to literally jump into Pinterest and eat all the food and look at all the beautiful things.  Wh0's with me?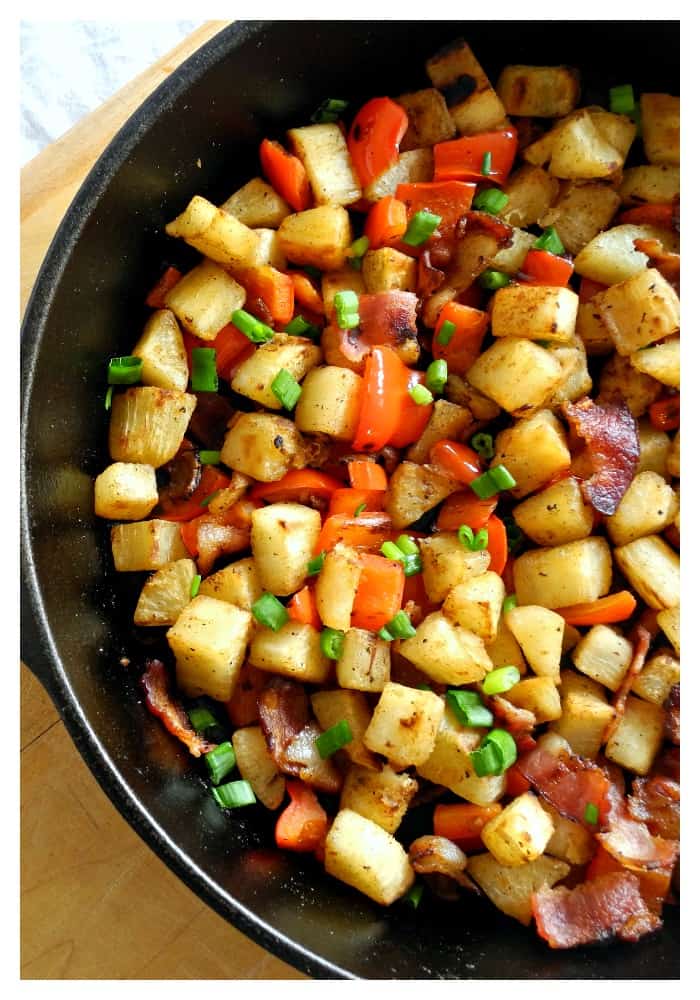 I'd also like to shout out some love to my cast iron skillets.  Like most things I can't live without, I was late to the party with these but they have turned out to be the best purchase of the past two years.  I was the person buying pans every few months because I was buying them cheap and ruining every single one.  My food would stick and come out terribly and it was just a major frustration.
I wound up going with Lodge
 and with the sale on Amazon
 I was able to buy the small, medium, and large skillets for around $50.  It made me feel like an idiot for not doing it sooner, but better late than never, right?  They have saved my cooking and my life, because often my life is cooking anyway. Plus, for recipes like this one, cast iron is really a must! (the Amazon links are affiliate links, to the actual product I purchased on my own and love dearly!)
Yuca Hash Browns with Ham and Pepper - Paleo + Low FODMAP
Crispy Paleo yuca hash browns with crumbled bacon, chopped pepper, spices and green onions. Paleo, Whole30 friendly, and perfect with fried eggs!
Prep Time: 10 minutes
Cook Time: 30 minutes
Total Time: 40 minutes
Course: Breakfast/brunch
Cuisine: Paleo Low FODMAP
Servings: 2 -4 servings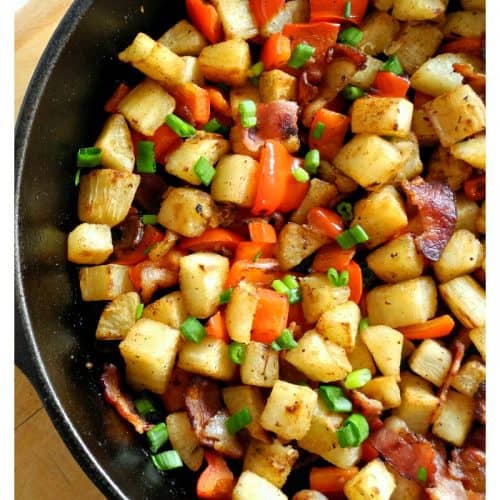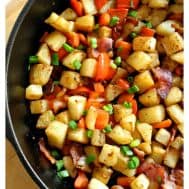 Ingredients
1 lb yuca root
4-6 slices bacon - cooked drained, crumbled
1/4 cup rendered bacon fat or other cooking fat such as coconut oil or ghee
1 medium red pepper seeds removed and roughly chopped
1 tsp smoked paprika
pinch of red cayenne pepper
1/2 - 1 tsp of sea salt per your preference
2 tbsp thinly sliced scallion green onion, green part only for low FODMAP
Instructions
Cut off the ends of your yuca with a sharp knife, and peel off the thick skin either with a regular vegetable peeler (what I used) or your knife. Cut the yuca into half inch cubes.

Place the yuca in a medium sauce pan and cover with water. Bring the water to a boil over high heat, and, cook the yuca until just fork tender, not too soft, about 10-15 minutes. Drain yuca and set aside.

Heat a medium-large heavy skillet over medium-hi heat (after bacon is already cooked) and add 3 tbsp of bacon fat or preferred cooking fat.

Place the drained yuca in the pan and fry, stirring occasionally to evenly brown, until crispy and soft, about 10 minutes. Add a bit more cooking fat if you need, yuca is very starchy and absorbs a lot of fat as it cooks.

Once toasty, add the chopped peppers to the pan along with the spices and salt, and cook, stirring until the peppers soften and begin to brown.

Finally, add the cooked, crumbled bacon to the pan and stir to combine. Continue to cook another minute or so, being careful not to burn the bacon. Remove from heat.

Sprinkle with the sliced green onions and a pinch more salt if desired.

Serve for breakfast alongside eggs cooked your favorite way, or as a side dish for any meal. Enjoy!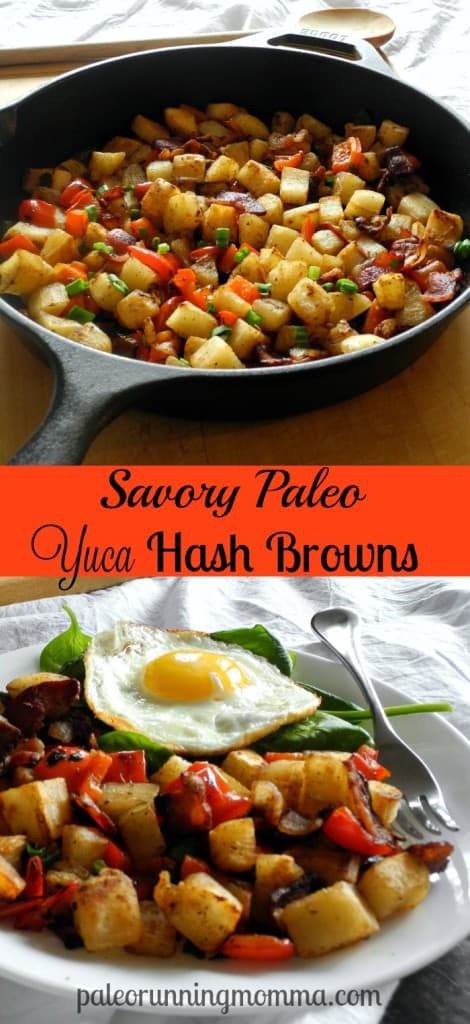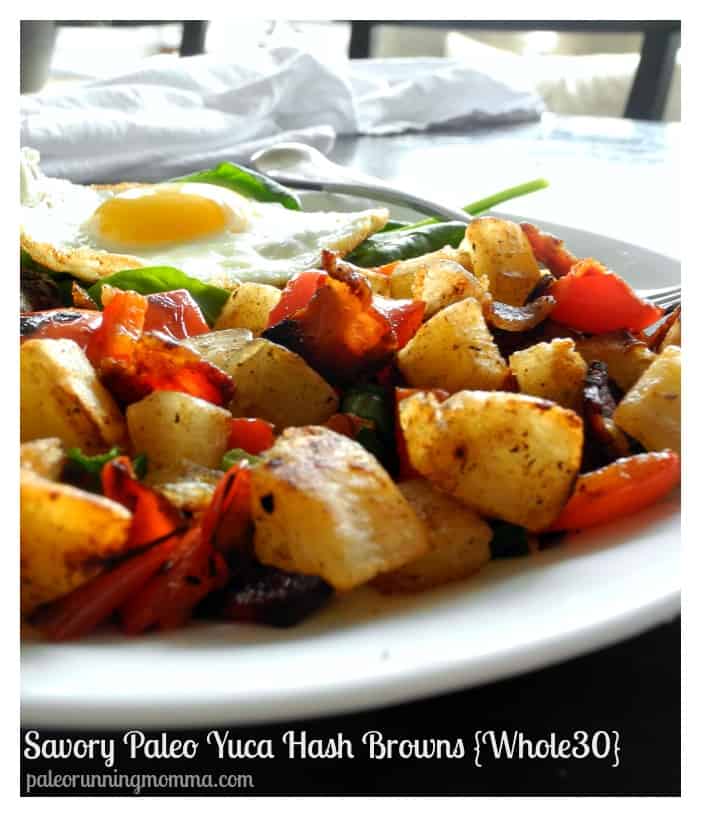 I'm not kidding you when I say I'm going to cook myself this meal again right now!  And it's not even because I desperately need to go grocery shopping and only have a yuca and a pepper sitting in my fridge.  At least not entirely 🙂
I'm signing off for a fun weekend – including a night out with friends (woohoo!) and a beach day with the kids Saturday.  Oh and that long run too, that I'll be saving for Sunday this weekend due to Friday night and Saturday plans.  I haven't run 14 miles in several months so it should be fun 😉
Do you cook with cast iron?
What are your weekend plans?  Any long runs?
See you all Monday!