Raspberry Lime Homemade Kombucha is a healthy, refreshing, and delicious way to get your daily dose of probiotics.  Flavored with fresh raspberries and lime juice with no added sugar so it's Whole30 friendly, yet tastes like an indulgence!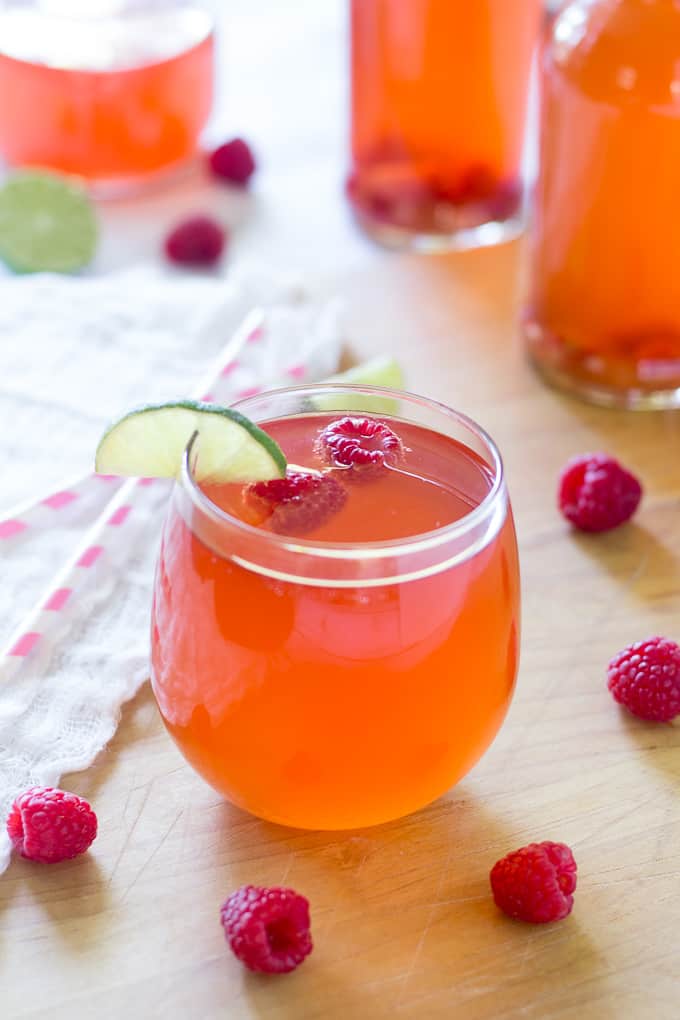 Hallelujah for quick brewing kombucha!  I knew there must be something to love about summer.
I'm not a total summer grinch (debatable) but I do complain a whole lot when the humidity turns up and the temperatures rise into the 80s.  But, I try to be a "glass-is-half-full" type of person (again, debatable) AND with a more-than-half-full glass of raspberry lime homemade kombucha, it's a whole lot easier.  See what I did there?  OH YEAH.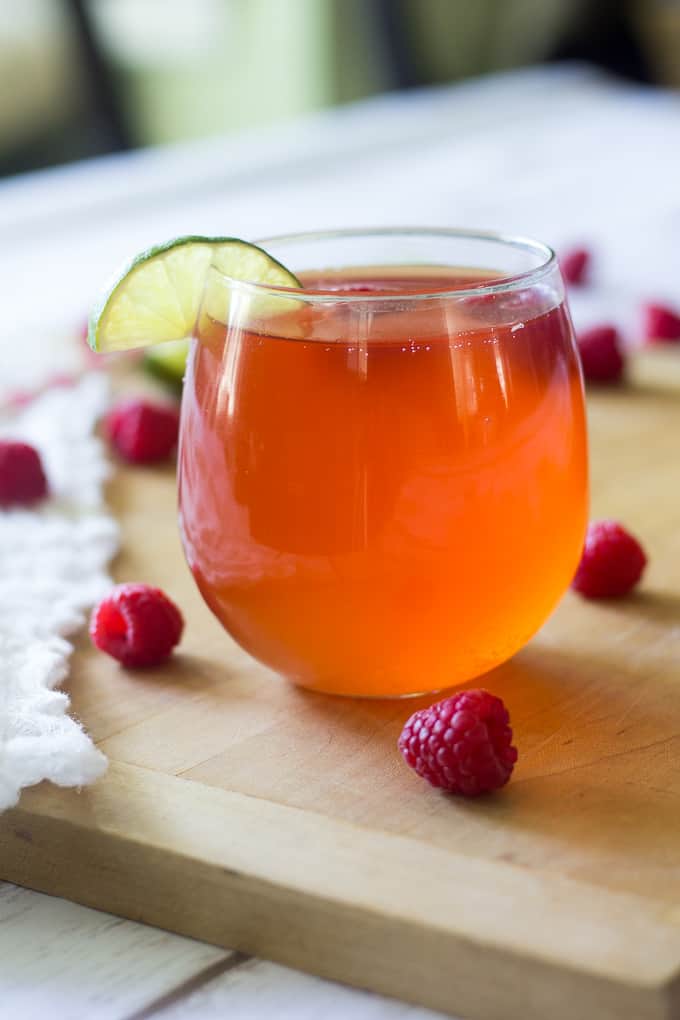 I'm guessing some of you might have literally no clue what the who-ha I'm talking about.  You see, kombucha is fermented sweet tea!  It's crazy delicious AND crazy good for you at the same time since it's a fermented food.  And, fermentation happens a lot faster in warm environments.  You can totally purchase a heat strip for your brew, but, I've yet to do that and just waited patiently all winter for my brews to ferment.
But no longer! Now that the weather has warmed up the little "brewing station" in the corner of my kitchen is warm all the time, and so, I figured it's time to experiment with some new flavors.  First up – raspberry lime.  (The second is currently in the works!)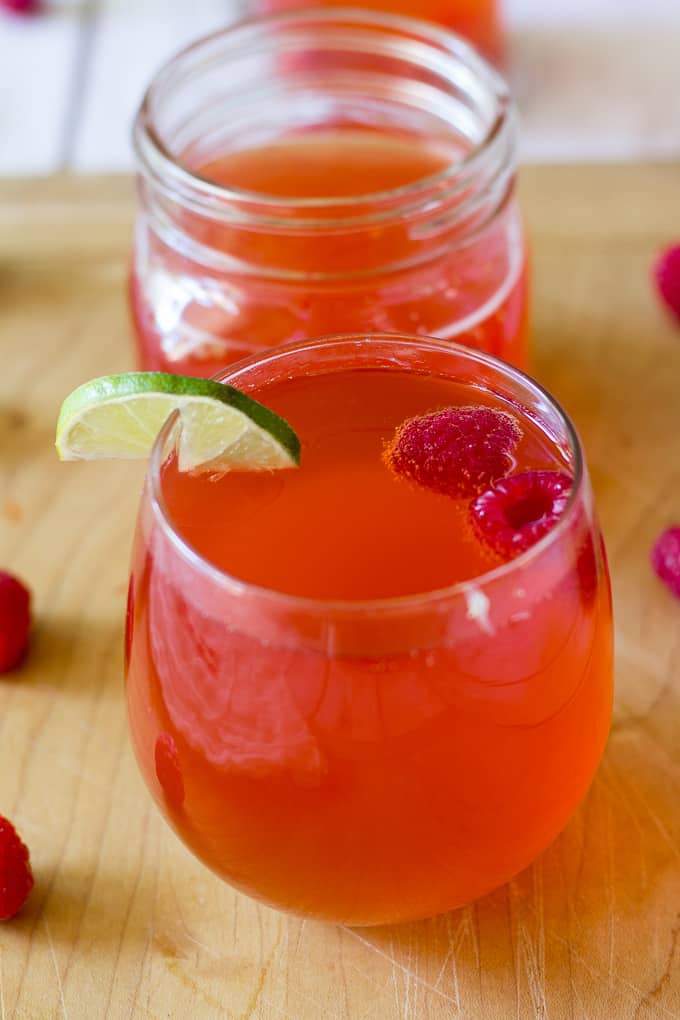 Now, if you're totally new to homemade kombucha, definitely check out my post on how to brew your own at home.  I've been making mine for over a year and a half and now have more SCOBYs than I know what to do with!  Everyone has to start somewhere though, and if you're ready, I highly recommend going with the Kombucha Kamp starter kit.
Although I have a huge amount of SCOBYs now, the original one from my starter kit is still alive and kickin', so you know it's a good one.   The price is low and so completely worth it if you typically buy kombucha a couple of times per week.  And trust me – you CAN make it taste as good as store bought – it's all in the flavoring!
So let's get started with this quick and easy recipe.  It makes the preeetty-est homemade kombucha, in my opinion.  The berries also give it more carbonation so it's almost like soda 🙂 So, if you're trying to get friends and family on the kombucha train with you, hide the SCOBYs (admit they can be scary) and whip out the raspberries!  Okay, let's go 🙂
Raspberry Lime Homemade Kombucha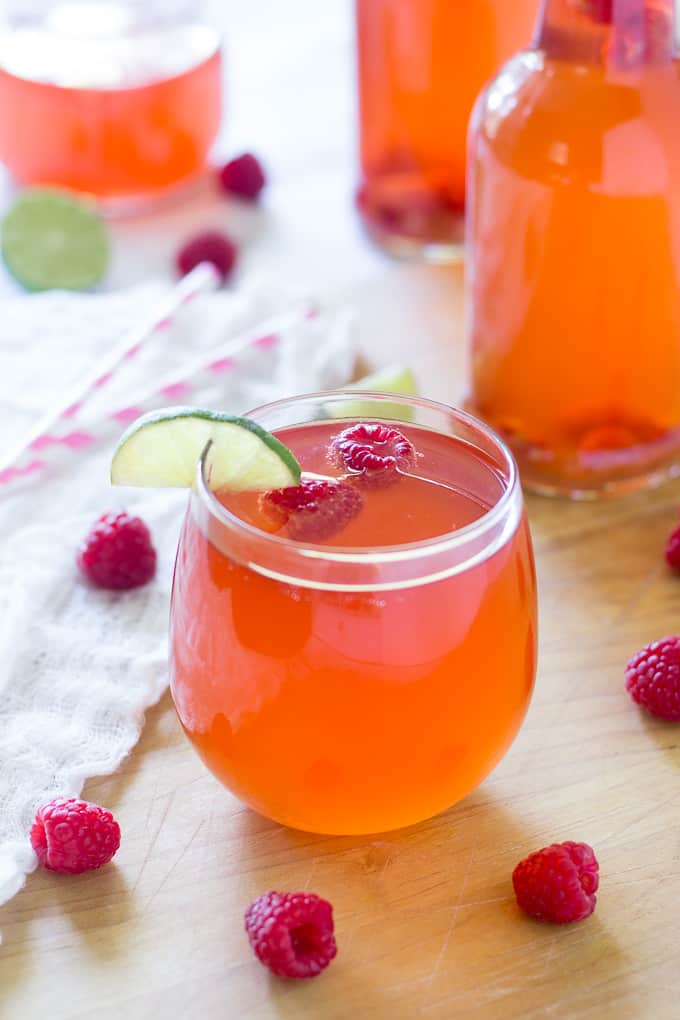 Homemade Raspberry Lime Kombucha
A sweet and tart healthy way to get your probiotics! Homemade raspberry lime kombucha with no added sugar, fresh raspberries and lime juice.
Prep Time: 5 minutes
Total Time: 5 minutes
Course: Drink
Cuisine: Paleo, Vegan, Whole30 friendly
Servings: 6 servings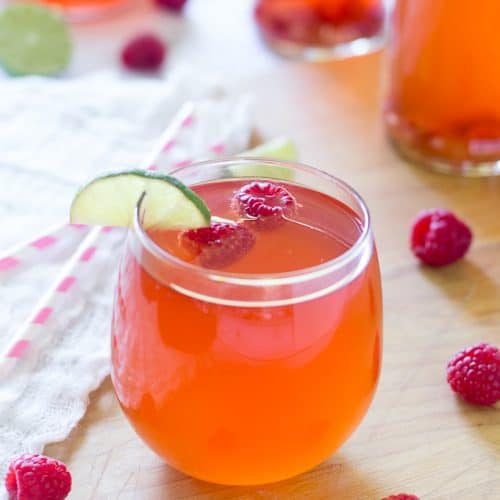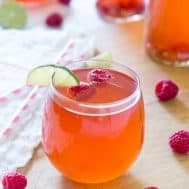 Ingredients
1 gallon give or take a bit home brewed kombucha
2/3 cup fresh raspberries roughly chopped
1/4 cup fresh squeezed lime juice
Extra fruit for garnish to serve
Instructions
First, brew your kombucha to the desired tart/sweet balance. For me this is between 8-10 days depending on weather. Refer to my easy guide for

brewing instructions

.

Once your kombucha is brewed, remove and set aside your SCOBYs.

If bottling, divide the raspberries and lime juice equally between 5 or 6 bottles, jars, or other glass containers, then transfer the brewed kombucha into each one using a funnel.

If using one large container, put all ingredients at the bottom before transferring the kombucha and allowing it to ferment with the fruit and juice.

Secure bottles/container tightly with a lid, and allow the bottled kombucha to ferment for 1-2 more days at room temperature before refrigerating and serving.

Serve with extra fresh fruit for garnish and enjoy!
Recipe Notes
Berries will make the kombucha significantly carbonated so leave a bit of room at the top, and be careful when opening!
What I Used for Brewing and Bottling:


Favorite kombucha flavor?
Have you brewed your own?
Are you a hot weather lover?
Note: This post contains Amazon affiliate links which means that if you click on a link and make a purchase, I will receive a small commission at no cost to you. Thank you for supporting The Paleo Running Momma!