These moist and tender paleo Gingerbread Muffins are packed with spices and just the right amount of sweetness.  Perfect for holiday baking, snacks, and even dessert with the sweet maple lemon icing!  Gluten-free, dairy-free.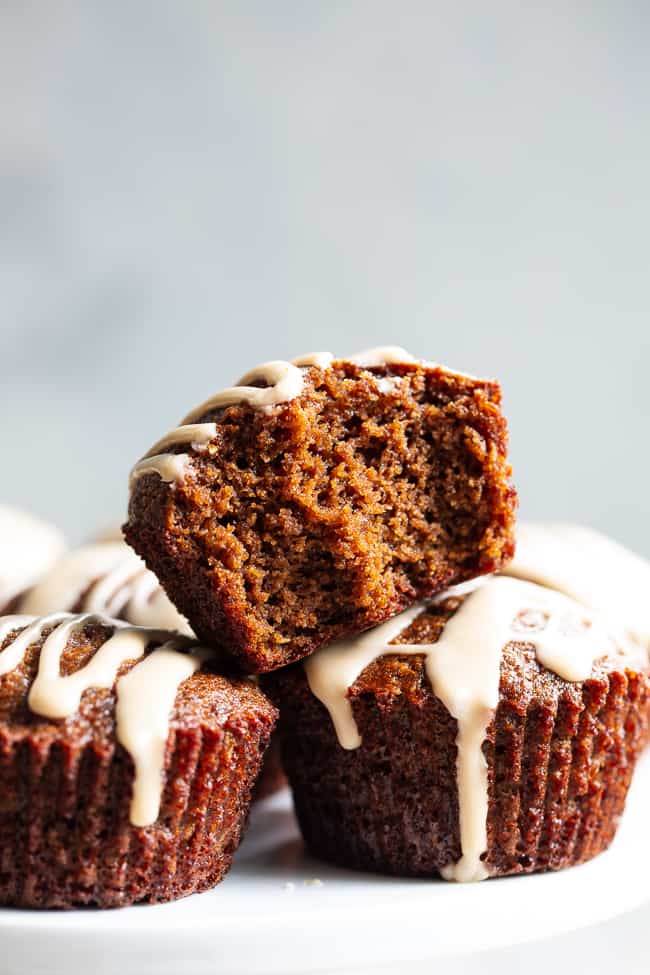 It't just not December without a good gingerbread recipe with icing, don't you think?  Last year I made this ridiculously tasty orange gingerbread coffee cake and this year, I was dreaming about muffins.
Muffins are perfect because 1. They're fast and easy to make 2. They're basically cupcakes that are "okay" to eat for breakfast.
I say "okay" because duh – you make your own rules about breakfast and who says you can't eat cake or cupcakes in the first place?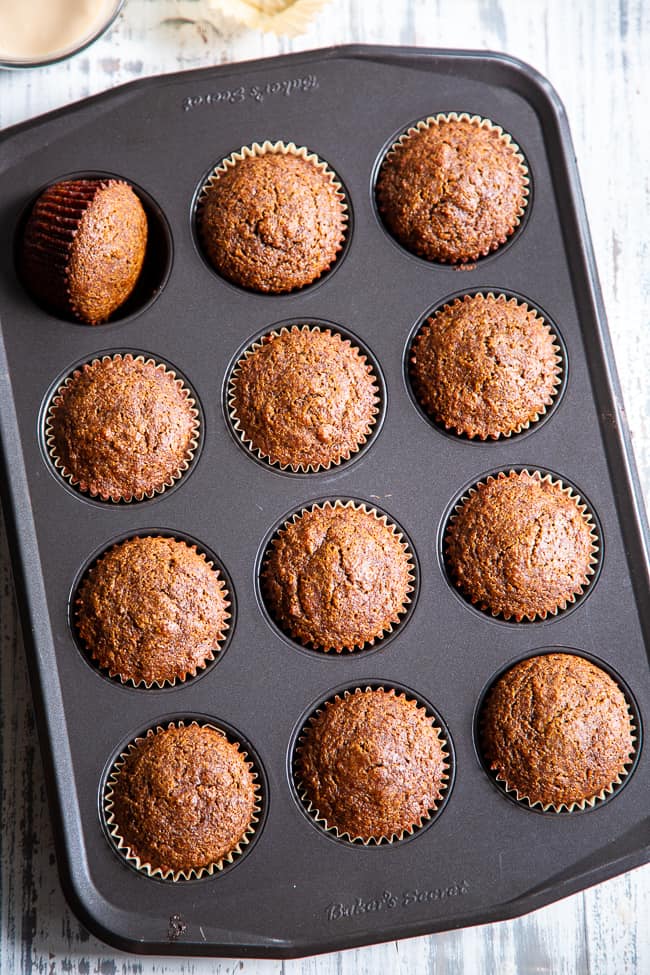 But gingerbread muffins – breakfast, second breakfast (raising hand), snack, dessert or whatever you make them – they are going to make you happy.
The muffins themselves use a blend of 2 flours – blanched almond and tapioca – which helps give them incredible texture.
Then we have eggs, maple syrup, blackstrap molasses, vanilla and almond extracts, and coconut oil for the wet ingredients.
The muffins are spiced with plenty of Primal Palate Gingersnap Spice – one of my favorite blends!  You can totally make your own spice blend though if you can't get this one – instructions in the recipe box.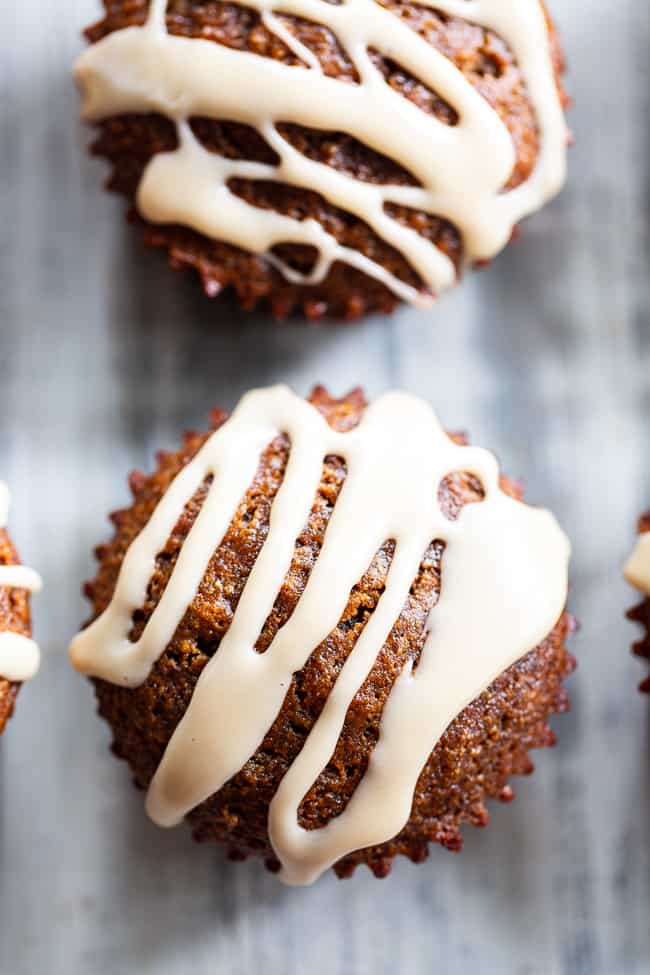 The muffins are delicious without the icing, but honestly I just can't resist drizzling a good icing over basically everything lately!   Icing is my mood this time of year, you know?  Yes that does sound strange, but it's not a typo 😉
Anyway, since I learned how to make my own paleo powdered sugar with either maple or coconut sugar, icing has become WAY more fun.  If you're okay using organic powdered sugar, you can totally do that as well.
However, making powdered sugar is as simple as putting maple or coconut sugar in a food processor with a bit of tapioca flour.  You can use the resulting powdered sugar in any icing recipe in place of store bought confectioner sugar.  Pretty cool, right?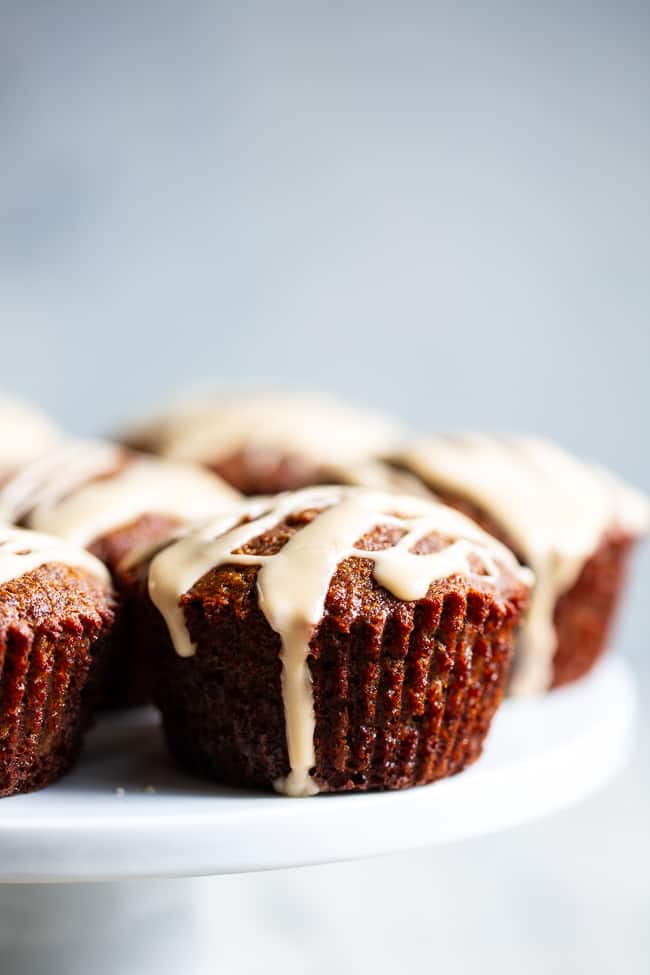 Depending on the sugar you use, your icing will wind up anywhere from light caramel color to a darker brown (if you use coconut sugar.)
For the photos, I used organic powdered sugar to get a nice white icing.  I personally prefer the flavor of maple sugar for my icing, though.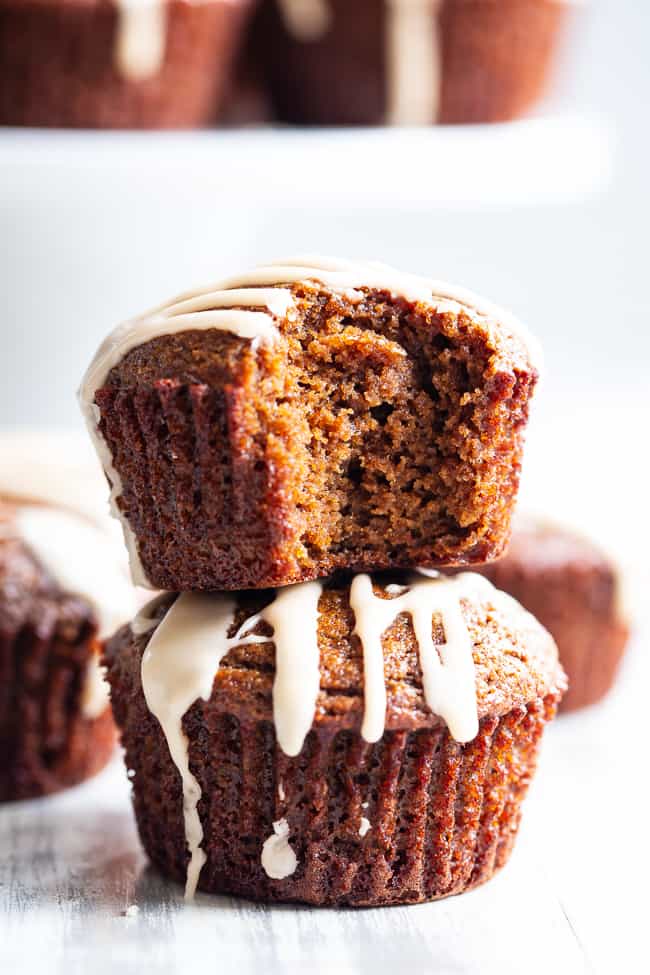 To say these went over well would be a huge understatement – they were gone by day's end!  Even my pick little guy liked them, and actually ate the muffin part in addition to the icing.  That's a 5 star review in my house.
With the sweet spices, deep flavor of the molasses and the maple lemon icing, these muffins will surely be a hit with everyone – not just the paleo crowd!
I hope you're ready to bake these deee-lish paleo gingerbread muffins. And also prepared to hide a couple for you and you alone!  Let's grab and apron (they're just fun) and go!
Paleo Gingerbread Muffins with Lemon Icing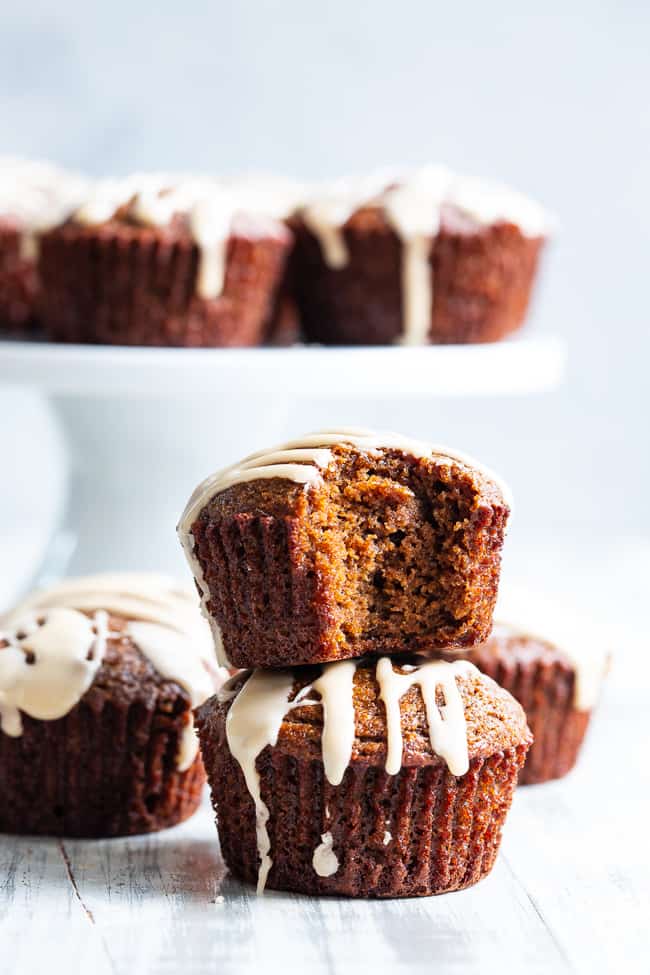 Paleo Gingerbread Muffins with Lemon Icing
These moist and tender paleo Gingerbread Muffins are packed with spices and just the right amount of sweetness. Perfect for holiday baking, snacks, and even dessert with the sweet maple lemon icing! Gluten-free, dairy-free.
Prep Time: 15 minutes
Cook Time: 18 minutes
cooling time: 20 mins
Total Time: 33 minutes
Servings: 12 muffins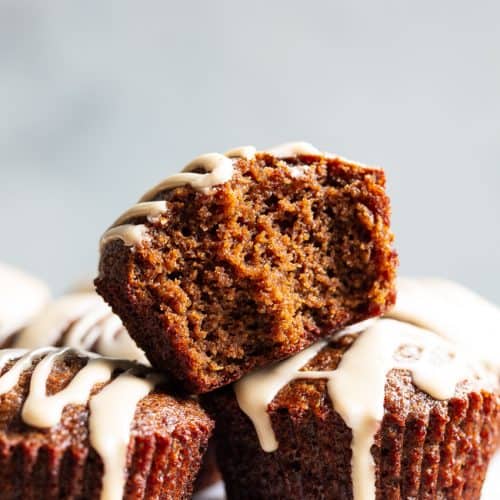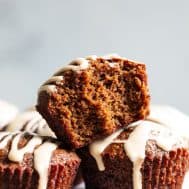 Instructions
Line a 12 cup muffin pan with parchment liners and preheat your oven to 350 degrees F.

Combine the dry ingredients in a mixing bowl, stir, and set aside.

In a separate large bowl, whisk the eggs with the almond milk, lemon juice, coconut sugar, and molasses until well combined. Add the melted coconut oil, vanilla, and almond extract and whisk until smooth.

With a wooden spoon or silicone spatula, stir the dry ingredients into the wet gently until just moistened and no flour spots show.

Transfer batter to prepared muffin pan, filling about 3/4 full to make 12 muffins. Bake in the preheated oven for 15-18 minutes or until muffins set and rise - a toothpick inserted in the center of one should come out with a dry crumb.

Allow muffins to cool for 5 mins before transferring to wire racks to cool completely. While muffins cool, prepare the icing. Whisk together the icing ingredients in a medium bowl, and drizzle over the cooled muffins.

Store leftovers at room temp, covered, for one day and in the refrigerator for up to 4 more days. Enjoy!
Recipe Notes
* To make your own paleo powdered sugar, combined 1 cup maple sugar (or coconut sugar) and 1 Tbsp tapioca flour in a food processor or high speed blender and blend until a powdery consistency is reached.  Use just the amount of the resulting mixture specified in the recipe (1/2 cup) and save the rest for another use.
Nutrition
Calories: 240kcal
Carbohydrates: 24g
Protein: 5g
Fat: 14g
Saturated Fat: 4g
Cholesterol: 40mg
Sodium: 164mg
Potassium: 117mg
Fiber: 2g
Sugar: 15g
Vitamin A: 60IU
Vitamin C: 0.6mg
Calcium: 71mg
Iron: 1.3mg
Shop Products and Ingredients:
Want More Paleo Muffin Recipes?  Try One Of These!
Sweet Potato Cinnamon Raisin Muffins
Banana Almond Butter Chocolate Chip Muffins
Double Chocolate Banana Tahini Muffins
Pumpkin Muffins with Cinnamon Streusel 
Note: This post contains affiliate links. This means that if you click on a link and make a purchase, I will receive a small commission at no cost to you. Thank you for supporting Paleo Running Momma!