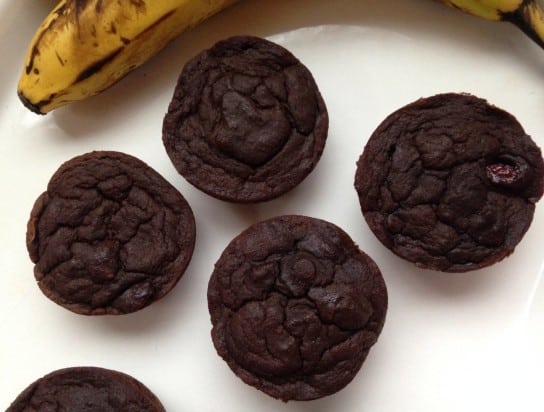 Over-ripe bananas were taking over my house last week – what you would you do, amiright?  We (me and my kids asking if they can eat) already made and devoured Chocolate Chip Banana Bread Squares so it was time to move on.  But before I give you the recipe, it's time for a little "What I Ate Wednesday" or in this case, last Saturday, the day these fabulous little healthy muffins were born.
Thanks for the link-up party, Jen!!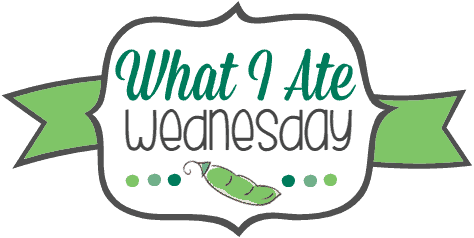 Let's start with breakfast.  Early in the morning I ran 5 miles, came back, did some yoga and drank water before making this: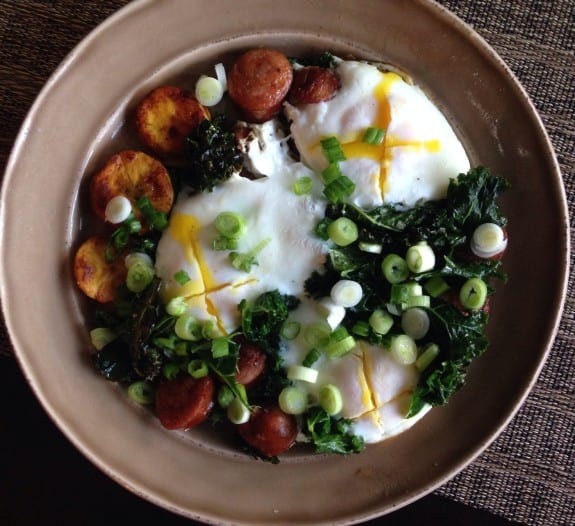 It's Aidell's spicy Andouille sausage fried in bacon fat (made bacon for kids and husband) with kale, a few leftover plantains (kids got priority!) 3 eggs that came out really pretty if I do say, all topped with green onions.  I've been loving green onions all over my eggs lately.  So delicious.
Now that I'm looking at my pictures I'm seeing Aidell's sausage is featured quite a bit!  I like this particular brand, both for the ingredients and the flavor.  Plus they seem bigger than other pre-cooked sausages to me.  Just saying.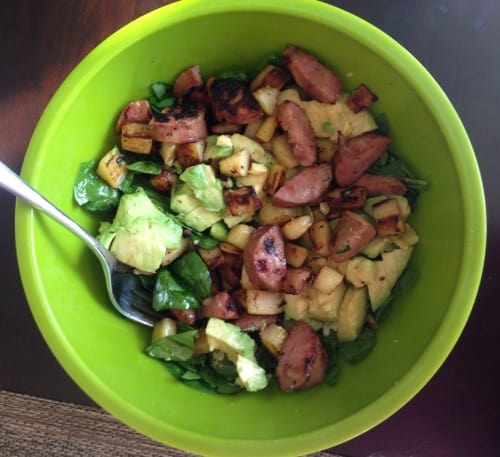 Lunch was Aidell's chicken apple sausage sauteed with zucchini in more bacon fat and seasoned with salt and pepper.  I paired this with an avocado and put everything over baby spinach in a bowl, before drizzling with olive oil and seasoning with a bit more salt.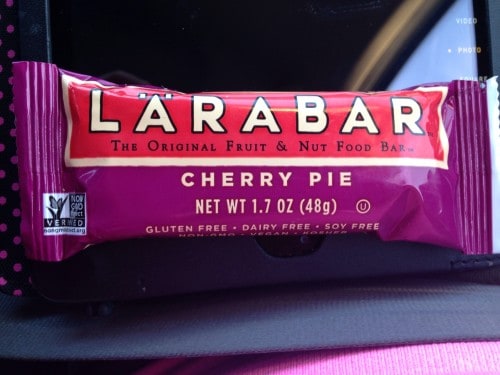 We were out for a few hours in the afternoon, so I had this for a snack around 3:30 I think.  Honestly I'm getting a little tired of larabars and only carry them in my bag now as an emergency snack.  I can't entirely say this was an emergency, but, I ate it anyway.  It was fine.
And now the moment!  The baking happened around 4pm when we got home.  These were really quick and easy to make!
Okay but for now you just see the batter, which I of course tested out before putting in the oven.  Wait until I finish dinner to get your dessert.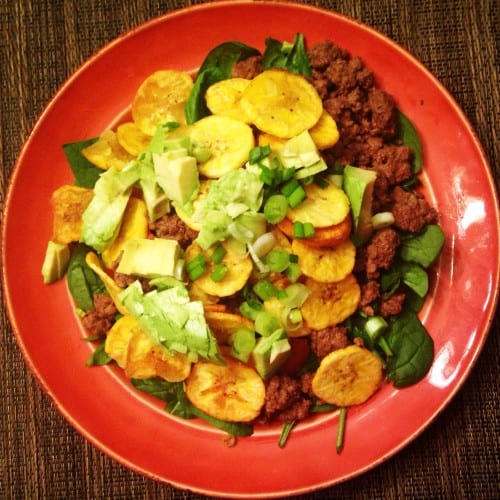 Dinner was a taco salad made with chipotle, garlic and onion seasoned ground bison, tomatoes, avocado, and homemade plantain chips.  The homemade plantain chips make this meal, and any meal they come in contact with in my opinion.  They are out of this world.  Yes, a project, but really worth it.  Try 'em!
My dessert after the kids went to bed was my Vanilla Honey Hot Chocolate plus one of these Paleo chocolate banana muffins.  Yes, now for the recipe!
Rich Chocolate Banana Cranberry Muffins
Rich chocolate banana muffins with cranberries that are paleo, grain free, dairy free, soy free, gluten free.
Prep Time: 15 minutes
Cook Time: 20 minutes
Total Time: 35 minutes
Course: Breakfast/Snack
Cuisine: Paleo
Servings: 12 muffins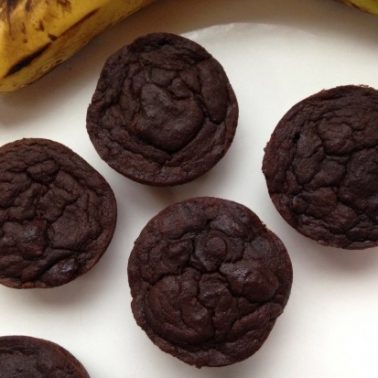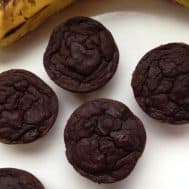 Instructions
Preheat oven to 350. Prep a 12 cup muffin tin by greasing the cups with coconut oil or butter.

In a large bowl, cream together the bananas, eggs, coconut oil, coconut milk, honey, and vanilla with a hand mixer, until smooth.

Combine the dry ingredients in a small bowl, and then slowly stir in the dry mixture until it fully combines and is smooth.

Finally, stir in the dried cranberries and chocolate chips if you're using them.

Fill the muffin cups with the muffin batter about 2/3 full, and bake in the preheated oven for 20 minutes or until just set.

Let sit for a minute before removing muffins to a wire rack to fully cool.

Enjoy!
I've definitely been a little into chocolate lately.  I think the holidays and winter lend to that feeling of wanting chocolate.  Definitely check in on Friday for a super rich, chocolate recipe that you'll never guess is Paleo.  But for now, I'll leave you with the muffins 🙂
Happy New Year everyone!!