This is a sponsored post written by me on behalf of Vintage Seltzer. All opinions are 100% mine.
Cherry Berry Fizzy All-Fruit Slushies made with frozen fruit and blueberry flavored Vintage Seltzer.  This refreshing healthy summer treat contains no refined sugar and is ready to drink in 5 minutes!
Who's smack in the middle of a heat wave like I am?  I know I'm not the only one with burning love (haha) for all things frozen right now.  I also know I'm not the only one who's waist deep in berries and cherries, either.  I simply can't get enough of them this summer, and it's showing on the blog!
Today I have a super easy, special frozen treat for you that involves all of the above.  The perfect defense for the July perma-heat wave, I think!  Cherry Berry Fizzy All-Fruit Slushies.  Yes, they're fizzy, and seriously awesome.  Let me tell you why!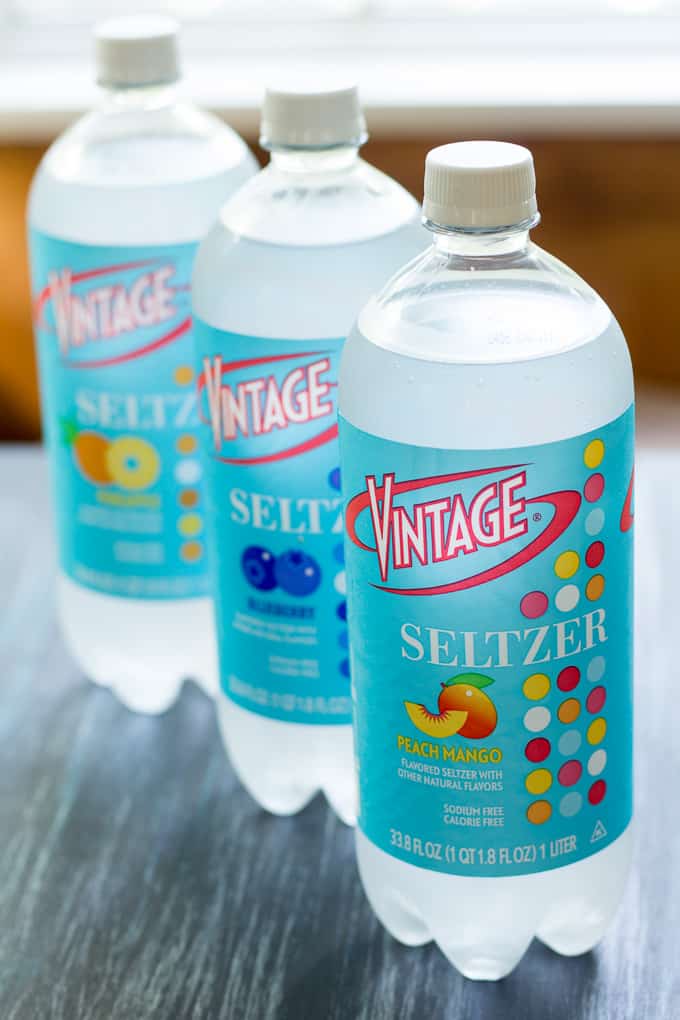 So, around these parts – meaning my home – NY & NJ (both my homes!) when we think seltzer/sparking water, we think Vintage!  Adam and I, along with my parents, have always been fans of all the Vintage Seltzer flavors like Lemon Lime, Raspberry, and Mandarin Orange.  Vintage tastes amazing and is perfect for picky-drinkers like me, who need something "extra" in their water!
Vintage seltzer is made with natural flavors, contains zero calories and no sugar or artificial sweeteners. It is also fat free, gluten free, with no HFCS and no FDC color.  It's a great addition to your kitchen to sub for water in drinks and baked goods!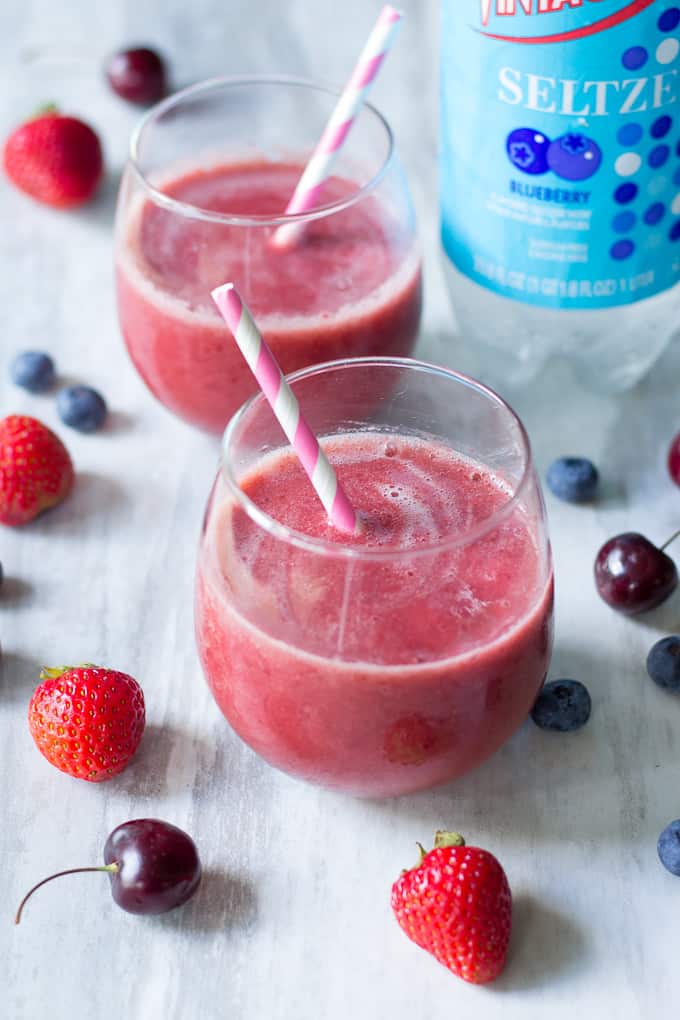 This July, Vintage has 3 new Limited Time Offer summer flavors – Peach Mango, Pineapple, and Blueberry!  You can find these flavors from June 24-July 31 in Shoprite, Stop & Shop and Wegmans in NY.  Core Vintage flavors are available all over NY and NJ – to find your nearest location go to Find Vintage.
For my Cherry Berry Fizzy Slushies, I used the blueberry flavor, which adds a refreshing and fun flavor to the slushie and also gives it just the right amount of fizz.
This slushy is absolutely perfect to throw together right after a run – or any workout – for a sweet, super refreshing way to rehydrate that feels like a treat.  I am all about icy cold drinks as soon as I walk in the door from my run these days!
Now, let's get started with the recipe!
Cherry Berry Fizzy All-Fruit Slushies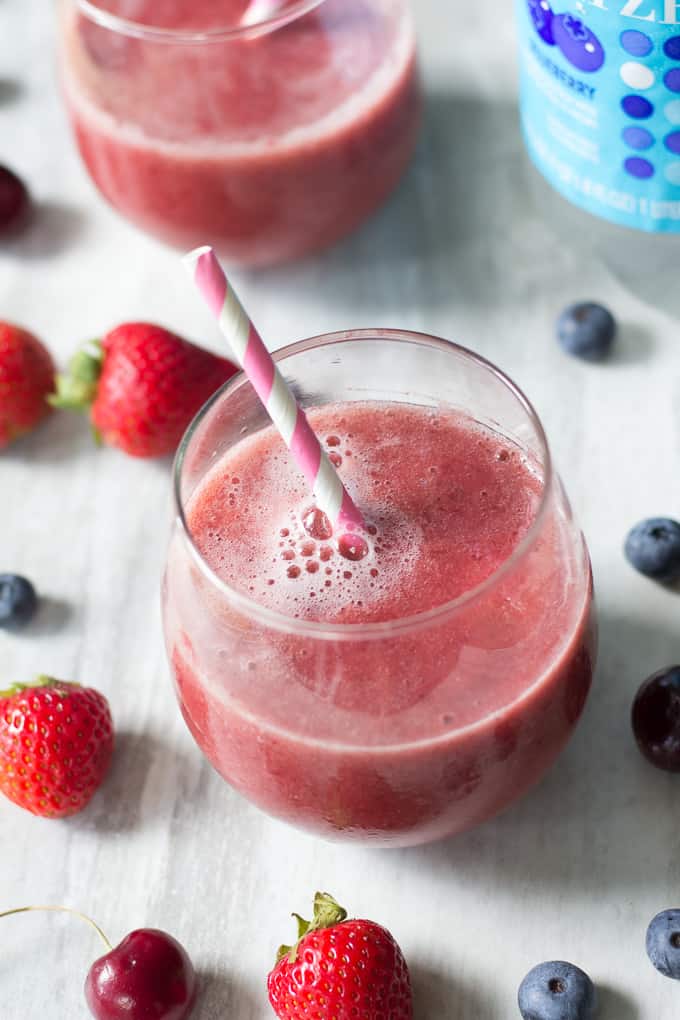 Cherry Berry Fizzy All-Fruit Slushies
Cherry Berry Fizzy All-Fruit Slushies that are super refreshing for summer and made with Vintage Seltzer
Prep Time: 5 minutes
Total Time: 5 minutes
Course: Drinks
Cuisine: Paleo, Summer, Vegan
Servings: 2 slushies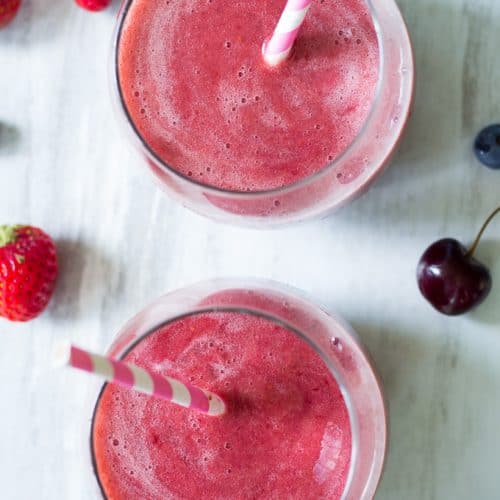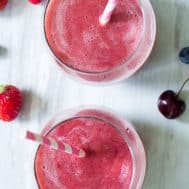 Ingredients
1 medium size banana frozen (medium ripeness)
1 cup frozen pitted cherries
1.5 cups frozen strawberries
10 oz Vintage Seltzer blueberry flavor
1/2 tbsp raw honey
1 tsp fresh lemon juice
Instructions
In a blender, combine all the frozen fruit, honey and lemon juice plus 6 oz of the blueberry seltzer.

Blend on high speed until smooth, then pour into two glasses.

Divide the remaining 4 oz of seltzer among the 2 glasses, topping off each one. Enjoy right away and prepare to be refreshed!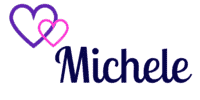 Join the conversation about the new flavors @VintageSeltzer and #DrinkVintage 
Follow:  Vintage Twitter
Follow: Vintage Facebook
For retail locations and recipe ideas visit Vintage Seltzer.