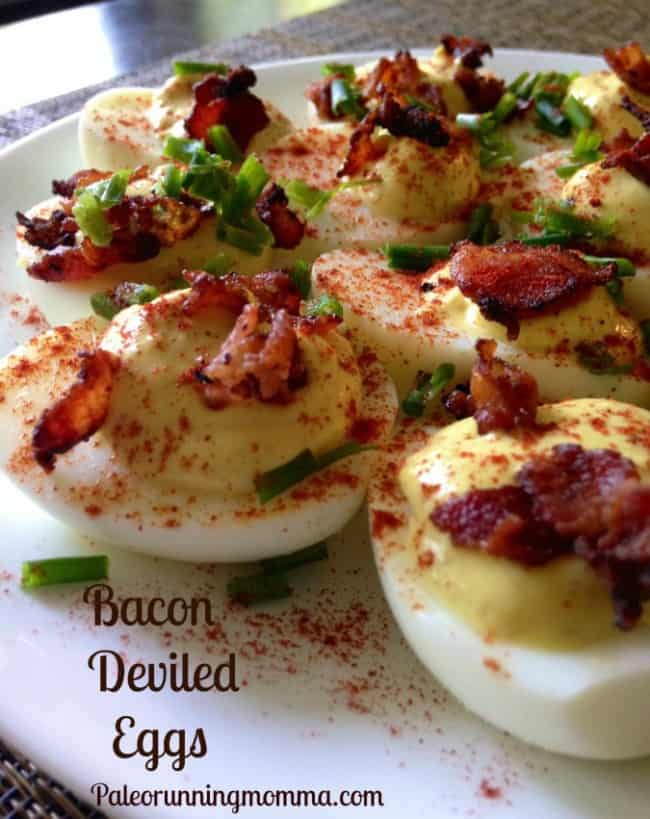 Deviled eggs were the first thing I ever "cooked" in my life, independently at least, when I was about 10 years old.  I remember having them at a barbeque and then asking my mom how to make them.  She gave me the gist – basic ingredients -and I gave it a whirl.
*Side note – the first thing I ever actually cooked on the stove was bacon, and between those two first attempts it's pretty clear that the Paleo Gods had found me at that young age and captured my soul, or something.   Either that or I've just always had a palate that appreciates savory goodies.  The latter might explain my undying love for spinach pie, aka #theonethatgotaway #notpaleo.
Enough hashtagging, back to mini Michele and the deviled eggs.  I remember "testing" the yolk mixture several times until the flavor was perfect, and the whole experience hooked me on both deviled eggs and cooking itself – especially creating my own recipes.  Although I never wrote anything down since I didn't have a blog back in 1992 and "winging it" was more fun 🙂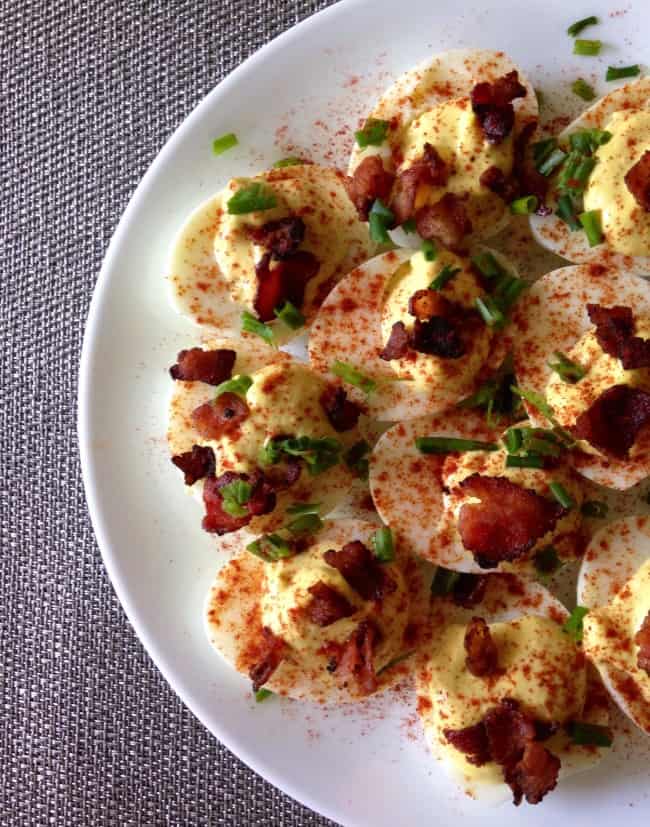 So you guys know I've been busy and stressed lately, yes I've said it a whole bunch.  My logic for making these this week went, "well I made deviled eggs when I was a kid so clearly they are not difficult, may as well do it this week since I don't have a ton of time."
Right, because when I was 10 I had 3 kids, a house, a cat, and a blog to take care of plus the responsibility of packing 4 people (minus Adam) for a week long trip.
What I'm trying to say, is that my 10 year old self apparently had a lot more time to kill (ya think?!), and though deviled eggs are not difficult, there are quite a bit of steps involved that I should have accounted for before "scheduling" myself to make them during this crazy week.
The good news is, it's all in the past, and they came out great.  They really are easy peasy, just make sure you have a decent chunk of time, and, perhaps a random enthusiastic 10 year old who likes eggs.  These are fun to make, with the bonus of the confidence boost you get from making something that looks "fancy" and tastes out of this world!  They are paleo (made with my homemade mayo) low FODMAP, and made "from scratch" 🙂
Bacon Deviled Eggs
A paleo and low FODMAP version of deviled eggs, made with homemade mayonnaise, and topped with crispy bacon and fresh chives.
Prep Time: 30 minutes
Cook Time: 5 minutes
Total Time: 35 minutes
Course: Appetizer, Snack
Cuisine: Paleo
Servings: 6 servings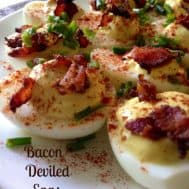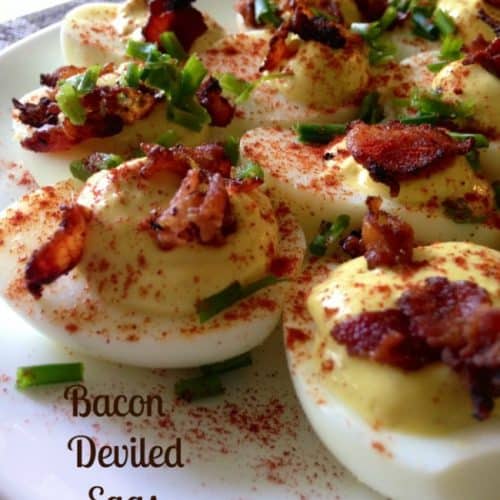 Instructions
Peel your hard boiled eggs and cut each one in half lengthwise. Carefully remove the yolks and put them in a medium bowl. Set the egg white halves aside for the meantime.

Cook the bacon over med-hi heat in a heavy skillet until crisp, then drain, crumble, and set aside.

Mash the hard boiled egg yolks with a fork, then add the mayo, mustard, and salt and mix very well, until you have a thick, creamy filling for the whites. Alternatively, you could beat with a hand mixer to get a smooth consistency.

Carefully spoon the yolk mixture into the egg white halves, about 1-2 tbsp per half or enough to overfill a little.

Sprinkle the smoked paprika over all the eggs, then top with the crumbled bacon and chives or scallions.

Serve right away, or cover tightly with plastic wrap and store in the fridge until serving.

Enjoy!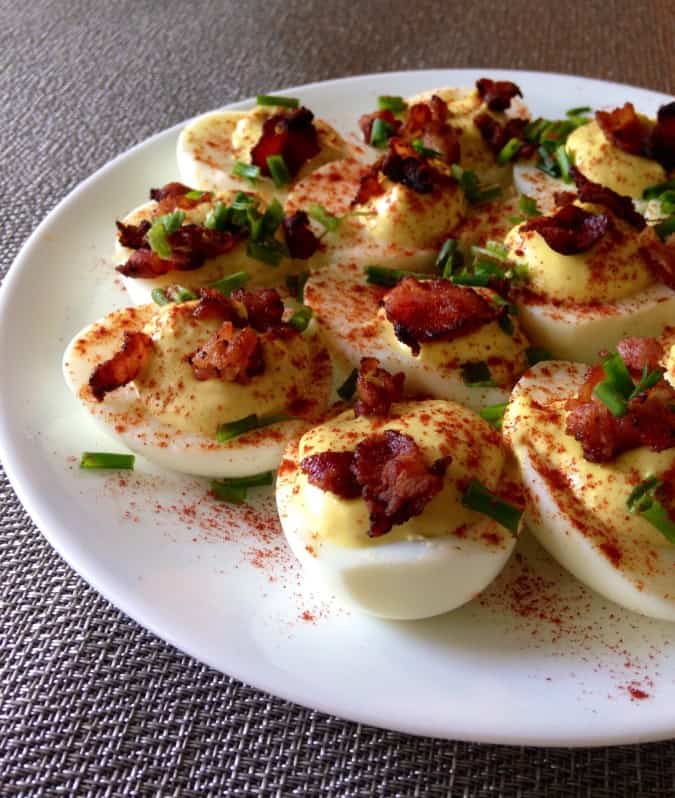 And now I'm off!  To Seattle that is, today, and I won't be back until next Saturday.  It will be seriously strange to be away from my computer, my house, routine, and blog world, but I have a feeling it will be a welcomed break in routine.
I'm really excited to have three awesome guest bloggers next week – Gretchen, Jamie, and Susie to fill in for me.  I've felt so inspired reading each of their posts and I know you guys will too, so look forward to that!
What was the first food/meal/recipe you made by yourself as a kid?
Do you ever underestimate the time it takes to do "simple" tasks or make "simple" meals when you're busy?
What are your weekend plans?