This post was sponsored by TULA Probiotic Skincare and all opinions are my own, as always.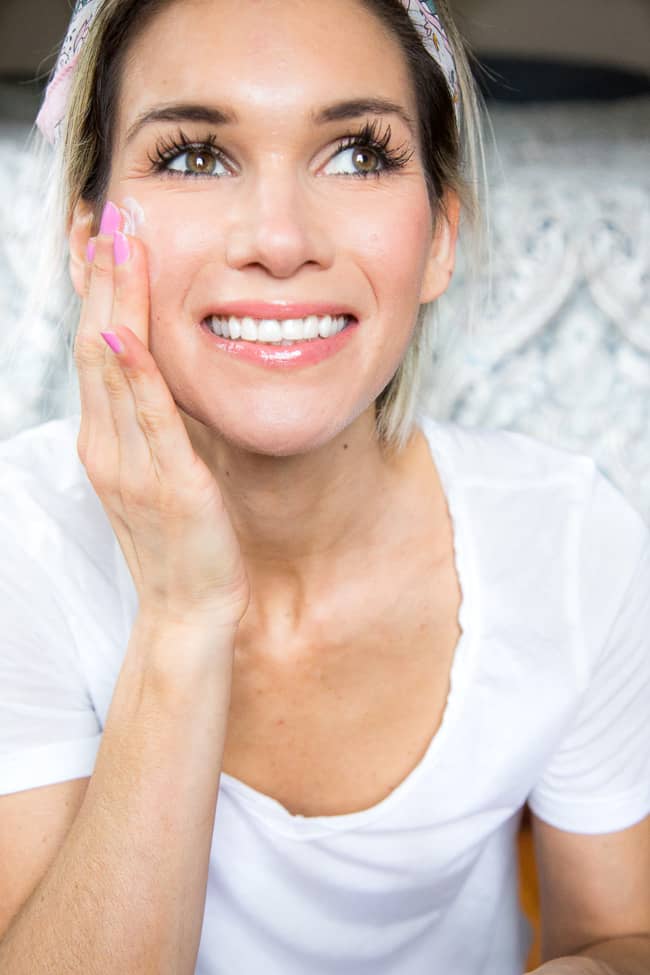 I've always received a steady stream of questions from readers wondering about what I do for my skin.
The truth is that up until recently, I did absolutely nothing special – random drugstore cleansers, sometimes no moisturizer at all (I have oily skin), leftovers of my kids' sunscreen when we're at the beach, and the occasional acne spot treatment (especially when it's that time of the month!).
I joked that I relied on running to give me a "glow" (it does, temporarily!) and just sort of let my skin slide. I definitely knew that there were a whole slew of great options out there, but probably because of all the options swimming around, I put off actually committing to using anything consistently for my skin.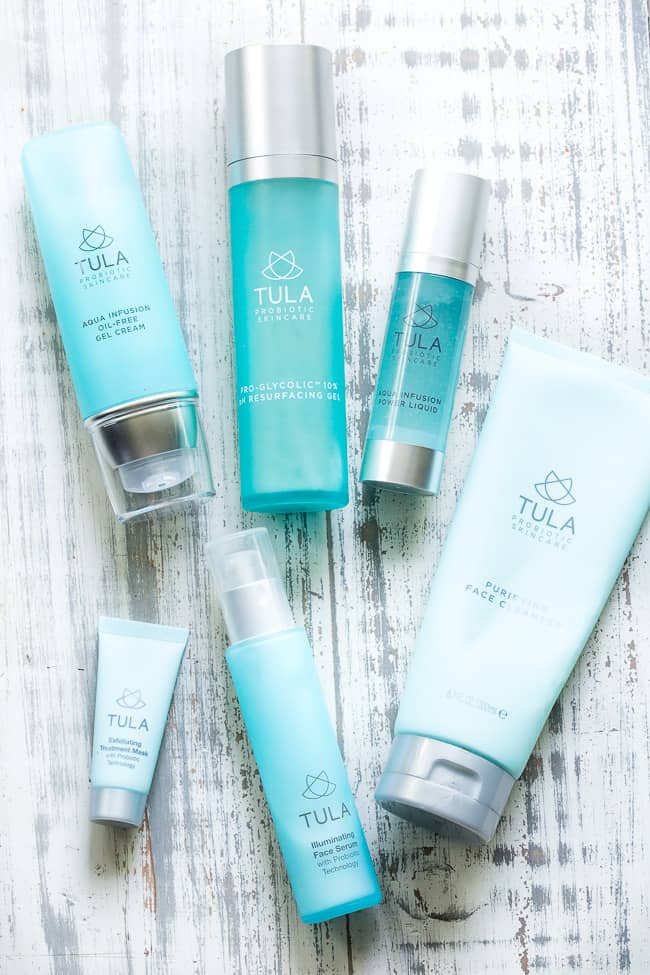 Several months ago, I decided to try out TULA and everything has changed since then.  I guess I finally realized what all the fuss is about good skincare – and hey – it only took me until my mid 30's to get there!
TULA's probiotic infused skincare is pretty amazing stuff!  As you know, I'm all about probiotics to help keep my gut health in check, and using probiotics for my skin makes sense and feels good too.
TULA uses clean, toxic-free formulas that combine 100% natural probiotics with superfoods like blueberries, turmeric and vitamin C to deeply nourish your skin.
TULA is 100% free from:
Phthalates, Parabens, Toxins, Carcinogens, Mineral Oil, Sodium Laurel Sulfate, and harmful preservatives. Cruelty free.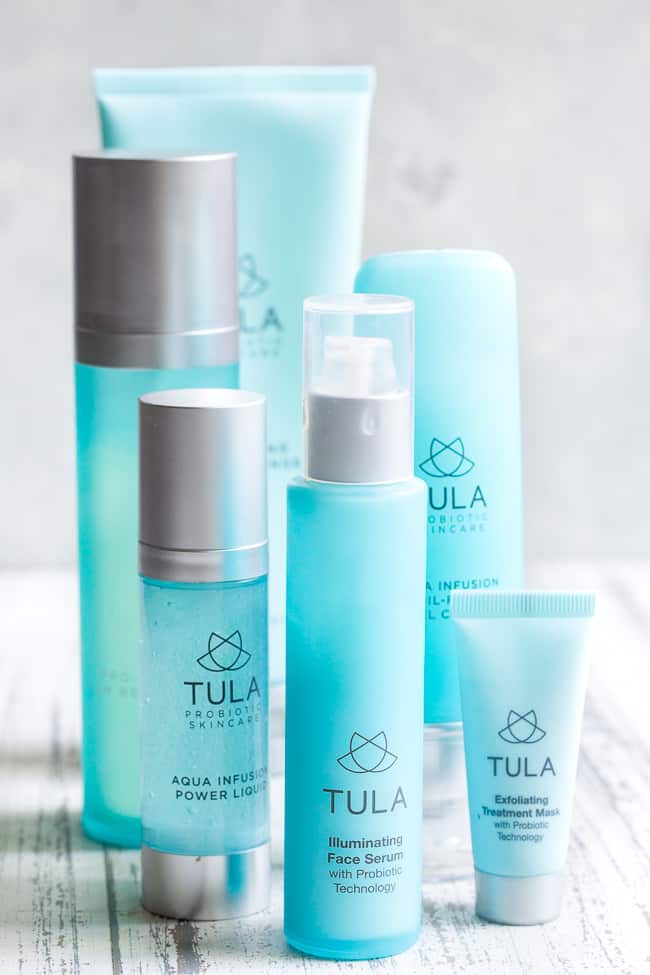 So let's get into the products and my routine!  It's slightly different for morning and night.  At night, I want to nourish my skin and battle breakouts and wrinkles, whereas during the day, my goal is also to prep for makeup, smooth my fine (they're still fine, right?) lines and avoid that cakey makeup look that makes me nuts!
Both morning and night, I start by cleansing with the probiotic purifying cleanser.  It goes deep into the pores to remove impurities and also helps condition skin, without stripping or over-drying.  The cleanser is perfect for my oily skin but is also suitable for dry, normal, combination, sensitive, and mature skin.
After cleansing, I follow up with the Pro-Glycolic 10% PH Resurfacing Gel – an alcohol-free toner that uses probiotics, glycolic acid, and beetroot extract to gently exfoliate the skin, leaving it looking smooth, hydrated and more even.
This is a MUST for me to get that super clean feeling without over-drying!  As I've gotten further into my 30's, I've noticed my skin can get dull-looking very quickly, and this gel really seems to help freshen it up.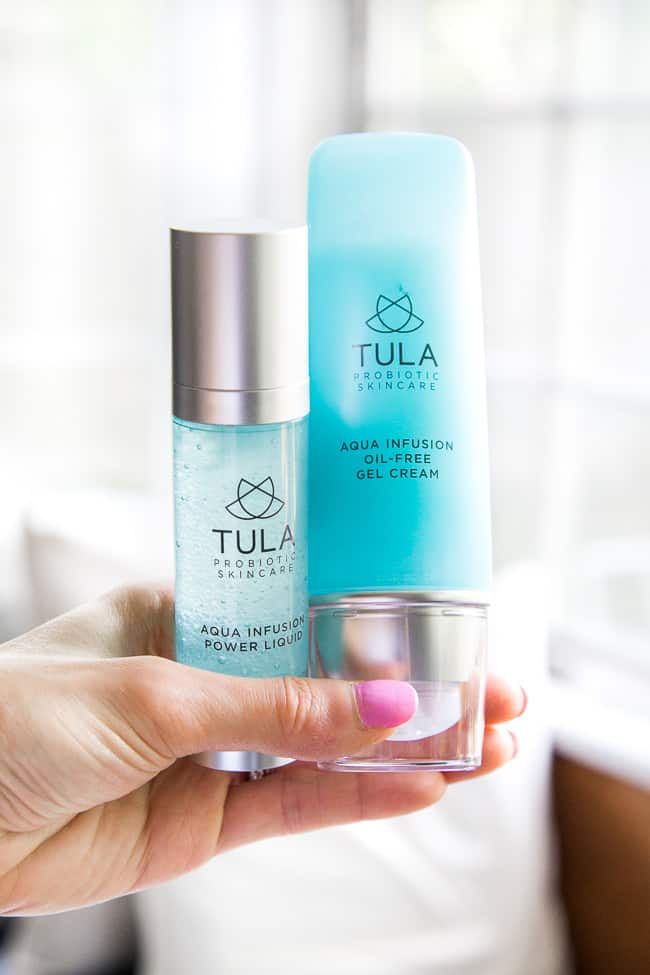 After the gel toner, at night, I've been using the Aqua Infusion Power Liquid followed by the oil free gel cream.  The power liquid is incredible – it's the lightest serum you can imagine, yet works really powerfully to hydrate your skin without leaving it greasy.
Since my skin tends to be more oily this time of year, the liquid helps give it moisture while avoiding waking up to new breakout – something I've always struggled with when it comes to moisturizing my skin in the summer months.
It's the same with the gel cream – tons of moisture, none of the heavy, greasy feeling.  This addicting gel cream leaves your skin feeling quenched, dewey and revived with its weightless, oil-free texture.  Great for all skin types – especially those with acne prone and problematic skin!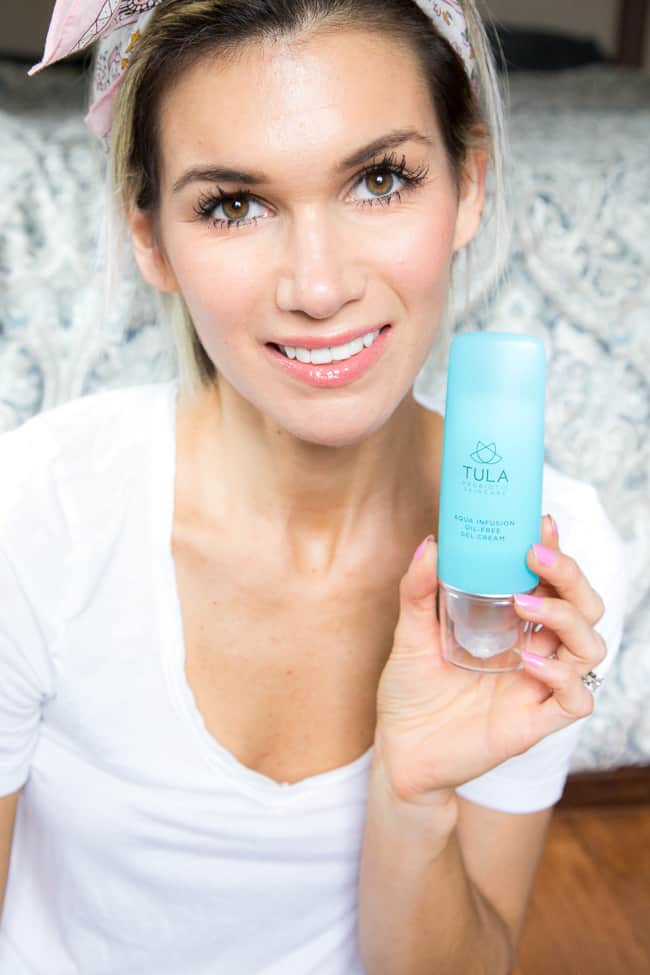 That completes my night routine – but for the day I do things a bit differently since I'm almost always wearing makeup, and HATE when it winds up looking cakey – something that seems to happen when my skin is even the slightest bit dry, now that I'm getting older.
So, after the gel toner, I use the illuminating serum in the morning.  This lightweight serum targets the appearance of dark spots, hyperpigmentation and dull skin (NEED THIS!) revealing a youthful glow and brightened complexion.
Heck yes – seriously.  To all of you who've entered your mid-30's and beyond, you know this is exactly what goes on!  I feel like this serum gives me that dewy "glow" that I used to have naturally about 10 years ago.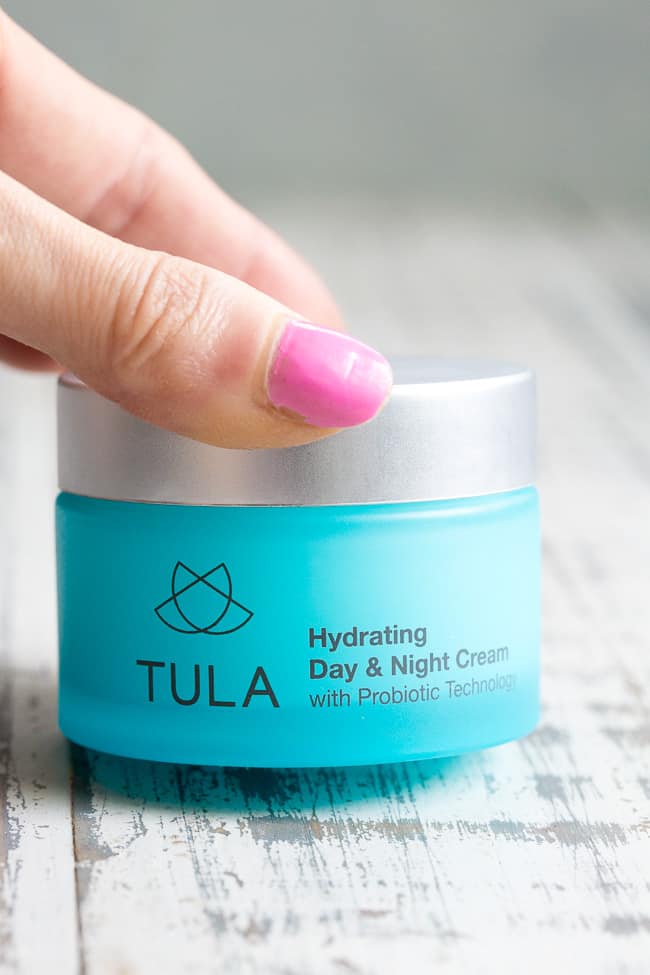 To get my skin ready for the day, I end the routine with the hydrating day and night cream.  Honestly, when I first saw this cream I thought I'd hate it since it looks like one of those thicker night creams that I used to see my mom put on when I was a kid!
But actually – it's EVERYTHING to me right now!  It's deeply hydrating to help revive dull skin and full of naturally derived probiotics and superfoods.   It extends that glow provided by the serum and helps my makeup look so much better, in my opinion!
Best part – the day and night cream is great for all skin types – not too heavy for oily skin yet perfect for dry, combination, sensitive, and mature skin as well.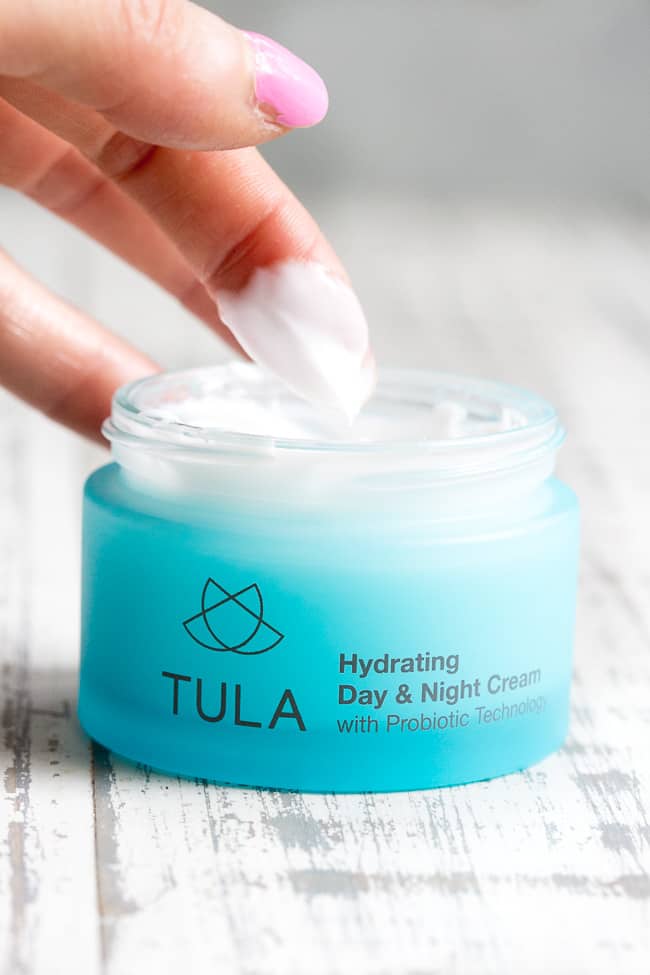 Lastly, once per week at night, following cleansing and prior to moisturizing, I've been using the exfoliating treatment mask.  I'd never used a mask before so this was completely new to me, but I think I'm hooked!
This detoxifying bentonite clay mask provides gentle exfoliation without stripping away oils, making way for antioxidant-rich blueberry extract to hydrate and improve skin tone.  It makes my skin feel smoother to the touch and younger, for sure!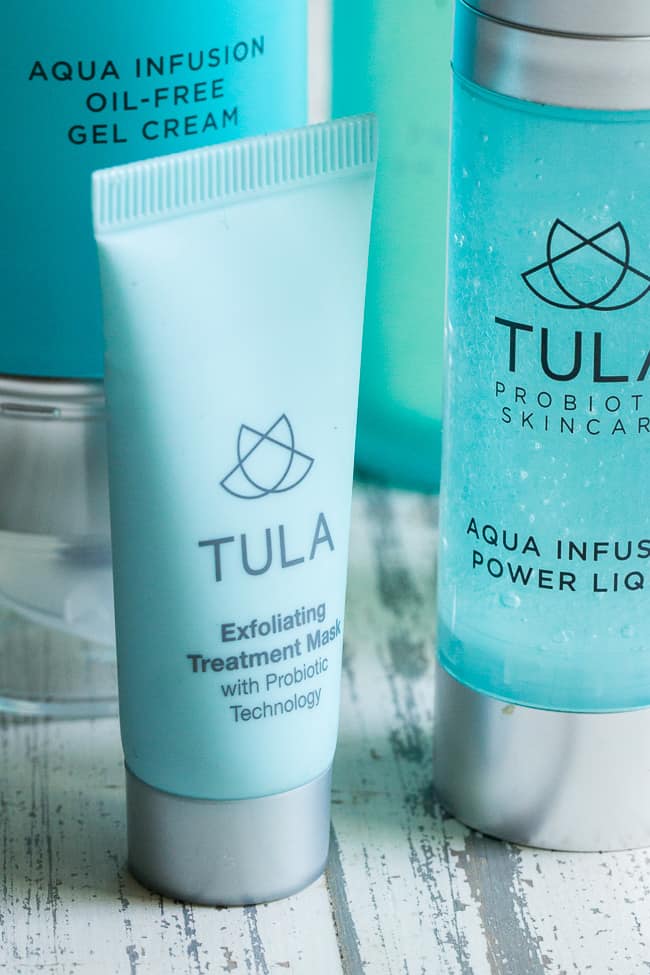 Okay, now the fun part – sharing an awesome discount code with you all so you can try TULA for yourself!   
Use the code PALEOMAMA on the TULA website for 20% off your order.
I hope you all enjoyed learning about my current skincare routine – have a wonderful, relaxing weekend! I'll be back on Sunday with lots of yummy eats – see you then!