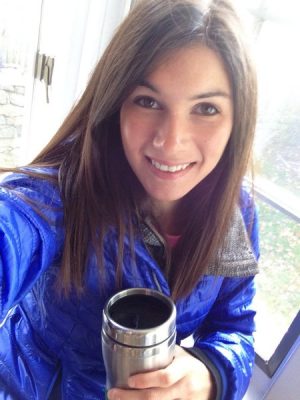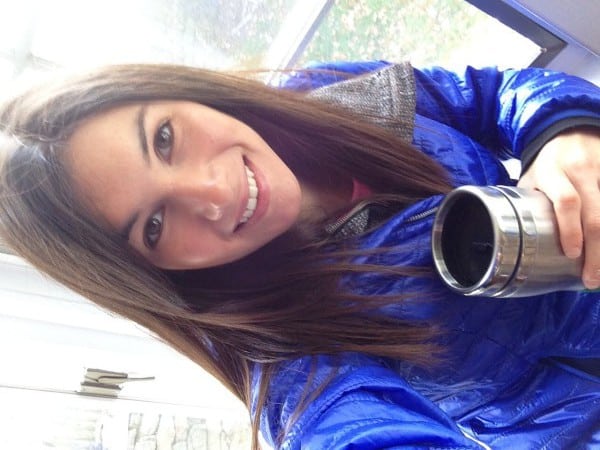 I kind of cringe/look away in horror when I see all the egg yolks staring me in the face on my Instagram account.  Not because I don't love them, because clearly I'm quite the fan.  It's more like that awkward moment when you do simple math and realize you eat upwards of 20 eggs a week.  Or 15 bananas a week.  And more ground meat concoctions than you care to count.  It seems like a lot when you think about it this way, but yet it feels oh so right.
BUT my Instagram account is not EVERYTHING I eat.  And, if you were to see every single meal that I consume, you would see…a whole lot more of the SAME STUFF.   Dammit.  What was my point?   My point is that from the pictures alone it really looks like I eat the same stuff all the time.  But I actually don't.  I use a lot of the same ingredients, and a basic template for my meals, but I swear I make things taste unique by varying subtleties like spices, cooking method, and subbing ingredients in where I feel like it.  So yes, I might eat my body weight in eggs and plantains, but I make each meal special in some way.  Because truthfully I get bored of eating the same stuff over and over.  I need flavor variety at least part of the time.
So without rambling on in defense of plantains for another second, here's what I ate last Sunday.  Thanks for this fabulous link-up, Jenn!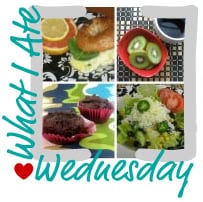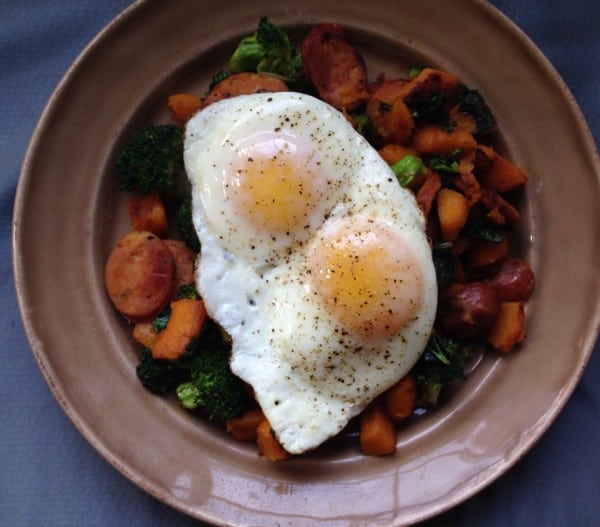 I made myself a mixture of starchy veggies, green veggies and meat and topped with eggs like I love to do.  This particular breakfast was kabocha squash that was pre-roasted and then sauteed in duck fat with broccoli and chorizo sausage, topped with eggs.  I do seem to follow that basic template for my breakfasts and I really love it!  I'm full until lunch without feeling bloated when I eat this way.  The flavors combined really well and I only seasoned with a bit of sea salt and pepper.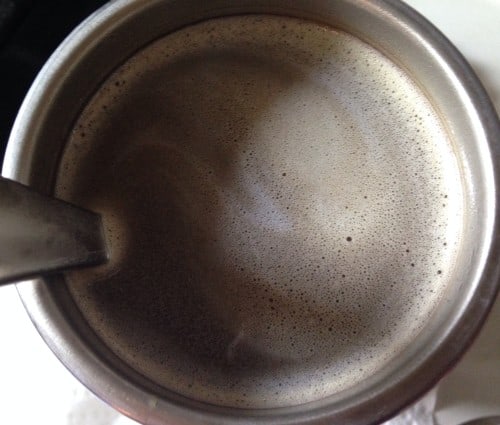 Breakfast is almost always followed by coffee that I make at home and I always add a few tablespoons of full fat canned coconut milk.  I blend it in my own container and store it in the fridge.  Perfection.  I never sweeten my coffee because I don't like sweet coffee anymore.  This is one thing that really is the same every single day.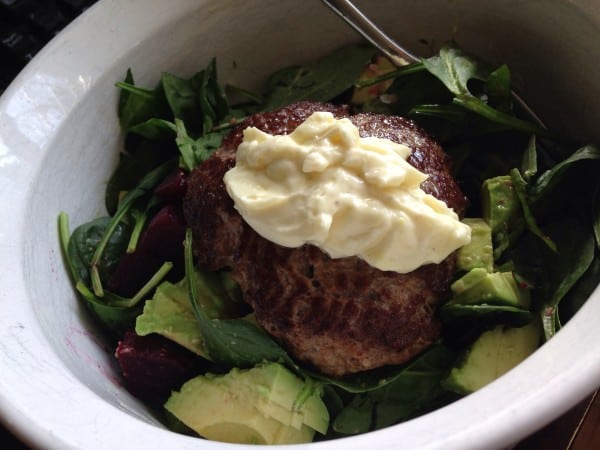 My lunch usually looks like it's a salad but it's usually a lot of protein and fat sitting on top of some spinach and possibly another veggie.  I almost always have my lunch in this white bowl though out of habit.  This was a lamb burger seasoned with onion powder and salt topped with homemade mayo, over spinach, roasted beets and avocado.  I love lunches like this because they're perfectly filling and delicious.  Other times the protein is fish, sausage, or ground beef but there's always an avocado in there unless I've run out.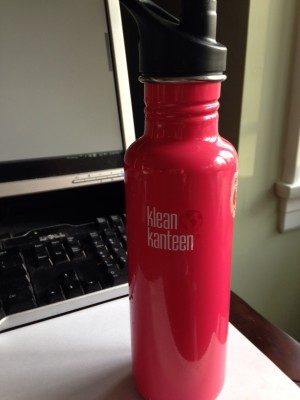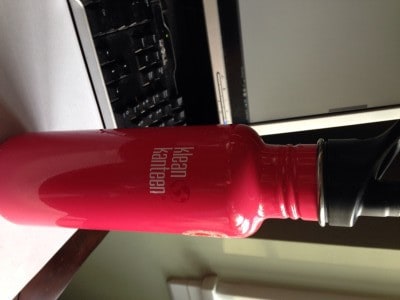 I really love this water bottle!  My kids love it too though unfortunately and often steal it, meaning it's probably a germ party most of the time.  I don't care, it really the only thing I drink water out of.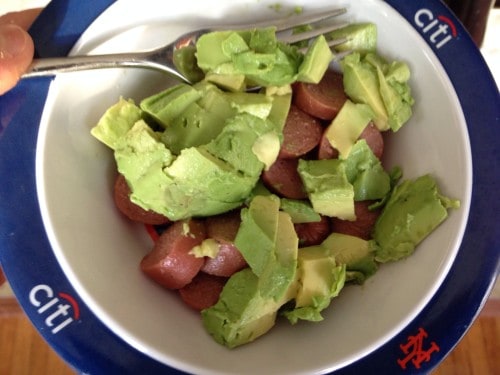 My afternoon snack goes one of two ways – very carby or protein/fat.  For whatever reason I'm either craving one or the other.  I usually eat a snack around 3:30 after I pick my kids up and before the after school activities start.  I'm not always super hungry but I know I need something to power through until dinner.  On this day I went the protein/fat route with an Applegate grassfed hotdog and the other half of my avocado from lunch.  This is a great combo for a quick snack if you haven't tried it!  When I go the carb route it's usually a banana with a lara bar or some other fruit/nut combo.  And other times leftover dinner, whatever it might be.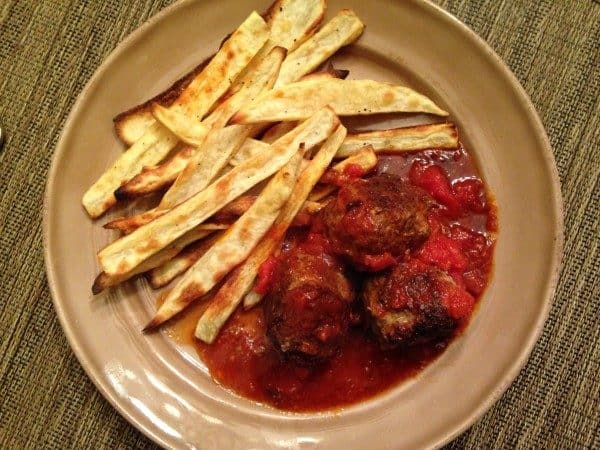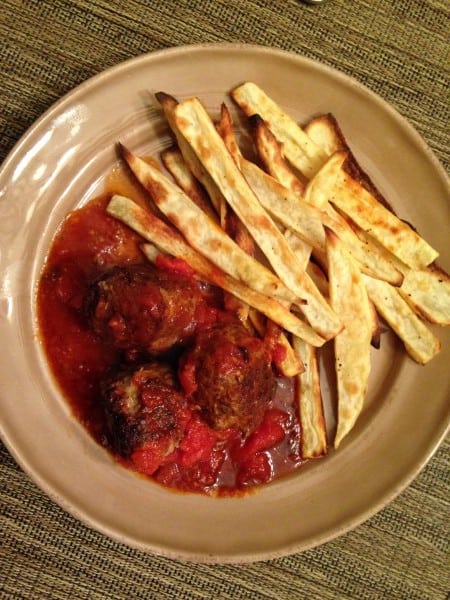 I eat a lot of sweet potato fries, that's no joke.  Truthfully I would not always make them into a "fry" shape but the whole "fries" thing really sells it to the kids, and remember they are eating my dinners now every night too!  So fries it is.  My son LOVES these white sweet potato fries.  He actually doesn't even like regular french fries, it's so strange.  He thinks sweet potato fries are regular fries.  My kids also go nuts over meatballs.  Much more than burgers!  I think because meatballs are easier to eat when cut up.  So these meatballs were made with ground beef, an egg, salt, pizza seasoning plus garlic and onion powder.  I fried them stove-top in a little bacon fat since my husband is away and I wasn't making a thousand.   We had them with Simply Enjoy (Stop and Shop) jarred marinara sauce which is a great inexpensive, no frills, sugar free sauce.  Not a great photo but this was a great dinner.  I got lazy and didn't make a green veggie, but if I were to, it would probably be kale or broccoli rabe with this dinner.  That would've been good, maybe for next time.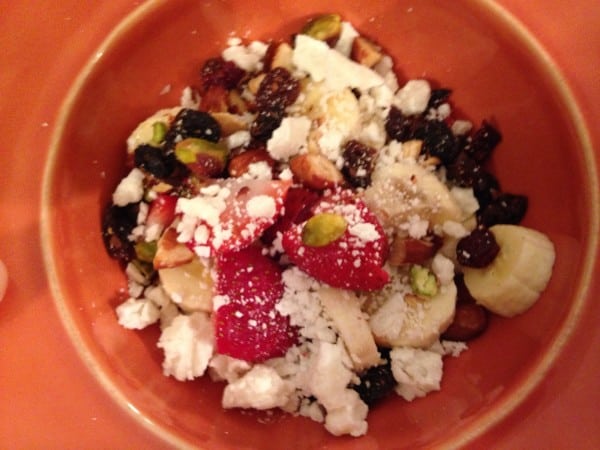 When I did the Whole30 almost a year ago now, I tried to avoid an after dinner/bedtime snack because I thought my digestion would benefit from skipping it.  I've since realized that I really like having a little bed time snack or dessert every night and my digestion has only improved so it's definitely not hurting.
Assuming I've had a lot of protein and fat with my dinner, I'm usually wanting something on the sweet side for dessert, and there's usually fruit involved.  This was a sliced banana with a few sliced strawberries, topped with a handful of trail mix containing almonds, pistachios and raisins, plus some crumbled up coconut butter.
Yes I was too lazy to melt the coconut butter, but just like M&Ms this stuff melts in your mouth 🙂  Other toppings for my fruit have been almond or cashew butter, pecans, or Enjoy Life chocolate chips or other dark chocolate.  I vary the combinations based on what I feel like and what I have around.  Since it's gotten colder I also like to follow up my snack with herbal tea.  Chamomile and licorice are two of my favorites!  So comforting, and between that and reading in bed I've been sleeping a lot better recently.
How do you add subtle variety to your meals?  Is there one meal for you that's the same every day?  Do you follow a "template" for your meals each day or when meal planning?  What are two foods that you eat every single day?  For me it's eggs and bananas.  Happy eating!!