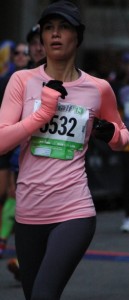 I have not always been a runner.  Well that's an understatement.  Not only was I not a runner but back in high school I was literally scared of running!  I struggled through a lap around the track and kept my distance from anyone in running shorts.  But, since I really hate having things in my life that scare the bajoozles out of me, I decided to start running when I was 23.  A cute runner guy may or may not have had something to do with that.  And he may or may not be my husband now (don't tell him!)
So, I started really slow like any new runner, alone, in the dark, so no one could see how much I sucked.  But I really didn't suck for long.  Mainly because I started to love running in a way that I'd never loved anything else ever.  I loved how I felt free-as-a-friggin-bird out there in the cold dark quiet air.  I loved how I didn't care what people thought of me while I was running.  I loved how I somehow morphed into a different, much more awesome version of myself when I ran.  A version of myself I actually thought was pretty cool.  Yup, what a nerd.
Yes, having three kids slowed me down for a few years, (although I was known in the neighborhood jogging along with a big-azz double stroller for a while), but my major love affair with running didn't even begin until my youngest was a year old.  I mean really at that point with three little kids in the house I would basically have taken any opportunity aside from tragedy to get the f out for a little while.  So that's when the 4 miles became 6, 7, 8, 14, and the pace picked up.  That's when I started training and racing, half marathons and my first full marathon, which wound up being a Boston Qualifier at 3:29:15.
And I don't mean to sugar coat this love affair with running at all, I've had my ups and downs to say the least.  Most runners get that piece of it.  But through the bouts with illness, injury, overtraining, lack of motivation, scheduling challenges, people thinking I'm crazy, ME thinking I'm crazy,  and all the other hard stuff that comes with distance running, in my life there hasn't been anything else that's taught me as much as running has.  So I keep doing it.  As nauseatingly cheesy as it sounds, each time I finish a run, I swear I'm just a little different than when I started 🙂
Here are my PRs to date:
5k- 22:43 Cancer Care 5k Paramus, NJ 9/23/12
10k- 44:42 Paramus 10k Paramus, NJ 10/21/12
15k- 1:11:59 NYRR Spring Meltdown 15k NY,NY 3/30/14
13.1- 1:38:52 NYC Half 2013 NY,NY 3/17/13
26.2- 3:29:15 (BQ) NJ Marathon 5/5/13