This post was sponsored by Nature's Gem and all opinions are my own, as always.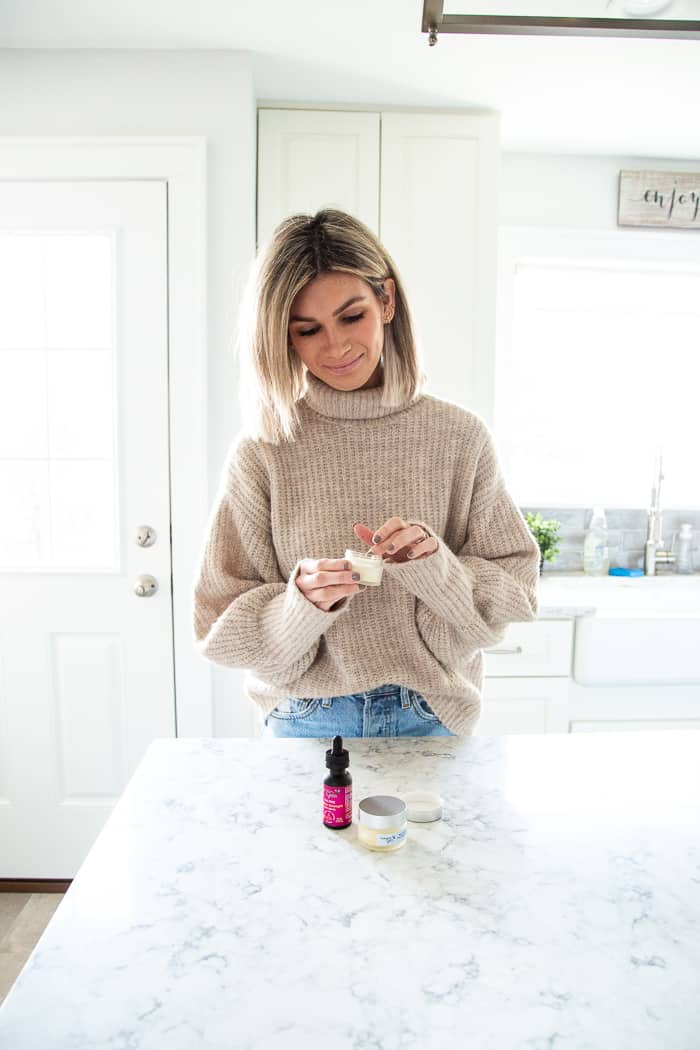 We're putting aside the food for today to chat about a topic that's been huge in the health community for awhile now, yet still confusing to so many of us – CBD.
First, a little background about my own experience with CBD.
I initially tried CBD oil about a year ago after my dad suggested I try it to help with insomnia.  He'd been using it hoping to help with chronic pain and also with sleep, and felt like it did help him fall asleep more easily.
I honestly had no idea what to look for in a product that first time – it felt like a total guessing game.  I wound up trying out a few different oils but still felt like I needed some guidance about the right dosage for my needs, what to look for in the ingredients, and also what to expect as far as results go.
Although I've been contacted by many, many CBD companies over the past year or so, I never felt that any of them were a good fit for me.  Most didn't seem particularly genuine, and, since the industry is so saturated now, it was hard to get a trustworthy vibe from any.
But, when I started talking to Nature's Gem founder Lisa Baskfield, I knew immediately that this company was different.  We chatted on the phone a few times and I learned all about Lisa's story – and was blown away by her knowledge, persistence, and strength in trying to help others get their health back.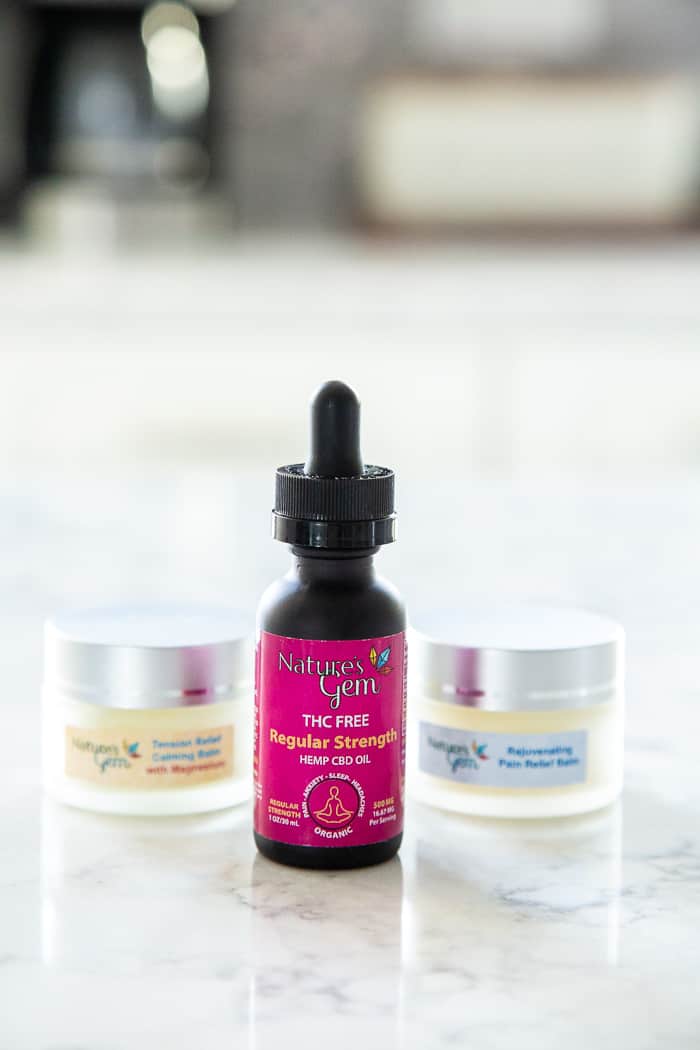 The Story of Nature's Gem
Lisa lives with chronic pain from Fibromyalgia.  Determined to find a health alternative to manage symptoms, in 2017 she began researching CBD as something to consider incorporating into her daily health and wellness program. As a result of her positive experience with CBD, she founded Nature's Gem CBD in 2018, when it was still illegal federally, to provide education and support to others along with her line of consistent, organically sourced CBD to others.
Nature's Gem CBD mission is to provide truthful education regarding CBD, it's potential benefits, risks, and support to others along with a superior line of products. Through their "boots on the ground effort in 2019" as sponsors for marathons, races, and expos, including Chicago Marathon, they have been in front of 1/2 million people, discussing CBD in what is one of the most confusing industries around.
Now, since I know so many of you have questions about CBD, I figured that with Lisa's guidance I would answer some of the most frequently asked questions here.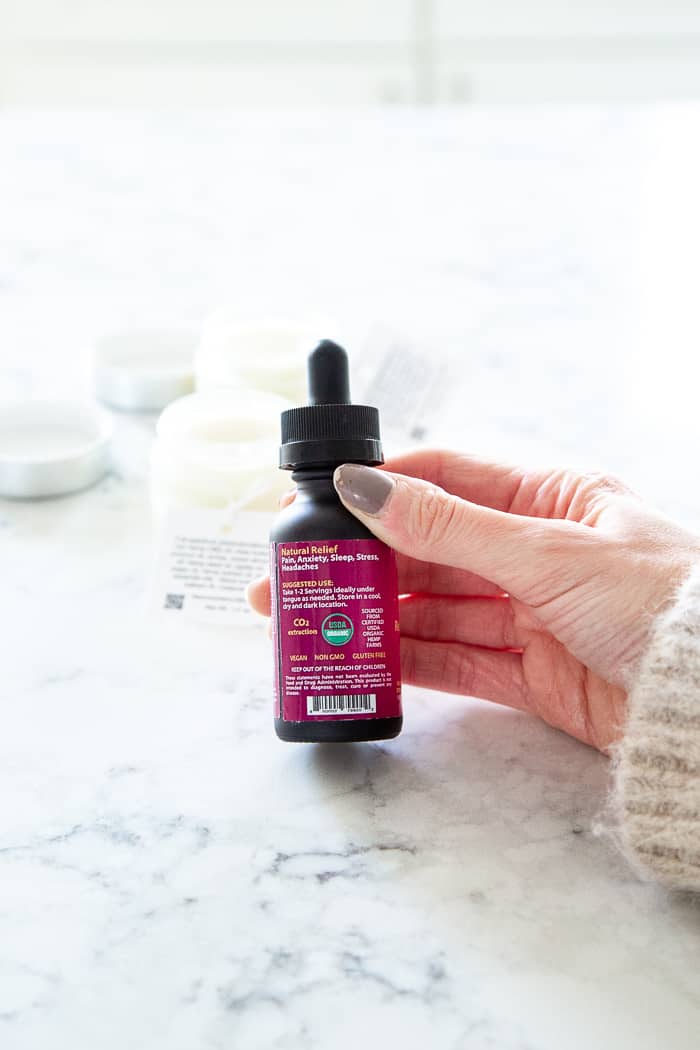 CBD FAQ's with Lisa Baskfield, Founder of Nature's Gem
What is CBD?
CBD is a plant-based compound, called a cannabinoid, found within the cannabis plant.  There are over 100 cannabinoids in the cannabis plant, but CBD is the one most beneficial to our bodies.  "CBD" stands for cannabidiol.
How does CBD work?
It works by binding to receptors in the body's endocannabinoid system (ECS). Many of these receptors are located in the brain, central nervous system, immune tissues and peripheral organs.
When CBD is introduced into the body, it rebalances these receptors in the ECS. Because of the location and abundance of these receptors, people may experience relief from
Inflammation
Joints
Anxiety
Immune Function
Sleep
Migraines
Neuropathy
Arthritis
Appetite
Memory
What types of CBD are there?  Will I fail a drug test if I use it?
The most common types of CBD are broad spectrum and full spectrum. Each provides benefits. THC is the cannabis compound that is drug tested.  In simple terms:
Broad spectrum CBD contains no THC. It is an excellent choice for someone concerned about failing a drug test.
Full spectrum CBD more than likely contains trace amounts of THC.
What do I need to look out for when buying CBD?
CBD right now is not regulated, so you'll need to do your research before purchasing. Some things to consider when purchasing:
Make sure you buy from a reputable source.  A reputable source will have:
A website
Be knowledgeable about the product
Have third party lab results readily available on their website.
Be wary of false claims of a cure. CBD will not cure anything.  Lisa lets people know that she will always have Fibromyalgia.  CBD is one component she uses to help manage her symptoms.
Read the Ingredients.  Always read the ingredients list when comparing different CBD products. Some products include additional ingredients like melatonin. Some CBD edibles contain artificial coloring and flavors.  Nature's Gem gummies contain only natural flavoring and coloring and are vegan.
How to Determine Dosage and What Should I Start With?
It's important to know what you're buying and your needs. For example, oil tinctures are sold based on total milligrams (mg) of CBD.  To calculate CBD/serving use this formula:
Total Amount of CBD per bottle divided by total amount of mL in bottle
Example:  500 mg total in NG regular strength oil/30 mL in total bottle = total amount of CBD/serving = 16.67 mg
A good starting strength is 500 mg in a 30 mL bottle or 16.67 mg CBD/serving. Less than that tends not to be effective.
Types of CBD:
Broad spectrum CBD is full spectrum CBD minus the THC. Broad spectrum CBD oils are perfect if you want to take advantage of the whole-plant benefits full-spectrum CBD products have to offer without the potentially mind-altering effects of THC.
Full spectrum CBD is CBD that has been extracted from the hemp plant and has not been isolated from hemp's other naturally occurring cannabinoids, terpenes, flavonoids, and fatty acids. Full Spectrum CBD will include THC, giving it more potential health benefits, but also making it illegal in some states.
CBD isolate is CBD which has been extracted from the hemp plant and then isolated from all the other cannabinoids and compounds of the plant, including THC. This results in a CBD extract that is 99% pure.

All About Nature's Gem's Products:
Nature's Gem CBD oil and gummy products are THC free – broad spectrum. The only cannabinoid in their oil is CBD making it WADA/USADA anti-doping compliant for athletes required to take a drug test. This is why many Olympic hopefuls incorporate Nature's Gem CBD into their training, race, recovery and every day health regime.
Nature's Gem is sourced from USDA Certified Organic farms to insure purity, quality and consistency.
Nature's Gem tests for pesticides and heavy metals and all finished products are third party tested by accredited independent facilities.  Lab results are posted on our website and linked from a QR code on our product labels.
Here's an overview of the Nature's Gem products that I've been using for several months now:
Fast absorbing CBD, blended with essential oils. Light lavendar smell.  Great for:
Headaches
Migraines
Muscle Cramps
Menstrual Cramps
Sleep
Sinus relief
Muscle Spasms
Tight/stiff neck
Ingredients: Full-spectrum phytocannabinoid-rich hemp oil, Shea butter, coconut oil, arnica, sweet almond oil, hemp seed oil, jojoba oil, argon oil, hemp extract oil,  essential oils – lavender, clary sage, oregano and magnesium.
Fast absorbing CBD blended with essential oils and a light citrus smell.  Great for:
Foot pain
Plantar fasciitis
Back pain
Arthritis – a favorite with people with hand/joint pain
Sore muscles and joints
Ingredients:
Full-spectrum Phyto cannabinoid-rich hemp oil, Shea butter, coconut oil, arnica, sweet almond oil, hemp seed oil, jojoba oil, argan oil, hemp extract oil, and essential oils – blood orange, balsam fir, and marjoram.
3. 500 mg Oil Tincture (Broad Spectrum) 
THC free = safe for drug testing
US and World anti-doping agency compliant
Restores balance to ECS
Consistent CBD formulation
Sourced from same USDA certified organic hemp farms
Non-GMO, Vegan and Gluten free
Pure and free from harsh chemicals
Certified lab tested
Common uses:
Insomnia
Migraines
Stress
Inflammation
Focus/Anxiety
Emotional well being
Pain
Digestive support
Quick Suggestions for use : Start with one full dropper
40 minutes before bed to help sleep
Take when you feel a headache coming on
Before stressful situations like holidays, travel, work deadlines, and company
Take to help with inflammation from injury or surgery.
Calm cramping during monthly cycle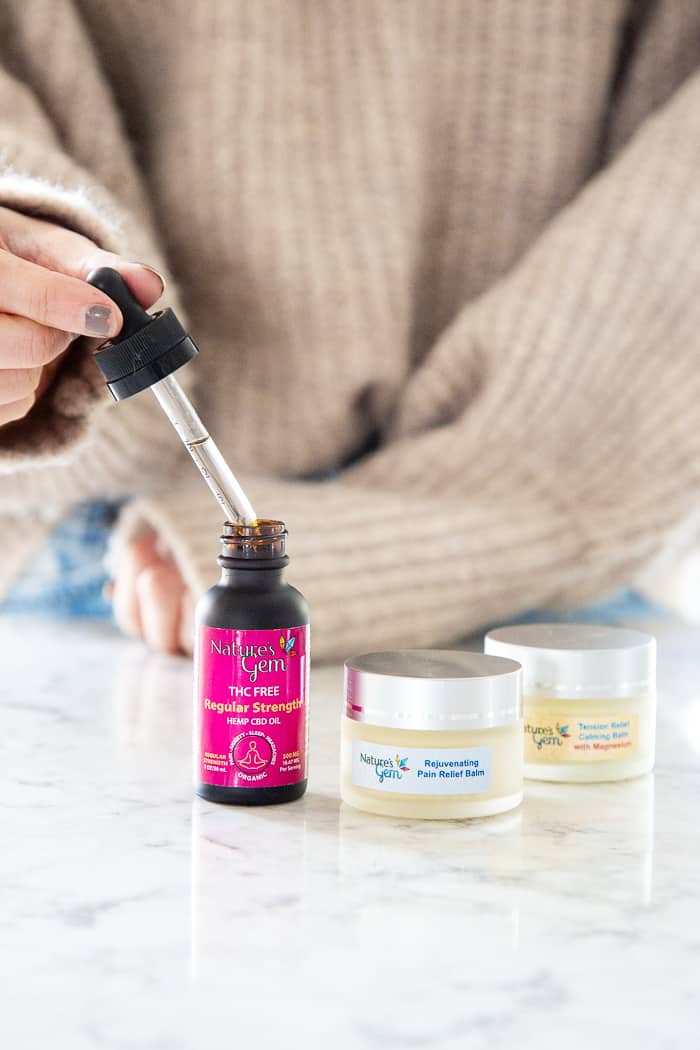 My personal experience with Nature's Gem CBD Products
I use the 500 mg oil tincture to help with my insomnia and find that it does help sooth me to sleep initially.  Staying asleep is also a big issue for me, however, and something I'm currently working with a functional practitioner on right now.
I also suffer from semi-regular headaches which I  have always HATED taking OTC medication for, and I find that the tension relief calming balm helps lessen the severity of my headache especially right when I feel it coming on.
I've had a hamstring issue for YEARS that I just sort of (attempt) to ignore (!!) and I actually have found some relief from the pain and inflammation when using the rejuvenating pain balm.  I HIGHLY recommend it for athletes, or really any regular exerciser, to calm down those inevitable aches and pains that come up far too frequently.
A big thank you to Nature's Gem for providing the important information we all need to put our minds at ease when choosing CBD products!  Thank you for sharing your vast knowledge with us AND your wonderful products.  Head over to my Instagram today to enter to win one of each!
Plus a Code for 20% off!
A gift from Nature's Gem to help with holidays (whether for yourself or a gift), use code Paleo to get 20% off storewide. Visit naturesgemcbd.com/shop.