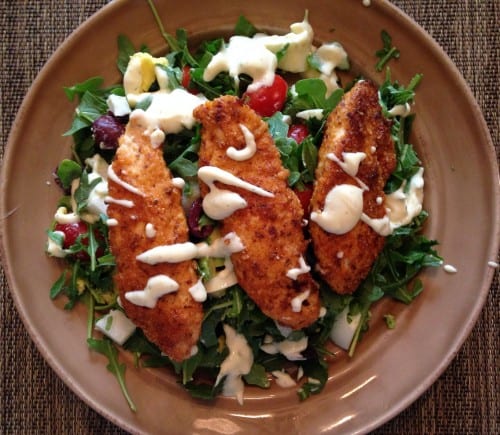 Apparently I am a morning person but with limits – my first attempt at writing this post was 5:15 am this morning.
I thought I could sneak it in somehow before a 3 mile run.  I like to use my time efficiently and I seriously thought I could bang out a recipe and a short run all before my family woke up.  What happened was I found out that although I can run out the door at that time, I can't formulate a coherent sentence.  Let alone one that belongs up on the internet and is fair game for anyone who googles my name.  Oh gosh now I'm afraid to say anything with all that pressure.   But that was a good lesson to learn – the order of events must be run-coffee-blog.  I blog best after lots of coffee.  Which is one reason I'm having trouble making this post not suck, I just haven't had coffee yet.  So lemme go fix that.
Okay we're good now. You know your coffee's working for you when the coconut milk barely lightens it.  So now I'll seemlessly transition to the creative madness behind this recipe (or at least the thoughts I had in the 5 minutes before cooking it.)
So, for years and years of my youth one of my favorite fun-meals was a crispy chicken salad.  You know, like the kind you can get at every chain restaurant in the U.S. with either honey mustard or ranch – I'm fancy that way – and that's how I like to roll with my chicken strips 🙂
So, I must have gotten all caught up after going paleo enjoying my meat without breading because I totally forgot to try to re-create or paleo-fy crispy chicken!  I even know that there are a ton of recipes out there already for this type of chicken but still never attempted it.
What the heck was I thinking?  Maybe that I didn't want to confuse my family or make them expect this kind of chicken every day?  Well, this particular day I took the risk and got out the almond meal.  Gotta use it for something right?
*Obviously I have given you all the ingredients for EVERYTHING I used in this delicious Paleo Crispy Chicken Salad, but feel free to just make the chicken and do whatever you want with it!  I'll post what I did with mine just as a jumping off point and let you take it from there.
Ingredients For the Chicken:
1.5 lbs organic chicken tenderloin strips
1 cup finely ground almond meal/flour, I used Bob's Red Mill Flour Almond Meal, 16-ounces
1 egg
ghee for frying
1 tsp garlic powder
1/2 tsp onion powder
1/2 tsp salt
1/2 tsp paprika
1/2 tsp black pepper
For the salad:
Arugula or greens of choice (I'll let you make the call on how much!)
2 hard-boiled eggs, chopped
1 avocado, sliced or chopped
1/2 cup grape tomatoes, sliced in half
1/2 cup raw jicama, chopped
1/4 cup pitted kalamata olives
For the dressing:
1 egg
2 tsp spicy brown mustard
1 tbsp lemon juice
1/2 tsp salt
1 tsp garlic powder
1/2 tsp paprika
1 tsp dried dill
dash cayenne
1/2 cup light flavored olive oil
Directions for the Chicken:
Set up 2 shallow bowls – 1 for the almond meal and 1 for the egg.   Mix the almond flour with all the spices plus salt and pepper and combine well.  Heat a large skillet over med-hi heat and add enough ghee to coat the bottom well.
Then you will dip each chicken strip first in the egg and then coat completely with the almond flour/spice mixture.  Once coated it goes straight into the hot pan to get crispy!  They should cook 3-5 minutes on each side – until the outside is crisp and brown and the inside no longer pink.  Repeat this for all of the chicken strips, adding ghee as necessary and doing it in batches if you need to!  Drain on paper towels.
For the Salad:
Toss together all the salad ingredients AND make the…
Dressing:
Combine all the dressing ingredients except the olive oil in a tall cup or container.  Add the olive oil last.  Take your awesome immersion blender (my lifesaver is Cuisinart CSB-75BC Smart Stick 2-Speed Immersion Hand Blender, Brushed Chrome
) and put it in the container.  Blend on low for 30-60 seconds, slowly moving it up and down to fully incorporate.  Voila!  Delicious ranch dressing!
Put it all together:
I simply threw the chicken strips on top of the salad and then tried to do something fancy with the dressing which didn't quite work.  But it tasted awesome.  Try pairing the chicken with your own favorite dipping sauces or salad ingredients.  Enjoy!
Are you a fan of cripsy chicken salads?  They will always have a place in my heart…