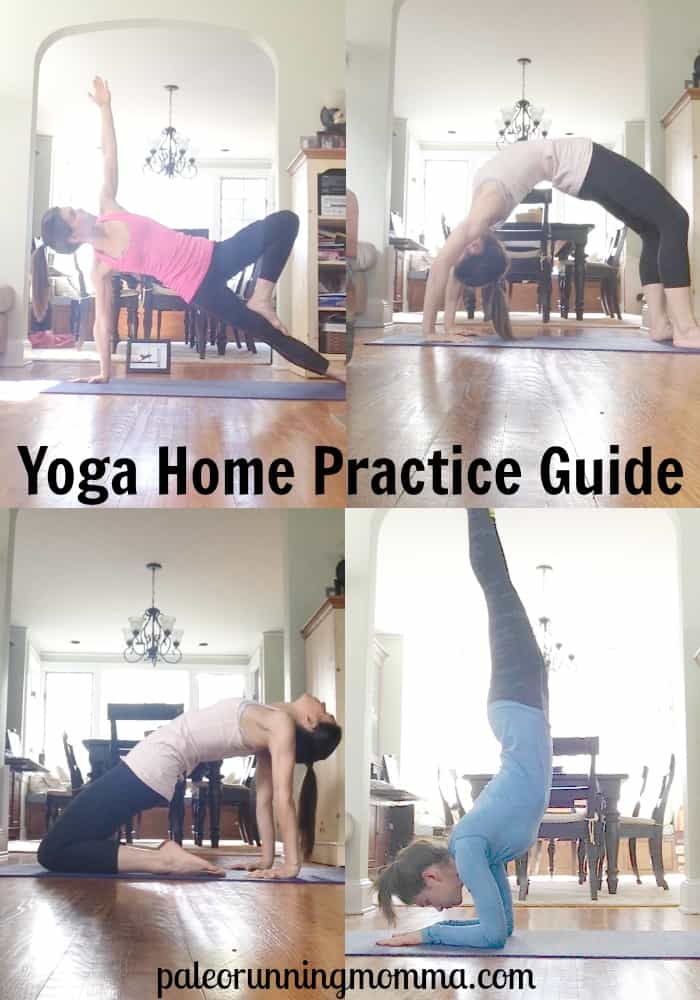 My best recent discovery has been free online yoga.  Seriously, I had no idea you could access quality yoga instruction without paying a dime.
YES, it's hard to pick out the good classes when you realize there are a lot to choose from, but, I was lucky to get some great recommendations from Rebecca to start me off.  Once I got a sense for what quality instruction looked like and was able to feel the difference for myself, I started picking out home practices much more easily.
As you guys might know, I've been linking to many of these practices in my Saturday weekly workout posts already. But, after a reader request a couple of weeks back, I've decided to put together a more organized post about the home yoga practices I do for different purposes and with different blocks of time.  Because I think we know that I need a little extra encouragement to do anything in an organized fashion!  This is just as helpful for me, guys 🙂
This yoga home practice guide will include only free online classes that I love and have been doing regularly in my cozy little living room.   I'll categorize them based on level (that I believe they are), video length, and describe the focus of the practice (core/hip opening/post run/etc.) Realistically I do not usually have an hour to do yoga on most days, but, when I do I really like to take advantage!
Beginner – Short.  Great under-30-minutes "yoga for runners" focused practice.  I often practice one (sometimes two) of these after a weekend long run when I want runner-specific stretches and I've found them so beneficial!
Beginners Yoga for Leg Strength – 20 minutes on Do Yoga With Me
Yoga for Runners – Pre Run – 22 minutes on Do Yoga With Me
Yoga for Runners – Post Run – 20 minutes on Do Yoga With Me
Yoga for Runners – Injury Prevention – 23 minutes on Do Yoga With Me
Yoga for hips, back, and hamstrings – Not a "flow" but some great post run stretches targeting all the right spots, 26 minutes
Lesley Fightmaster – Yoga for Runners – 25 minutes and Lesley is amazing!  Her voice is so soothing.  Definitely check out her other videos on Fightmaster Yoga.
Lesley Fightmaster – Yoga for Beginners – 20 mins.  You will love Lesley!  A great intro class to get you going.
Beginner – Long.  Longer beginner practices (45+ minutes) that helped me start to understand what yoga is really all about.  I do still consider myself a beginner even though I've been doing classes of different levels.
Yoga for hips – 45 minutes long and beginner/intermediate.  This is great for runners and slow enough for a beginner to keep up with.  Involves deep stretches for the hips and the instructor is very soothing.  My Free Yoga.
Beginner Basics in Flow – This class helped me understand the alignment and form for poses in a way I didn't think could be possible online!  Very much worth waking up early to do if you're starting out – slow and focused.  75 minutes –  Do Yoga With Me.
Deep Release for Hips, Hamstrings, and lower back – The name says it all!  Perfect for deeper stretches post run, suitable for beginners – 47 minutes –  Do Yoga With Me.
Intermediate – Short.  Under 40 minutes but more intensity than the beginner classes.
Backbending from the Base – Somewhere along the line as a runner my back became really tight!  Highly recommend this practice for focusing on back strength and flexibility. 40 minutes – Do Yoga With Me.
Total Body Yoga Workout With Tim Senesi – 35 minutes of precise, focused instruction suitable for beginner – intermediate.   Fightmaster Yoga on You Tube.
Happy Hamstrings – I love this after a run!  Only 20 minutes long but very deep hamstring stretches and a faster pace. Do Yoga With Me.
Rise and Shine – A full beginner – intermediate level vinyasa class compacted into 35 minutes.  Definitely one I try to squeeze in when there's not much time.
Intermediate – Long.  45 + minutes, these practices are the ones I've been turning to when I have a good block of time for yoga.
Vinyasa Flow Class – Yoga With Tim Senesi – I love how precise his instruction is and the class is quite intense, I would say advanced with some of the postures but able to be easily modified without missing anything.  45 minutes –   Yoga With Tim on You Tube.
Total Body Workout III with Lesley Fightmaster – All of her total body workouts are great, and her style is very nurturing.  This one is about 45 mins, including savasana.
Renewing Power in Flow – Twists – This is an hour long segment of a longer 80 minute full vinyasa flow.  I never actually have 80 minutes for the full one, so, I do this far more often! Do Yoga With Me.
Heavenly Hips – This is a 67 minute vinyasa practice with many deep hip opening stretches, intermediate to advanced.  This is definitely challenging for me in every way, but a great one.  Do Yoga With Me.
Power Yoga for Shoulder Stability – This has become a favorite for me.  My upper body strength as a runner was neglected for a long time, and this class has really helped me reconnect with my shoulders!  Because of this video I have also been able to feel pretty stable in a forearm stand, although it took several times before getting it.  62 minutes – Do Yoga With Me.
Progressing to Headstand – …and this video got me doing headstands.  For what it's worth, I DID do gymnastics for many years as a child, so, I think some muscle memory was activated while doing these classes, but, this one is still really fabulous.  65 minutes – Do Yoga With Me.
Total Body Vinyasa Flow with Lesley Fightmaster – Another one of my favorites on Fightmaster Yoga, 55 mins long.
Advanced – Long.  45+ minute practices that are above my level, but I still do them when I'm feeling like I want a challenge.  I also like seeing what's ahead and what to work toward.
Although advanced, most can be modified, or, you can stay in the "prep" pose without standing on your mat too awkwardly.
Fun Poses and Hip Openers with Lesley Fightmaster – The "fun" poses are challenging!  This is just under and hour and great for intermediate/advanced.
Connections to Core – Great core workout and flow.  57 minutes – Do Yoga With Me.
Sukha Flow Class – Intense and creative flow.  77 minutes – Do Yoga With Me.
Power and Precision – Somehow I always feel more advanced than I am when I attempt this class (key word attempt) but I believe it's due to the sequence of flow and instruction that allows me to hold poses I simply can't seem to do otherwise.  A very talented instructor!  All the really advanced poses can be modified.  67 minutes – Do Yoga With Me.
Ashtanga Yoga One Hour Intro with Lesley Fightmaster – Not a full primary series, but a great intro into Ashtanga for intermediate bordering on advanced yogis.
Ashtanga Yoga Primary Series with Lesley Fightmaster – 1 hour 24 mins, this is a full length Ashtanga Primary Series for advanced yogis who want to try out Ashtanga from home.
Do you practice yoga at home?  If so, what's your favorite class?  
Any other great online classes to add to the list?