Our weekend is complete.  Except for the part where I need to clean everything up but then don't.
It's kind of a mixed-feeling of relief, happiness, and good old Sunday blues when your kid's birthday party is over and you're left with half an Oreo ice cream cake, 2 pizza pies, wrapping paper for miles and lots of toys which require scissors to open up.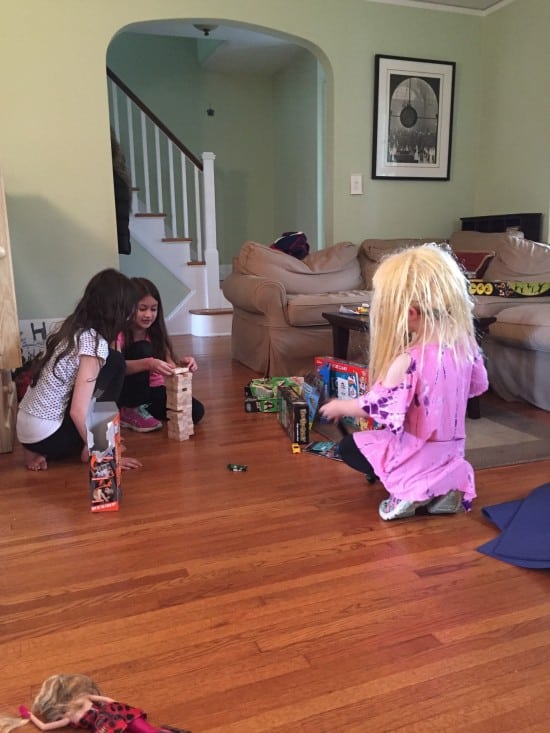 Is it just me or is someone always either having a birthday or having a birthday party around here?  And will I ever actually get on my game and schedule a birthday party for a day that's within a week of my child's actual birthday?  It's a good goal, not sure how realistic to attain though.
But wait until you hear this!  I engaged in "workouts" this week.  At least a little bit, and so I will do a short workout recap before showing you what else went down over here this weekend (spoiler – food is involved.)
Monday – 4 miles, easy
Tuesday – 30 minutes Vinyasa yoga with a hip focus, Lesley Fightmaster
Wednesday – 4 miles – went faster than usual and felt good.
Thursday – 4 miles, hills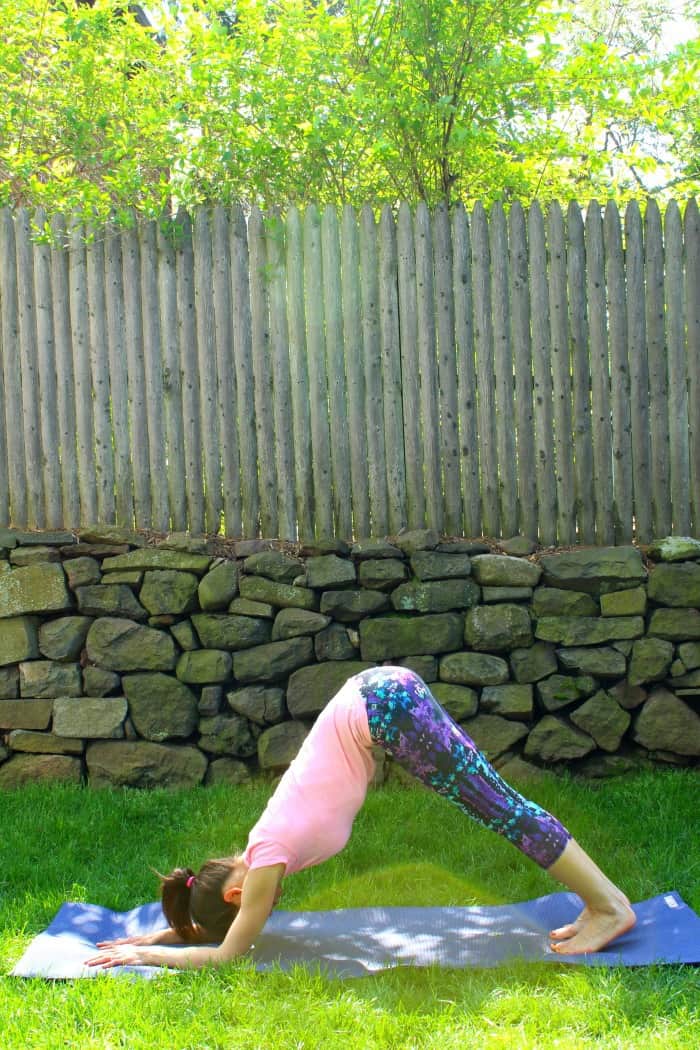 Friday – 30 minutes yoga with a focus on upper body and core
Saturday – 4 miles, easy
Sunday – 30 minutes yoga total body workout 
So, I hit my goal of 30 minutes of yoga, 3 days per week – YES!  And for full disclosure, I'll tell you that after Friday's upper body/core focus, I was pretty dang sore.  As in "feel every muscle in my core with every movement" sore.  It's all good, and so necessary in order to "get back into shape."  While I don't see myself getting back to the 5 days I used to do, I think 3 days is something I can and will stick with.
I also hit my goal of 4 miles of running 4 days this week.  That one was easy, running in the morning still feels like a big part of my routine even with the 2 week break.  I'm thinking I'll keep things similar to how they were this week, possibly adding a longer run on Saturday if I'm feeling inspired.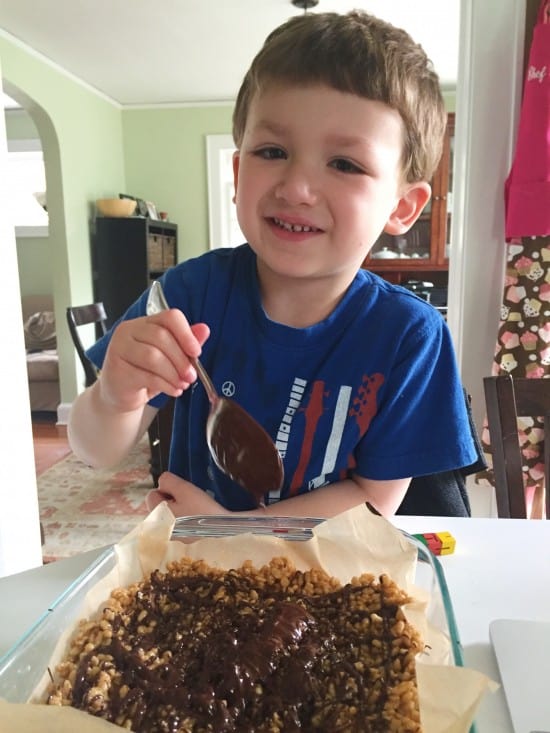 The weekend felt like it was full of cooking projects and eating.  I say "projects" because the kids helped, as you can see with the chocolate spoon above!
My kids have been wanting me to make Amanda's healthy rice crispy treats ever since they saw me make her recipe for almond fudge protein bars for my mom last week (which my mom is still eating and loving!)
Ingredients were ready to go and they were so easy, aside from the stove part, Drew was able to mix the ingredients himself and go way overboard dripping melted chocolate all over them. We used Enjoy Life mini chips because he thinks those are "milk chocolate" as opposed to mommy's yucky dark chocolate chips.  They are sweeter, I'll give him that.  We also used Erewhon crispy brown rice cereal.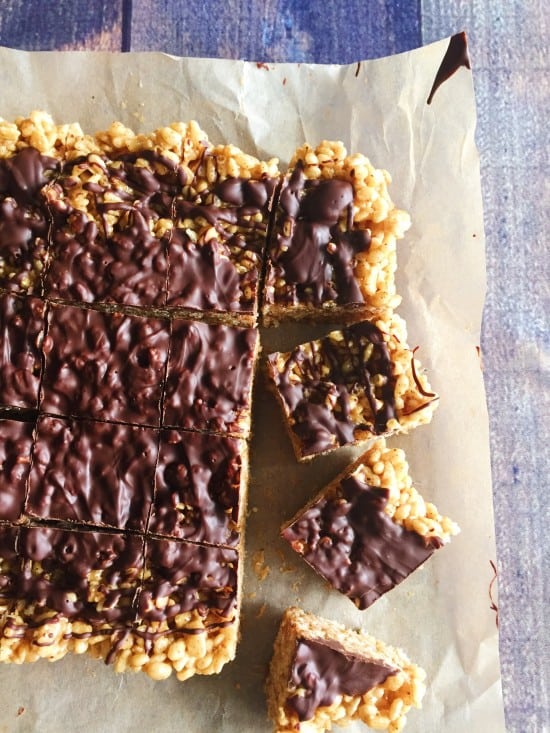 SO yummy!  Can't even handle it!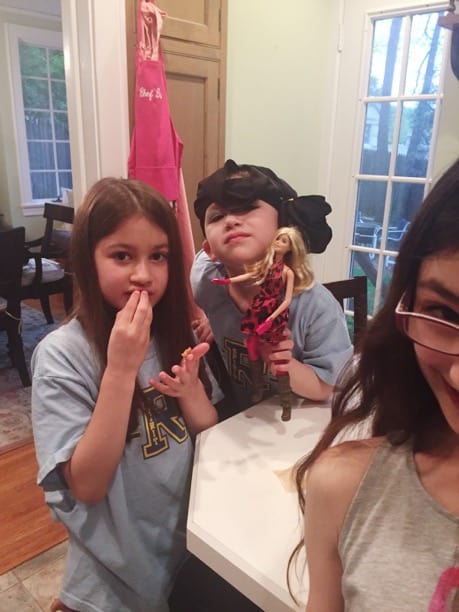 Even Barbie agreed they were delicious, and she's a notoriously picky eater.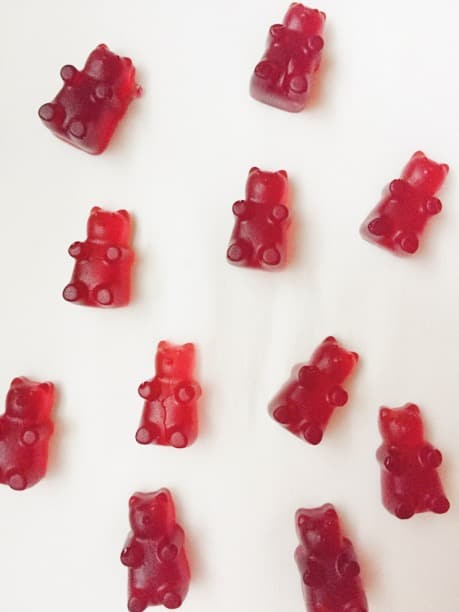 My other project is also one I've been wanting to try for way too long – gummy candies!  I made gummy bears and also bigger ones in mini muffin cups.  I made them sour cherry lime flavor and it was incredibly easy and we're all obsessed now.  Adam can't believe they're healthy, I still think he's skeptical! Recipe coming next week, most likely.  I feel like I have so many recipes to share, I promise, they are all coming in time.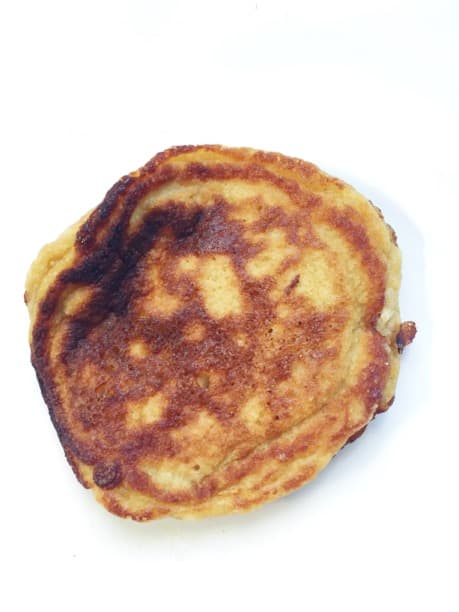 This was also a little experiment that received the thumbs up by the whole crew.  It's a pancake (are you kidding me?!) and it was all that was left by the time I finished frying all the batter – and I think I made 12 total.  I actually wrapped it up and ate it for a snack just now, and even hours later this little pancake was impressive.
Now, I have to figure out how I'll spruce it up.  I'm thinking blueberry maple syrup for one, and maybe caramelized peaches and coconut whipped cream for another.  I love dreaming up recipes, now I just need to MAKE THEM!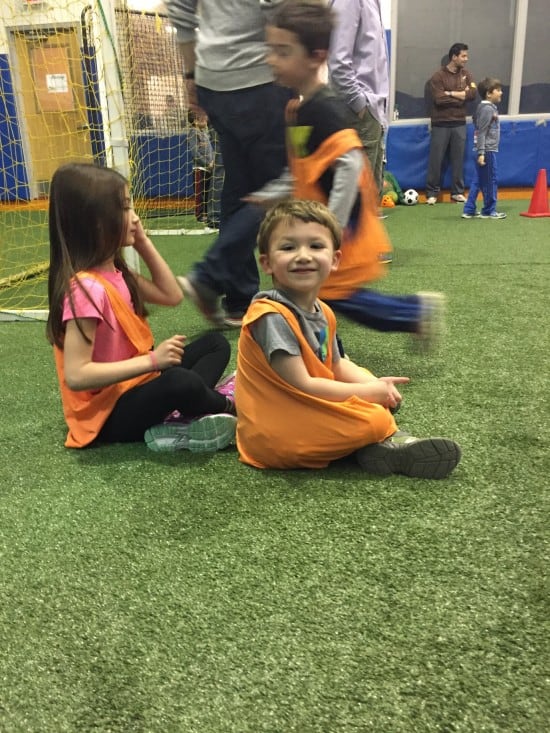 The rest of Sunday was spent NOT cooking, thank goodness.  We had Drew's "official" birthday party (the one where we go to a place, invite friends, and eat pizza and ice cream cake!) and he seriously had a BLAST!  It was a sports themed party and he's sort of iffy with sports in general, but, this was a big score.  Maybe the huge Oreo ice cream cake that he picked out a month in advance had something to do with it.  Let's just say it didn't hurt.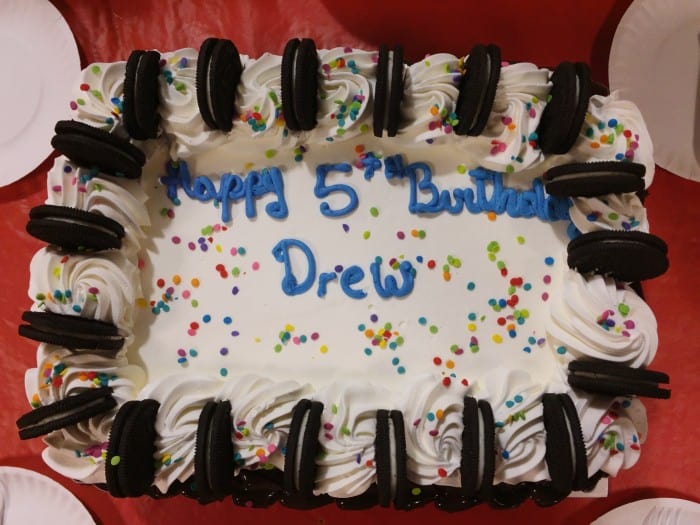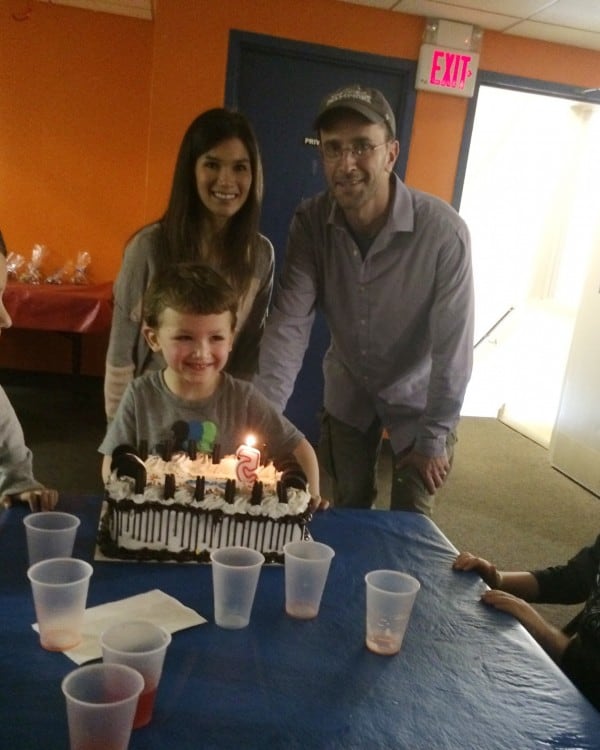 And that leads me to where I am now – blogging and happy that there's leftover pizza for my family so I don't have to make dinner.  And listening to my kids fight over who gets a turn with which new toy.  Adam gets in on the fights too.  His argument is that he puts the batteries in so he should get to play first.
Did you have workout goals this week?
What was your weekend highlight?
What are your favorite pancake add-ins and/or toppings?