Well, hello!  What's up with you guys today?  As for me, I'm writing this on Sunday in my backyard where the weather has been 100% perfect the entire weekend.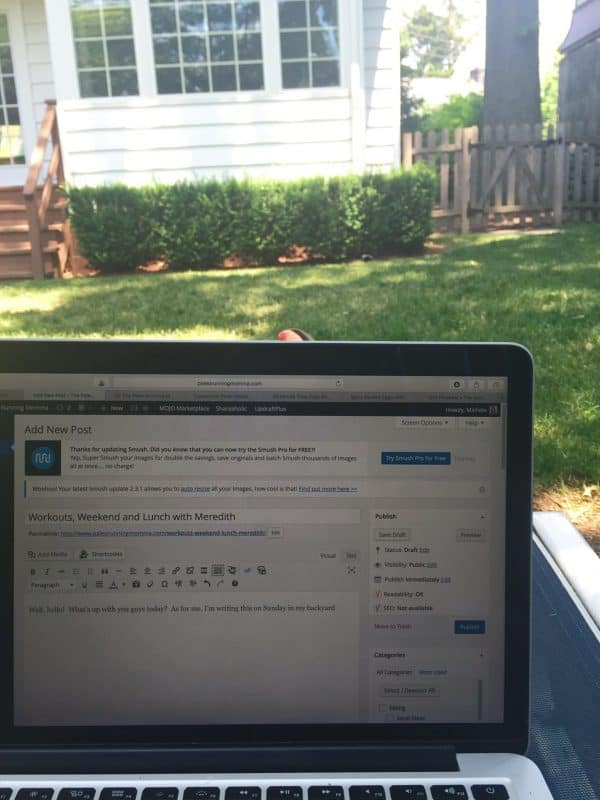 Total bliss!  I tried to get all my fitness activities done outside this week because it's just a whole lot more pleasant for me that way.  I guess that really only adds yoga to the outdoor routine since there's no way I'm going to the gym to run for any reason.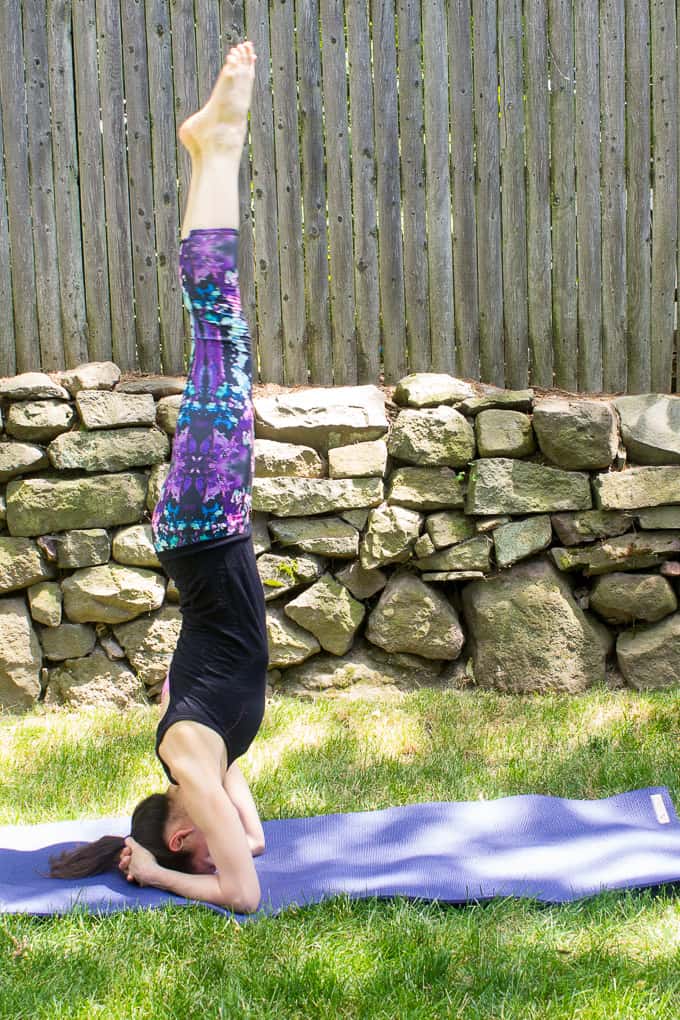 How I'm still able to do a headstand with the small amount of yoga I do is a mystery, but I'll take it.  Maybe headstands are like riding a bike?  Of course I wouldn't even know if riding a bike is like riding a bike since I haven't been on one in over 15 years.  Which is seriously embarrassing, so let's pretend you don't know that about me, okay?
Workouts 6/20-6/26
Monday: 4 miles easy
Tuesday: Just under 4 miles because it started storming near the end of my run!  The run was hilly since I stayed near my house.  25 minute yoga later on.
Wednesday: 4 miles easy, 25 minutes yoga later
Thursday: 20 minutes yoga, my own made-up flow
Friday: I ran over to the track!  Weird, huh?  Total of 4.67 miles including the run to and from the track, with 4 x 400 speed intervals while there.  I didn't  check my watch to see how fast I went for the intervals because any speed is way more than I've been doing.
Sat: 4.2 miles easy in perfect weather.  Followed by 30 minutes Total Body Yoga Workout for strength.
Sun: Rest.  Meant to do yoga but it never happened!  I'm content with what I did this week though.
Lunch with Meredith at 40 Carrots!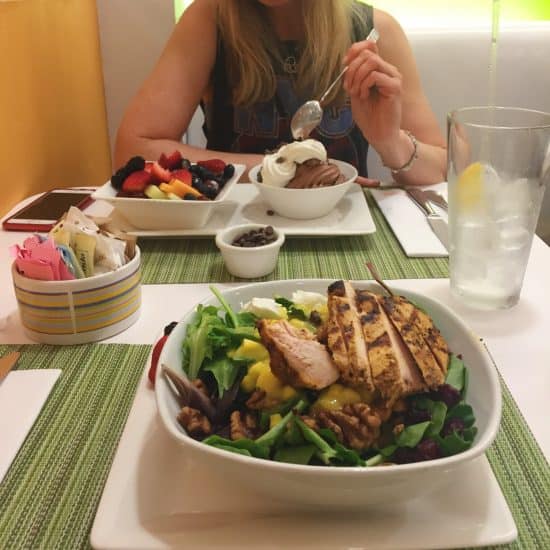 Saturday was my favorite day of the week by a long shot since I got in 2 good workouts, the weather was perfect, PLUS I went into the city for shopping and lunch with Meredith!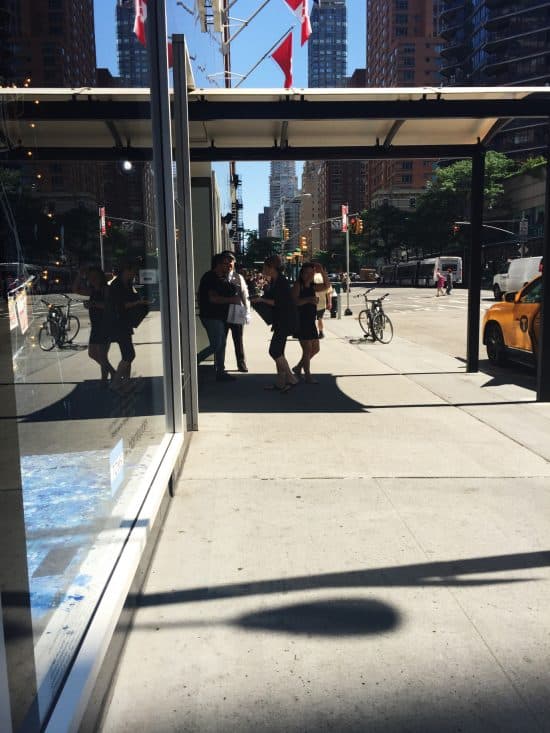 I think we were both giddy at the idea of a meet up at Bloomingdales on a Saturday morning, I for one hadn't been there in at least a couple of years, which seems like a very long time.
I could ramble about how I was sort of looking for a new bag and she was sort of looking for clothes, but, ultimately we did far more chatting than shopping, which is what bloggers do best, and, unlike everything at Bloomingdales, it costs nothing 🙂
Yay!  Um, we also ate, right!  We went to 40 Carrots in Bloomingdales – I had the mango chicken salad and Meredith got yogurt and lots of fruit.  She shared berries with me too 🙂  I had to forgo the pretzel roll to make mine gluten free, but overall yummy salad.  I can't resist things like mangoes and goat cheese when I'm out to eat.
Other Weekend Things
To continue taking advantage of the crazy good weekend weather we tried to spend most of the weekend outside in the backyard.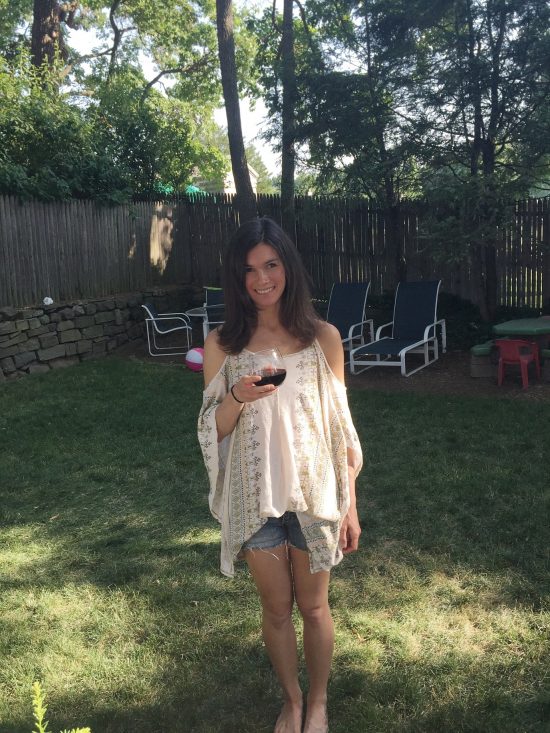 Silly posed picture of me with wine, but I was having a good time and cheesy stuff happens when I'm happy.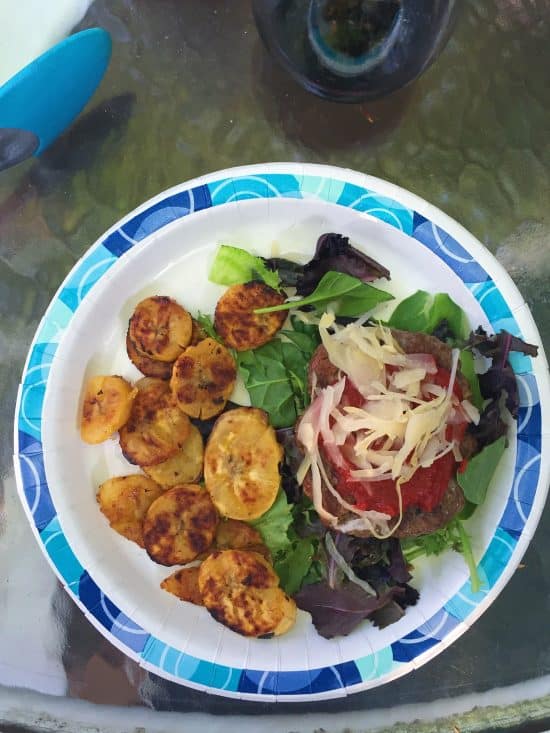 We grilled for dinner – burgers, hot dogs, corn, and plantains.  I topped my burger with maple chipotle ketchup and sauerkraut.
I spent some time over the weekend experimenting with photography backgrounds because I feel like I'm in a rut.  That meant I was totally the strange neighbor putting fresh cherries on the front porch just to take photos.  I can't even imagine what I would've thought of myself a year ago.
On Sunday, Drew had his camp orientation in the morning and he starts today.  The girls don't start performance arts camp until next Monday, which is a good thing because Emily came down with pinkeye this weekend!  Just crossing my fingers that Drew doesn't get it and miss the first few days of camp!
My workout plans for the coming week include more of the same, including the track, which is good for me right now to keep up with just a little bit of speed.  The structured nature of the track is the only thing getting me to push myself lately.  I'm slowly going to ease back into longer distances with no rush, possible aiming for a fall half marathon.  We'll see!
Did you have great weather this weekend?
What are you workout plans this week?
Ever take your yoga outdoors?