Are you there God guys?  It's me, Margaret Michele, and no I'm not about to ask your opinion on when I'll get my first period so please continue reading without fear or awkward hesitation.  I am happily way past Margaret's stage of life thankyouverymuch.  Would you call me nuts if I told you I think of Judy Blume
 at the start of every blog post?
We know the answer to that is yes, so I'll just get on with my point, I think I had one.  Right – a weekly workout recap and weekend happenings.
Monday – 6 miles, hills, followed by this 20 minute well rounded yoga flow.
Later on we went to my parent's house, and though this doesn't count as a "workout", I raced my husband around their backyard barefoot about 4 times, we took it very seriously though and sadly he beat me each time.  I then had a plank contest with Diana and lasted 3 minutes.   Somehow I was more sore from these 2 activities than from anything else I did all week.  Especially my calves from the barefoot sprinting!  Wish I'd taken a picture 🙂
Tuesday – Wasn't counting on sore calves, but oh well.  Adam tweaked something under his knee so at least I wasn't down that road.  I ran 5 miles at an easy pace and later on did Strong and Smart Yoga with Tim Senesi.  My core got quite a workout this week.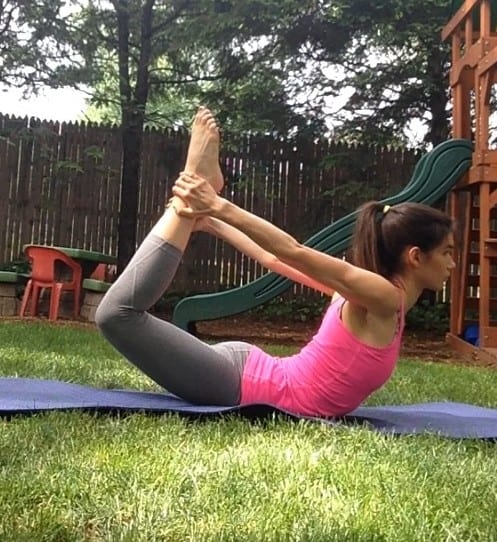 Wednesday – I had run 4 days in a row and decided a day off was in order.  I did a longer yoga practice instead, again a Tim Senesi video (they are tough!) focusing on core and side stretching.  I was sore the next day from this, in fact all of his longer videos lead to soreness for me!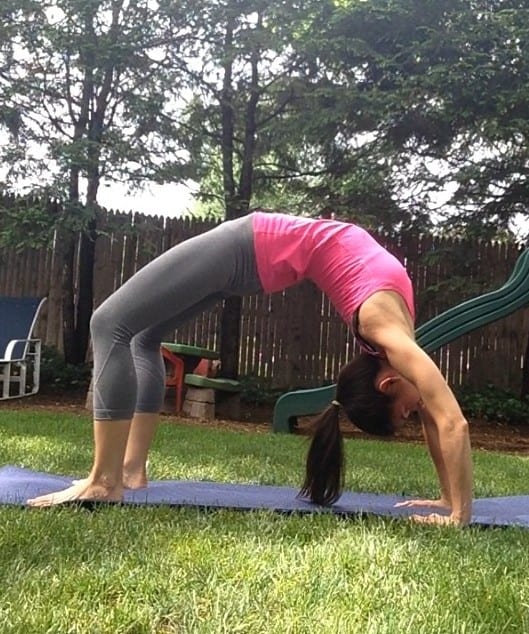 Thursday – I decided to do another hilly run, since I guess I really missed them during my break.  Today it was 7 miles and I felt pretty great the whole way through.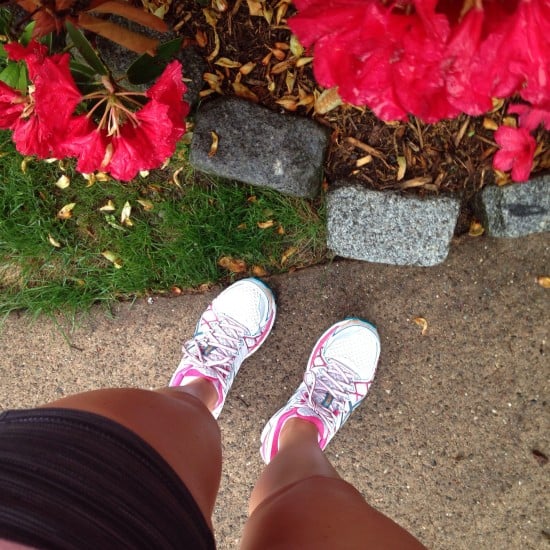 On the yoga front, I decided to put two shorter practices together – first it was 20 minutes of Balancing Backbends with Fiji McAlpine (saw she had this new video and couldn't resist, I love her) followed by Quickie Hip Stretch with Lesley Fightmaster.   Can't beat backbending and hips right?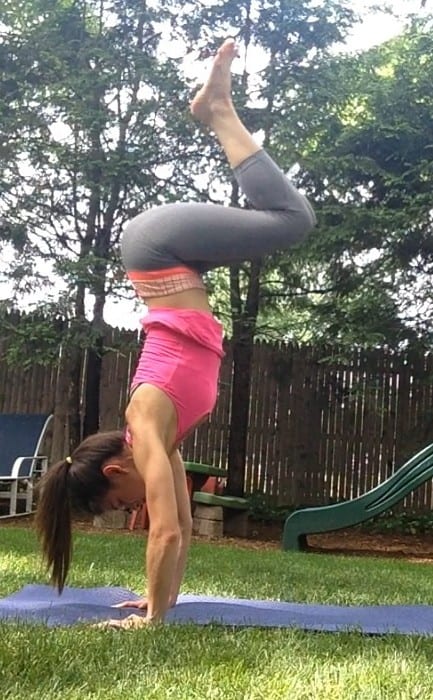 Friday – Day off from running, 45 minute vinyasa flow with Lesley Fightmaster.  Didn't love this one because it was too fast paced (I'm used to slow and strong lately) and the advanced poses were easily missed because of this.  Not that I could get into them anyway, but still.
Saturday – 10.39 miles (.01 was too much, I apparently really wanted to stop!) with my friend Stephanie, who's moving to Texas in less than a month!  To say I'll miss our runs together is an understatement for sure.   It was hot, I felt out of shape, but she kept me on my toes and the miles flew.
Sunday – 5 miles easy, a hill in the middle, super humid.  I felt really slow today most likely due to the damp heavy air.  I still don't use a watch for easy runs and I have no idea my actual pace.
When I got home I immediately started Backbending From the Base (intermediate version).  If you have any doubts about backbending/heart opening poses actually lifting your mood (I did) take my latest addiction as a sign that this really works.  Leave it to me to get hooked on basically any activity that produces a natural high.  Running + backbending for the win, I guess there are worse things 🙂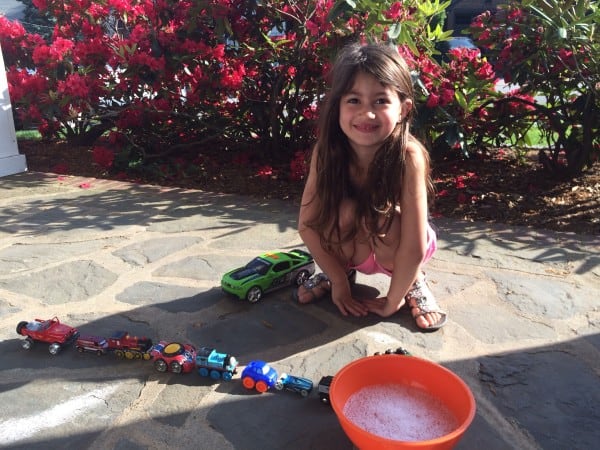 Our weekend consisted of NO PLANS, which is rare for us and I will happily have nothing to do when the opportunity presents itself.  I mean when would we have time for a toy car wash on the porch if we never had down time?  I don't think her creative side comes from me, this must be Adam's child.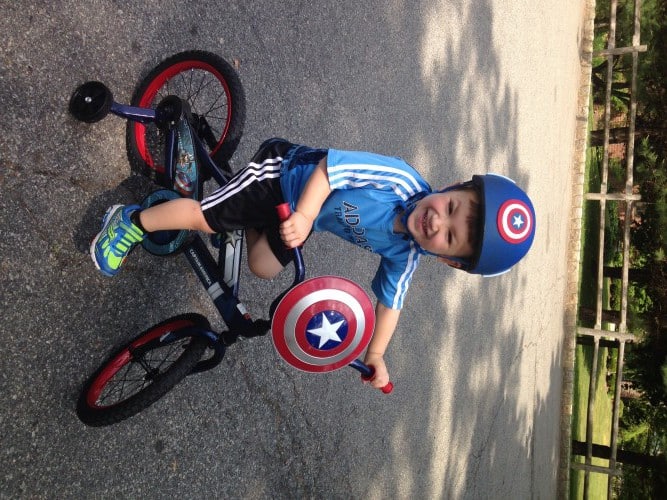 Drew really enjoys his new bike but man, it's quite the workout to help him ride this thing up hills in our neighborhood since he's still getting the hang of it.  My body shuts down when it's above 80F and sunny, and I was way more zapped from this than he was.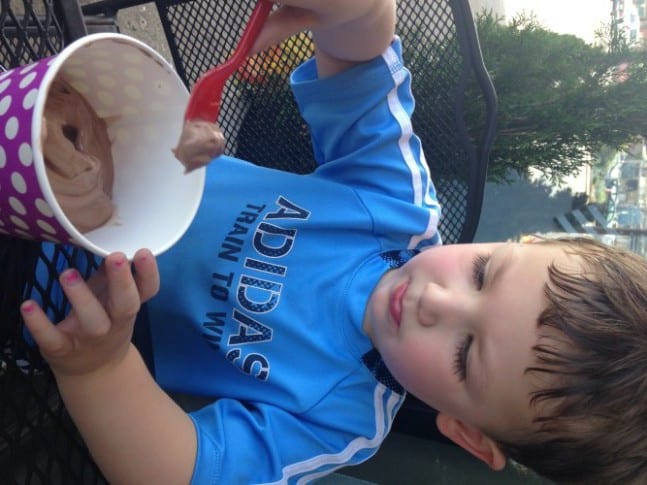 I'm an imperfect mother for sure because I still use promises of treats to divert attention away from, "mommy I want to do it AGAIN!  NOW!" My answer to that is "okay-that's-great-we'll-do-it-tomorrow-but-WHAT ABOUT FROYO NOW?"  Easy way out if there is any, but it just works so well!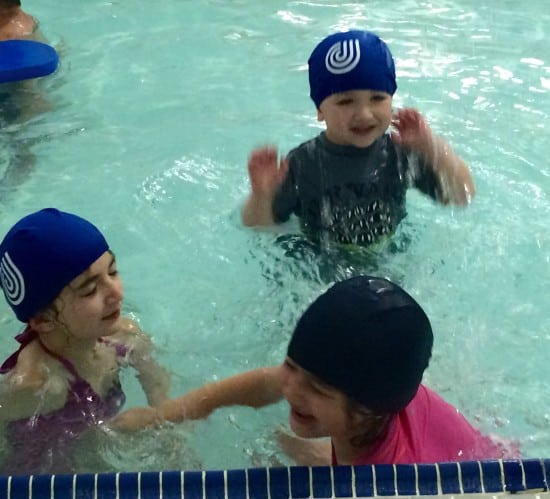 And just one more from Sunday at the indoor pool only because kids in swim caps make me laugh.  I am not really an indoor pool fan but they always have a blast!
And now I will be leaving the internet to go finish off my Sunday, hopefully get in some backyard time before the storms roll in.  I'm honestly not upset about some rain and a break from the heat, you remember how I REALLY feel about rain, right?
Hope you guys had an awesome weekend!
How were your workouts last week?
Best part of the weekend?
Do you love or hate not having plans?