I put this blog post together in pieces all weekend since we were all over the place, and nearly forgot an intro.  I know, we all would have lived and figured it out if the post just started with "Monday I ran XYZ" but a blog post feels incomplete without some sort of intro.
I guess that was it.  It's Sunday night and we all know I'm a morning person who isn't the same at night.  I'm still here, still me, and by the time you read this my brain will be functioning near full capacity (or whatever's normal for me, who knows.)  Without further ramble, it's a breakdown of running and yoga from last week plus the weekend.  So not witty, so not awake.
Monday – 6 miles with hills, 9ish pace + "Yoga for Joy" with Lesley Fightmaster.  The "joy" part refers to lots of backbending!  Backbending only really makes me happy after it's over.  This is a 35 minute intermediate class with some advance poses thrown in that I definitely did not master this time around.
Tuesday – 5 miles 9-9:30 pace + Hatha Yoga Flow with Lesley Fightmaster, 45 minutes long.
Wednesday – Tempo run time!  I still get anxious for these runs, thinking I just won't have the energy to keep my pace.  My Garmin randomly started working again, for now at least.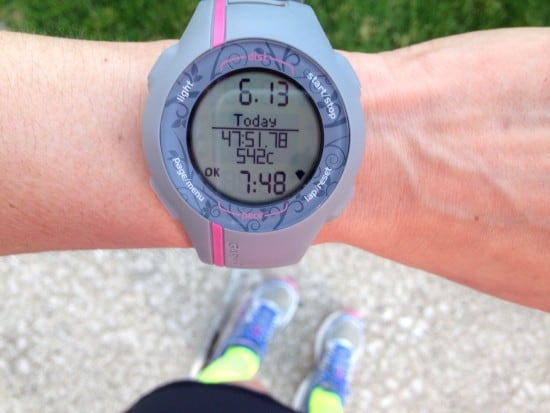 While it's definitely not easy, the pace always winds up much more manageable than I make it out to be beforehand. Not sure why I don't learn from this!  I did 6 miles with 1 to warm up and 5 @ 7:35 pace.  It's just as much a mental exercise as a physical one, to remember to focus on keeping the faster pace.  Sometimes I drift off and "forget" what I'm supposed to be doing before I realize I need to speed up.
Later I did the Lululemon SeaWheeze 2013 practice, a 35 minute beginner/intermediate "yoga for runners" practice.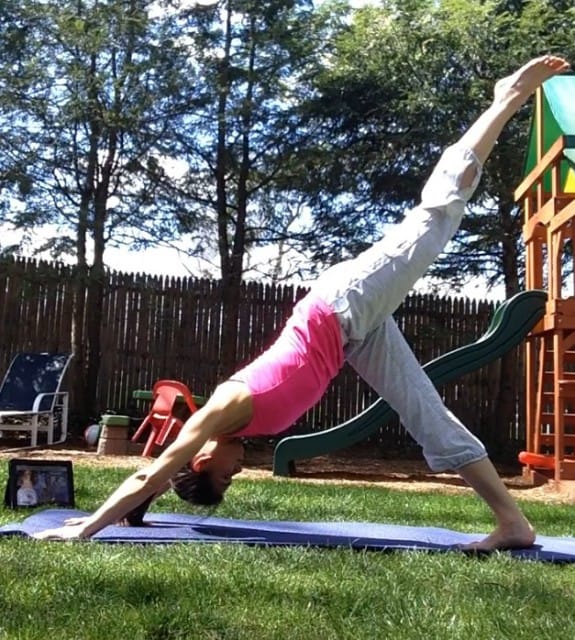 Thursday – About 5.5 miles at a 9:30ish pace, definitely feeling sluggish at this point in the week.  Since I liked the 2013 SeaWheeze practiced I decided to try the 2014 practice today (45 minutes) which I liked even more.  This was perfect for this point in the week, running wise, for me.
Friday – A break from running was obviously needed, I had run 6 days in a row.  I did "Backbending from the Base", the advanced version, with Fiji McAlpine early in the morning, which was especially challenging since my back not at all flexible when I wake up.  I like that there is a lot to work up to in this class, and I'm curious if I'll ever in my lifetime get my forearms down in wheel pose.  That is sort of a long term yoga goal I guess 🙂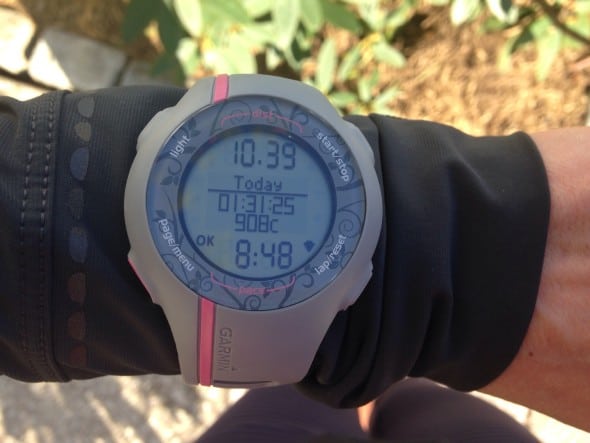 Saturday – 10 miles with my friend Stephanie, and then 3 with my 6 year old, Emily, since this is her "peak long run" before our 5k next week.   20 minutes post run stretching.
Sunday – 4 miles, 9:30ish pace (recovery run) + the SeaWheeze 2013 practice again, 35 minutes.
The week overall felt more running than yoga focused, and I would say for the past two weeks I've been doing a lot of deep stretching and more running specific stretching in my practice.  I'm attributing this to the fact that I've incorporated speed work and also have been running 6 days per week.  Those two factors are definitely putting a strain on my body, and, after my 10k this coming Sunday I'm looking forward to a couple of weeks or more of a bit less running and more yoga.
Weekend Things!
Since it's Sunday night and I'm exhausted from our day at Six Flags, I'll keep the words to a minimum and just go over the highlights, starting with Saturday.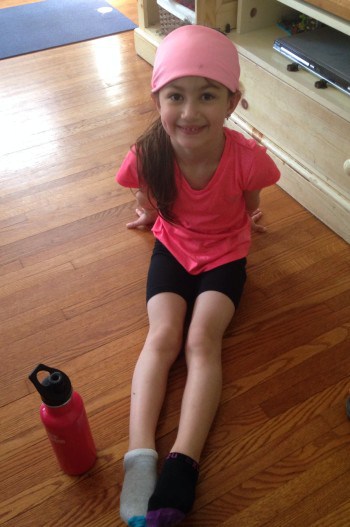 Emily completed her last "long run" of 3 miles and we are good to go for our Mother's Day 5k!  I'm already watching the weather like a lunatic and not for myself during my own race (10k) but for her.  Hoping it's not too warm because just like her heat-whiny mom, she prefers running when it's less than 60 degrees.
Drew directed a dance show in the backyard since we had great weather all day..
But first it was off to Toys R Us in his new big-boy booster seat to get his new big-boy bike and a new Barbie Doll, because, kids' birthdays last like a month nowadays.
We had a dinner out with Adam's mom and aunts.  None of these pictures capture the fact that we all had fun, but, it was a great night!   The only downer was that I was once again reminded not to order a salad when I go out, even if it promises to have a lot of meat on it.  It's never enough and I'm probably better off ordering actual meat with a side dish and having them leave out sauces or seasonings if need be.
Sunday was our big Six Flags Day, and although a long (and hot!) day everyone had a great time and Diana had so much fun performing.   We got there around 11:30 and she danced at 12, after that we had lunch and got in as many rides as we could before we were hot, thirsty, and ready to go home.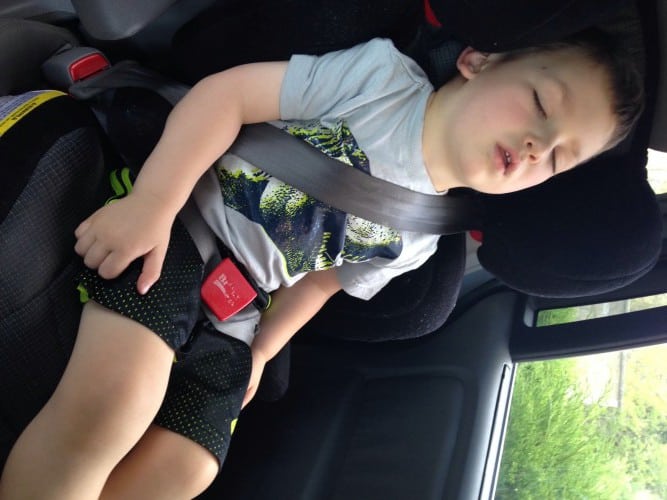 I 100% felt like this on the ride home too, but like every Sunday night it was all about food prep, cooking dinner and making lunches when we got home.  The kids had a great time and Drew LOVED all the rides.  I'm sensing a bit of adrenaline junkie in him.   Or maybe he just knows a good time.  Most likely it's both 🙂
What was the best part of your weekend?
Do you get disappointed by a lack of "good stuff" in your salad?
How were your workouts this past week?  Any races this weekend?