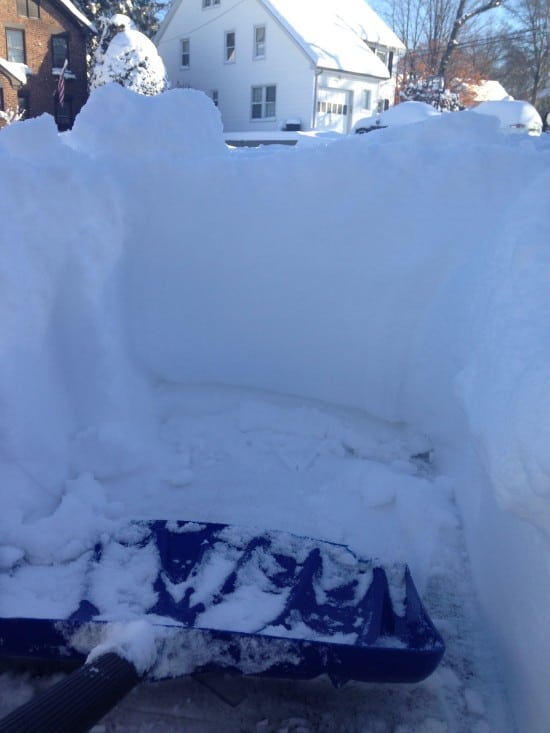 Buried in snow is not really so bad.  The snowed in weekend worked out for me, mostly because I didn't have to make any hard decisions about whether to make the trek into the city for the Fred Lebow Half Marathon, since by Friday evening they cancelled the race due to the blizzard predicted for Saturday.  I think we wound up with between 24-30 inches depending on where you look, although when I shoveled I could've sworn it was 3 feet in some spots.
And really, this was the best thing that could've happened, because Thursday night brought on a dreaded surprise that would've prevented me from running this race anyway – I'm telling you – I am just not meant to race lately!    Let's get into my workout recap (big change from what was planned) and then I'll show you a few of the many pictures I took this weekend.
Workout Recap: Running & Yoga
Monday – No running (Adam came home from Seattle in the morning) and early morning yoga – 30 Minute Morning Yoga Flow 2
Tuesday – 5 miles easy followed by 10 minutes of stretching and 10 minutes Yoga Core Challenge.
Wednesday – 5 miles easy (I can't even remember this run – they all blend together since it's the same route!) Later in the day I managed to squeeze in this 16 minute Power Yoga Quickie with Leslie Fightmaster.
Thursday – 5 miles easy – later on, 30 minutes Total Body Yoga Workout 2.  A couple of weeks ago I was sore after doing this and it's gotten easier I've noticed.  I feel stronger in my core lately even though I'm doing just 20-30 minute videos at a time.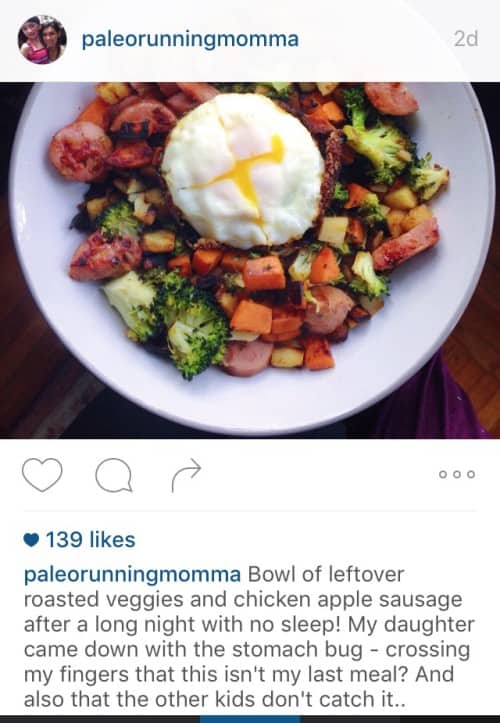 Friday – Thursday night brought on the not-fun-surprise of Diana waking up at 2am with a stomach bug.  She always gets these worse than any of us and was in the bathroom the rest of the night sick – I tried to sleep a little bit more but was way too nervous/wanting to check on her so I wound up with maybe 4 hours total that night.
At 5:30 everyone was sleeping, at least temporarily so I figured I'd get my run in before Adam had to leave, as usual.  So far I felt okay, but I assumed I'd be catching the bug because I rarely escape them.
I went out for 5 miles easy, and later on while Drew and Emily were at school, did this 35 minute Yoga Stretch, which is deep restorative stretches that feel great.  I probably felt "restored" for about an hour until the punched-stomach feeling hit me and I knew I was getting sick.  It turned out that the symptoms didn't worsen or progress into anything else – just no appetite, fatigue, and the stomachache/mild nausea.
Saturday – Rest day – due to both the (luckily) mild stomach bug that left me exhausted plus of course the blizzard that hit us even worse than expected.
The Fred Lebow half marathon had been cancelled Friday night, so at least I was able to not be upset about getting sick, or having to make a decision about whether to try to get to the race.  It actually worked out pretty perfectly, if you can even say that at all for a snowstorm/stomach bug combo.
Adam is obsessed with Dunkin Donuts coffee and will risk nearly anything for it no matter how much coffee (even Dunkin Donuts brand) is already in our house.  It's just not the same as having them make it, I guess.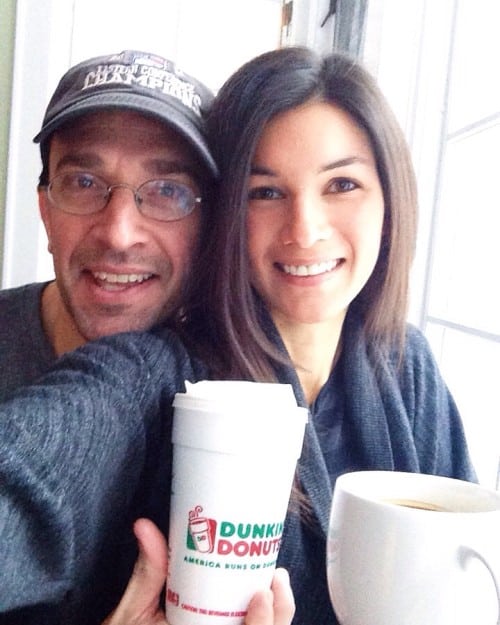 Sunday – I woke up, after sleeping really, really well, feeling normal, so I got in a good yoga practice since I wasn't about to shovel early and attempt to run.  Two years ago I did things like that, but not now!  Yes, my Boston Marathon training has been delayed a week, but, it is what it is and I don't think it will have much of an impact.  Let's just hope I don't get sick for any more of my long runs…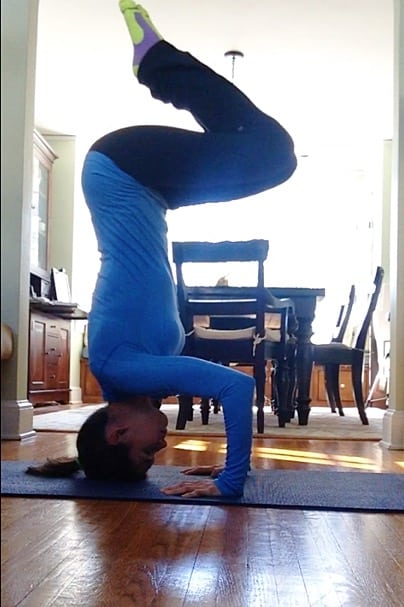 Here I am warming up to shovel snow.  Just kidding, I was working on my crow to tripod headstand which is surprisingly coming back quicker than I thought it would.  Now to get back down to crow – I never mastered that one.
Shoveling snow also completely counts as a workout.  Adam  bought a second shovel earlier this week in anticipation of our classic "who gets to leave the screaming little ones house to shovel" argument that we have for every snowstorm.  I'm exaggerating because we haven't had that argument in a few years, but it's still nice to be able to shovel at the same time to speed things up.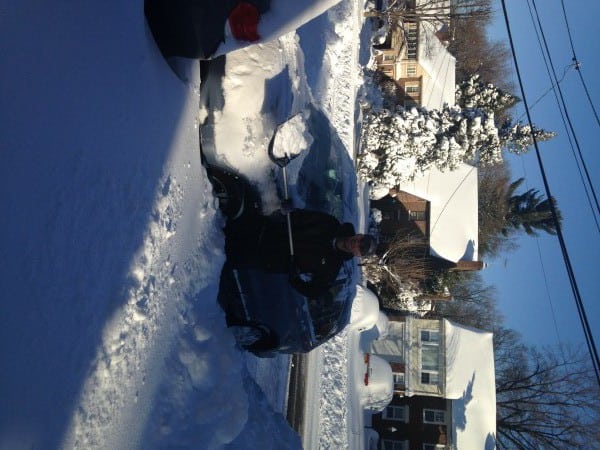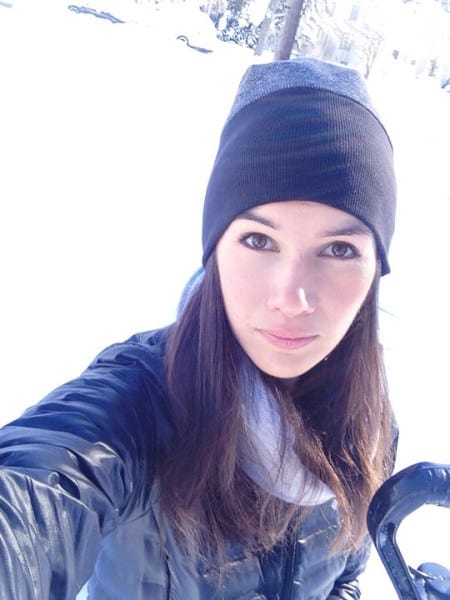 Glamour-snow-selfies should be a thing, right?  I think the light from the snow makes my skin look better than ever.
I took more pictures than just snow-shoveling-selfies this weekend though, since there wasn't much going on, I made sure to document every moment that no one was doing anything.  Here are some of the captured moments: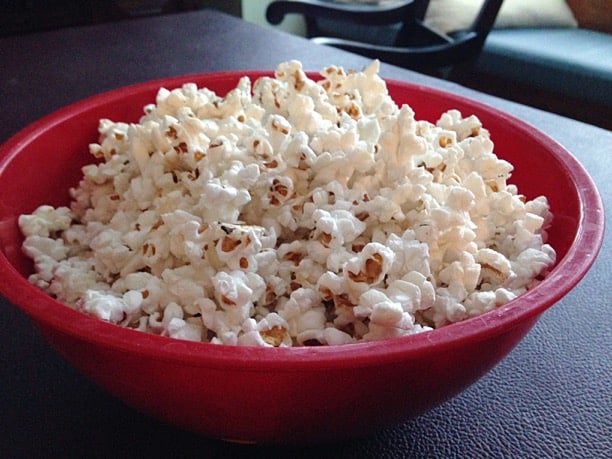 I popped popcorn on the stove Saturday since everyone was watching movies all day and it seemed fitting – plus they wouldn't stop asking every 3 minutes or so.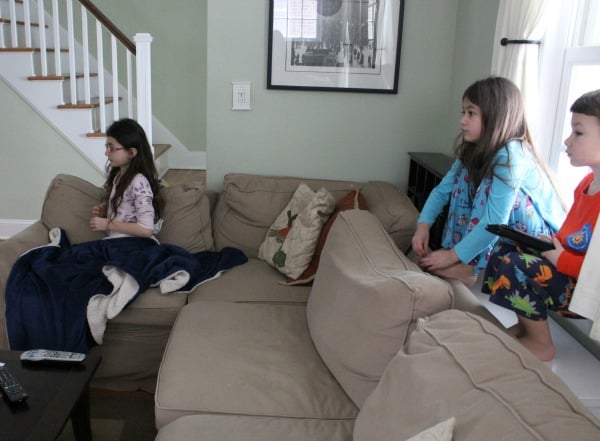 Most of Saturday looked like this and I was more than okay with it!  I was just happy that so far no one else seemed to be getting sick.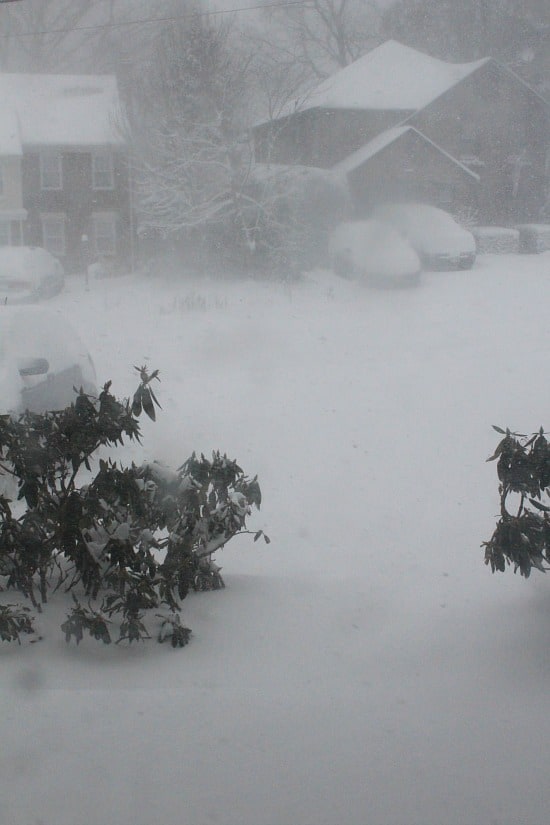 The snow in action Saturday…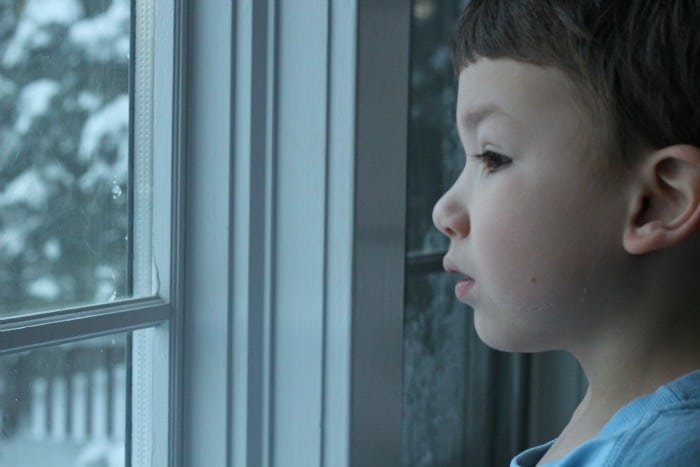 Drew was loving the view from the window Sunday morning…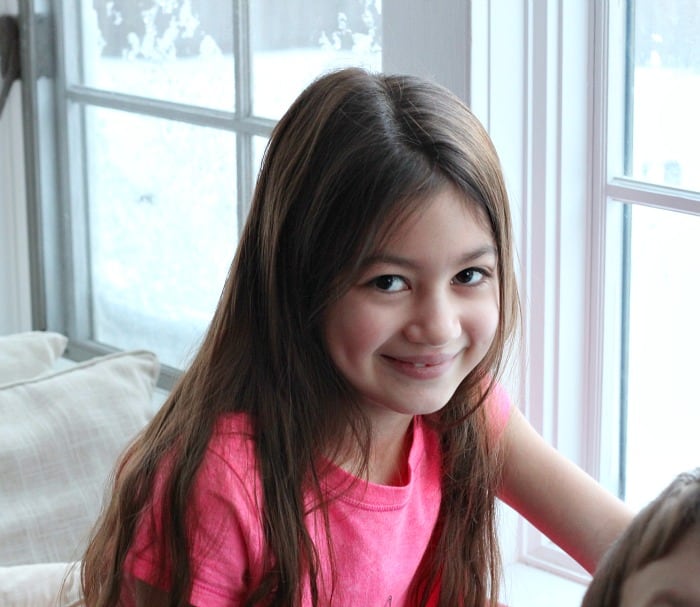 More happy kids…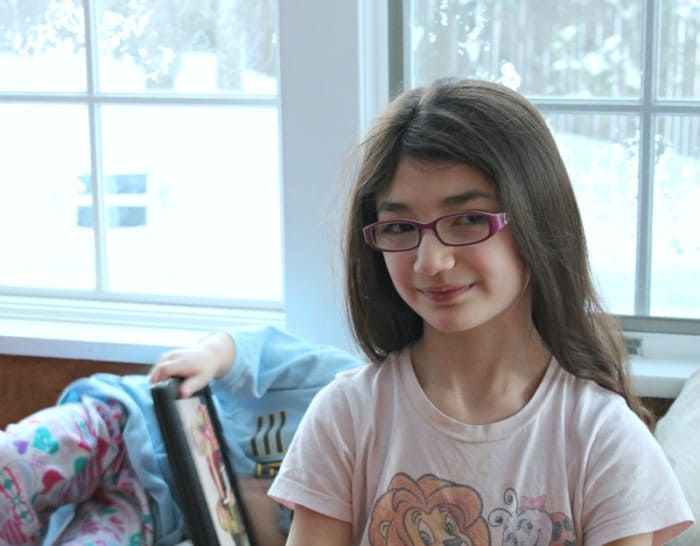 Feeling lots better!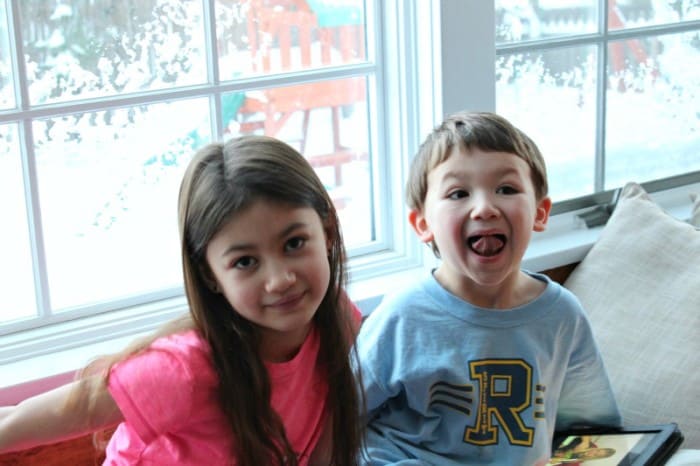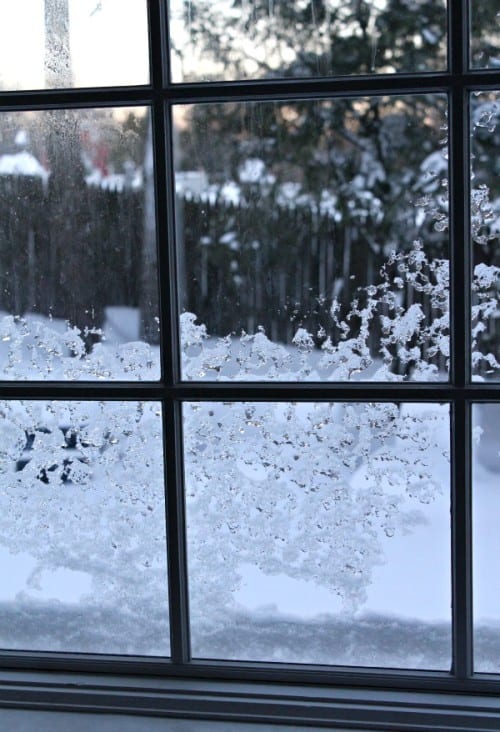 I thought the ice was cool – yup that's the kind of weekend I had – ice starts to look really interesting…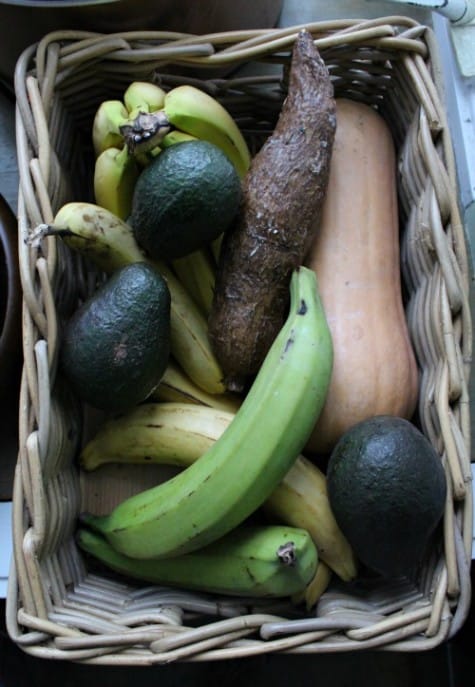 …And so does produce.   I know that once in a while I can really use a weekend where I have time to take pictures of things like this!
Adam took about 300 pictures of sledding with Emily and Drew – here were the highlights: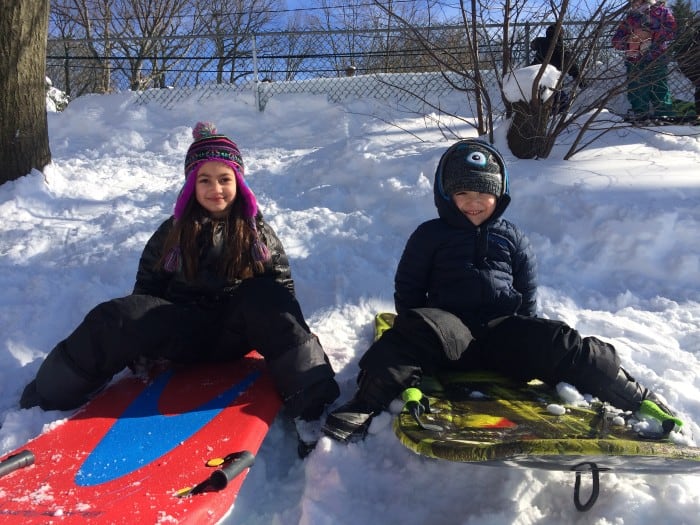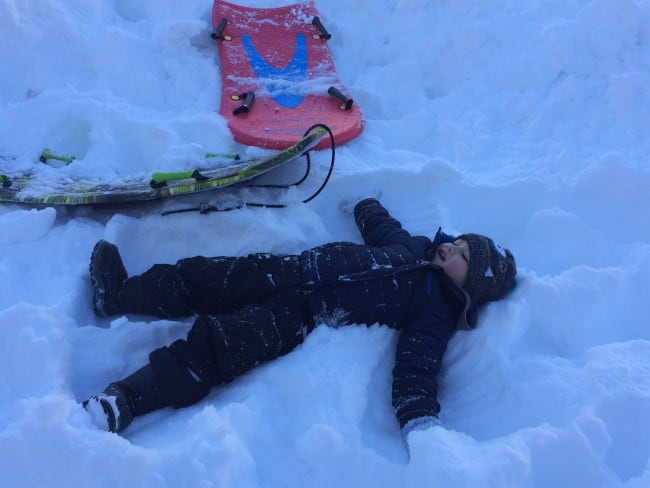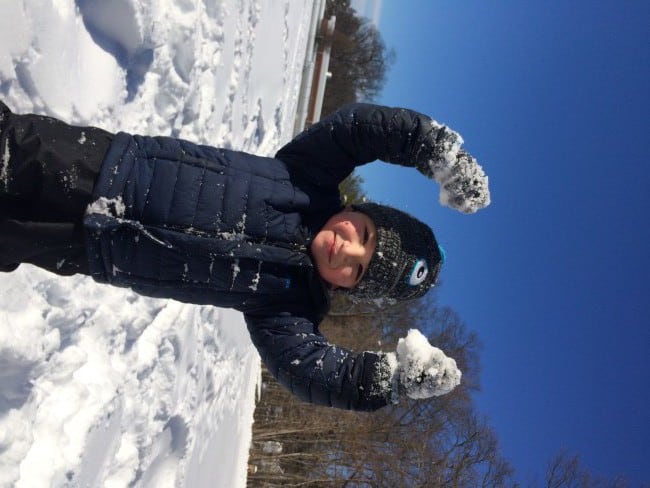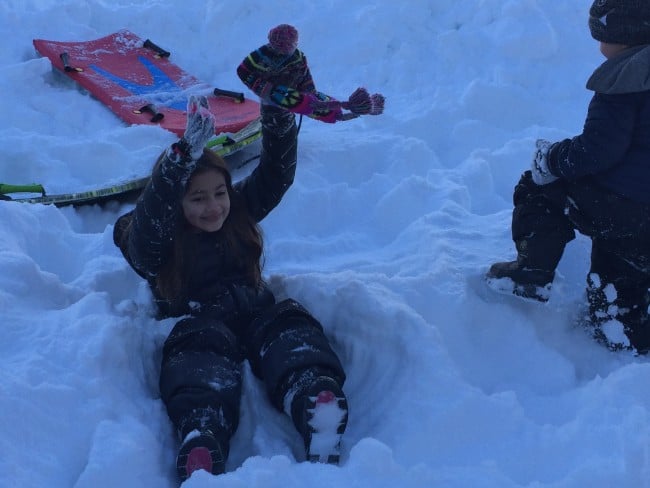 Daddies definitely win when it comes to snow – no contest 🙂
As for the week ahead, I'm planning to run as planned including a long run on Saturday or Sunday (whichever day is better, weather wise) of 13-14 miles to officially kick off my training for the Boston Marathon.
Feeling the way I do about running right now, I'm not sure what will happen once I'm increasing my long runs on the weekends.  I do know that I'm not going to stress about it though, and that whatever happens on the day of the race is okay with me.  No goals, except staying as healthy, balanced, and rested – physically and mentally – as possible.  I know that I owe it to myself and my family to make that my first priority.
What do you have planned for the week ahead?  
Any die-hard Dunkin Donuts fans who would take the risk?
Do you find yourself taking more pictures on a lazy weekend?