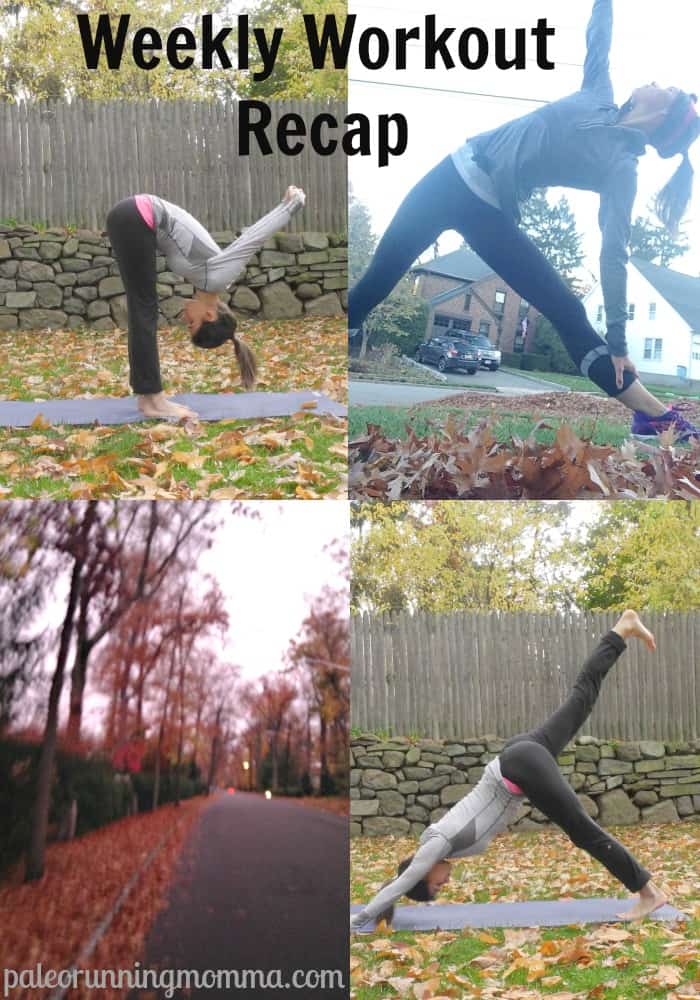 I realized about 5 minutes ago that I can no longer title these posts "Marathon Training Week XX" and then I was at a total loss for a title.  I never really think of running or yoga as a "workout" for some reason, but, that sounded better than "fitness recap" or anything else.  Maybe it's more like "running and yoga recap", but, too late.
Plus, this way you can wonder for a few minutes if I took a spin class or did anything at all at an actual gym.  Might be possible, but, no – not this week.  Just gave away all my secrets, on to the usual!
Weekly Workout Recap 11/9-11/15
Monday: First run post-marathon!  I was very excited to run – such a nice feeling that unfortunately doesn't seem to last.  Sure, I love being out once I'm out for a few miles, but, the feeling of getting up ready and happy to run doesn't happen often enough.
5 miles @ 8:46 pace.  I've decided to track even my easy runs using MapMyRun to get a better idea of my paces without feeling compelled to stare at my watch.  The app seems to be more accurate and less annoying than my Garmin!  Plus I don't have to stand out in the cold waiting for it to load.  This run felt really good, which I wasn't expecting, since usually after a week off I'd need to adjust for a few days.  Not the case!
Later on I did 33 minutes Power Yoga with Lesley Fightmaster – it felt great and I was sore the next day – especially in my upper body – after a break from yoga.  I also remembered how much I love Fightmaster Yoga, and updated my Yoga Home Practice Guide to include some of her classes.
Tuesday: Another 5 miles, same route, same exact pace.  Since I wasn't tracking my runs on a daily basis, it's funny to see how similar my pace can be on the same route. It was warmer for this run and it felt different, I wouldn't have guessed the paces were identical.
Wednesday: No running, 35 minutes Yoga Full Body Workout Chakra Flow with Lesley Fightmaster.    This was a great full body practice for a 30 minute class, plus you can learn a little bit about the Chakras if you're interested.  Don't be alarmed if you seem to be "blocked" in all of yours, according to the descriptions I'm blocked as well.
Thursday:  6 miles on a hilly route, 8:51 avg. pace.  This route is a tough uphill for the first two miles (as you can see from those splits!) and then it's great.  I like getting the hard part over with early 🙂
Friday: No running, early morning Yoga Body Workout 3 with Lesley Fightmaster – 35 minutes.  I like that many of Lesleys "Yoga Body Workouts" follow the same structure, yet are each a bit different with their focus.
Saturday: 8 miles, 8:31 avg pace. Decided to do a "long" run today since that's what I associate with Saturday mornings!  It was perfect running weather for me, right around 40 degrees.  This was the kind of run that makes me realize how much I love running when the weather is perfect and there's no pressure.
Later I did Yoga Total Body Workout with Twists – 39 mins.  Similar to the Friday video but more challenging twisting poses.
Sunday:  Total rest day.  Saturday night was all about guacamole – Adam and I finally got out for a date night after months.  I can't remember when the last time was, but I'm sure it's in the archives somewhere.  The margarita was his – I can do corn tortilla chips but margaritas make me sick, very sadly!
Anyway, I still woke up at 5:30 Sunday morning, and enjoyed snuggling up in jammies without anything planned.  Sundays should always be rest days I think, it feels so right – especially when it gets cold!  I think it's 35 degrees outside right now.
Summary: 4 days running, 24 miles, avg paces between 8:30-8:50/mile – 4 days short yoga practices.
Thinking Ahead:
I was happy with how this week made me feel both physically and mentally, and I plan to keep up something similar for the next month or so, probably increasing my Saturday run to 10 miles and keeping the weekdays easy for now.
I've been doing some thinking about Boston, and, at this point my plan is to train significantly easier than I trained for NYC.
I'm not up for hardcore marathon training, or for any pressure really, so I'll likely create a training plan focused on building marathon endurance without much formal speedwork.
It won't be 16 weeks this time either, probably 13-14 weeks of following a plan.  Fewer long runs – probably one 20 miler and 2 18's – because I just want to get to the point of being able to finish with zero time pressure.
Funny how even "no pressure" training requires a lot of planning!  Like we have to plan not to force anything.
How were your runs/workouts this past week?
Are you following a plan or just doing what you feel like?
Do you love or hate running outside over the winter?  Or both?