I may not always bite my nails, but when I do, it's because…oh wait never mind, I literally always bite my nails, and pick at them too. Typically I'm engaging in both gross habits at the same time.  This is more challenging when trying to write a blog post, but yet still I find a way to do it.  Thirty year old habits are not worth trying to break.
Any other biters or pickers out there?  Something tells me at least a few of you who read this blog can relate, and those of you who can't probably just threw up thinking about the rest of us.  Well now I'm grossed out too because I just mentioned throw up, yuck.  Anyway, didn't mean to get gross on everyone but for whatever reason or reasons, I happen to be biting my nails more than usual the past few days.  No picture will follow this paragraph thankyouverymuch.
Come to think of it, this "intensity" definitely started on Wednesday – AKA the day my computer died and took another piece of my sanity with it.  It didn't help that Adam was away for the weekend in Seattle and I was up in the middle of the night with coughing kids, banging pipes (furnace stuff) and even a 2am "idea" that there was something alive in my attic (exhaustion hallucination?  I think it was just the rain.)  I wasn't kidding about the computer killing my sanity, computers do that sort of thing all the time.
Anyway, since things were already what they were, I decided it was the perfect time to do one of my almost-psychotic cleaning sprees.  The ones where I begin by forcing myself to turn the vacuum on, and, a full day later have to pry myself away from cleaning faucet creases with tweezers, a toothbrush and bleach.  Transitions are hard, both ways.
But you didn't come here to read about dirt, my furnace, or my dead computer again (but, if you did then we might already be best friends) so let's get on with my workouts last week – plus – how I  rewarded myself after all the cleaning nonsense.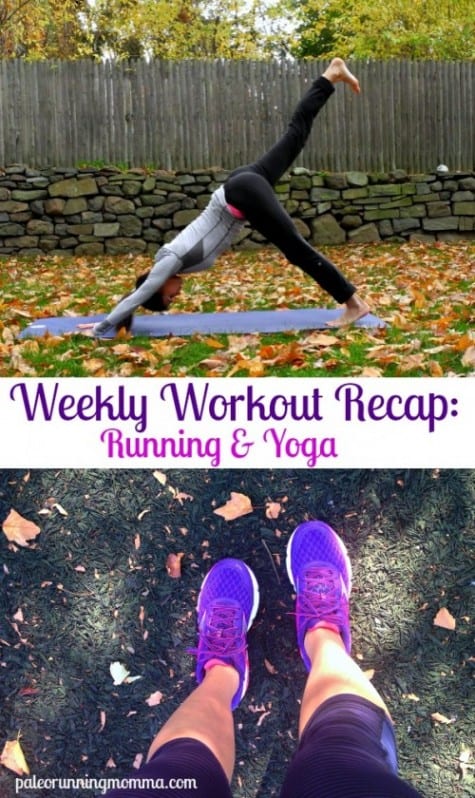 Monday: I think I mentioned my Monday run in my "Monday in the life" post – it was 5 miles long and very, very slow.  Who am I kidding?  All my runs have been slow lately!  I will not mention pace again.  Probably.  No yoga since my whole day was jam packed!
Tuesday: 5 miles easy, same route and same time.  I managed to squeeze in this Yoga for Renewal video (28 mins) which is focused on getting into a headstand.  I used to practice inversions daily, but stopped for a while during and after marathon training. I'm back to practicing headstands and forearm stands and working on upper body strength.
Wednesday: Literally no workouts except biting my nails a lot and sprinting through two Best Buy Parking lots.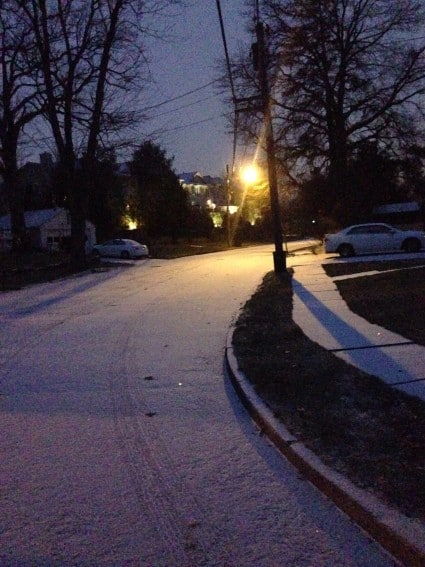 Thursday: 5 miles easy plus vinyasa flow with Tim Sinesi.  This is a tough one!  I used to do this video pretty often about a year ago and I must have been in good shape, because I don't think it ever made me as sore as I was the next day.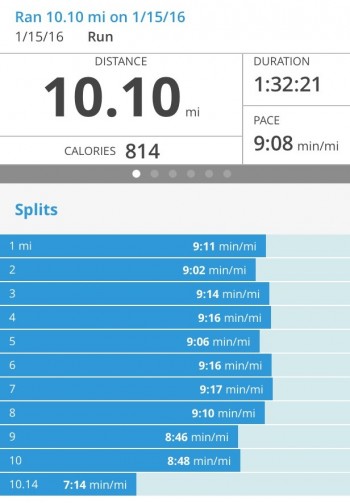 Friday:  I woke up sore from yoga just in time for 10-mile-run day.  This week that run had to be when the kids were in school since Adam was in Seattle, so I ate my plantains and eggs, skipped coffee, did a pre-run yoga video and went out for the 10.
Saturday: 27 minute yoga workout first thing in the morning, followed by all that cleaning.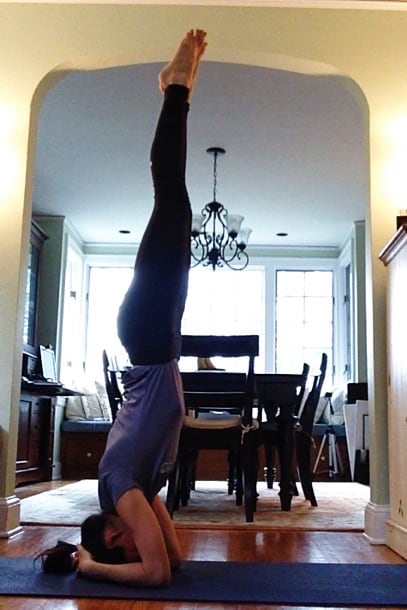 Sunday: 5 mile run later in the morning (my neighbor babysat) followed by hip and hamstring opening stretches and more headstands!   Next up will be getting my tripod headstand back.
So what's all this business about rewarding myself for cleaning?  Isn't the house being clean for 3 minutes a reward all on its own?  Yes, of course it is.  Hear me out – those 3 minutes are SUPER awesome, relieving, and truly a dream come true – especially because I earned them all by myself with just 7 hours of being the tyrant-cleaning-mom – screaming "I'm throwing this out!" and chasing anything that moves with a dust buster and bleach.
I want you to think that I'm kidding.  Anyway, I actually did somewhat reward myself on Sunday by coming down from that headstand, Instagramming it, and then doing no more "work" until the very end of the day (which would be now as I'm finishing up this post.)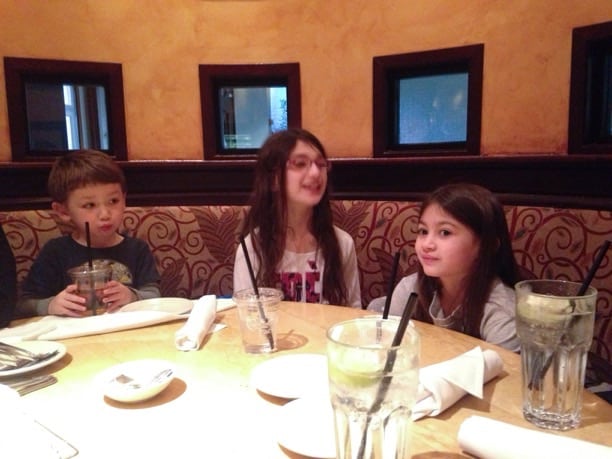 My parents, sister and brother in law came over (we were celebrating his birthday) and we hung out, went to eat at the Cheesecake Factory (chicken cobb salad for me) and then came home to hang out more and do our typical "Happy Birthday" ritual.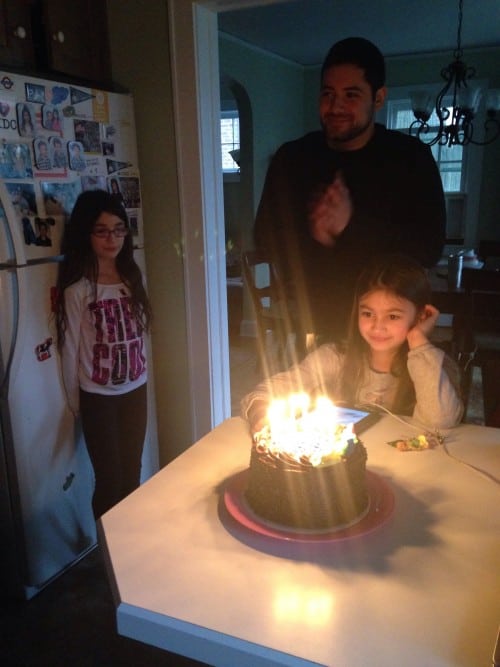 A birthday cake with candles, nothing crazy.  But actually, the ritual always involves a huge chocolate layer cake and some extremely specific math formula created by my mom for how many candles go on the cake.  Then the birthday-person has to cut the cake first.  Does anyone else do this?  It seems like a hefty task to put on the birthday person. My mom learned of this ritual when I was little and she can't let it go.  The first cut is the deepest, says Sheryl Crow, but I say the first cut is the most aggravating piece to get out, especially when dealing with a huge layer cake.  Don't tell me I'm bitter because I can't eat the cake, chocolate cake was never my favorite.  Now if the cake on the table was cookie dough cheesecake, you'd have an extremely valid point.  And we won't mention it again.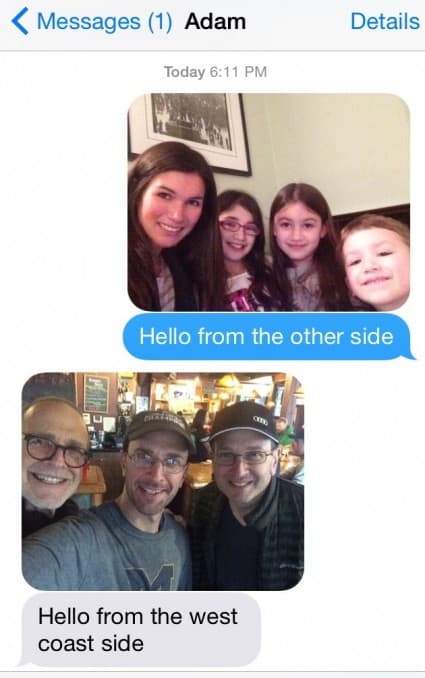 Since Adam was headed back home last night from Seattle, I couldn't resist the urge to send at least one cheesy picture with an Adele reference.  It's the little things in life.  There he is on the other side with his dad and brother.  So glad he'll be back as of Monday morning!
I finished off the day eating chocolate and blogging.  Eek – this was a long post!  Let me tell you – this new laptop is making it easier for me to ramble on since I'm so comfy when I write now – hopefully for your sake this effect is short lived!
Do you reward yourself for completing "regular" grown-up tasks like cleaning your house?
What's your family's birthday ritual?  
What's one thing you're currently working on, fitness wise?