Let's get right into this!  Today's a special WIAW  for a couple of reasons.
The first is that I only ate one egg with my breakfast.  Kidding. While it's true, the single egg is irrelevant to why this day was special.
The real reason is that I got to hang out with Meredith for the first time since last May! Remember when we went to the mall and ate at The Little Beet?  Well, we did the exact same thing again, because let's face it – we're the type of people who like routine, and if it ain't broke, no need to fix 🙂
Plus, at least for me, it's hard to turn down an adult-only shopping trip on Long Island, at one of my favorite malls growing up!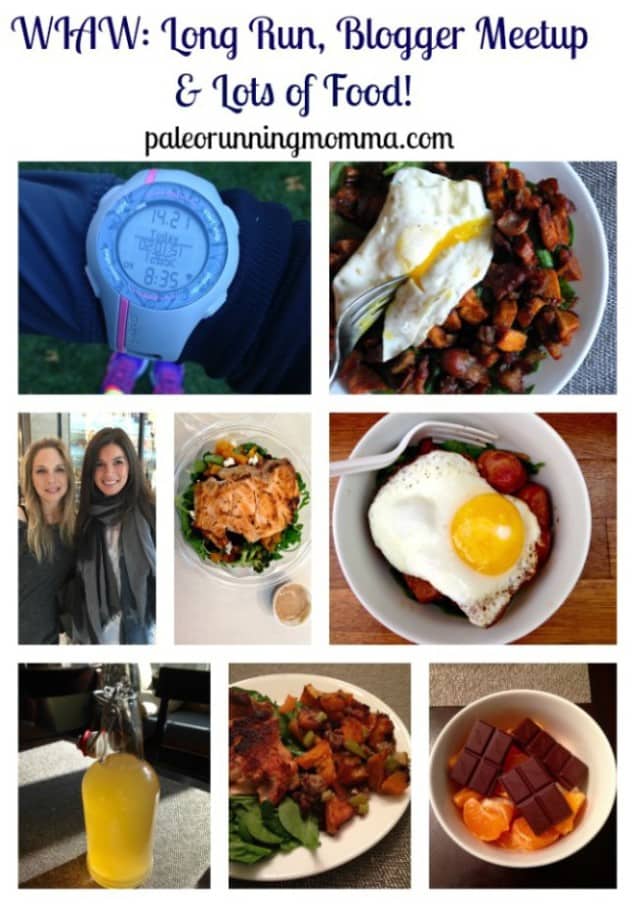 But let's rewind to the beginning of my day.  I got up nice and early to get my 14 miles in, and, sort of at the last minute, I planned to run it fasted. I decided on this because 1.) I didn't feel like eating 2.) Once again I was out of run fuel and 3.) I figured it would prepare me to run faster on less fuel.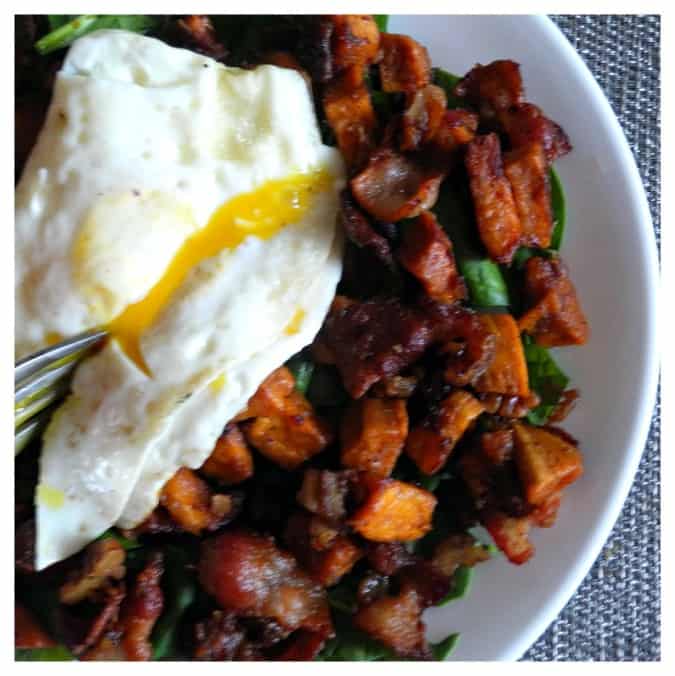 When I got back, needless to stay I was completely starving.  The day before I remade my Candied Sweet Potatoes with Pecans and Dates and decided to drown some of the leftovers in bacon (or the other way around?), put it over some spinach (so it felt remotely healthy) and topped with an egg, which I actually flipped for some odd reason.  HIGHLY recommend this combo, especially after a long run!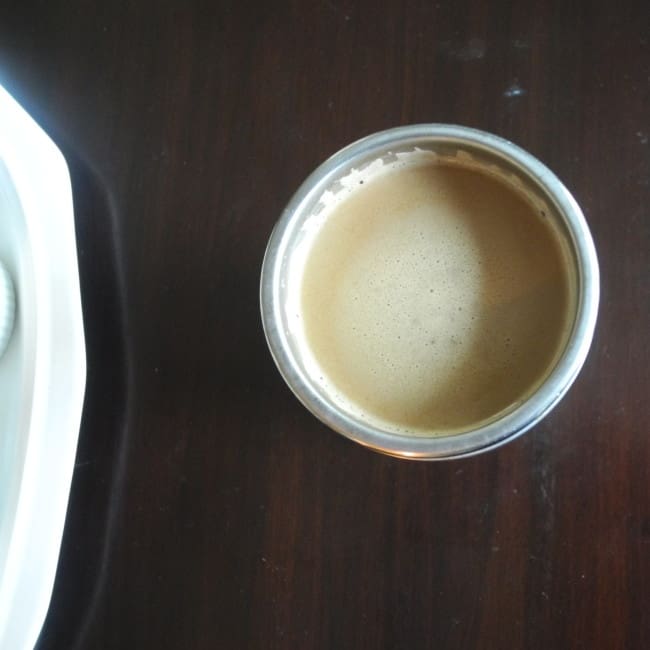 I also had my coffee with a homemade coconut milk pumpkin spice creamer (pumpkin pie spice with maple & vanilla in full fat coconut milk.)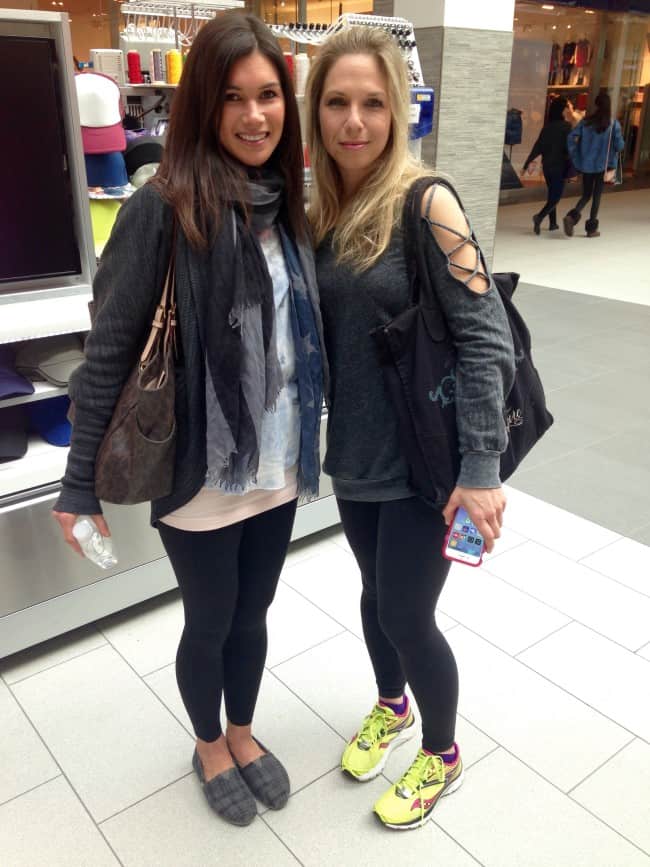 Then it was time to meet up with Meredith!  We talked and talked as if we don't read each other's blogs every day in addition to emailing a few times per week.  Was that confusing?  We just had a lot to say 🙂  For starters, she also ran 14 miles that morning. It's nice to feel understood!
After walking the mall and chatting we went to Lululemon, and then the food court for lunch: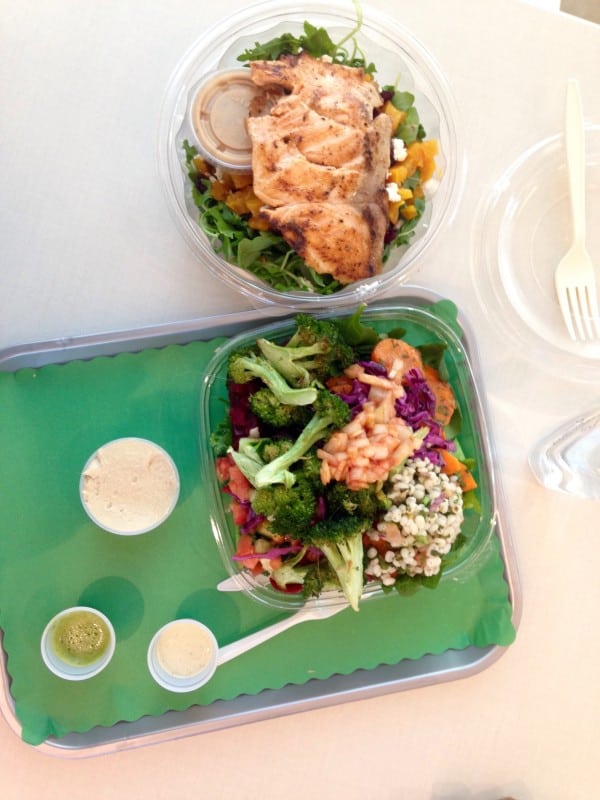 I got salmon over a beet salad with goat cheese and balsamic vinaigrette. Had a bite of her broccoli and it was amazing, sort of way too good for broccoli!  I finished my salad still hungry and could've eaten another.  So much for oversized portions in the U.S. – I never think they're big enough!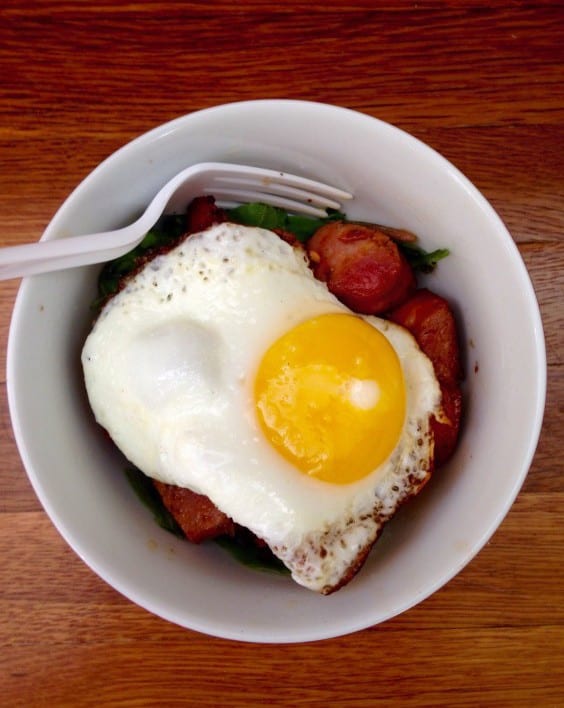 I managed to leave the mall without buying ANY Lululemon, which is almost more deprivation than I can handle.  It seriously tortures me to see how expensive their stuff is.
Anyway, I got home around 3:30 and made myself a "snack" of spinach, Aidell's andouille sausage, and a fried egg.  It definitely hit the spot and I caught up on things around the house before making dinner.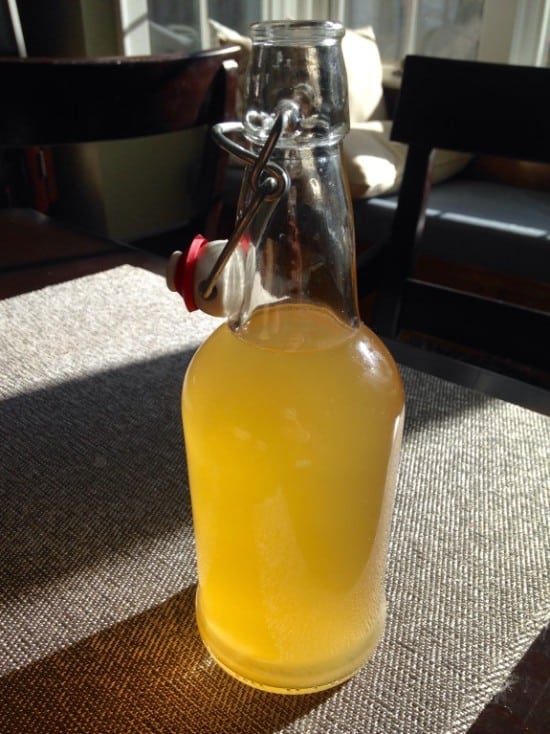 That included drinking my homemade kombucha, of course 🙂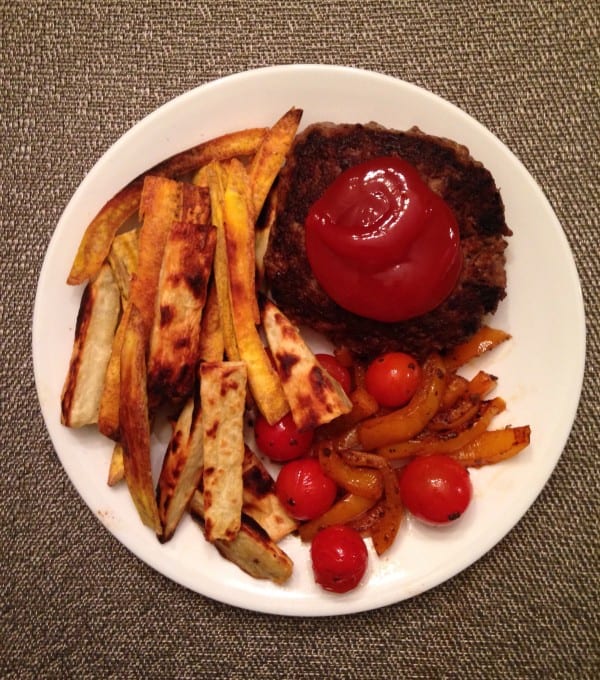 Dinner was a bison burger with organic ketchup (my kids drink it and lately I've been pretty into it too,) roasted peppers and tomatoes, and roasted sweet potato and plantain fries.  We didn't quite have enough of anything, so I mixed and matched.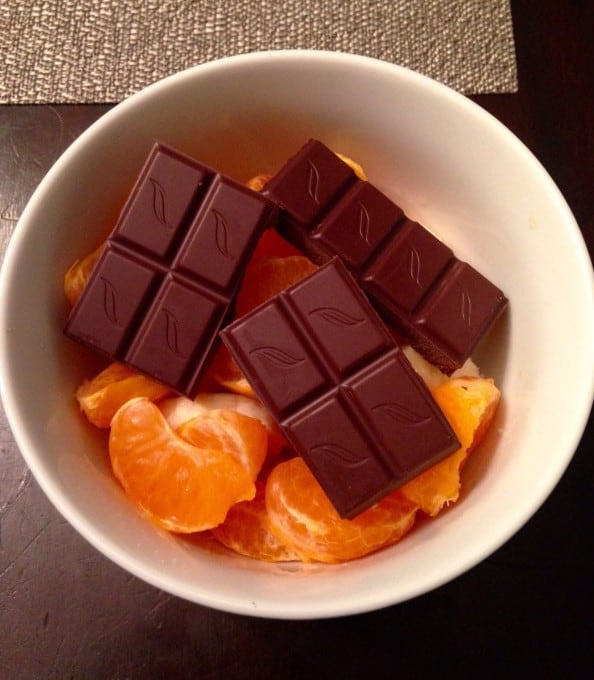 And because I'm a creature of comfort and predictability, I had my typical bowl of fruit and dark chocolate.  We were out of strawberries tonight so went with banana & clementine topped with Green & Blacks 85%.  And that was all!  I stopped eating and then stayed up way too late in honor of my rest day on Sunday 🙂
When was the last time you had a blogger meetup?
What was the best thing you ate over the weekend?
Do you find that portions are too big, too small, or just right?