It feels like it's been a seriously long time since I posted a full What I Ate Wednesday (WIAW.)  I'm thinking of cutting them down to 1-2 times per month, since otherwise they can start feeling mighty repetitive.
Please don't look back to my last one and see that I basically ate all the same exact meals as today's.  Maybe not identical – least I hope not!  Today's photos are from this past weekend, on a typical "work" day for me at home – blogging, errands, regular meals.
In truth, I like these routine days a lot, probably since I like being in a "cozy" – yet busy routine.  I was also happy that the heat finally broke and I could walk outside the door without sweating.  Enough chatter though, let's see everything I ate – and what I tried to do with pumpkin.
WIAW – It's Been Awhile and I Tried This With Pumpkin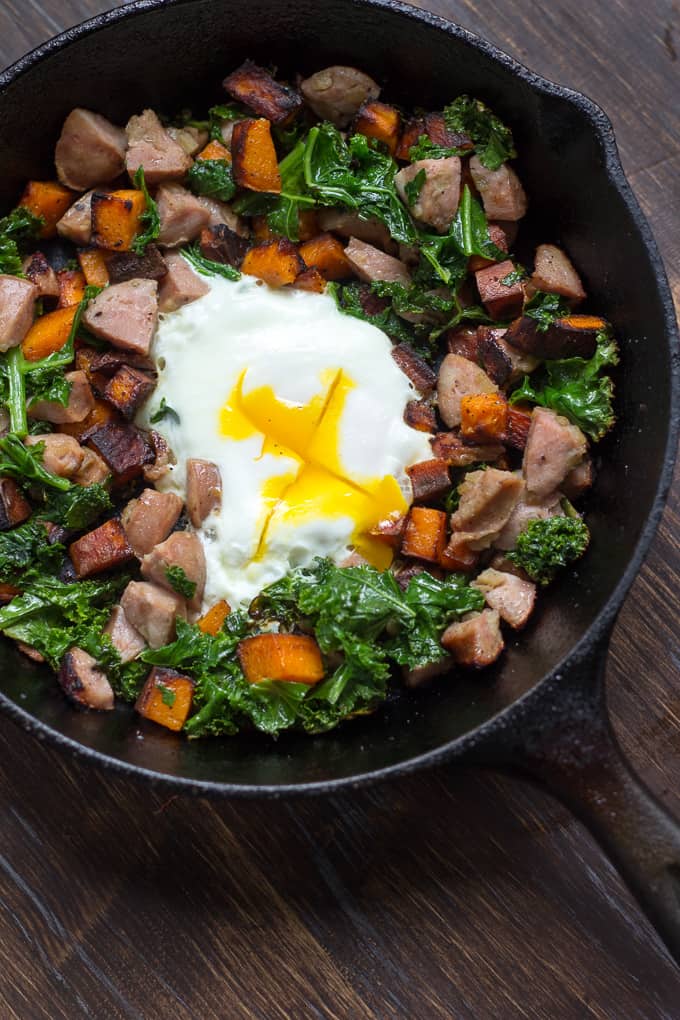 As I post this picture right now, I'm realizing I have an actual recipe for it on the blog!  One of my first – a simple sweet potato, sausage and kale hash with an egg cooked right in.
To get the egg to cook perfectly, I lower the heat once everything else has cooked, make room for it, and then cover the pan to get the white to cook through and leave the yolk runny.  Heaven!
I followed breakfast with coffee as usual – lately I've switched up my usual coconut milk for unsweetened vanilla almond milk.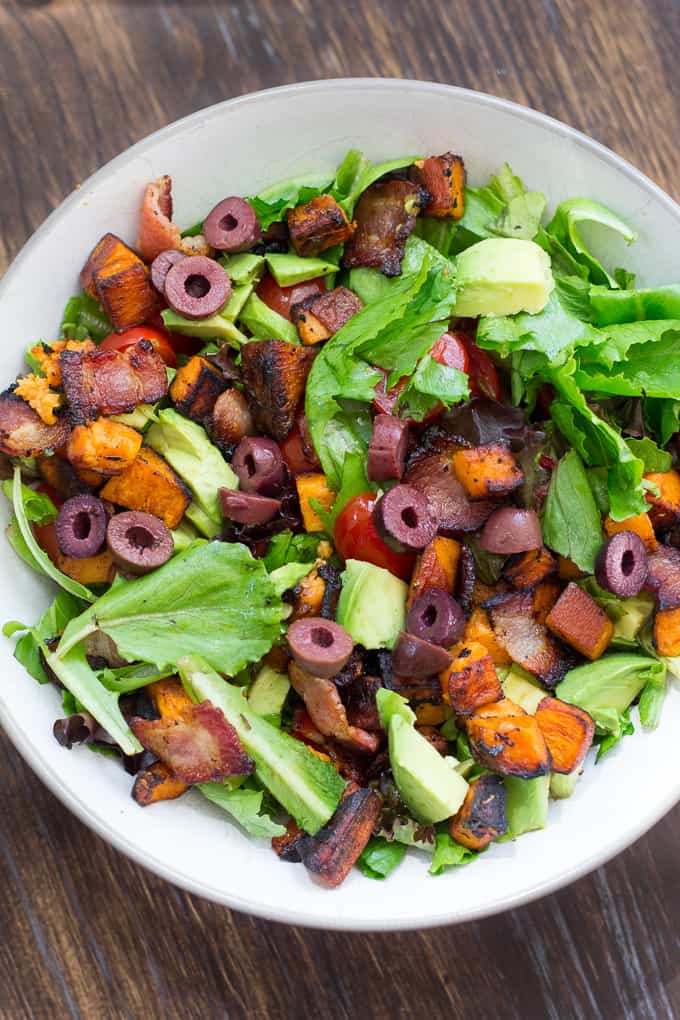 Lunch was a "salad" I guess – really it was just a bunch of things I threw together in a bowl.  Since I already did sausage, I went with bacon as my "lunch meat" which I guess is pretty unusual.
I cooked the bacon with chopped sweet potato and filled my bowl with greens, olives, avocado, and tomatoes, then the bacon and potatoes on top.  Toss together and eat!
Lately, I've gone back to my early Paleo days with U.S. Wellness Meats pork bacon.  My family and I all agree it's the tastiest bacon and pretty incredible that the only ingredients are pork and salt.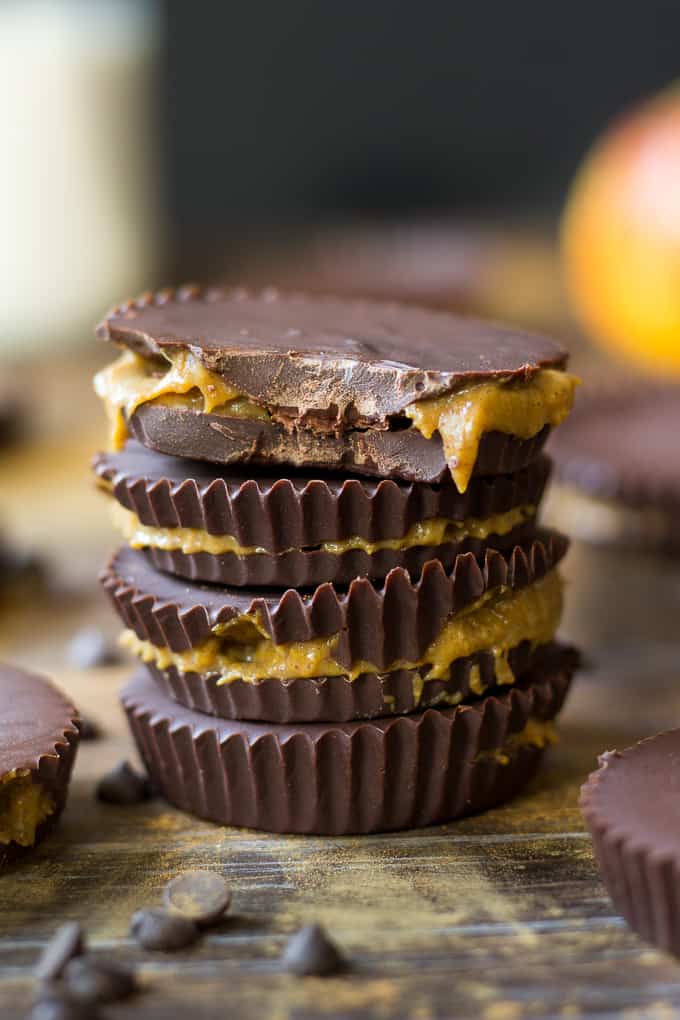 So…I did a few things with pumpkin this weekend – one of those things is what you see above – caramel pumpkin pie chocolate cups (not sure if that's their name yet!)
I love caramel and chocolate of course and thought I'd try making a pumpkin pie spiced caramel.  Well holy yum to that – it worked 🙂 I think I'll be posting these Sunday.
My afternoon snack included one of these cups plus a whole lot of chocolate and caramel licking.  It's actually impossible to make these and not consume a significant amount just in the process of cleaning up!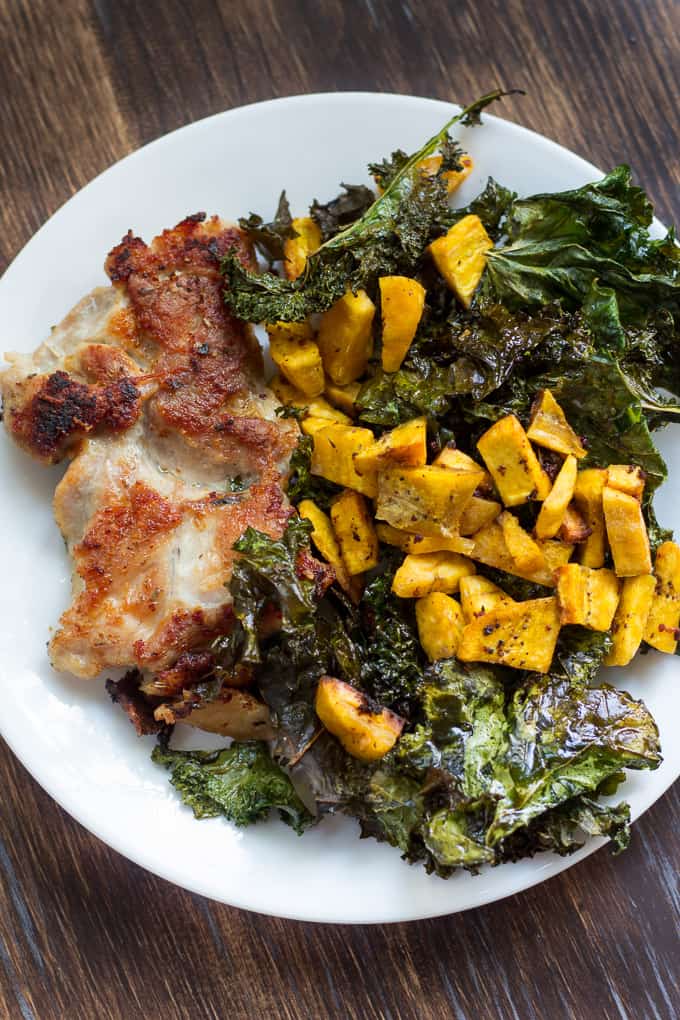 I typically like to follow up any sweet snack with a very-savory next meal, so I made extra crispy kale chips, green plantains, and crispy pan fried chicken thighs.  I fried the chicken in leftover bacon fat (I store it in the fridge) and seasoned with paprika and Italian seasoning plus salt and pepper.
I completely forgot to take a picture of my "dessert bowl" before bed – but it was strawberries along with Justin's chocolate hazelnut butter which I've been eating for a few days now.  It's a bit sweeter than I'm used to with chocolate, but I love the hazelnut flavor!  I'll have to try making my own someday.
What are your feelings about pumpkin with chocolate?  I've definitely learned to love it over the past 2 years.
Have you made oven roasted kale chips?  They're SO good!
Like or dislike your "routine" days?