Note to self:  next time you plan to make 4 back-to-back recipes, maybe consider that they shouldn't all be, er, similar.  I feel like I'm in a cinnamon coma and can't escape.
Oh, hello there!  And happy What I Ate Wednesday to you!  Today, we'll be discussing what I ate on Monday, and I can tell you right now – snacks were where it's at.
Snacking the day away tends to happen when a.) I don't leave my house – I mean literally.  Not even to get the mail.  Oh wait, I ran 4 miles at 6am!  So good, I don't feel as terrible now.  Also b.) We have leftover food to get through and c.) I make 2 new recipes, resulting in more leftover food.  I almost remembered to take pictures of everything, and what I don't have pictures of, I have old pictures of.  So we're covered!
WIAW Snacking the Day Away!  And Recipe Sneak Peak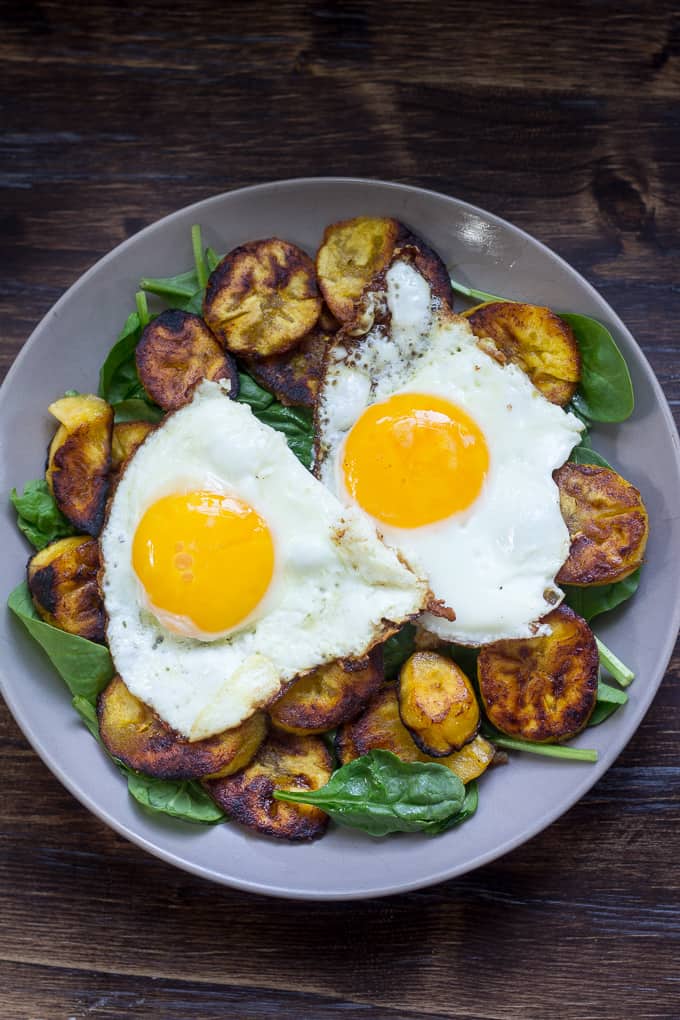 Even breakfast started out strange – without meat – and I don't even remember the reason for it.  I think we only had chicken apple sausage and I just wasn't in the mood for it.  Instead, I made more plantains and an extra egg.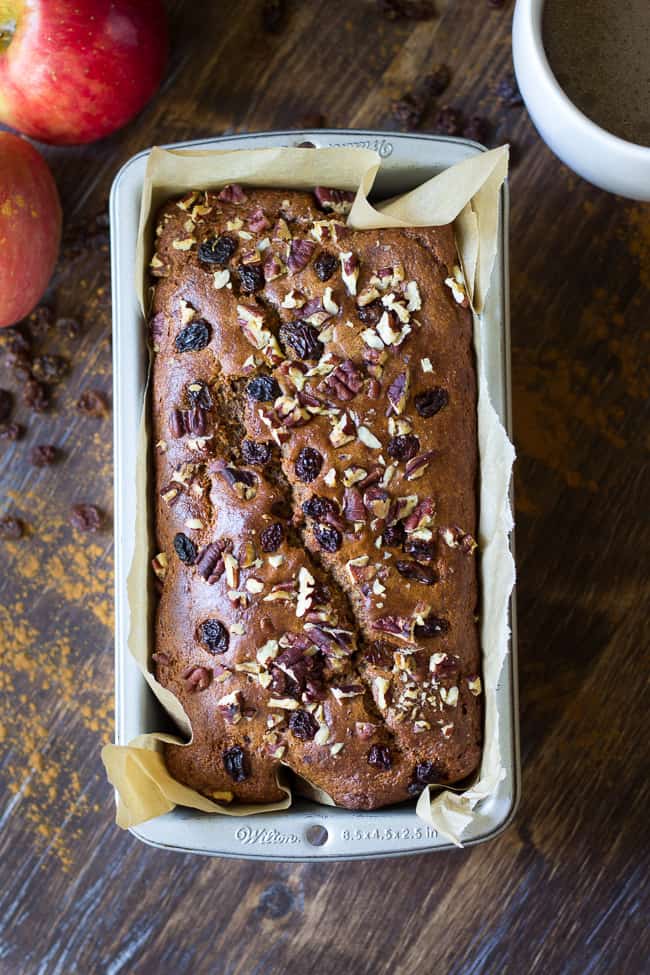 For my snack I ate a whole loaf of cinnamon raisin bread.  Okay, not true.  But I did eat a slice slathered in Kerrygold unsalted butter, which I'll show you in a sec.  My coffee is sort of hiding in the upper right.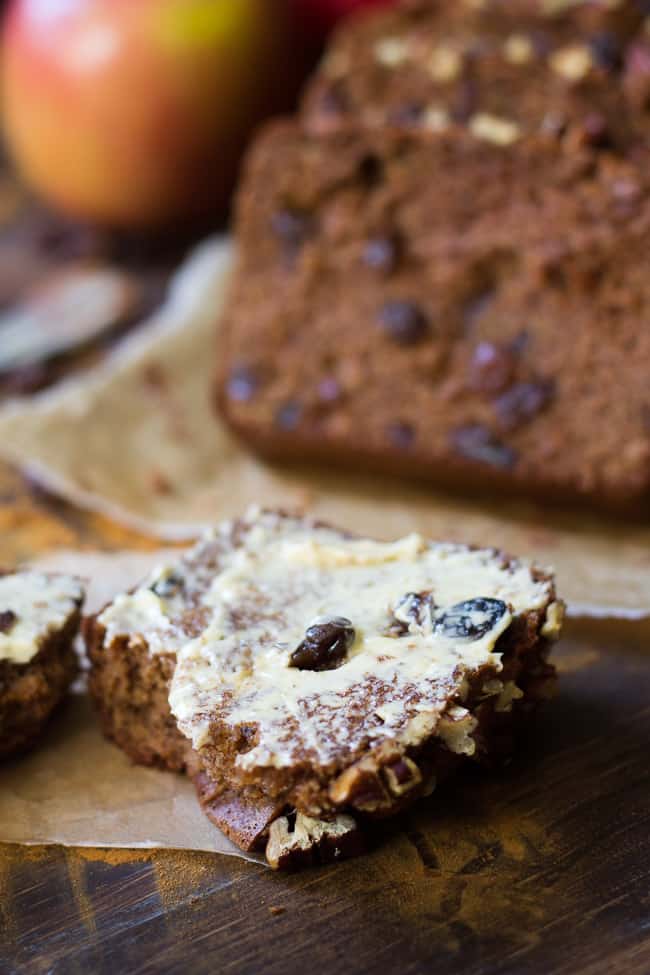 Here was my little buttered piece of heaven, AKA paleo maple cinnamon raisin bread.  This probably won't be up for another couple of weeks at least!  But over here now, it's gone.  Very popular among the carb loving crowd over here.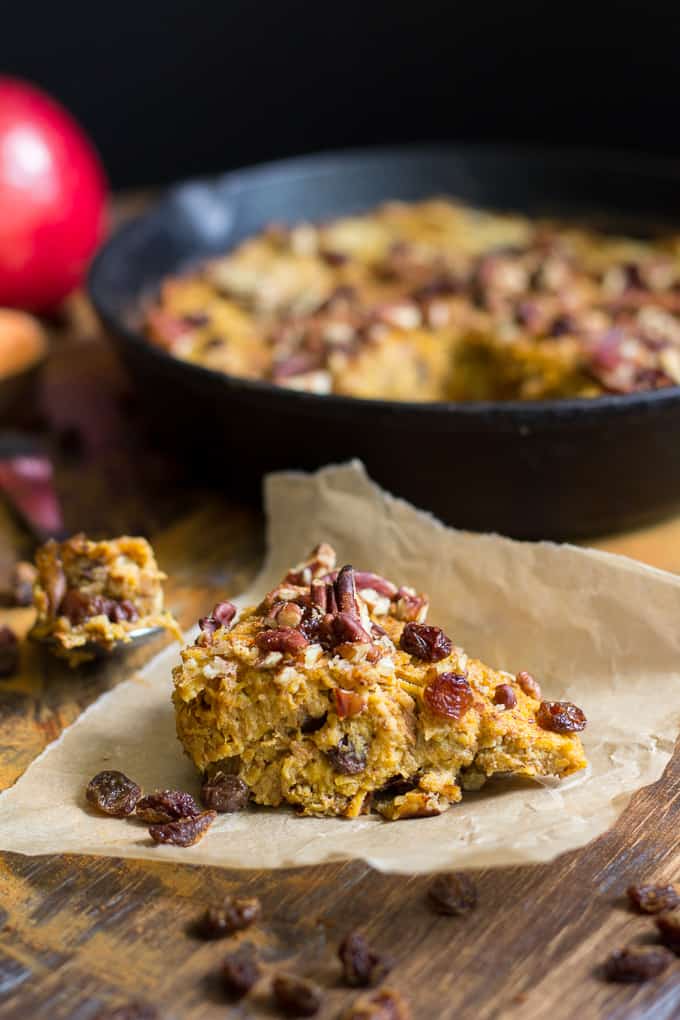 Maybe now you're starting to understand the cinnamon coma.  I probably should've mentioned the raisin coma, too.  After the bread I made this Whole30 friendly sweet potato apple skillet bake with raisins and pecans.  This was lunch #1, or maybe snack #2 – not sure.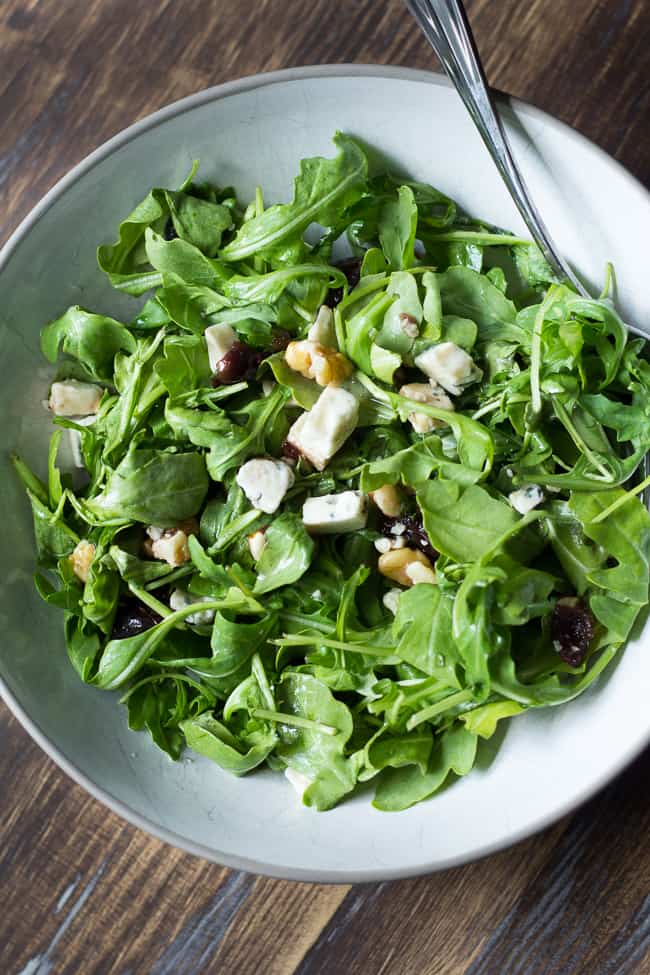 We had mountains of leftover arugula, gorgonzola and cranberry salad from Diana's party the day before, so I had a big bowl of it for lunch #2, or my next snack, or whatever.  I'm really noticing now I'm short on meat today!  No wonder I just kept snacking.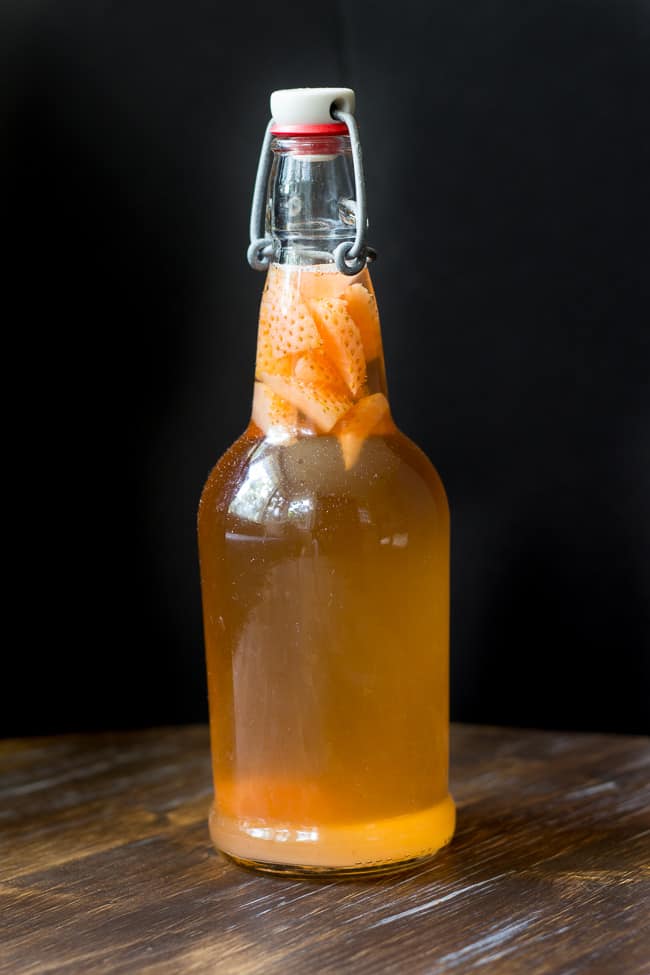 A late afternoon home brewed strawberry kombucha always makes my afternoon better.  Better than another coffee, I guess?  Truthfully I think I was still drinking the same up of coffee right up until I opened this kombucha.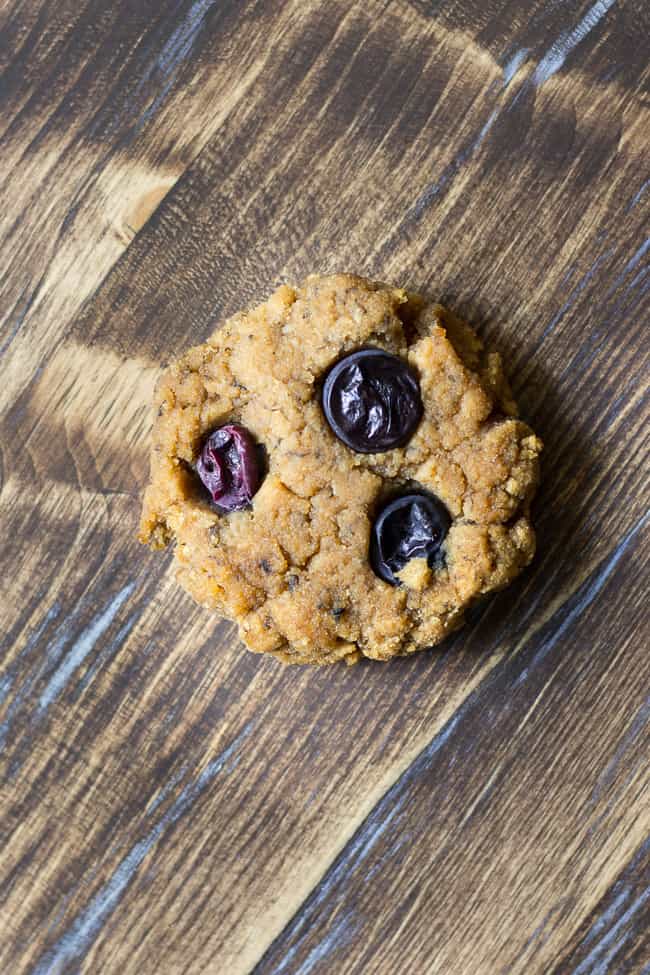 Almost forgot about my random leftover banana blueberry cookie eaten before the kombucha.  This was a few days old and may or may not be made again since it was just okay.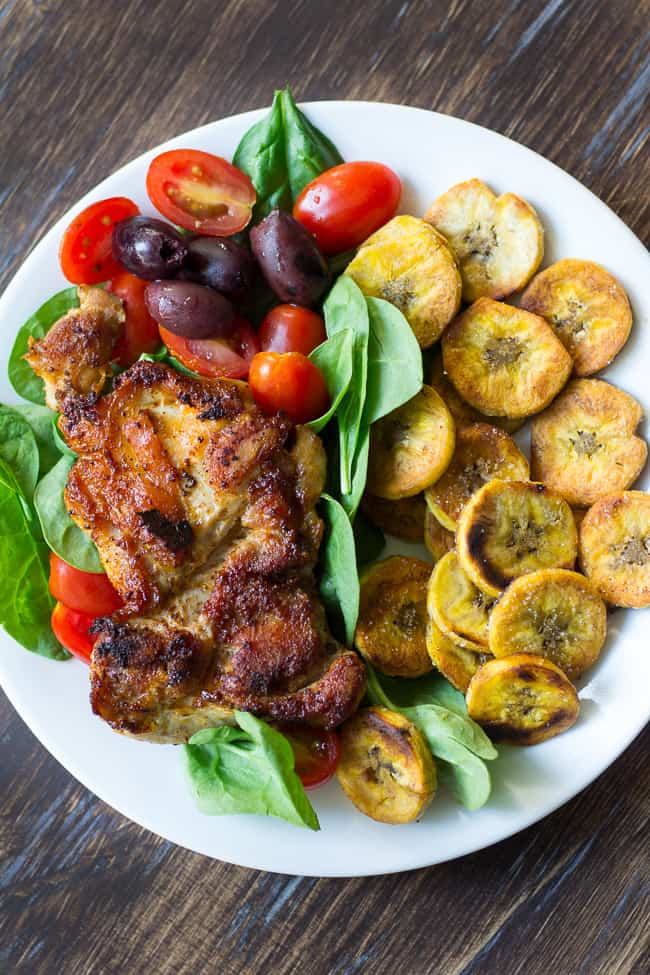 Finally a normal meal!  Chicken thighs cooked in a blend of kerrygold butter and coconut oil in my cast iron, seasoned with onion powder and smoked paprika, salt and pepper.  Also savory plantain chips, spinach, tomatoes, kalamata olives.  I can't believe this is the first time meat is showing up in my post.  That must be a WIAW record for me!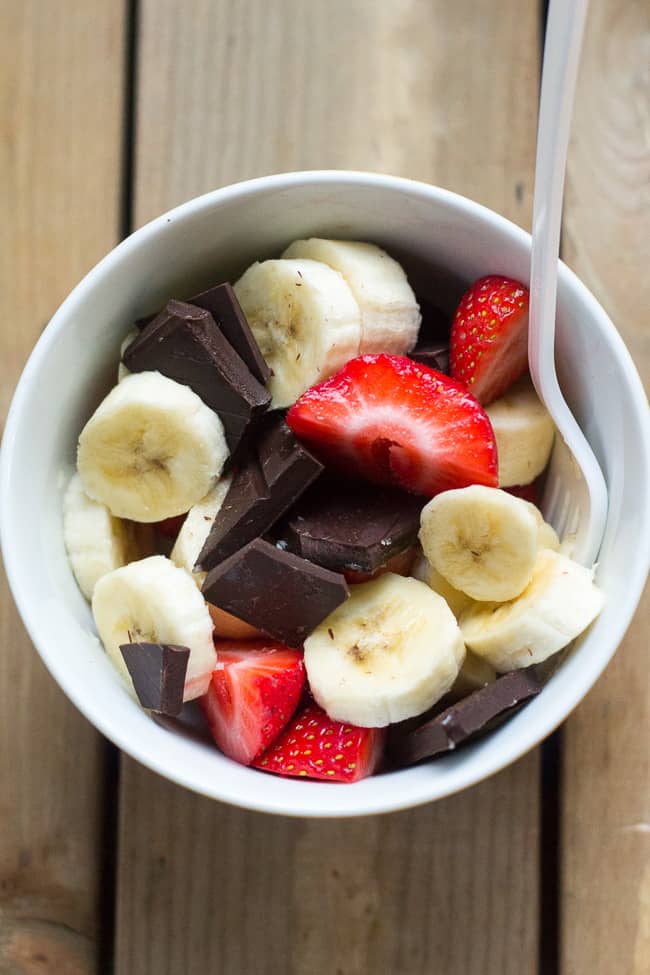 So, this was not my exact bedtime snack, but you get the gist!  Fruit and 90% dark chocolate for the win, as usual.
And, then I stayed up probably 3 hours too late reading.  Why?!  I only like reading books interesting enough to keep me up way too late, but then there's the problem of being up way too late.  So, reading is not exactly giving me the rest that I need, but now I only want to read more.  Maybe I will leave you with the food and save these thoughts for tomorrow's post 😉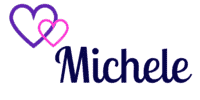 When was the last time you got caught in a "snack cycle"?
Do you stay up too late reading?
Feelings about cinnamon?  "It's complicated" sums up mine right now 😉