Guys, let's all be honest.  Are you sick of me and my food yet?  I'm just opening the lines of communication so we can let it all hang out.
Because really – even though this is a blog about FOOD, I sometimes feel like all I do is show you food.  As I'm about to do. So just a little check in to make sure you're still into my never-a-skip-to-the-point-of-obsession WIAW posts.  I hope this isn't as awkward for you to read as it is for me to type 😉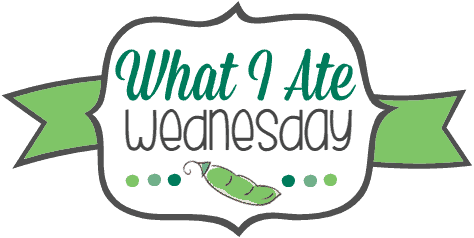 I guess it could be worse – I could be posting nothing but selfies with strategic back lighting so you can't see how tired I really am.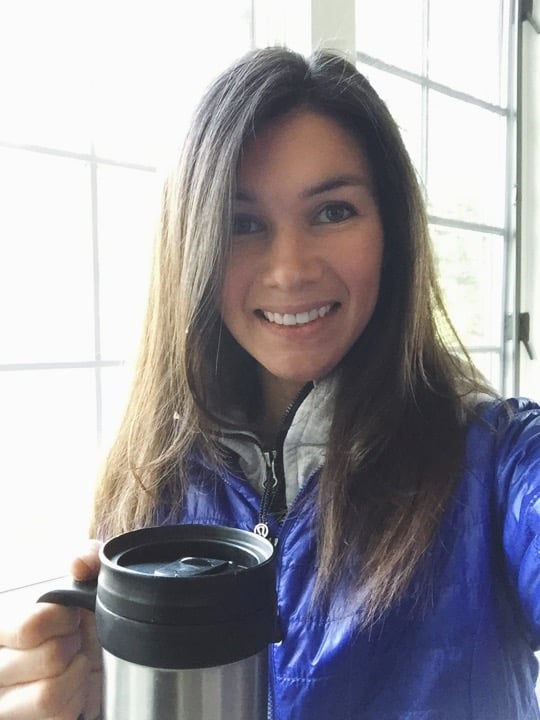 Sort of like the one you see above.  Really, Drew should've told me I had FOOD IN MY HAIR while he watched me struggle to take this one stupid selfie.  #selfiefail if there is one.
Anyway, let's move on and pretend my food is exciting and not just another plantain-on-spinach parade with a side of my latest chocolate creation.  Here we go!
WIAW – Are You Sick of Me (and my food) Yet?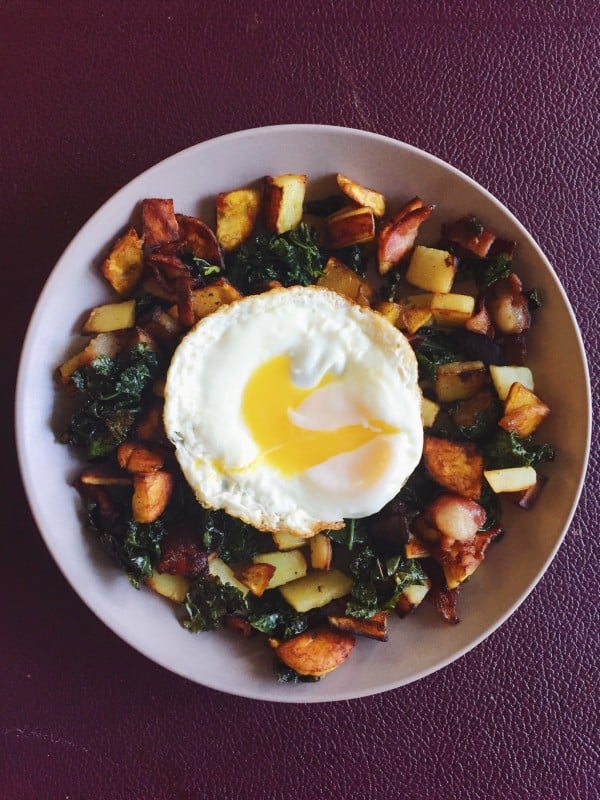 I went just a little wild and combined sweet potatoes with green plantains for breakfast.  Really, it was because I had both leftover and already chopped.  It was Monday morning, okay?  I like to be extra efficient if I can be on Monday mornings.  Also featuring bacon and kale, because what's new, really?
After breakfast I guess I got some food in my hair, and then drank coffee as you can see above 🙂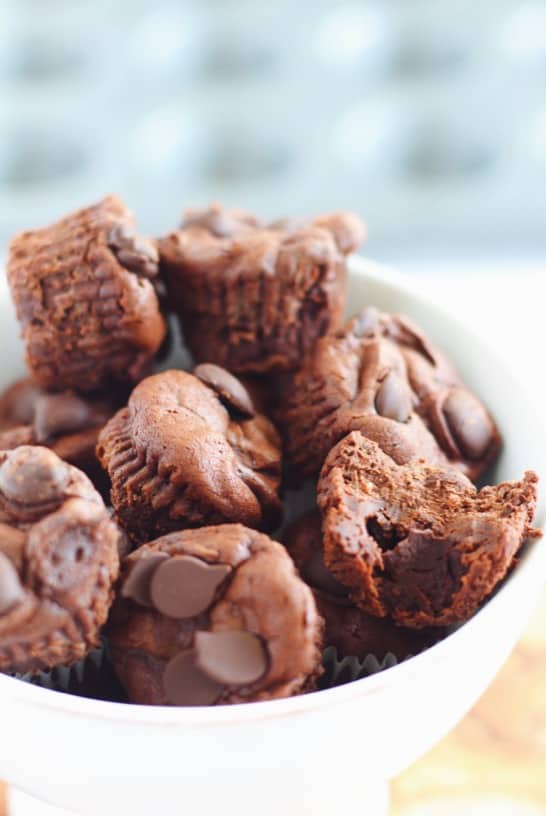 I had two of these brownie bites left in my freezer and ate both for a snack.  I promise this recipe will go up over the next week or so – it's really simple but so good to have these little bites on hand.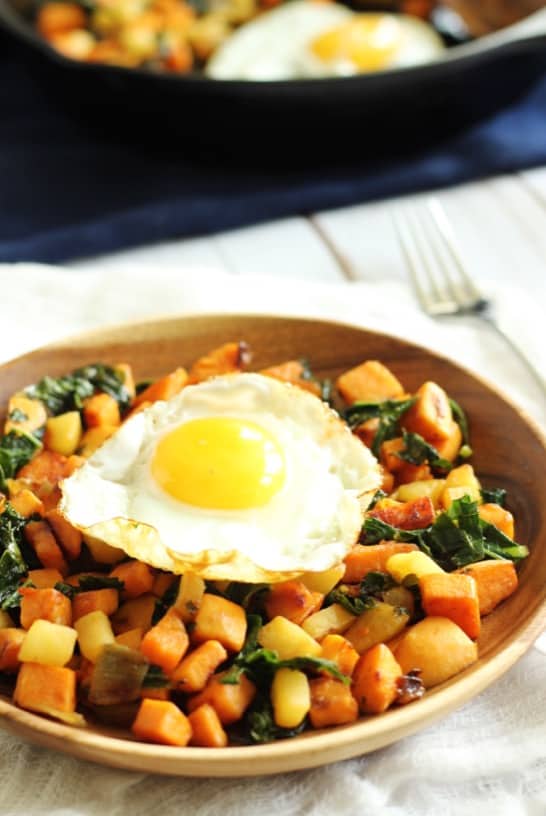 I told myself NOT to cook anything for the blog, but then I did.  OOPS!  It was easy and it worked out well, though.  A simple sweet potato apple and kale hash (NO MEAT!) You see that other little egg peaking out in the background?  Do you think I ate it?  OF COURSE I DID!  And because there was no meat in my lunch, I was hungry within two hours.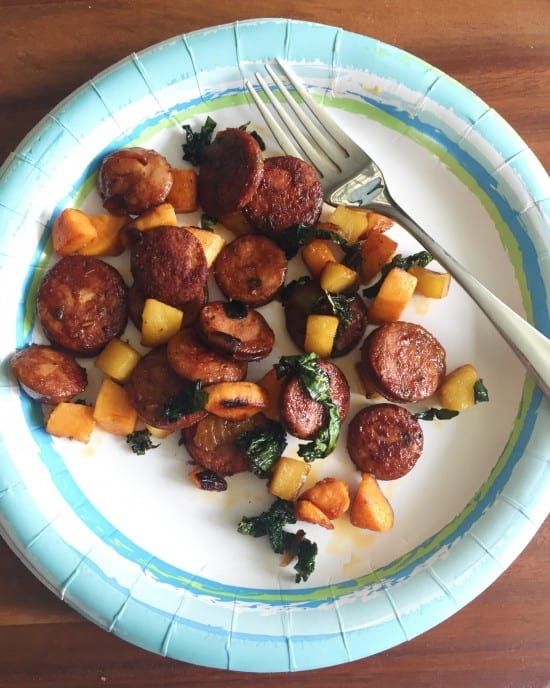 So I had to have a meaty snack – leftover hash (it gets put to good use) with Aidell's chorizo cooked in a bit of coconut oil for extra crispiness.  Crispy = love.
I'm thinking I must have drank something but I can't remember what.  It wasn't kombucha, since I'm still waiting on a batch to brew, so I think it might have just been plain water.  At least I hope I had something.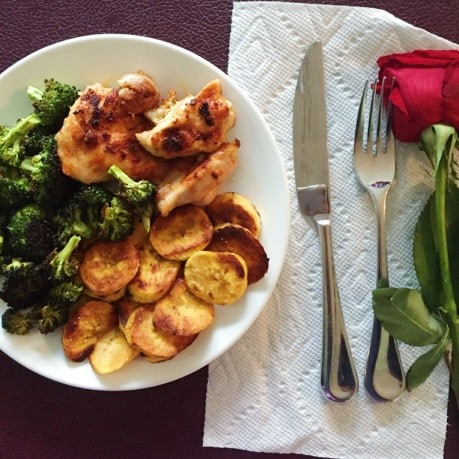 Diana set my plate for dinner with a rose from Sunday's 5k – she's thoughtful that way 🙂 We had plantain chips, chicken thighs cooked in Kerrygold butter with onion powder, smoked paprika and salt, and crispy roasted broccoli, emphasis on crispy once again.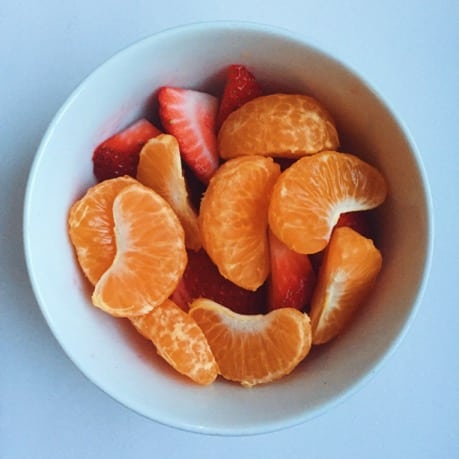 I did not skip chocolate, but my fruit looked so pretty I had to take a picture alone.  Truth is, I ate two small chunks of my unattractive but heavenly-tasting double fudge brownies that I REALLY need to make again.  Here's the unfortunate picture: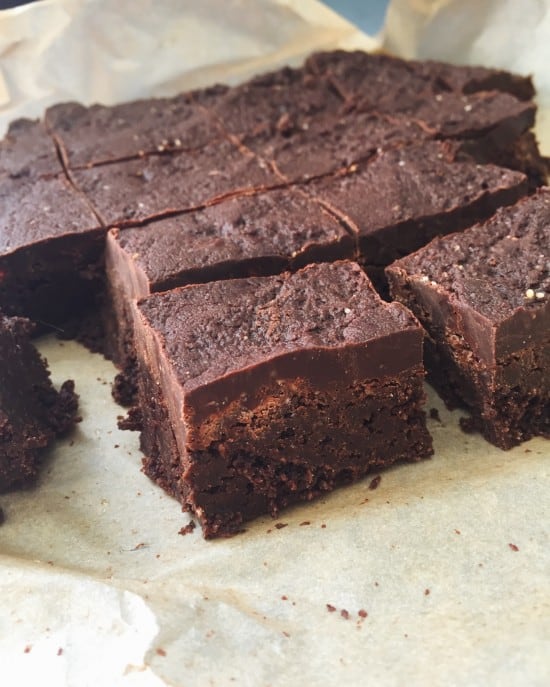 Seriously so good.  Afterwards, I had about half a cup of herbal tea, and, once again, stayed up entirely too late doing blog stuff.  I don't feel like I actually accomplished anything though, as is the case when I attempt anything technical!
Are you a meat eater or just not that into it?
What foods NEED to be crispy when cooked?
What's your go-to seasoning for roasting veggies?  I need to experiment!