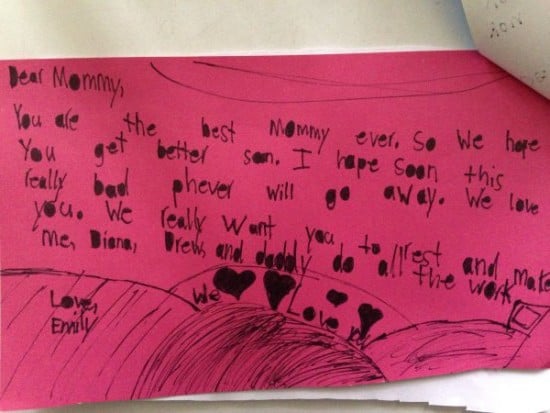 I'm on day 2 of antibiotics as I'm writing, and finally starting to feel like a partially functional human again.  I have to say, being half functional has never felt this good.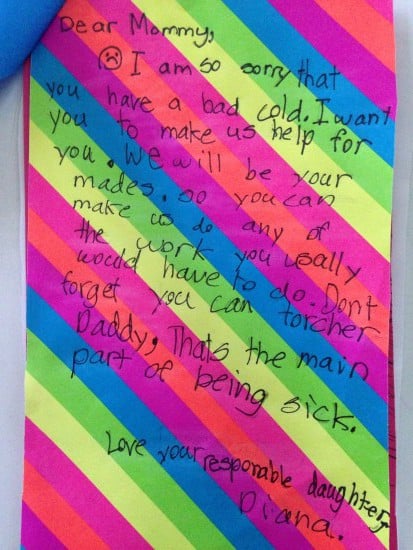 Whoa.  I sure as hell was not expecting a 7 day+ respiratory infection when I first noticed a sore throat last Tuesday.  Between a fever, everything all over aching, a cough like no cough I remember having, no voice, no appetite, and zero energy I can say at this point that I have a new respect for my good health (assuming it's returning.)
When I get sick, it normally doesn't affect my appetite that much.  But with this bug, although my stomach itself was fine, my throat, chest, and basically everything hurt badly enough that I had almost no desire to eat at all, and had to force myself, mean mommy style.  Fluids I could do, but solid food felt exhausting!  Sickest I have been in my adult life.
Of course as Diana points out in her note to me above, the "main part of being sick" is torturing daddy, the main part of being sick is not eating 🙂  I would like to add that the main part of being sick is realizing that as much as I complain about stupid things, I normally feel pretty damn good and don't appreciate it enough!
So, for this WIAW I'll show you a day (or a day and a half since I just wasn't eating much) of my sick day comfort food – Saturday-Sunday.  Honestly my meals weren't so comforting but at least they were nourishing, I think!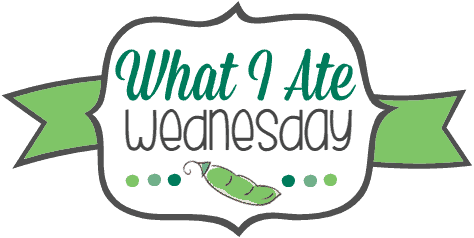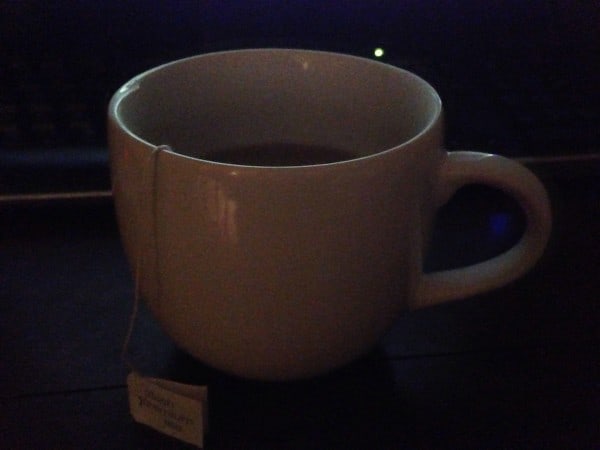 This dark, sad tea is pretty appropriate for how I felt this past week.  Every morning I made myself herbal tea first thing, and drank about 3 or 4 cups throughout the day. Some had a dash of raw apple cider vinegar, some a squeeze of lemon and honey.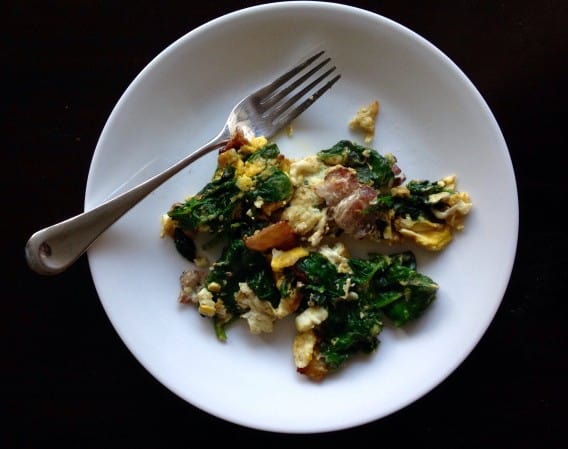 This was my attempt at breakfast – bacon, spinach, and a scrambled egg.  My typical fried eggs were grossing me out – nothing tasted normal.  In fact, eggs in general were really just not tasting great to me.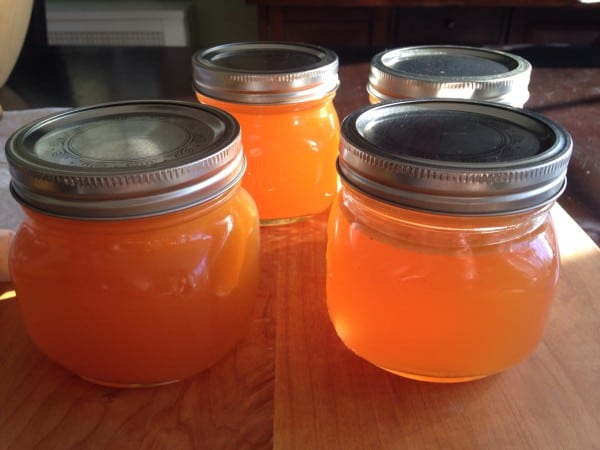 As soon as we got home from my parents' house Friday (I started feeling horrible right on Thanksgiving day) I made bone broth in my slow cooker with the leftover turkey bones.  I drank one of these for "lunch", with just a touch of salt added, followed by a kombucha.  Liquids were so much more desirable than solids.
There's my kombucha, hanging out with some random food props on my dining room table.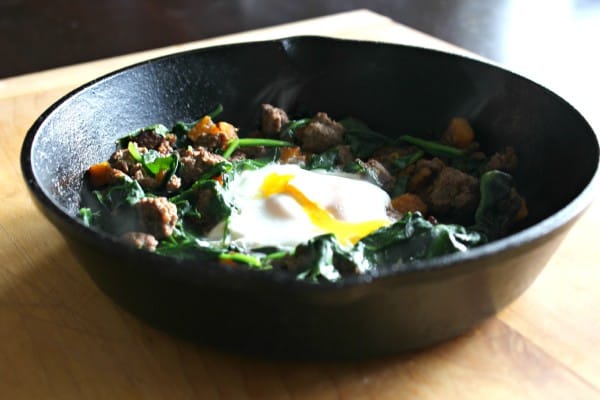 On Saturday I only had the bone broth for lunch, but Sunday I went for an easy, small hash made with diced butternut squash (we had some leftover), ground beef (small patty that I'd pre-frozen), spinach, and an egg.  I'm not sure why I kept going for the eggs since they were not thrilling me, but I suppose it's just habit!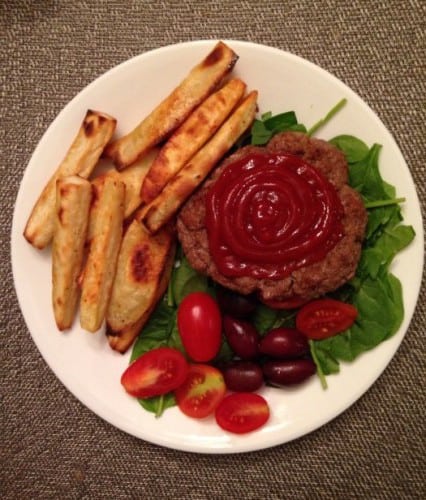 This was my dinner Sunday night, and I wound up sharing the sweet potatoes with my kids since I couldn't finish.  I'm normally a plate cleaner and know exactly how much I'll want to eat, but it just wasn't happening.  I'm finally getting somewhat of an appetite back today and I'm thrilled!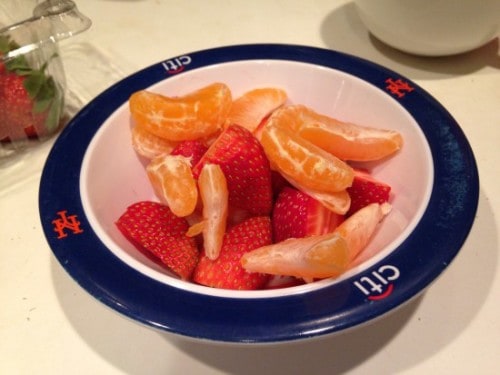 I think I probably ate half of these and shared with Drew.  I've been keeping up with my mandarin and strawberry habit, minus the chocolate because it hasn't been appealing at all.  The juicier, the better I guess.  I also finished off my day with more tea, I think 2 cups – one with dinner and one before bed.
And that's it!  I promise to have a happier and healthier WIAW post for next week – I have A LOT of catching up to do in the delicious food department, to say the least!
When was the last time you had a knock down bug?
Does your normal food gross you out when you're sick?