The day of food you're about to see was a busy one.  Old recipes are getting new glamour shots taken 😉
Over the weekend I committed myself to making at least one old recipe from my blog each day this week to re-take photos and give them the fresh new look they deserve.   Some of them are really good recipes that just look awful in the pictures – truly hideous.   I personally try to look not-hideous in public, and my food really should not either!  So, here we go.
So, that's great, but what the heck does salt on my photos mean?
When remaking recipe "just" to take pictures of – do we cut corners on ingredients or make the recipe as written, essentially "full out"?
I decided follow my exact recipes just as I posted them, for several reasons.  1.) The recipe itself might need updating, not just the pictures.  2.) I have to actually eat the food, likely multiple times, in addition to taking pictures.  3.) The photos look better to me when I know they taste good.  4.) I have a touch of OCD.  5.) Go salt or go home.
So, here's my WIAW: Salt on My Food Photos!  (Spoiler: there wasn't a ton of salt involved, and some sugar snuck in.)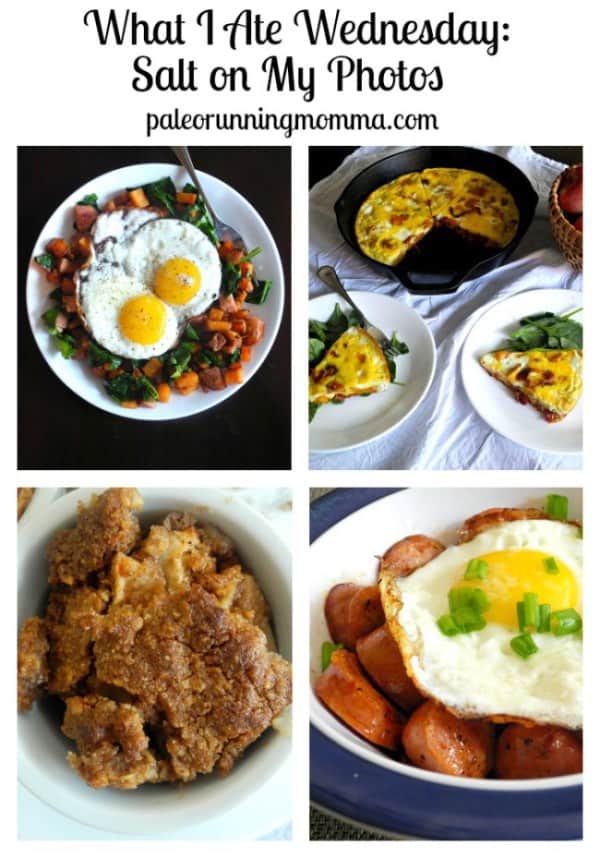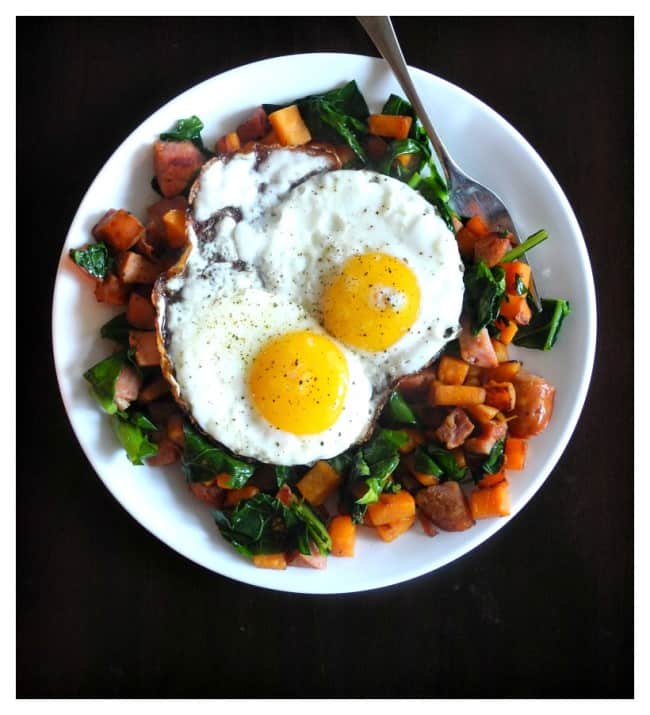 Breakfast, oh happy breakfast!  No recipe here, just something quick and tasty to start the day: sweet potatoes and and spicy andouille sausage with steamed/sauteed collards and eggs.  I chose the andouille sausage since I'd just had it the day before in a hash with butternut squash and peppers, and wanted more!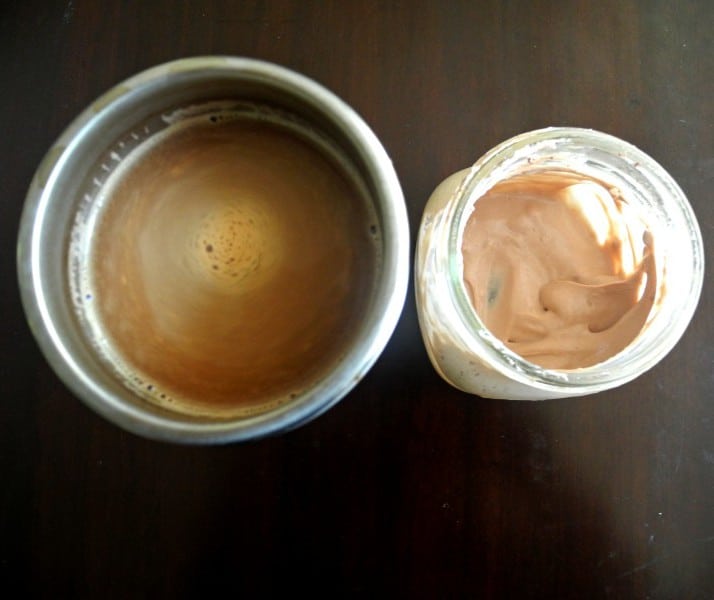 I've been putting chocolate flavored coconut whipped cream in my coffee for a few days  – just added some cocoa powder, maple, and vanilla to the usual coconut whip for a change!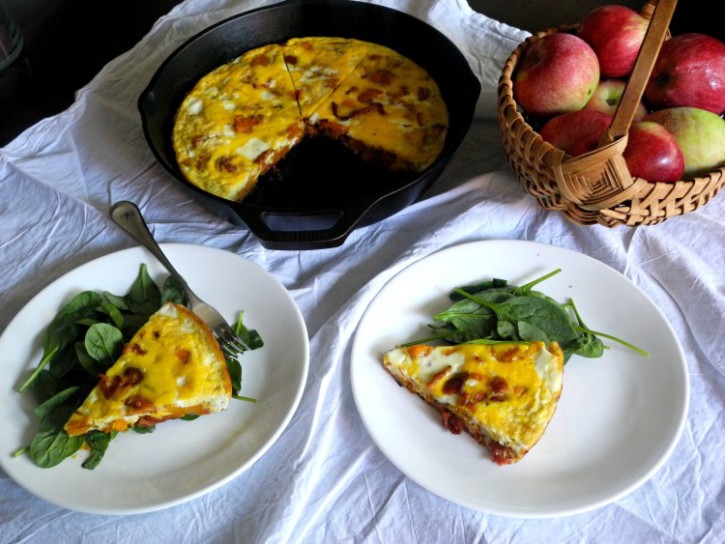 Lunch was the two pieces of delicious Winter Squash Frittata with Apple and Bacon  – definitely make this recipe if you like kabocha squash!  It's mostly sweet but savory too with the bacon (and salt!)  Diana also really loved this and even finished it off for breakfast the next day.
In the afternoon I had two different snacks.  First, the Maple Pecan Apple Crisp from last year that I've been promising to make my kids since we went apple picking.  I figured I'd take the opportunity to get more pictures too.  It's an awesome healthy version of apple crisp!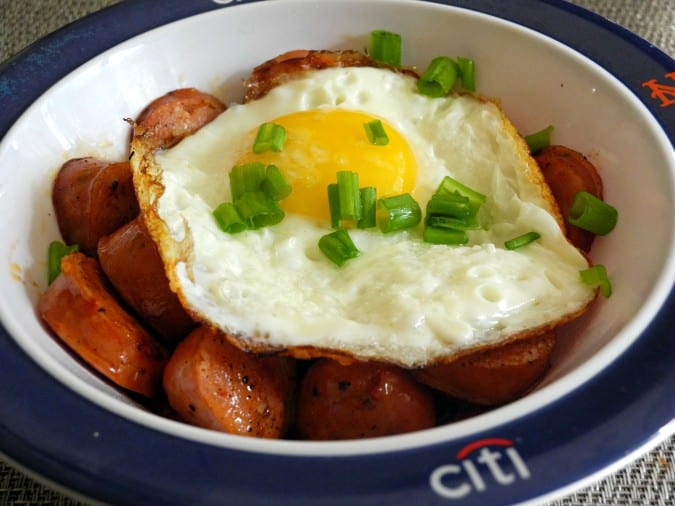 Since the small bowl of apple crisp I had was hardly filling, I made myself a typical protein and fat rich snack – more spicy sausage and a pretty fried egg on top.  I bought one of those tiny one-egg pans on sale at my grocery store and it's too cute 🙂  I also had a home brewed kombucha but didn't take a picture.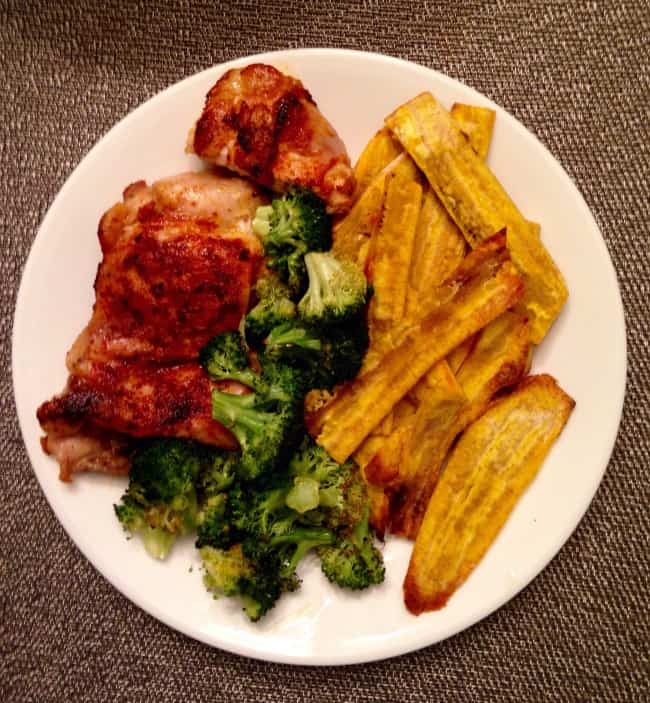 Chicken thighs were up in the dinner rotation, and, since I don't have the mental energy to completely switch up recipes, I decided to season them a little differently for the sake of variety.  I made a little spice rub of sea salt, smoked paprika and onion powder and cooked them in bacon fat.
The good thing about this seasoning is that it's not at all spicy, and the "smokiness" was okay by my kids.  It had a nice bacon flavor without actually eating bacon with it.  Fried plantains and roasted broccoli on the side.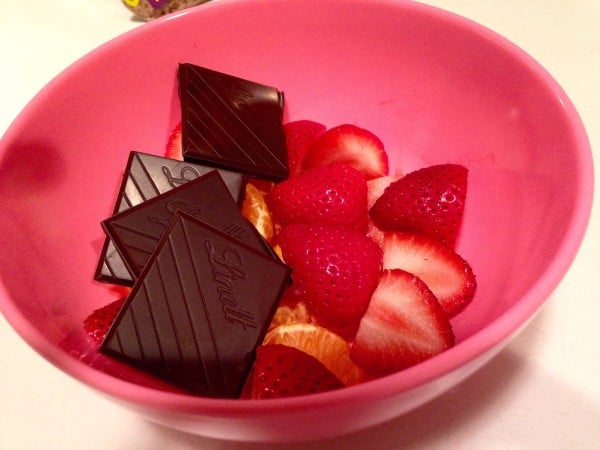 More fruit and chocolate for dessert!  I've noticed lately that I'm tired of bananas, probably because I associate them with long runs, so thinking about eating them literally makes me tired.  Strawberries and clementines are my best fruit-friends right now.
Do you ever wonder what the food behind gorgeous photos actually tastes like?  Yes Michele, that's what the recipes are for, I know.  But are they worth their "salt"?
Enough!!
What's your favorite recipe created by you?  How often do you make it?