Until this past week I never really connected my activity level with my food.  I knew generally that running more would make me hungrier, but I also never noticed that I ate less when I wasn't running.  I suppose when you are putting in 40+ mile weeks, you are going to be replenishing energy stores on rest days and might not notice any real dip in hunger.
So, on Sunday when I tracked my food for this post, I was confused.  I noticed I just didn't want to eat as much as usual, and it actually worried me!  At first I thought I was getting sick, because typically a dip in appetite is a sure sign that I'm sick.  But, I really wasn't sick.  I thought a little bit and things started to make sense.
I realized that there has not been a time I can remember in 2.5 years that I have done this little cardio exercise. Even when I was injured, I was so scared of losing fitness that I was at the gym doing some sort of cross training for an hour 5 days per week.   Plus, before the time 2.5 years ago when I really stepped up my running, I was nursing and/or pregnant for 5+ years.  What I'm saying, is that I had some big reasons for feeling big hunger!  Kind of strange.  My activity level has been down since the marathon and I'm feeling great, just without the pressing need to stuff my face that I'm used to feeling.  Live and learn.
Thanks for the WIAW link-up Jenn!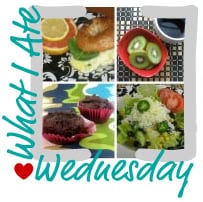 Allowing me to show the internet everything I ate all day on Sunday without feeling awkward.  At least less awkward than if I were presenting this information in person.  It's time for show and share guys!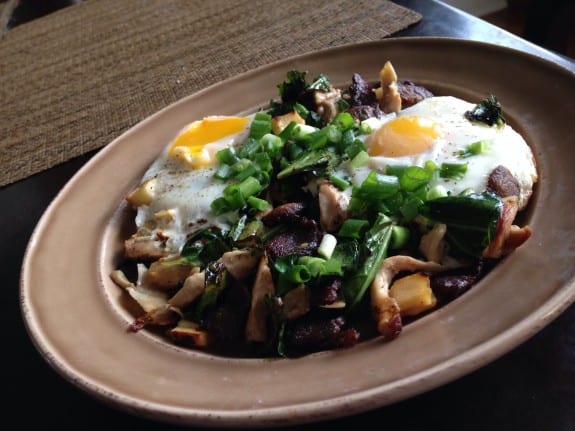 Yum!  Sunday started with a 5 mile run, my only run this past weekend.  A little bit different from the 18 or 20 I had been doing for a while, but felt so good.  I also got about 30 minutes of yoga in before my secret was out.  This breakfast was beef bacon (U.S. Wellness Meats) with leftover roasted chicken and a few bites of roasted parsnips from the previous night, along with collard greens, 2 eggs, and green onions sprinkled over all of it.  Everything was cooked in the fat rendered from the beef bacon.   I think I ate this around 8am.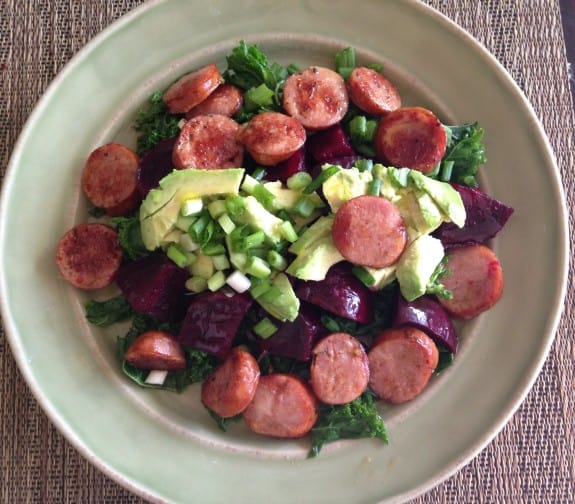 Around 12:30 I realized it was time for lunch but I wasn't starving.  Hungry and I could definitely eat, but nothing urgent.  I was out of spinach (spinach is my go-to for lunch) so I steamed some kale and topped with Aidell's spicy andouille sausage, slow cooked beets, half an avocado, green onions and EV olive oil.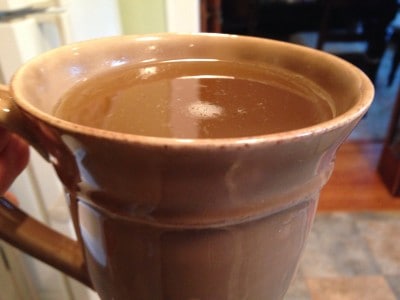 After lunch I grocery shopped for the week, which I hate doing on Sunday because of the crowds, but we had no plans and no food either!  By the time I got back it and put it all away, it was almost 4 and I decided to have some bone broth.  Really loving this stuff!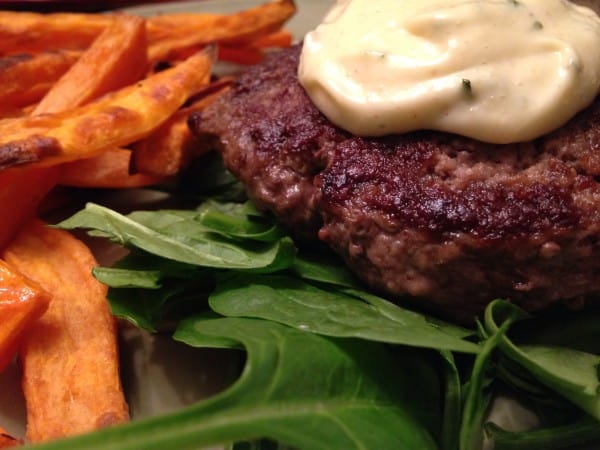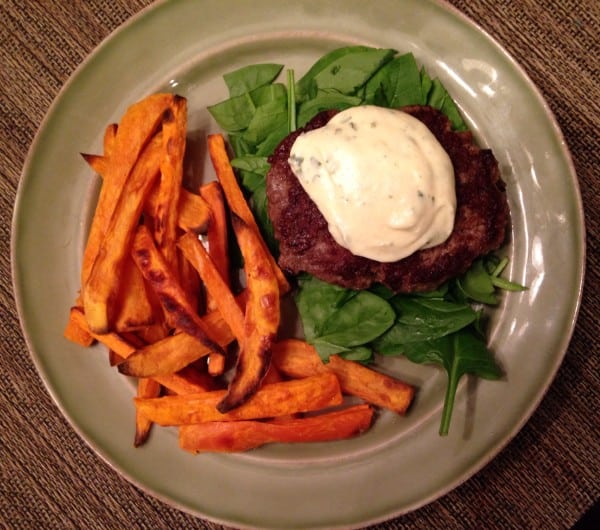 For dinner I made my go-to everyone-eats-and-feels-happy meal – burgers with crispy baked sweet potato fries.  For my husband and me, I made a ranch sauce using homemade mayo.  It's great on the burgers and for dipping the fries, plus really easy to make if you already have mayo.  Just some onion and garlic powder, paprika, dried chives and a squeeze of lemon mixed into the mayo.  We ate the burgers over some baby spinach, which is my favorite as I'm really not a lettuce fan as you might have noticed!  Two pictures because it was that good.
I almost didn't have a snack before bed.  But then I did, because I seriously almost always do unless I'm sick or eat something ridiculous for dinner.  I had tea, followed by a little leftover roasted chicken heated up with spinach.  I like to be resourceful with my snacks, as you know.  I also was not wanting anything sweet, which has been happening more often lately.
So that's all folks!   Do you notice your hunger varies with your activity level?  I never thought it did, until I actually rested for more than 2 days!  What's a go-to meal for your family that everyone eats and loves?