Like I mentioned yesterday in our pumpkin chat, my meals have been even more repetitive than usual lately.
The combination of a) marathon training and b) busy, jam packed days means I'm doing a lot of running followed by a lot of eating the same go-to foods that don't take much prep.  The ones I could cook in my sleep if I had to.  Not that I'm sleeping much lately (seems to be a pattern) but darn it, if I had to, I could cook eggs, plantains, and a burger in my sleep.
That would actually be completely awesome if I could pull that off.  The finest multi-tasking of my career, maybe.  But now that's another story entirely.  And who knows?   Maybe someday we'll all be cooking in our sleep with some new app.   Just think how scary it would be to update your ios software, though, as if it's not scary enough now.
Just ignore that last paragraph, or better yet, just blame it on my lack of sleep.  Let's hit the brakes, pull over, and talk about my food now.
WIAW – Run Paleo Repeat!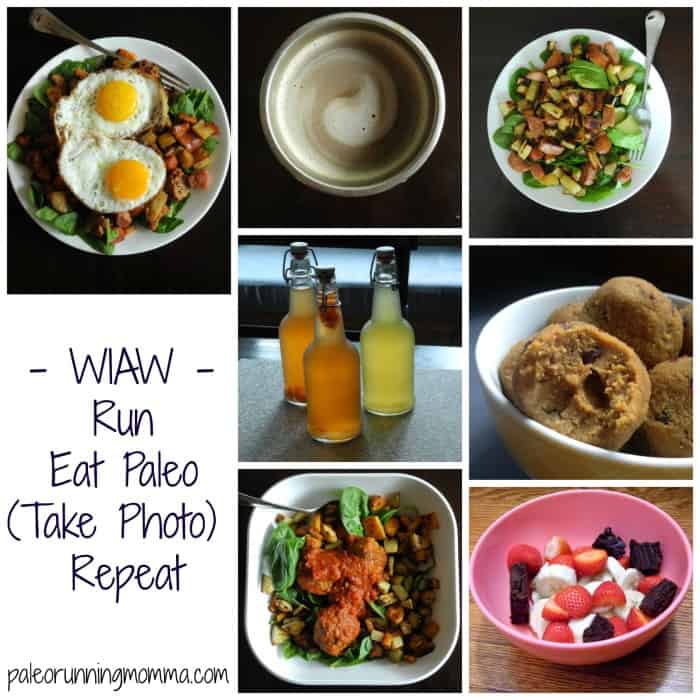 This day I'm showing happens to be my long run day, but it could really be any day over the past week, since I ate basically the same meals over and over again (with the exception of one dinner out!)
I started off the day with an almost-fasted 18 miler – no fuel beforehand and a squeeze applesauce half way through.  I never notice much of a difference energy wise whether I fuel more or less during a long run, it seems like the weather affects me far more.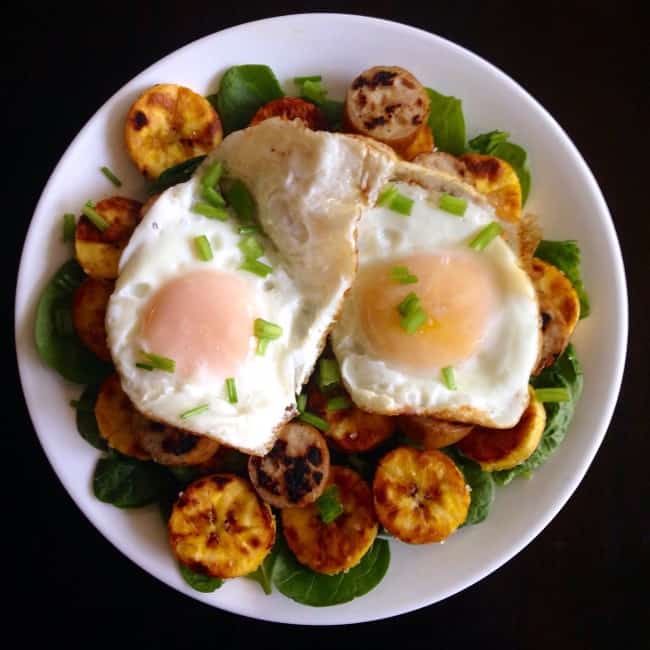 I wasn't even starving right away when I first got home which means I showered and stretched before making myself anything.  I cooked plantains and chicken apple sausage in ghee in one pan, two eggs in another, and put everything over some spinach.  Topped with my window-scallions 🙂  This happened at around 9:30.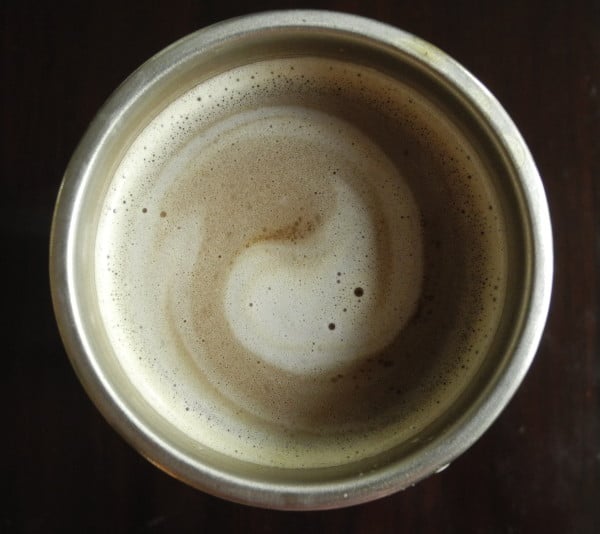 Followed by coffee.  I upped my coconut whip cream game last week with a fall spiced version in the hopes of creating something that tastes like a PSL.  It sort of does, but probably only to me.  The whip cream itself tastes like heaven, however.  It's the usual coconut whip cream blended with maple syrup, vanilla, cinnamon, nutmeg, and a dash of allspice.   But don't try to sneak any from my fridge, it's for my coffee!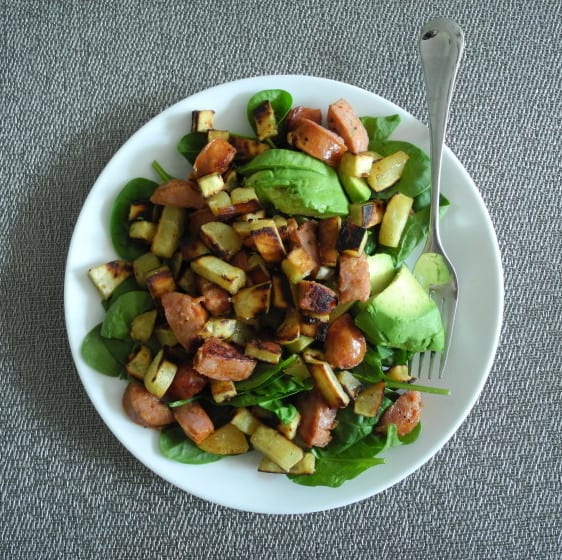 By 12:30 I was in need of lunch.  Funny part of marathon training is that you can eat a whole lot of very filling food, be stuffed, and then be starving 2 hours later.  Just another way it's like being pregnant.
So, I made myself a meal that's nearly identical to my breakfast.  I swapped the plantains for sweet potatoes and the eggs for an avocado and called it a totally different meal.  I even had the same sausage, because why not?  It was good the first time and just as good the second.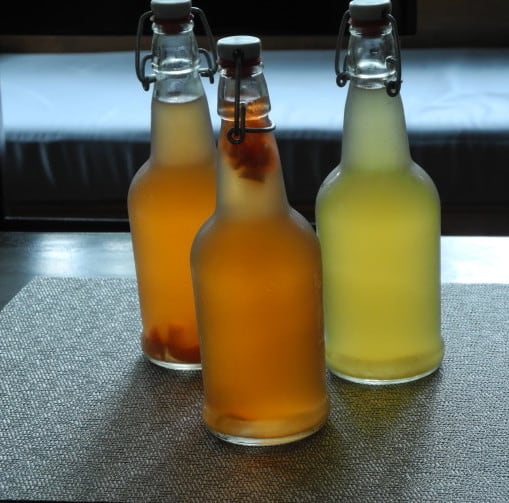 My kombuchas wanted to practice their runway poses, which is why they're looking a bit more polished than usual.  Just kidding, they had no say in the matter, and  I was practicing taking pictures with different lighting, angles, etc.
I think I drank the strawberry one, but I can't remember.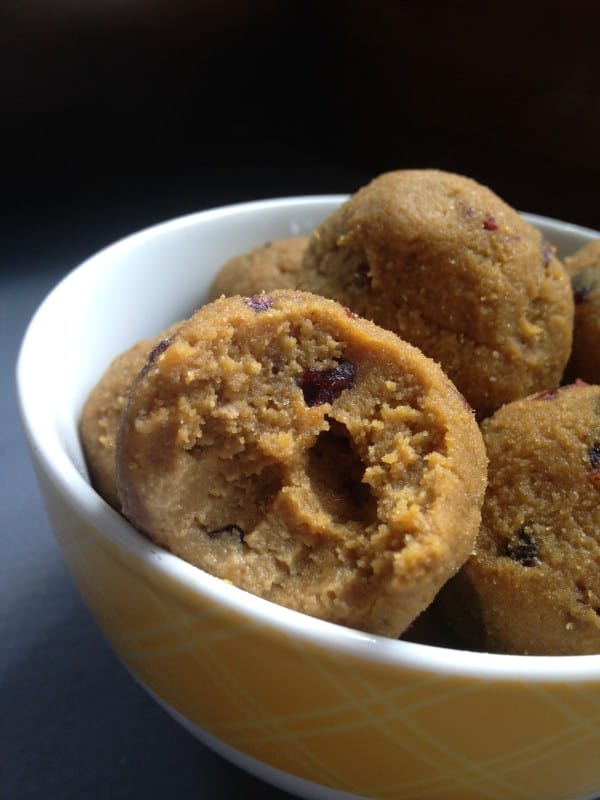 Sometime in the afternoon I had two of these deliciously creamy no-bake pumpkin sunflower cranberry bites. They'll be on the blog most likely next week.   I've been eating them every day and they're super yummy 🙂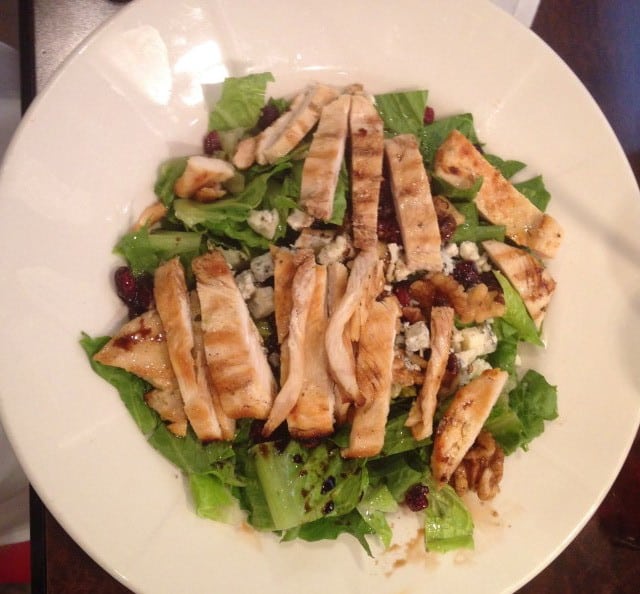 We went out to dinner with Adam's family and I ordered this not-so-photogenic salad.  Why does my food always look extra disgusting when I take a picture at a restaurant?
Anyway, it wasn't bad at all.  Greens, walnuts, gorgonzola, cranberries, chicken, and olive oil with balsamic. Even though I ordered the large, I was still hungry afterwards.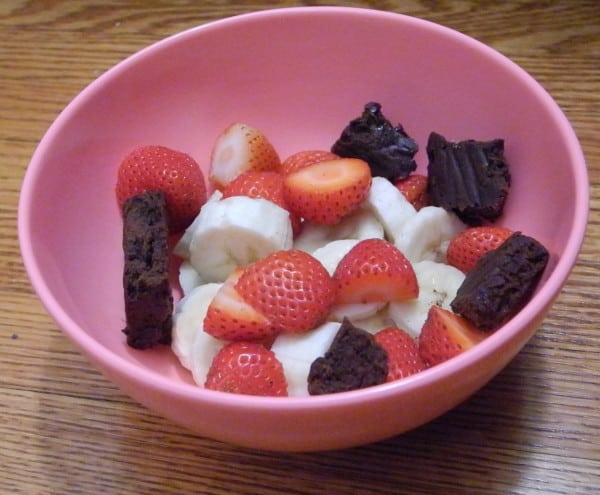 It's the pink bowl again, which means we're almost at the end, with my bedtime snack.  The only thing there you might not be able to identify are the brownie pieces, which were from a new recipe I tried out for double chocolate pumpkin brownies that will be coming up in the next couple of weeks.
I'll probably make them again before posting to tweak the recipe, but they've been in my bowl every night since last Friday and I'm not complaining!
Do foods go on repeat more when you're training hard?
What are your recent go-tos?