Yes, this is yet another post I'm squeezing out of last Sunday, but I pinkie-swear-promise it will be the last.   I figured this was a good day to show you my food because 1.) It was the day of a race and therefore a different meal schedule 2.) I ate a lot of cheese, and 3.) I made and ate brownies.  Wow, I basically just gave away all the exciting secrets in this post.  Read on for sadly ugly and unprofessional pictures of my food.  This is real life, baby.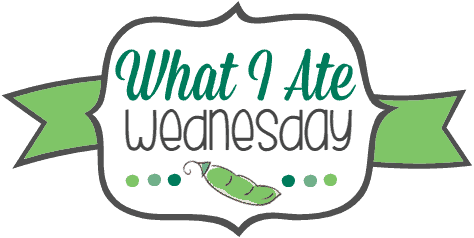 Since you've heard all the details from my Sunday already in those two other posts, I'll be true to WIAW and just stick to the food.  No nonsense from me!  Here we go…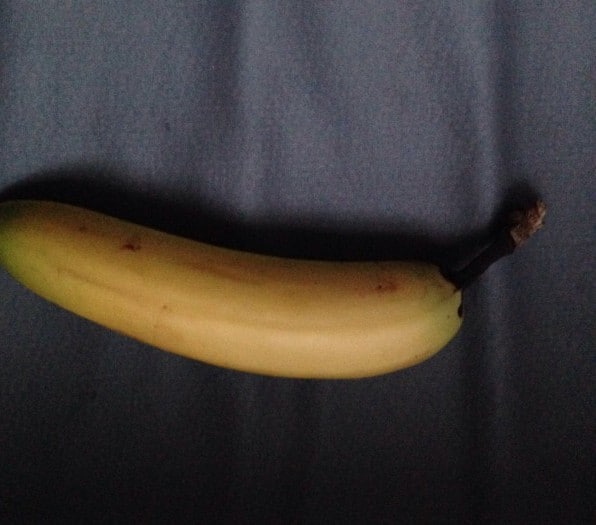 I know you're already jealous of my breakfast, wow, it's beautiful.  Seriously though I almost never eat more than a single banana before running a race.  For races that start after 9am I sometimes eat an extra half banana. This is mainly because I've just never eaten anything else before a race that hasn't caused problems for my stomach. A single banana it is every time.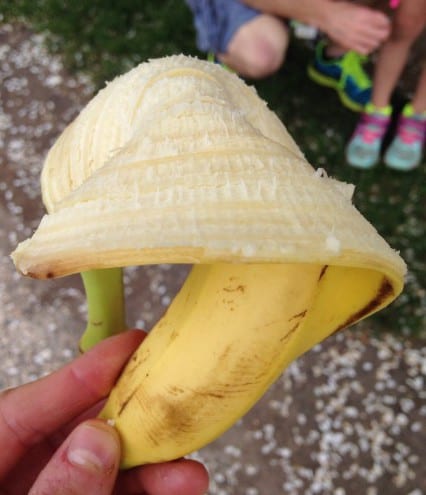 I promise this gets more interesting later on, I think.  After the 10k I had another banana.  My stomach was iffy and since I still had the 5k to run I stuck with this, plus a bottle of water.
After the 5k, at this point around 10:45/11, I had a larabar to hold me over until later on.  I'm not usually super hungry until 2 hours or so after running hard, at that point hunger will usually knock me over.  The worst is when that happens and I'm still in the shower!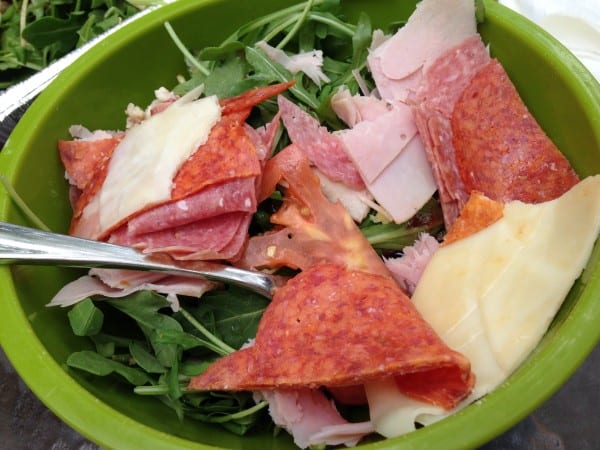 So this looks like a boring and ugly "salad" but it was actually jammed with good stuff.  It was 1pm and I was now starving and ripping open the food we ordered so I could dig in.  I discarded the bread from two Italian subs and put the contents (meats and cheeses) over a salad with arugula, pears, cranberries (sweetened with god knows what), walnuts, and gorgonzola.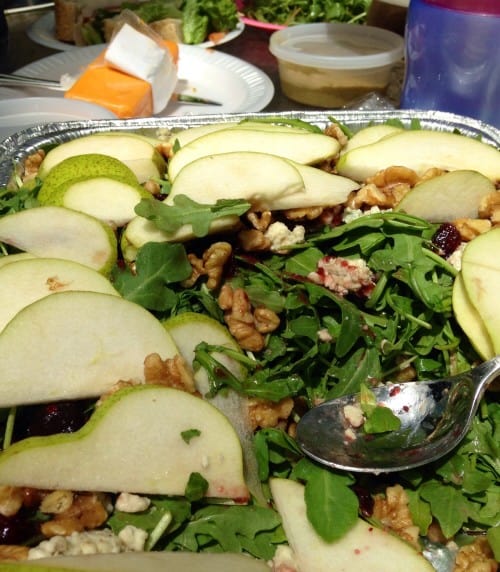 This is a better picture of the good parts of that salad, the big version 🙂  Don't worry, my kids happily took care of the sandwich bread for me, it's a rare commodity by us as you know.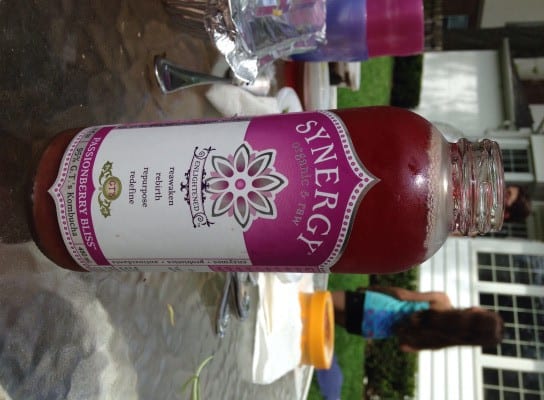 This was my ice pop.  I know it's not actually ice or a pop but it is still my ice pop, figuratively speaking.  An ice pop is a feeling as far as I'm concerned.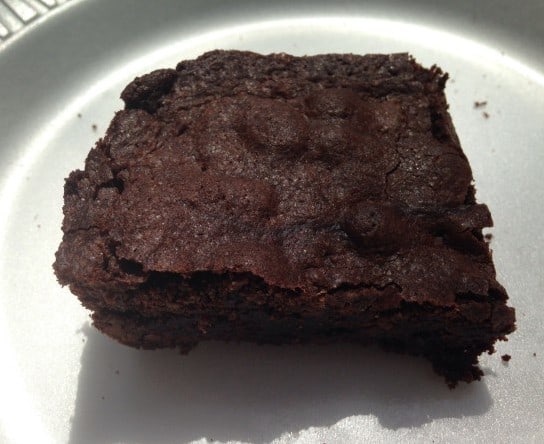 This is not a paleo brownie, but a brownie from a Glutino boxed mix that had been in my kitchen for a year and needed to be used.  Because I thought they might suck, I added a generous amount of Enjoy Life dark chocolate chips to the mix before baking.  I think the mix actually would've been fine without them, but the extra chocolate made them extra good.  I mean I don't personally think you can make brownies TOO chocolatey, right?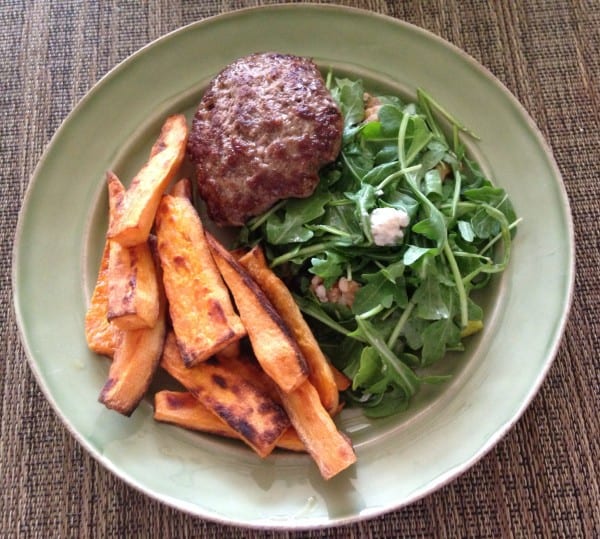 I was really tired by dinner time and tried to keep it really simple.  The girls and Adam ate leftover sandwiches and Drew and I had roasted sweet potatoes and burgers, I also had more of that salad from earlier.  Why did I not get the good stuff in the pictures of my plate?  The cranberries and cheese were under there, and they were awesome.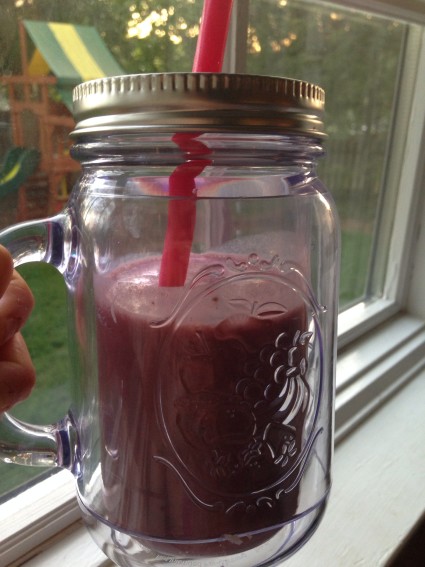 I feel just like the hungry caterpillar at this point.  After giving the kids a bath I was not only exhausted but also sore and had a headache.  I figured I hadn't hydrated enough so I made a smoothie – this is rare for me so take it all in!  It was a banana, frozen strawberries, Silk unsweetened cashew milk, and one scoop of Skoop B vanilla protein powder. Is it terrible that I still have a huge thing of it from nearly a year ago?  I think I need to start making more smoothies!
The end!  Finally!  And no adverse reactions from the cheese, which is good to know 🙂
When do you start getting hungry after a race/hard run?
What's your pre-race breakfast of choice?  Does race timing matter?
What's your favorite smoothie?