If I time traveled back to about 3 years ago and posted a full day of food, you guys would laugh.  And then cry.  And so would I!  Maybe because the entire day would show nothing but bagels, cereal, pasta, and ice cream.  Not joking or exaggerating at all!  Okay fine, I think I threw some turkey sausage and broccoli in with the pasta if it was a good day.  Covered with cheese of course.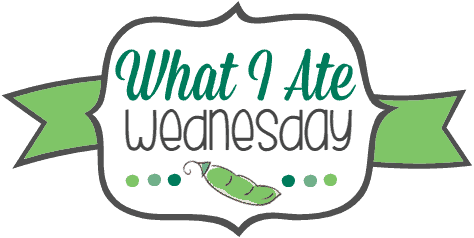 Too bad I don't have any food pictures from back then, you'll just have to take my word for it.  Today as I go through my meals and snacks for WIAW, I'm going to reminisce and compare what I ate to what you would've seen three years ago.  True.  Flipping.  Story.  No doubt.
And, just to be straight with you, I'm doing the comparing just to illustrate that BIG changes can be made to one's diet/lifestyle.  And that there was a time when I was HIGHLY addicted to sugar and refined carbs, and also avoidant of fat.
It must go back to my rule following days of the 90's, when we were all told it was unhealthy and wasteful to eat fat.   Did anyone else believe the hype that fat wouldn't fill you up?  So odd.  It really is the ONLY thing that truly fills me up now.
WIAW It Wasn't Always This Way!  Pre Paleo Versus Now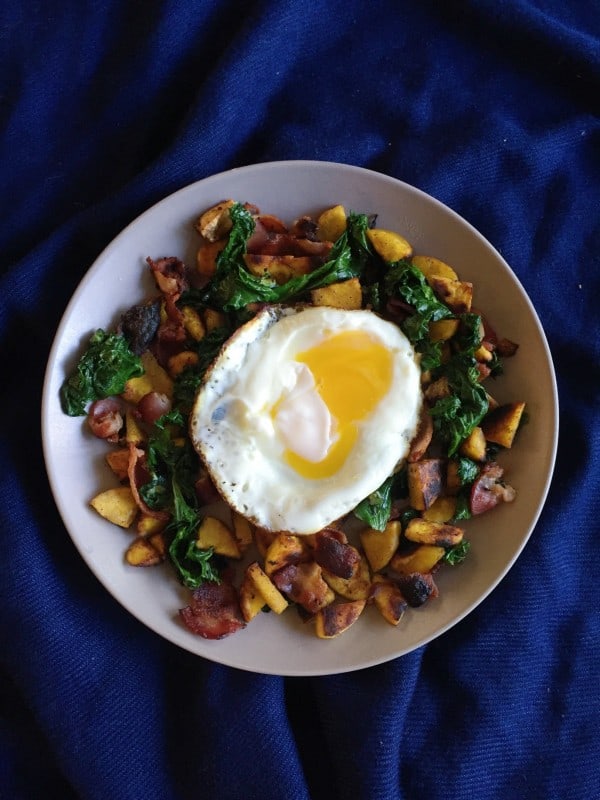 Nowadays, this is a typical breakfast.  This is my plantain, bacon, and kale skillet  with a fried egg on top. 3 years ago, I ate one of two breakfasts: Either a high fiber cereal (Kashi usually) with a banana, honey, and almond milk, OR an egg white omelette (yikes!) with spinach and fat free cheese, plus 2 pieces of whole grain toast with fake butter.
I CAN'T BELIEVE I EVER COULD NOT BELIEVE IT WASN'T BUTTER.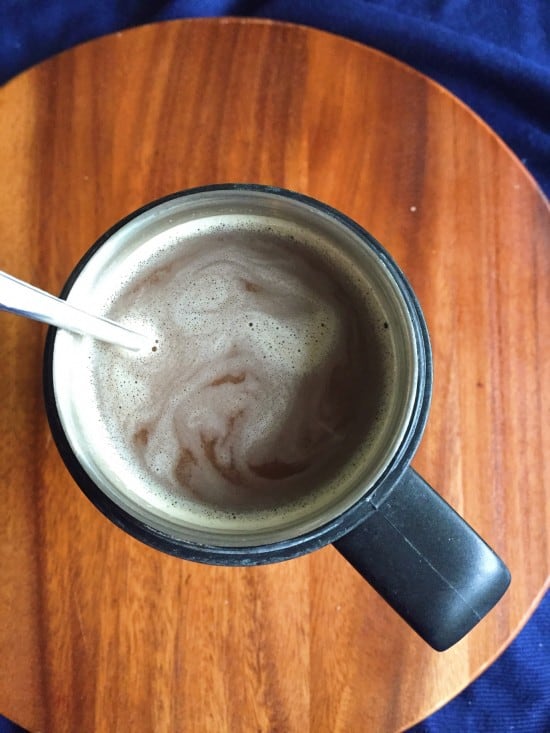 Dude, where's my Splenda?!  Thankfully, it's gone for good.  I used to drink my coffee with either almond milk or Lactaid skim milk with a whole lot of Splenda.  I didn't add sugar because I knew sugar wouldn't be sweet enough for me!  Insane!  Now it's just coconut cream or milk with a little maple and vanilla if I flavor it.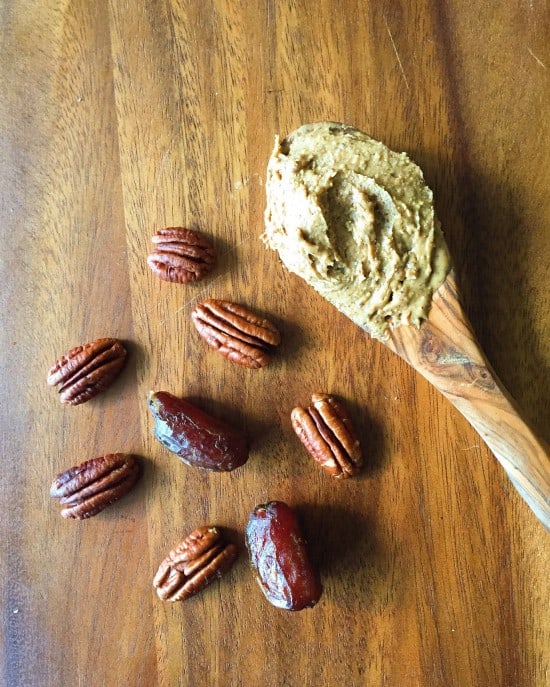 Fat and (natural) sugar is a mid morning snack that works for me now.  And why not dip fat in fat?  It's awesome.  These pecans and dates with almond butter are a big step up from my used-to-be-mid-morning "snack" of a large diet soda.  Diet cherry coke or something similar.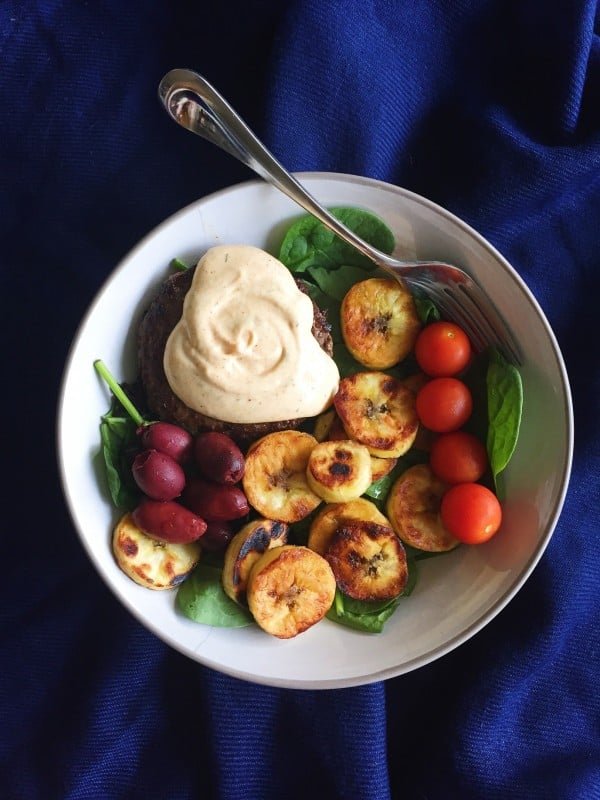 This "salad" for lunch is not what I used to eat at all.  Spinach, sweet plantains fried in bacon fat, a grass fed burger topped with mayo-based buffalo ranch sauce (recipe coming soon) and olives.  My salads used to consist of that gross-to-me-now precooked chicken on top of lots of greens with some sort of fat free dressing, and fat free cheese.  Blech.  Followed by another diet soda.  Double blech.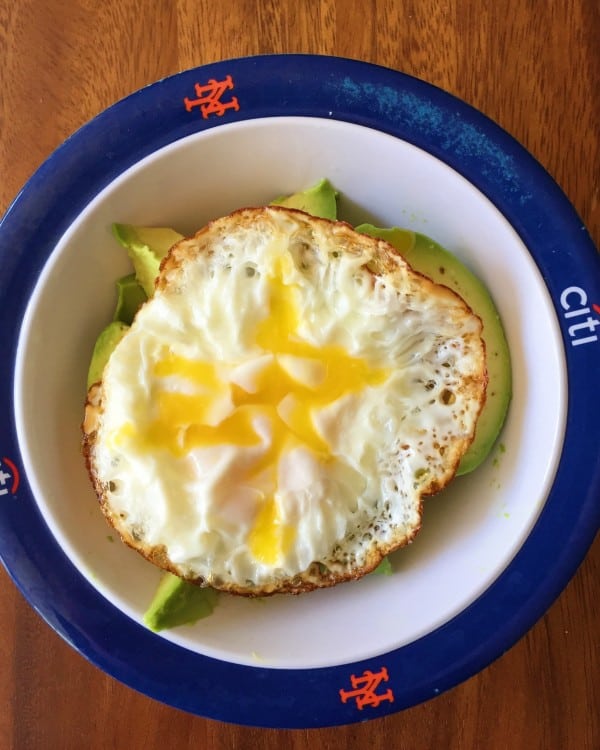 And, since what I used to eat up until this point in the day added up to basically fiber, egg whites, and chemicals, by the time my "afternoon snack" rolled around I was starving and ate either handfuls of pretzels with hummus or a couple of bowls of cereal similar to the morning one.  Or honestly, a huge bagel that we always had around from our local store.  Of the entire day, that's probably the one food I miss!
Now, a protein and fat heavy snack works really well to get me until dinner time.  This is just half an avocado with a fried egg on top, plus salt.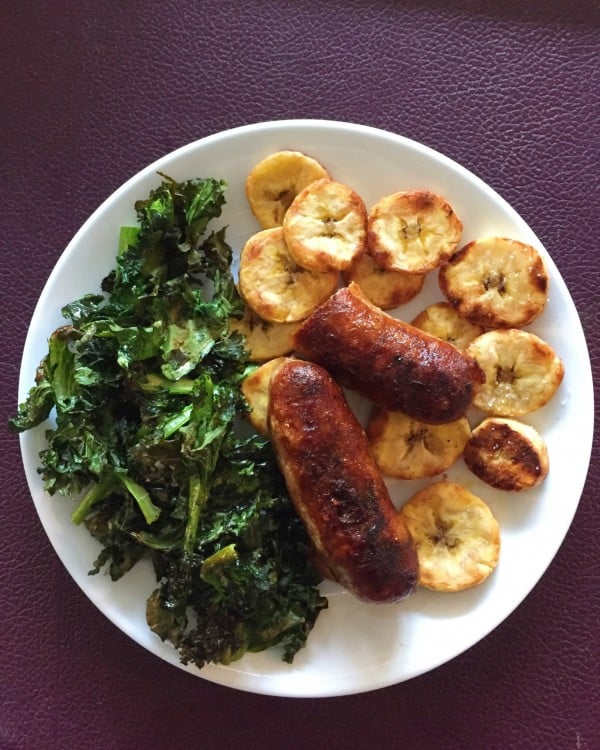 Don't be alarmed at how many plantains I ate – typically some sweet potatoes are thrown in there but I had run out after a day too long without grocery shopping.
Anyway, dinners 3 years ago were usually pasta with a small amount of chicken, turkey sausage or meatballs sometimes, lots of veggies, either a butter sauce (maybe fake butter?) or tomato sauce and lots of fat free cheese of some sort.  I know I used to make burgers (with buns, of course) but can't remember what we ate with them.  Maybe store bought chips?  Amazing how much is forgotten!
This dinner was spicy Italian sausage plus plantains and kale chips both roasted in olive oil and salt.  I would've never used/consumed this much fat in one meal back then – I was all about carbs and cooking spray.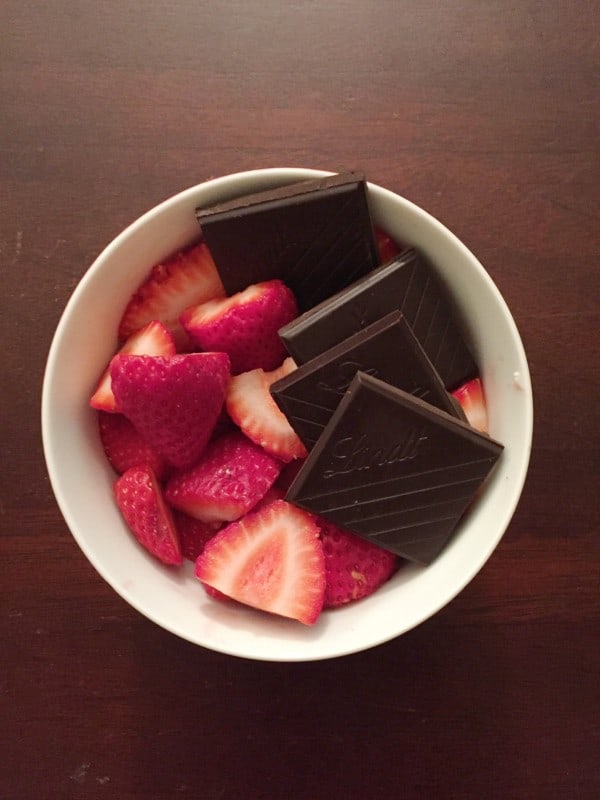 Now, my desserts are almost always fruit and dark chocolate (this is Lindt 90% which I'm digging lately) but 3 years ago, Adam and I used to get out separate cartons of ice cream (cookie dough or pb cup) after the kids went to sleep plus  a jar of peanut butter and spoons, and eat a whole lot of all of it.  Had to get my fat somehow, I guess!  Although the ice cream was low fat, lol 🙂  Now that I'm thinking about it's pretty obvious why my stomach was a wreck all the time.
Would your WIAW have been different 3 years ago?  What changed?
Were you ever a diet soda addict like me?
Did you do Splenda?  Avoid fat?