With today being National Running Day PLUS WIAW, I figured it would only make sense to post about what I ate on a "long" run day.  No, 10 miles isn't long for the midst of marathon training, but it was the longest run I'd done in a month after a Mother's Day 10k followed by a nearly 2 week total break.
Also, I will have to thank Lisa for reminding me about this running holiday, as I would've hated to have done something stupid like plan a rest day or something.  Instead, I'll be celebrating with a workout inspired by Meredith.  Since I'm writing this on Tuesday of course, let's just hope that went well 🙂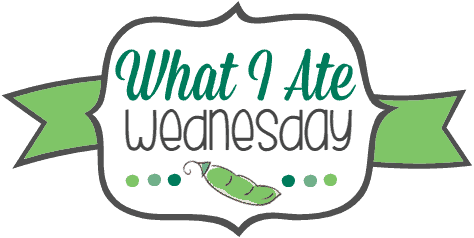 So, let's get started with my run day of food.  I did a 10.39 (yes, .39) mile run with my friend Stephanie in the humidity and in hindsight I probably should have started my day off with a banana, at least half of one.  Instead I did the run fasted, which is what I normally do up to 12 miles.  Needless to say, fasted runs DO leave me extra hungry when I get home.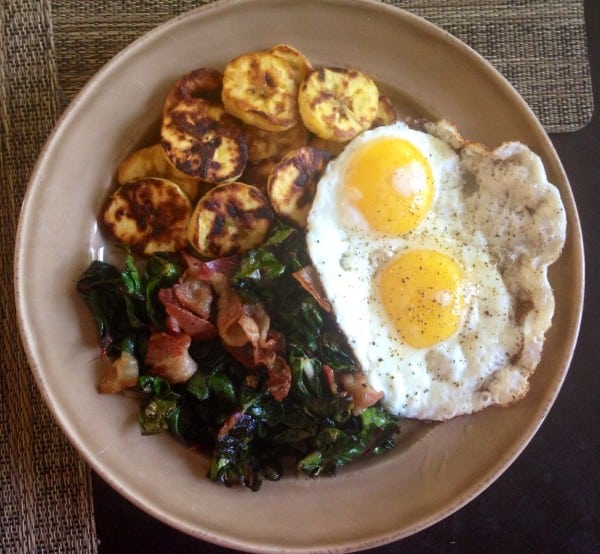 At about 7:45 (I was home for 5 minutes maybe) I made this breakfast: rainbow chard cooked with 3 slices of chopped bacon, fried sweet plantain (I think this was almost a whole one, not quite but close) and 2 eggs.  I made eggs, bacon, and plantains for Diana and Adam too, so there was tons of bacon fat to cook with and also to save.  I save bacon fat in a glass container stored in the fridge, it never lasts long though.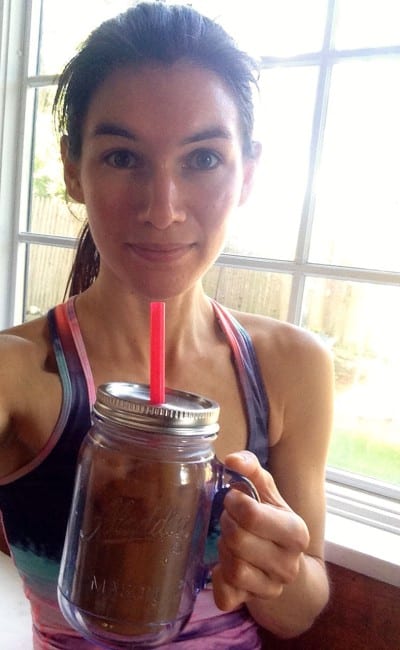 Saturday was hot, and the thought of hot coffee was not so delightful.  Adam always goes to Dunkin Donuts for his coffee and I asked him to get me a plain iced coffee.  He wound up getting a large, so I poured half into this glass and mixed with full fat coconut milk, 1/2 tsp maple syrup and a few drops vanilla extract.  It was awesome, the first iced coffee of the season for me 🙂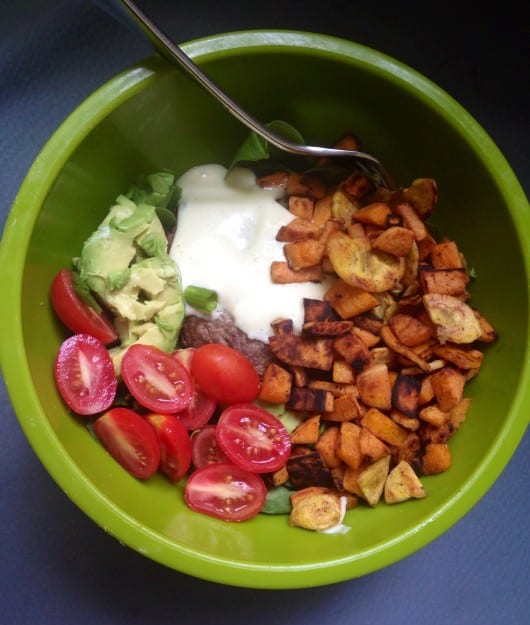 At about noon I was starving and made myself and everyone else lunch.  This was (from bottom of the bowl to top) baby spinach, lamb burger topped with homemade mayo, scallions, half avocado, tomatoes, and a mixed hash of leftover chopped sweet potato, butternut squash, and plantain.  On long run days lunch is usually a pretty big meal.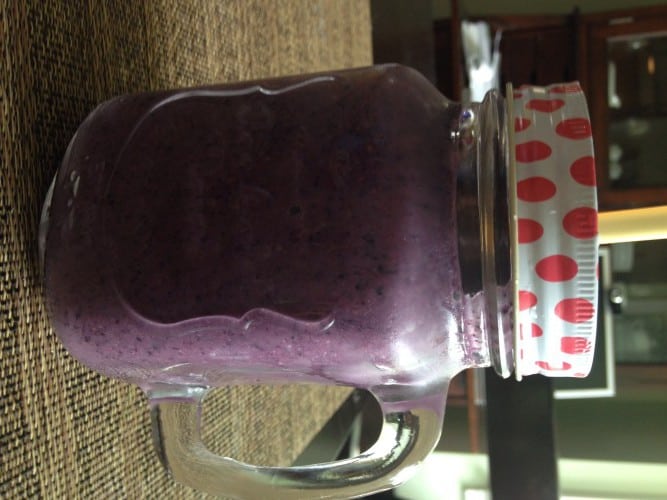 Again with the weather I wanted something cold in the afternoon.  I made a smoothie with Silk cashew milk, mixed frozen strawberries and blueberries and two scoops of Skoop B.  I'm starting to think I just can't tolerate the sweeteners in most protein powders very well.  It didn't kill me but I wasn't feeling great the next day and it might have been this.  Or this combined with what was to come for dinner, I'm not sure.  This was the day that inspired me to write about my frustrations with food intolerance, ugh.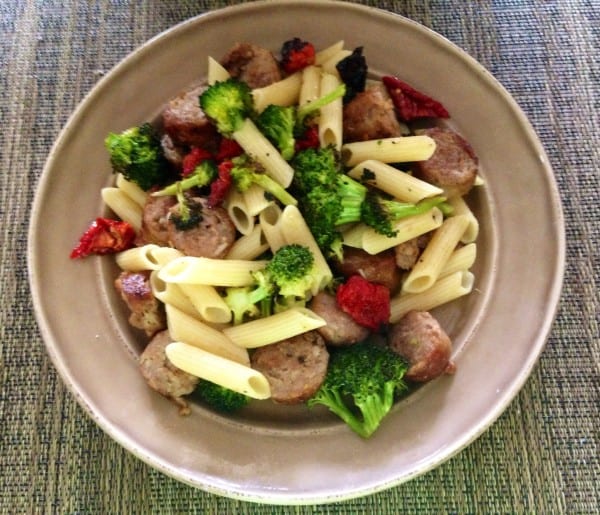 How appropriate is it to throw down some gluten free pasta for National Running Day?  Total coincidence, but I like it 🙂 I've been feeling a bit weary of all the potatoes we've been eating and I'm just not a huge white rice fan, I find it boring (not to mention extremely messy when 3 young kids eat it), so I decided to mix things up with this pasta made of rice and quinoa.  Emily and Adam were especially appreciative.  I mixed it with Italian sausage, broccoli, and sundried tomato.  It totally reminded me of pre-paleo times when I made stuff like this, uh, every night 🙂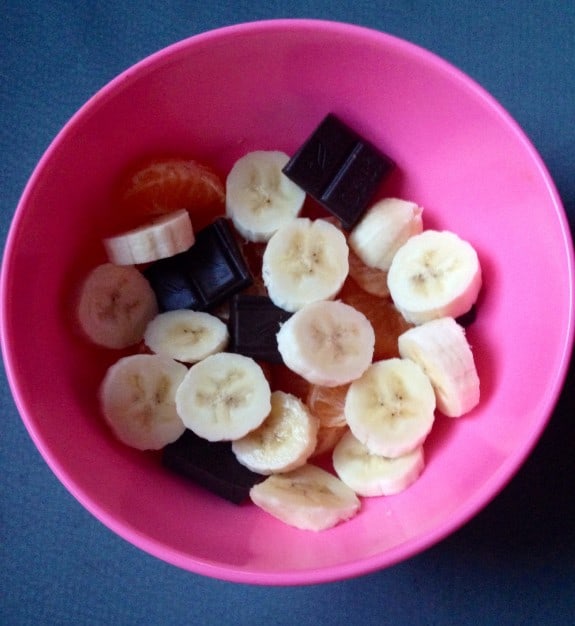 Lastly, dessert.  My stomach wasn't feeling all that fabulous at this point of the night, but dammit I want my "dessert." A mandarin orange, some banana slices, and a few squares of dark chocolate.   My kids usually eat the same sort of snack as I do, only minus the chocolate.  They think they'll like it until they try a bite and it's always a no-go.
As my runs get longer during marathon training, the volume I eat on the long run day itself doesn't seem to change much, and I do seem to be more susceptible to digestive discomfort later in the day of my long run.  When I'm in the midst of marathon training however, I eat a bit more every day of the week and it seems to balance out, at least it's worked for me for the past 2 training cycles.  I find that eating bigger, very nutrient dense breakfasts and lunches help a lot.
Have you tried gluten free pasta?  What are your thoughts?  Favorite kind?
Do you put protein powder in smoothies?
Do you drink iced coffee year round, in the summer only, or never? I'm a summer only, Adam is a never!
How are you celebrating National Running Day?