Hi!! Assuming my blog is back up (crossing all fingers and toes for luck) I am e-e-extra happy to see you today, and apologies for any confusion on Monday or Tuesday.  Technology hurts everybody sometimes.
If you missed yesterday's new recipe for Roasted Sweet Potato and Brussels Sprouts Hash with Apples and Turkey, now's your chance to check it out! And just in case you were secretly hoping for kale, (I get it) I have another new VEGGIE PACKED recipe up today that's also Whole30 friendly!
I'm guest posting on Sorey Fitness with an awesome Butternut Crusted Quiche with Sausage and Kale, so definitely go check that recipe out ASAP!
And then come right back, because you can't miss What I Ate Wednesday!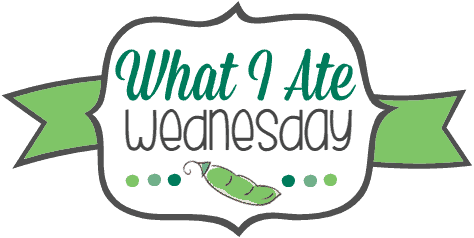 But let's put it in the past and look to happier times, times when we're eating and hopefully thinking about food and food only.  Right.  In a perfect world I'd look at my plate and just eat, in the real world I look at my plate, then my laptop and try to remember not to use the keyboard as a napkin.
Gross, Michele!  I have my good points too, although so far this week I haven't had much opportunity to show them off.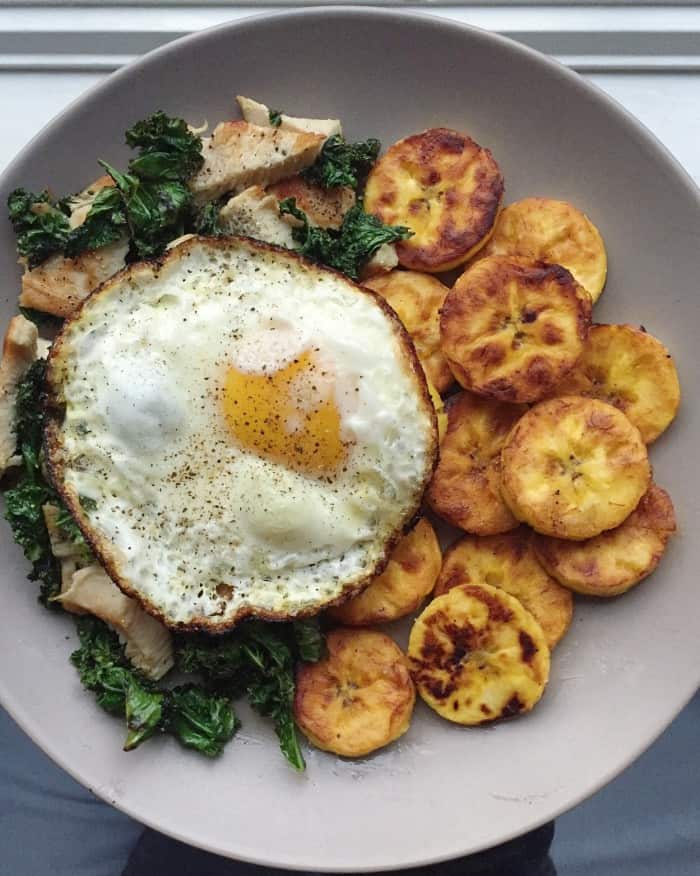 Breakfast!  Okay rewind for a sec.  This was Monday and I actually woke up feeling horrible.  After missing a full night's sleep Saturday I just wasn't myself yet and thought I might be coming down with the bug.
I decided to run anyway, which sucked (nauseous and headache) and I came back early, at which point I drank a whole glass of water.
Bingo!  I was not getting sick, I was just exhausted and dehydrated – sympathy pain at its loveliest.
Anyway, not only did I realize was I thirsty but also really hungry, so breakfast helped with that.  It was fried plantains, kale, and leftover turkey cutlet from the previous night.  Plus an egg that I burned and tried to fix with salt.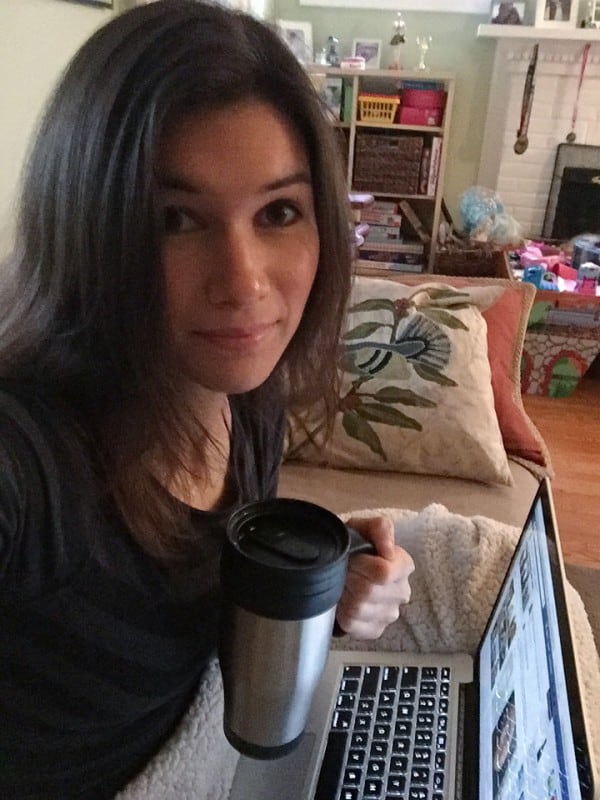 I drank coffee and caught up on blogging – I will caption this picture "failing at pretending I'm not trying to look cute" Wait what?  I think you get it.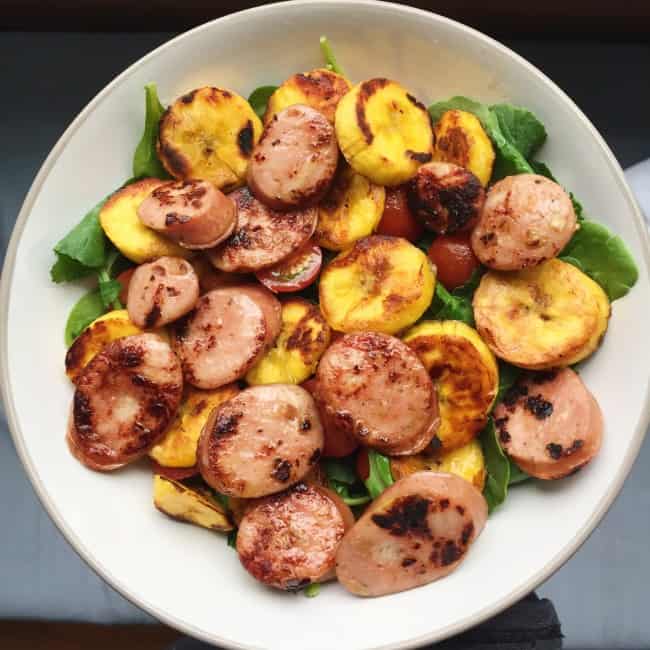 Lunch was more fried plantain (FYI I usually eat about half a large one at a time, so if I'm not sharing with anyone I'll eat it twice in one day) plus chicken apple sausage and tomatoes over baby spinach and kale.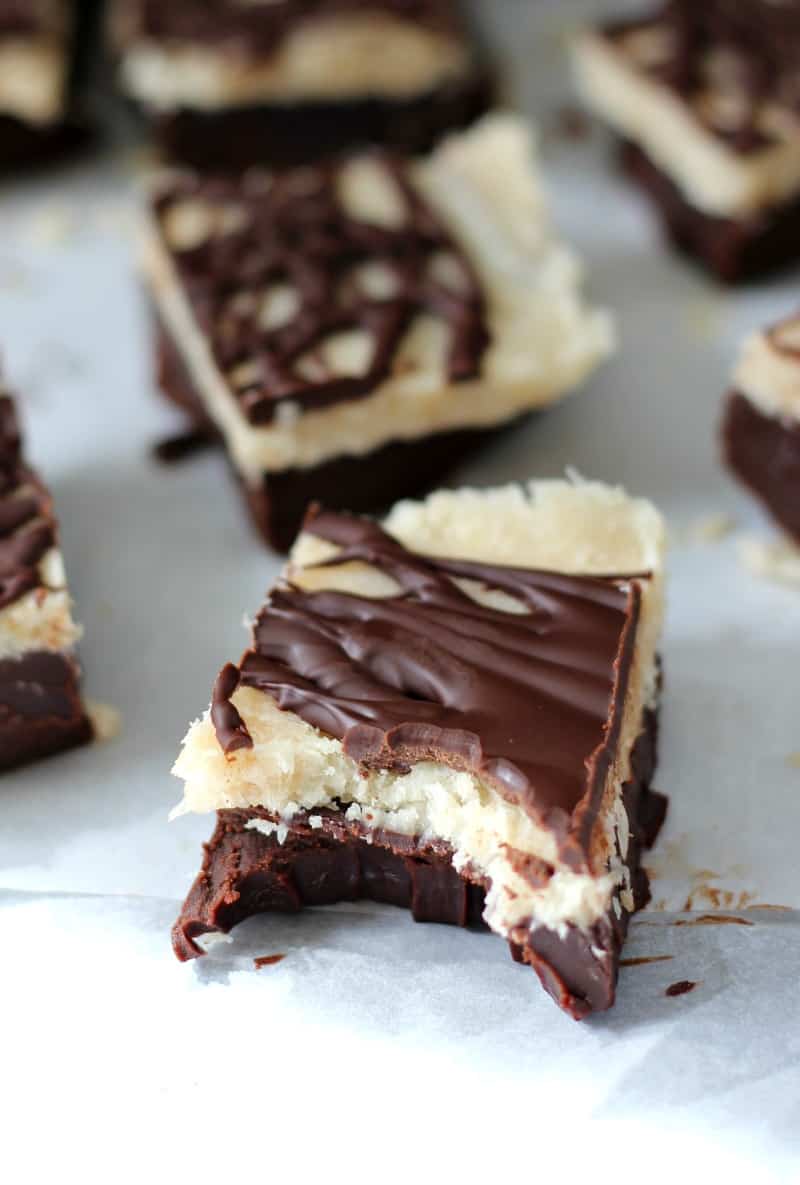 Yes, more fudge for a snack.  I made this last Friday but probably won't post the recipe until next Friday, but here's a preview anyway!  I had a nice little square of this chocolate coconut layered fudge right after lunch.  I also drank water with lemon, not pictured.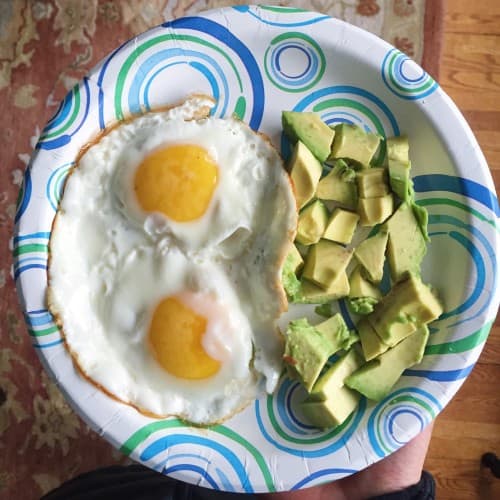 Prior to taking the kids to dance I felt like I needed something kind of significant, so fried up two eggs to eat with half an avocado.  This is actually one of my favorite afternoon snacks!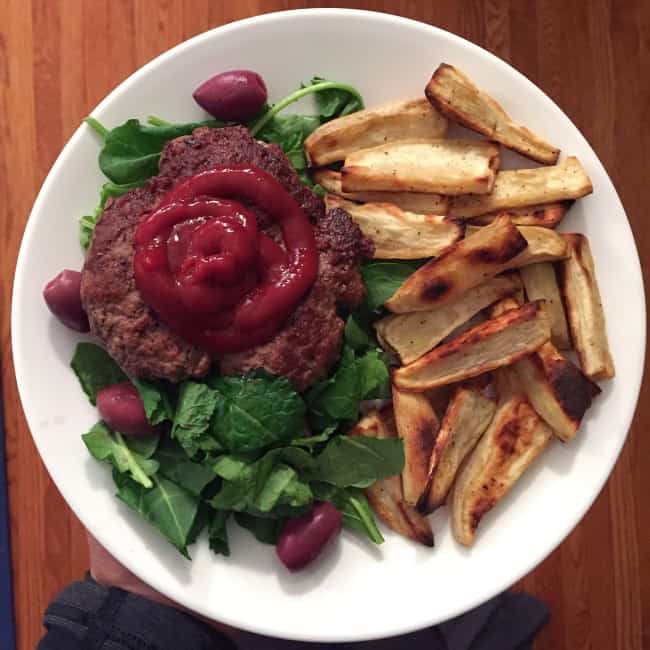 Dinner on Mondays is typically burgers since I need to make something quick.  I actually made these sweet potatoes ahead of time and then reheated for a couple of minutes in the oven while the burgers cooked.  I topped my burger with organic ketchup, which is what I do whenever I don't have some sort of homemade sauce or dip on hand.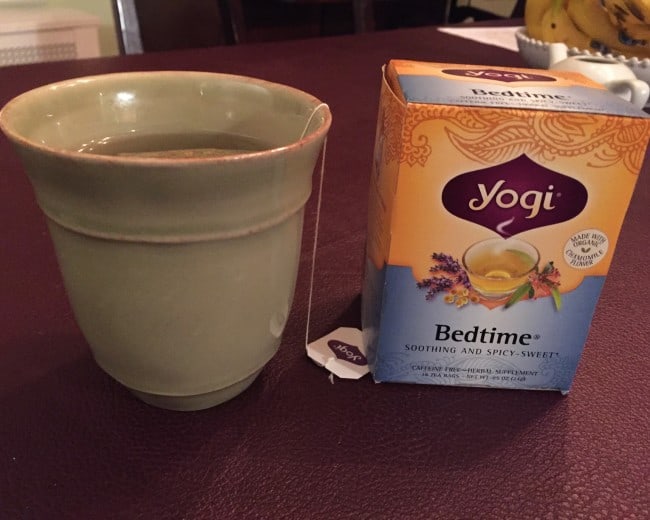 After dinner and before the kids went to bed I had my bedtime tea, love this one!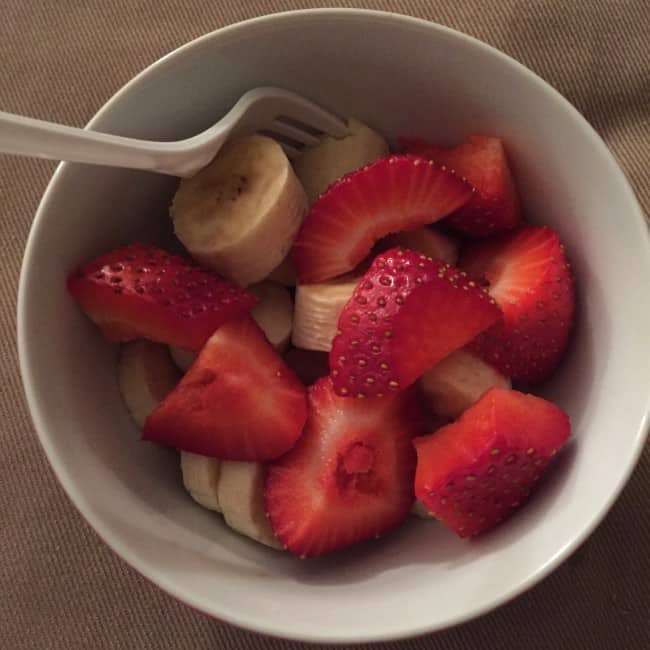 So, right after putting the kids to bed, I saw that my blog was down, yippee.  Great way to end the day, right?  I probably wouldn't have eaten anything since my stomach was immediately in knots, but I had already made this for myself and hate wasting bananas.  Plus, I needed something to occupy me while waiting on hold with my host for over an hour.  Blah!
All in the past!  Tuesday night I added back the chocolate 🙂
Do you get sympathy pains when a child or family member is sick?
How are you doing with the time change?
Do you make dinner (or part of dinner) ahead of time on busy nights?