What 90's song was my title inspired by?  It's a good one, that's my only hint.  Anyway, if you've been paying attention you probably know that I dealt with IBS since childhood.  You can read all about the details here and here. Eating a paleo diet, my symptoms drastically improved (eliminating grains, dairy and legumes) but as the time passed since beginning paleo I also noticed there were several other foods that contributed to more minor symptoms like burning, bloating, and gas.   Honestly, with all I put up with in the past, I'm okay with being a little gassy if it means I can eat some of my favorite stuff like roasted broccoli, tomato sauce, onions and garlic, apples and pears and other fruits, some nuts here and there, and added sugar from raw honey or maple syrup.   It's all a cost/benefit thing for me now.
The thing is, if too many of those foods are consumed within a short period of time, or if I'm low on sleep, training hard, stressed out, or a mix of everything, I start to notice my stomach acting out more than is acceptable for me at this point.  For today's WIAW, I'm going to go through some meals and snacks I had this past Sunday and Monday when my stomach was feeling kind of ehh.  I'm on the fence whether the whole issue was due to one very un-paleo food I ate or a combination of several food and lifestyle factors.  Thanks for the WIAW linkup Jenn!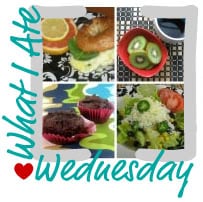 Sunday morning was my 16 mile run with the last 6 miles at 7:30 pace.  The run went really well!  I had a banana before I left and one powebar energy blend at mile 8.  I had brought another but my stomach was already feeling a little iffy so I went without it.  After returning I decided to try out a new protein powder which was not smart in retrospect, because it had a double wammy of whey protein plus sugar alcohols.  I was just thinking I needed some refueling right away before stretching and showering.  I mixed it with a frozen banana and coconut water.  I think between the run fuel and this I started the day off with too much sugar overall.  On top of a hard effort run, this combo definitely wasn't digestion friendly.
That day we went apple picking and I had both a lara bar at the orchard and then a salad with spinach, beets, avocado, and sardines in the car (I'm fun to travel with no doubt.) Nothing wild or crazy there and nothing that normally bothers me.   Definitely no pizza or raw apples for me.
Dinner involved broccoli, which is fine in small amounts but maybe today it was just adding to the existing discomfort.  Dessert was my paleo pumpkin pie which had both nuts and honey in it so again, maybe sort of irritating. Delicious though, look out for the recipe this Friday!
Monday morning I was still feeling sort of crampy and gassy but nothing major.  I probably should have layed off the broccoli but, no, I cannot resist including leftovers in my breakfast.  So I had this: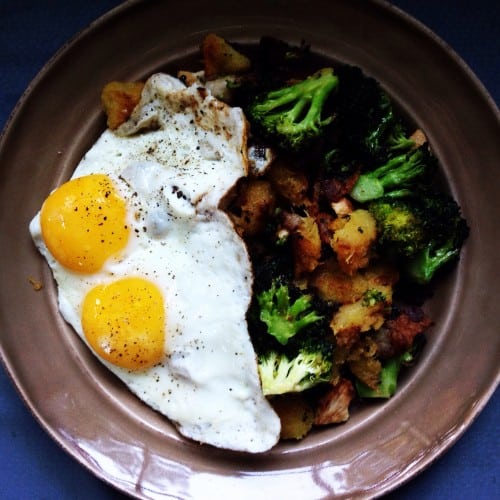 It was delicious and quick.  Leftover roasted broccoli with pre-roasted and then sauteed delicata squash, bacon, and eggs.  Too much broccoli, I know.   Followed by coffee as usual, which never seems to bother my stomach, thank goodness.
After I picked my son up from school I was starving since I hadn't eaten for 5 hours.  I was feeling okay at this point.  I had a little bit of baby spinach topped with ground beef cooked along with more of the pre-roasted delicata squash plus half an avocado.  Totally hit the spot, and I doubt it added to my problems.  Well cooked squash is generally a winner for me thus far.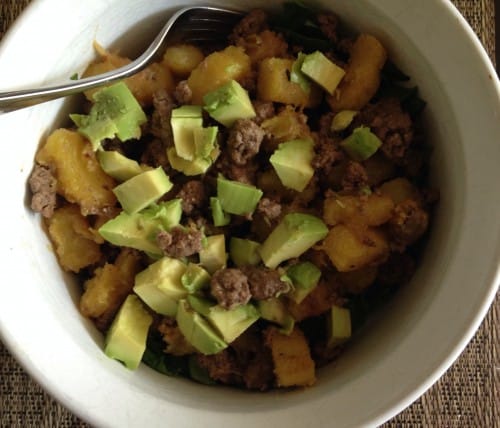 At 5 o'clock I was with my daughter and son waiting for my other daughter to finish up her dance class, and we all were hungry at the same time.  I had 3 lara bars, but of course my son is 3 and likes to bite one, scream he hates it, and then threaten to throw it in the garbage uneaten.  Wish I got a picture of this but I was too busy saving my lara bar from death.  I wound up eating part of a cherry pie bar and his apple one.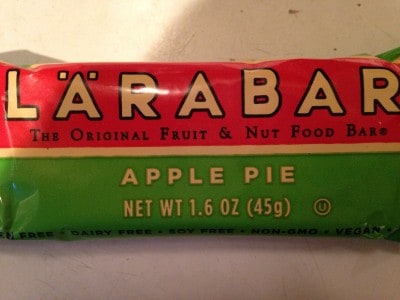 I don't love that I eat these bars often, but bringing leftover meat to dance class just isn't all that practical for me so I stick with this.  Plus my kids will usually eat them so I just throw some in my bag before leaving.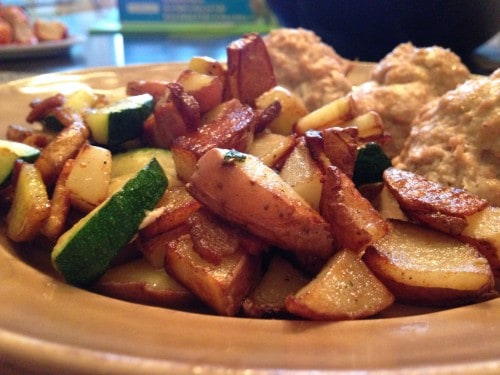 Dinner worked out surprisingly well this night in all ways.  We didn't have much left in the fridge except ground turkey and some veggies so this is what I did: turkey meatballs (no tomato sauce for me since it tends to make me gassy and I was dealing with enough of that already) and a very quick and yummy hash that everyone wound up loving, for real.  I chopped up some small red potatoes and bacon and fried them together (bacon half way before adding potatoes) and then threw some chopped zucchini in there for the last few minutes, sprinkled with a little sea salt.  Really good and very kid friendly.
I saved the ugliest picture for the end (not really, it's just the last thing I ate.)  I attempted to eat a sliced frozen banana along with my strawberries, but after a bite I realized I guess I don't like frozen bananas if they're not in a smoothie.  Weird taste, or maybe they were just too ripe when I froze them?  Not sure, but yuck.  So anyway, I picked out all my strawberries, put them in a new bowl, topped with coconut butter which had gotten all crumbly in the jar with the change of weather, and ate it as you see.  Tasted better than it looks for sure.
So, today my digestion is feeling pretty normal again, which makes me think my problems came from all that went down on Sunday, including my long run in and of itself.  Between the sugar involved in fueling and the effort put out, I find that my digestion is often thrown off a little after these types of runs.  I think the protein powder, broccoli, and nuts/honey in the pie added to that and made for an uncomfortable Monday.
With IBS, paleo as written is just not enough for me.  Even without the protein powder factor I know that certain foods and intense training aggravates my digestion – not nearly to what I used to experience – but more than is comfortable for me now.  I'm still working on figuring out how to balance my need for fuel on tough runs with my need for less sugar in general to keep my stomach feeling well.  Plus my love for roasted broccoli that I just won't give up.
How do you know how different foods affect you?  Has it ever been a mystery?  A combination of factors?