When I go on vacation I don't love doing the stuff that I normally love highly tolerate doing.  Like cooking, running, stretching, blow drying my hair, and staring at my phone.  I don't even love eating chocolate on vacation – is that weird or what?  I eagerly choose wine over dessert and if I have dessert, it's always something I don't eat at home, ever.  My brain operates on structure and associates chocolate and fruit with home and wine and cheese with vacation.  Certainly not complaining, but an interesting observation.
Once I got home on Saturday, of course everything changed.  The thought of more wine made me nauseous and I craved all my normal home-y food.   I happily turned on my stove, strapped myself to the kitchen counter and mostly spent the day between the kitchen and my computer.  After the 12 mile run – that was sort of the cocoon between vacation and real life I guess.  Yet another reason I run – it helps me structure my days and my life in general!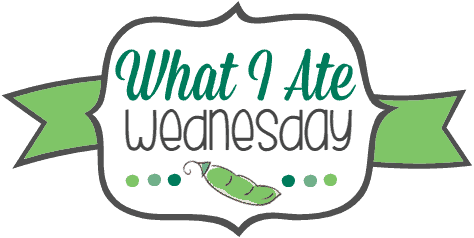 This WIAW is all about cooking myself all the meals I crave even if there was a bit more time and effort involved.  I kind of had that feeling you have when you go all out for a run after resting for a while.  Motivation to cook is a lot like motivation to run/workout.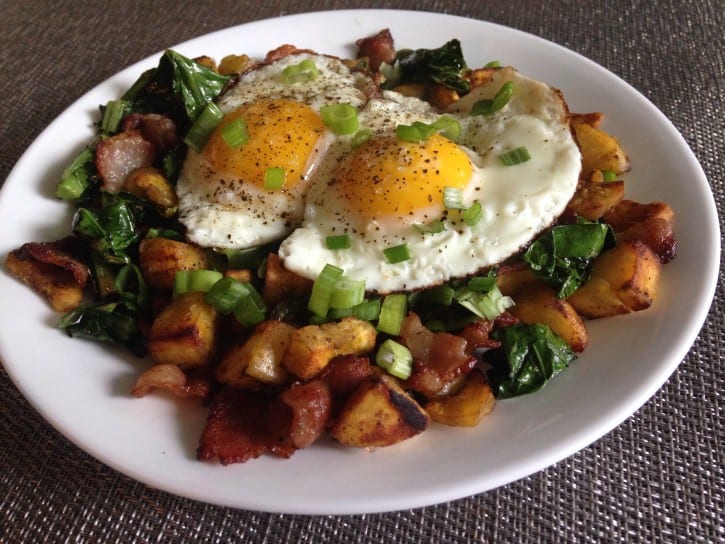 Breakfast – I made plantain hash browns with bacon and then sauteed some collard greens to mix in.  I don't think I ate any veggies besides spinach and lettuce while away so I needed something else.  Also had to fried eggs on top and a sprinkling of scallions.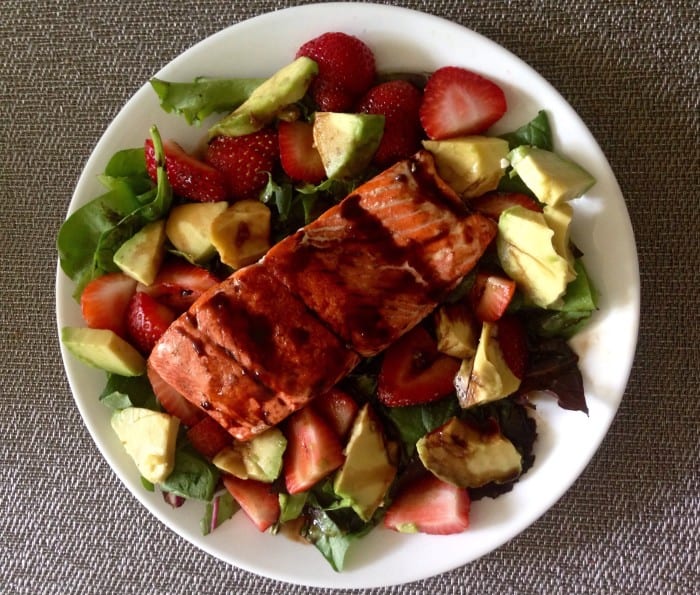 Lunch – This was day one of my Maple Balsamic Salmon recipe.  I used sockeye salmon from Sizzlefish, and went without the goat cheese.  Or rather I just didn't think of the goat cheese until the next day.  Both ways it was really delicious!
Home brewed kombucha flavored with apples!  I am LOVING my home brewed kombucha.  Since I'm still experimenting and feel like a beginner I'm going to wait on posting a "how-to" but I definitely plan to share what I've learned.  I'm currently on round 3 of brewing and now have a little "scoby hotel" going as well.  The warm temperatures here have been perfect for brewing and I'm curious to see what adjustments I'll need to make as the weather cools down.
Snack – A banana and a piece of Vanilla Maple Nut Fudge from the freezer.  This was my last piece of fudge and I'm itching to make some sort of sweet recipe now, although I think I need a break from fudge. Contemplating a banana coffee cake experiment for later today.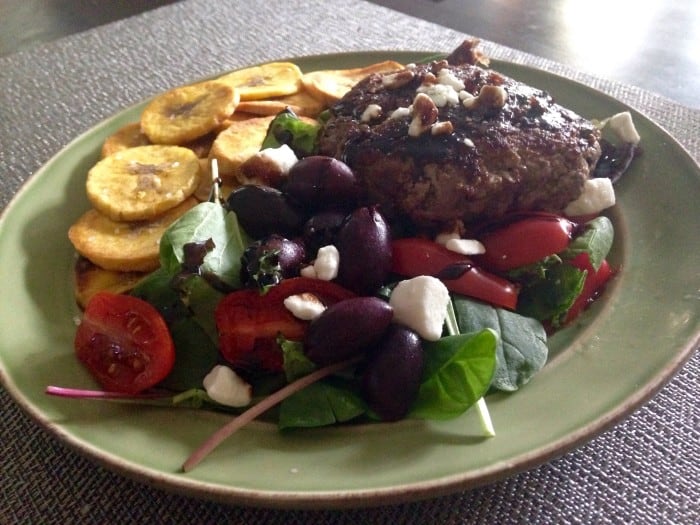 Dinner – This is when goat cheese slipped into my radar.  I was making burgers and plantain chips  for dinner and wanted to use my balsamic reduction from the salmon on my burger, because it's THAT good. But it needed something else.  I've had goat cheese crumbles in my fridge and forgot about it but it seemed like it would be perfect, and wound up complementing the sauce nicely.   I put the burger, cheese, and balsamic reduction over baby spinach, tomatoes, and kalamata olives.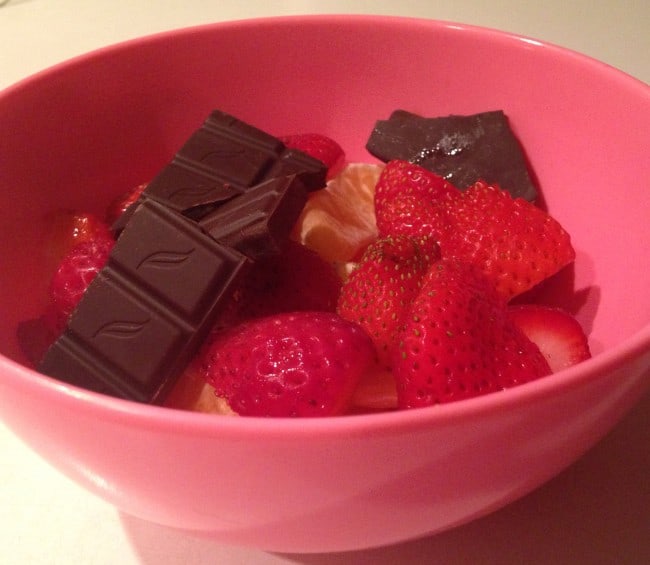 Snack – Back to the fruit and chocolate!  I put a mandarin orange and sliced strawberries in a bowl with Green & Black's 85% Chocolate
 and then called it a night.  I think.  I can't actually remember what happened afterwards but I'm sure I was exhausted and slept soon afterwards.  In fact, just thinking about this is making me want to sleep right now.   Told you I'm all about associations 😉
Hi ho, hi ho it's back to the stove I go, and back again and again and again.  Are you guys with me?
What your favorite meal to cook for yourself?
Who's your favorite person to cook for?  (Is it bad if I say myself?!)