I eat carbs all the time but yet somehow I still sense people think "paleo" means low carb.   One thing I noticed is that while away, I was eating lower carb many days since I wasn't about to order a baked potato every time I was out to eat, plus I was enjoying cheese.
But in real life at home, carbs are a common occurrance.  And I mean even the white kind, not the green kind or even orange, although you know I'm not hating on green and orange.  Broccoli, kale, and butternut do contain carbs but generally we aren't carb loading with green smoothies and what not.
Treats happen too.  Especially when I'm still in vacation mode and am also feeling inspired to create recipes.  Every slam dunk paleo treat is a victory for me and cause for celebration, in the form of eating the treat, I guess 🙂
So, this was Monday.  Back to my regularly scheduled life complete with messy kitchen, social media, backyard yoga, tap dancing kids and two leftover recipes from Sunday.  Life is not half bad 🙂  And now it's my favorite day of the week, WIAW!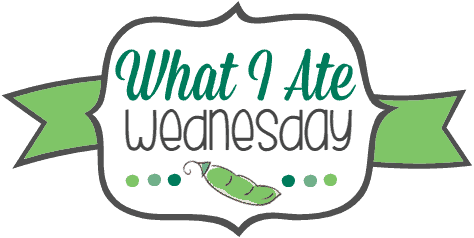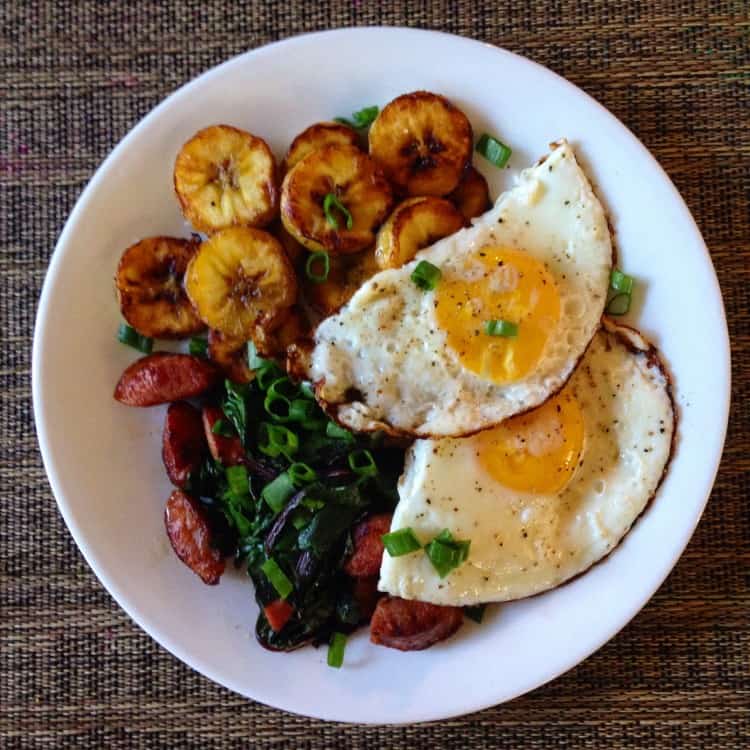 All good days begin with a run of 6 miles or more and a big breakfast.  I just sort of met that criteria today with a slow and tired 6 miles (darned sore throat) and this – ripe plantains, greens with Aidell's andouille sausage (must try!) eggs and scallions.  Everything was cooked in bacon fat but the bacon went to Diana.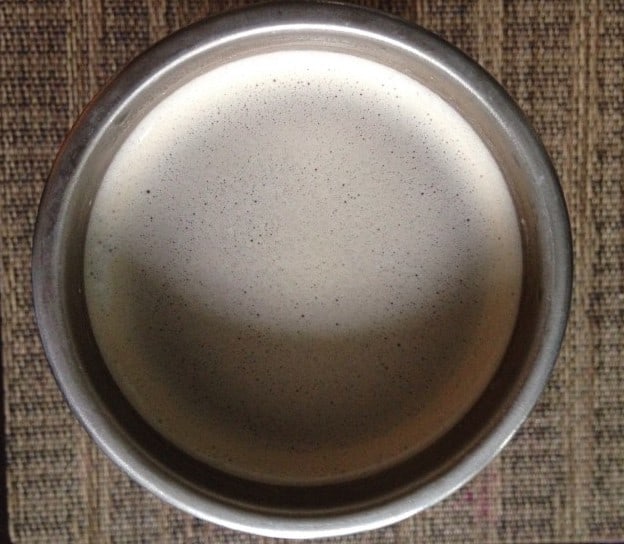 Oh you know, just my coffee.  Same old stuff, with full fat coconut milk and a touch of maple and vanilla.  You'd better believe this is yummy 🙂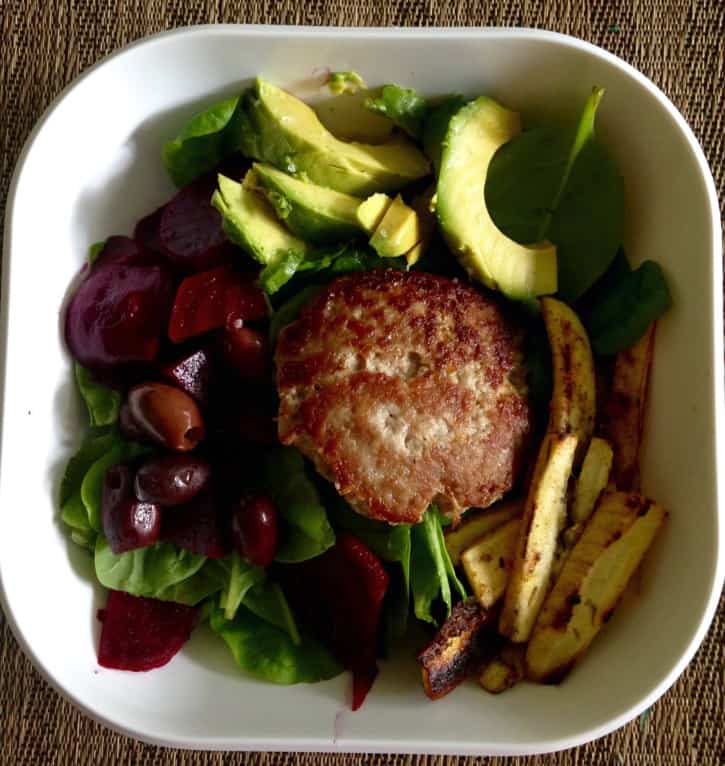 Had an interesting lunch with my girls.  Without Drew to distract us (he started camp today) they told me all about the boys they have crushes on, who has a boyfriend at school and who kissed, and lots of girl gossip about who's mean to who and who said what about who.  They are 6 and 71/2 and this is already going strong.   Imagine what I already wouldn't know about if I wasn't paying attention!
Anyway, here's what I ate while being entertained – spinach, beets (slow cooked) , a few plantain fries, avocado, kalamata olives, and a pork/lamb burger (froze patties the night before.)  My girls ate Applegate hot dogs with avocado, carrots, plantains (for Diana) and a cheese stick (for Emily.)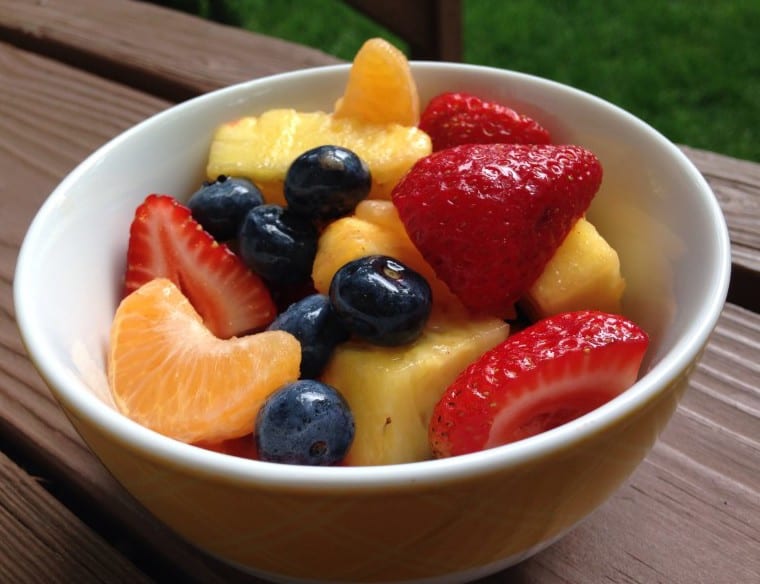 So maybe this isn't the ACTUAL bowl of fruit I ate around 3:30 pm, but it's all the same so we're going with this picture.  Couldn't resist another bowl of my Maple Citrus Fruit Salad!  Especially since I was typing up the recipe post while eating it.  Just perfect 🙂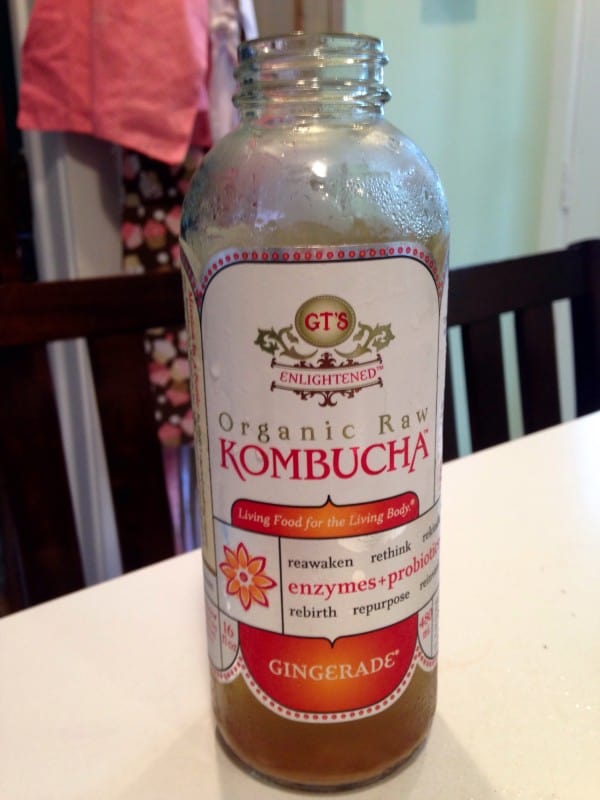 Don't think I skipped kombucha though.  Why would I do that?  This stuff is ever more delicious and refreshing in the summer in my opinion, if that's even possible.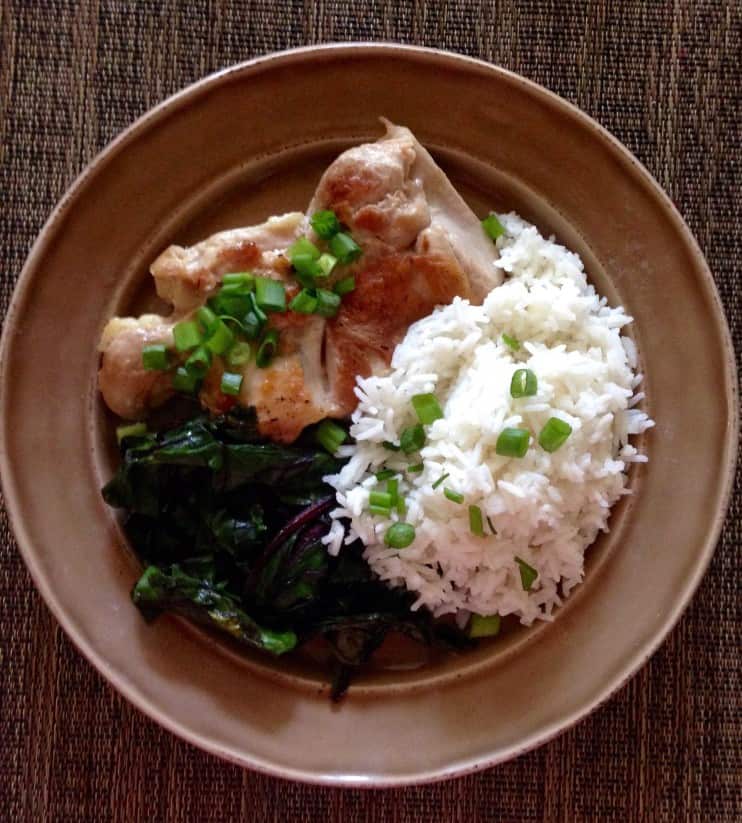 I'm adding white rice back into my carb-side-dish rotation.  It's not my favorite but it does mix well with so many foods, and with enough butter – I used Kerrygold
 – it's even tasty on it's own.  Plus nowadays my kids only drop 1/3 of their portions on the floor while it used to be a solid 3/4 😉  "FACE OVER PLATE" should just be tattooed on my forehead or put on my tombstone someday with how many times I hear myself say this.
And yes, rice is a grain, but as far as grains go it's the least irritating (the white) and doesn't make me feel off in any way.  Tonight we had it with chicken thighs, beet greens and scallions for the grownups and raw peppers for the kids.   Everything was cooked in that same yummy Kerrygold
🙂
Midway through eating my night time snack I realized I needed to take a picture, so this is really ugly.  But wait, here's a better one of the banana sunbutter ice cream pie: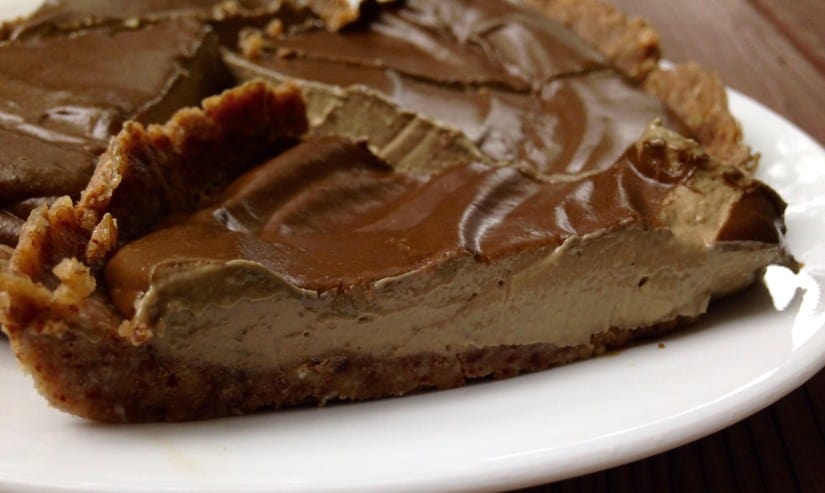 Yes, lighting is truly everything.  I revisited the failed sunbutter banana thing and struck gold this time!  The recipe will be up Friday.  Just pretend you didn't see the first picture 😉 So around 8pm I had a piece of the ice cream pie along with 3 or 4 squares (can't remember) of my Blanxart 82 % Chocolate
 that I bought in Seattle.  Definitely one of the best dark chocolates I've tried, might be my favorite but not sure.  All the Theo's
 I've had over the last week has really grown on me too!
What treats have you had lately?
White rice or brown?
Runners – what's your go-to for carb loading?