I don't always eat orange food, but when I do, it's apparently necessary for me to eat it at every single meal and snack all day long.  If it wasn't for my WIAW food selfies I don't think I would have noticed the orange trend at all, who knew?
This particular orange day was Sunday, sort of a lazy weekend day for me and by lazy I mean running, yoga, laundry, blogging, recipe creation, and grocery shopping, basically in that exact order.  At least it's not all that plus 2 kid birthday parties like it sometimes is.
I'll take a Sunday of standard routine plus chores over "events" and "activities" (that's with "air quotes" like Chris Farley) and I know that's probably not "the norm" but since I "have issues" this sort of thing "works" for me 🙂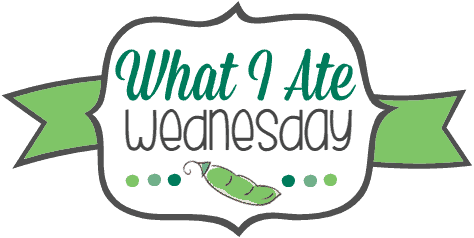 Let's start with breakfast.  I guess part of the reason I wound up eating a lot of orange is that I bought 5 orange sweet potatoes on Friday because they were on sale for like $.59/lb or something and heck be darned if I pass up something like that.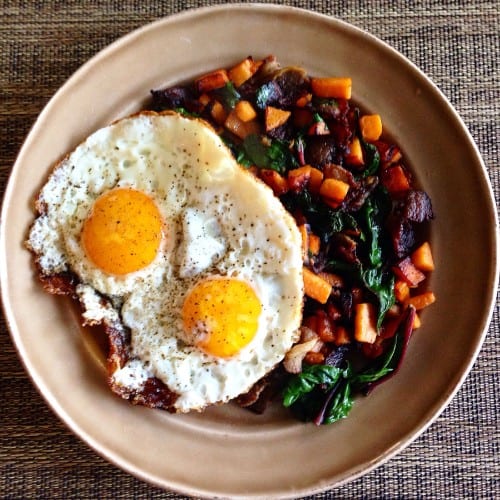 I'm still working on my beef bacon from US Wellness Meats  (it's so different from pork bacon but so freaking good) and paired it with chopped sweet potatoes and red chard alongside crispy eggs.  I love that cooking any kind of bacon means using the rendered fat for every other part of the meal, bacon fat is the multi-tasker of all time!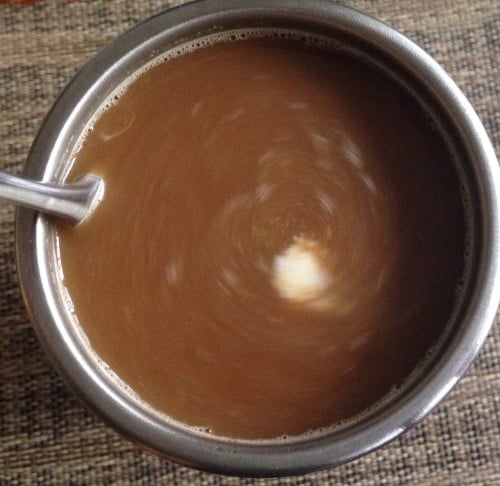 After breakfast I had coffee.   I can't lie – the picture above is not the actual cup of coffee I had on Sunday, but just a visual of the exact same mug so you get the idea.  There was actually no picture taken of my coffee on Sunday and I know what you're thinking about that.  How could I, a blogger who blogs nearly daily, forget to snap a picture of this  precious-ly blog-able moment?  Nobody's perfect.
Fun fact: I always stir my full fat canned coconut milk into my coffee and haven't changed anything about that routine for about a year and a half at this point.   Okay fine, not fun but nonetheless a fact 🙂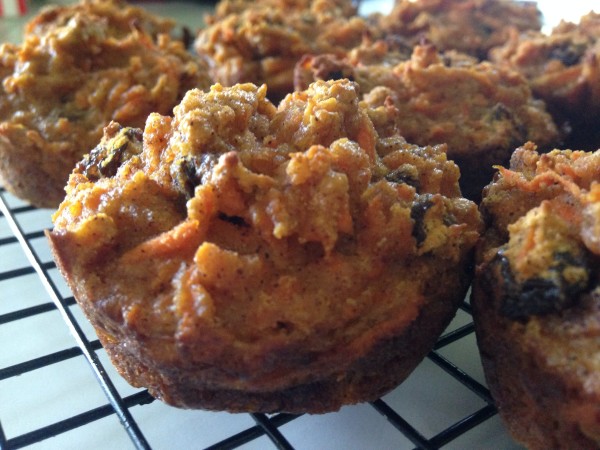 After coffee and blogging I worked out these carrot raisin muffins, ate one, had my daughter eat one, and I was mostly happy but not thrilled.  I did a "remake" this morning and in my opinion it was a bit better than the first try.
I go a little bit insane with recipe creation and testing, especially my baked goods because tiny variations can make very big differences.   Anyone else get super tense about recipes?  I think I get recipe FOMO and wonder if there's something else I could do to make it better, and how will I ever know?  I have to pull myself back and follow this rule – if I, Adam, and at least one of my kids actually wants to eat it twice in one day it's probably fine.  I can normally follow that, but, with these muffins I wanted another shot.  Just one more shot and now I'm good.
P.S. In case you're counting this was orange food #2.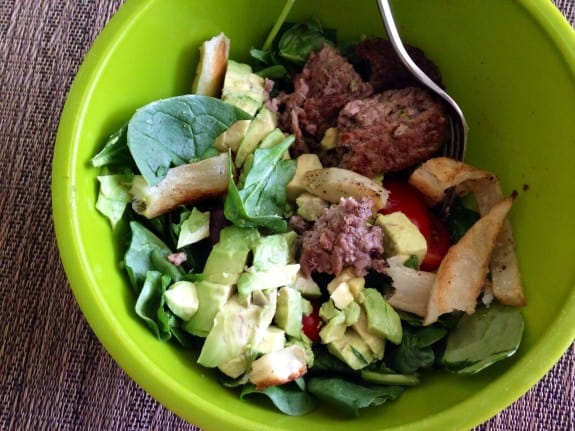 Oops, I actually didn't eat anything orange in my lunch.  In fact let's just skip over my lunch because the picture is too ugly and half-eaten looking.  Probably because it was half eaten by the time I took the picture.  Quickly though it was a lamb burger that looks like it was beaten with a stick fork, along with leftover white potato fries which I desperately tried to crisp up in the oven with very little luck, half an avocado, grape tomatoes, and baby spinach.   Moving on.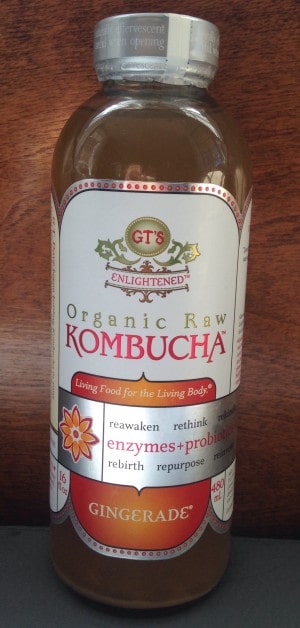 Kombucha came next.  I guess this is also back to the orange, it's sort of orange-ish right?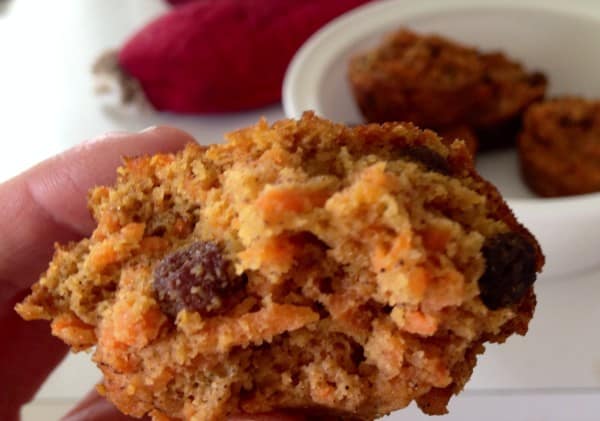 And yes, I had another carrot muffin around 4pm.  This time I took a super closeup picture of the actual muffin I ate mid bite for your viewing excitement.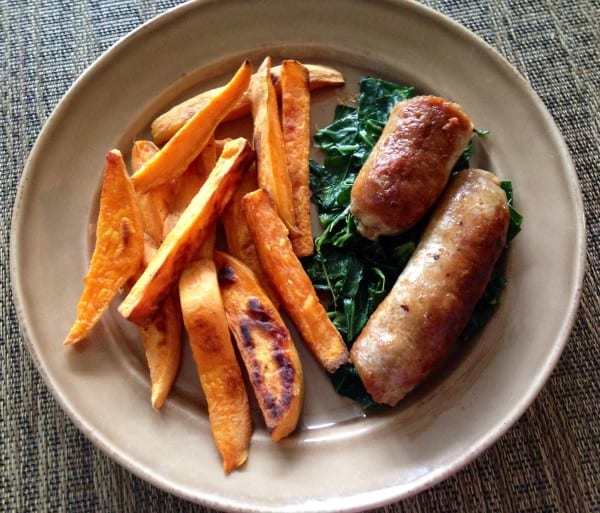 I made dinner, but I kind of messed up my sweet potato fries, or at least the timing of them.  I gave everyone else the crispy ones on the edges of the pan and I took the mushy stuck-in-the-middle ones.  I think I've said this before, but I don't give my family the good parts because I'm a nice person, I do it to avoid hearing complaining which drives me to a place no mommy likes to go.  I will take mushy sweet potato fries over a nervous breakdown most days of the week.
Also had sweet Italian pork sausage (no added sugar or chemicals, store made) and sauteed collard greens.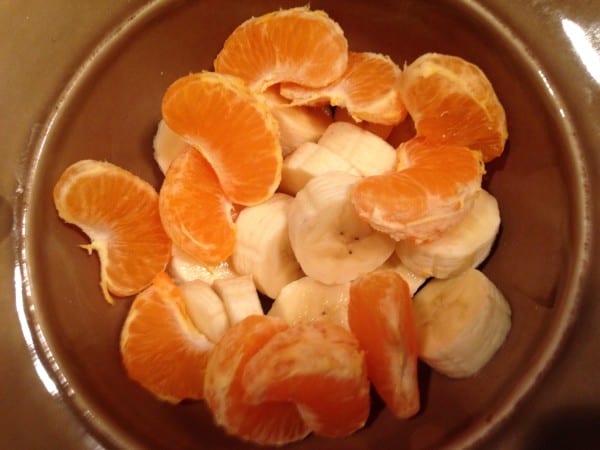 Let's end the day with even more orange food now since we're on a roll.  Whenever I pair oranges and bananas, which is often, I think of that dumb knock-knock joke that ends with "orange you glad I didn't say banana."  My head is filled with a lifetime of memory tidbits for practically every mundane happening over the course of the day, anyone else?
Hope you enjoyed my food and ramblings.  I've said it before and I'll say it again – WIAW is my most fun blog post to write all week.   Be safe, stay calm, and eat orange.  But maybe not all this orange food in one day.
What's your favorite orange food BESIDES sweet potato? (I was going to say sweet potato)
How many times do you test a recipe before deciding it's done?
How do you deal complaints over not liking dinner? (kids, husband, whoever)