Well hey there! Is it hotter than Alec Baldwin's Schweddy Balls where you are as well? Is it honestly too much to ask to just want to not sweat through 90% of the day? Too much, too much I know. So, it's Wednesday and it's time to hide behind the peep hole that is the entire internet nowadays and stalk what all the cool cats ate for one day. Or at least whatever they decide to tell us. I'm not knocking it because once again I'll be joining in. So everyone throw your leg over your high horse and get ready to judge. It's just too easy and fun sometimes 😉
For this #WIAW I'm going to share a day of food that was pretty out of the ordinary for me in a lot of ways. Although the day was all technically paleo food the balances of my meals were off for a few reasons. The first was that I ate a sauce out at a restaurant the night before that I'm 99% sure had flour/gluten in it and my stomach was pretty iffy the whole morning, and, as it turned out, for a couple of days after I ate that darned sauce. I normally tell them I'm strict gluten-free, but forgot to and then didn't feel like sending the food back. Lesson learned. FYI, this was also a rest day, although I didn't really rest at all since we were on the go, but I wasn't thinking about refueling, drinking water the way I normally do.  I was also still not caught up on sleep from our trip, and overall was just not feeling like my usual, sort-of rested healthy-ish self.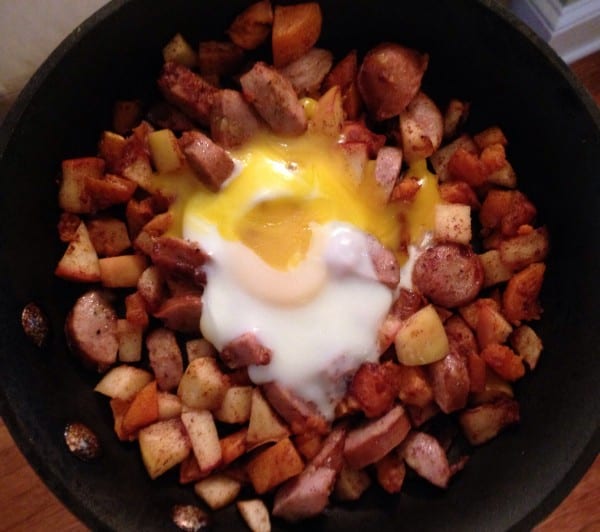 I started the day with a sweet rather than savory breakfast at about 8am.  I had had dessert the night before which is rare, a coconut milk based dessert but heavily sweetened, and so that seemed to get me craving a sweet taste the next morning, even though my stomach wasn't feeling great.  I made a hash with pink lady apples (no skin) sweet potatoes, chicken apple sausage, and an egg.  Sweet but definitely not too sweet – this hit the spot.   I followed it up with coffee with coconut milk, although I probably drank only half the cup.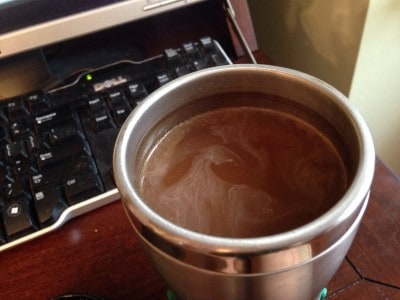 We had plans to go out to Long Island to visit with my parents and do some back-to-school clothes shopping for the kids.  I was rushing to get out the door, and packed food for the kids to eat in the car plus this salad for myself.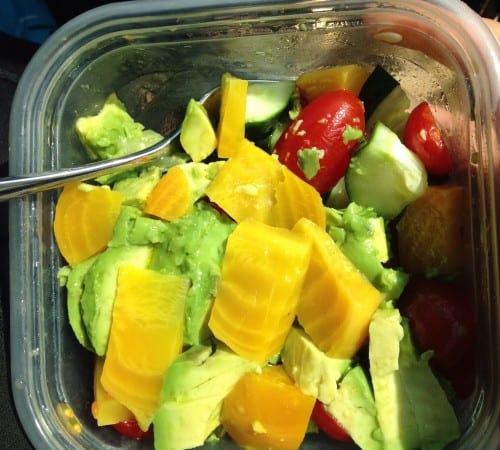 This salad was fine except it was lacking a protein source, I just didn't feel like my stomach could handle anything much heavier at the time.  It consisted of a whole avocado, half a cucumber, a roasted golden beet, grape tomatoes, and topped with olive oil and lemon juice.  I ate this in the car at about noon. While we were shopping I realized I was starving, so at around 3:30 I ate this Lara Bar brought from home.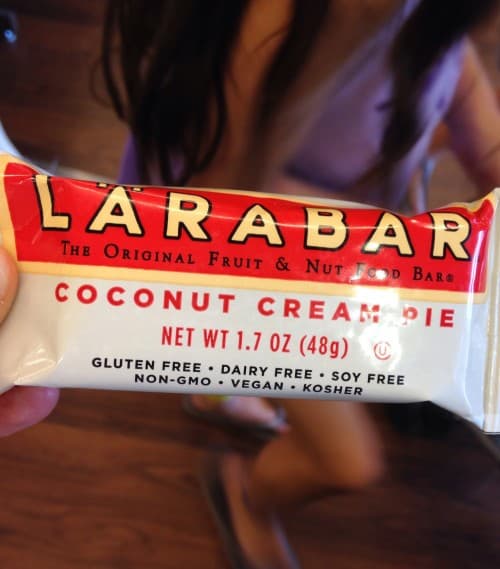 It was really hot outside and we were shopping at an outdoor outlet mall, so between the heat and shopping I was wiped out by the time we were done.  We headed back to my parent's house for a few minutes before going to for an early dinner with the crew.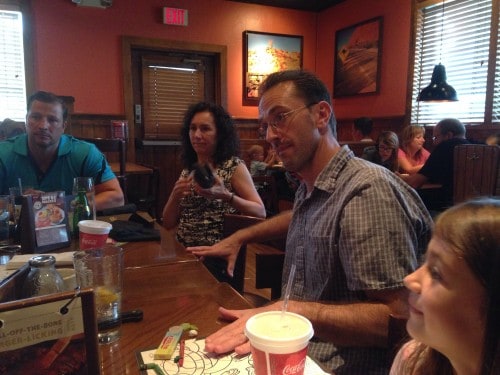 From people's reactions it looks like something important is being said, but who really knows with us.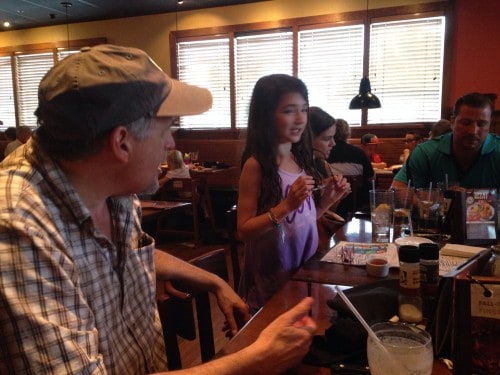 Looks like it's my daughter who's saying the important thing. Here was my meal: the best I could do, it was fine but nothing special.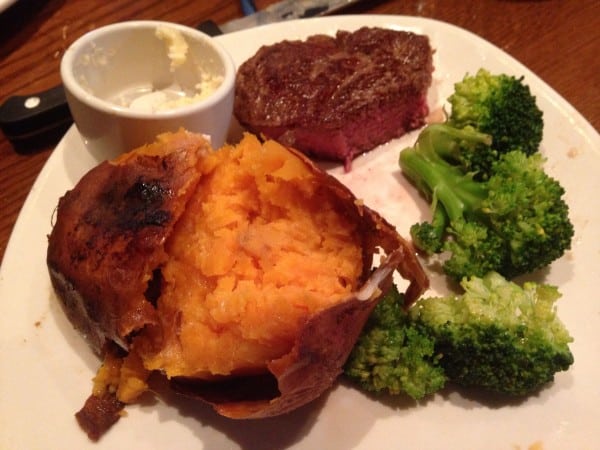 I was starving by now and almost forgot to take a picture so this is halfway through – delightful, I know.  Steak, broccoli with butter and a sweet potato with butter.   I'm usually okay with butter but who knows because I didn't feel great for another day after this.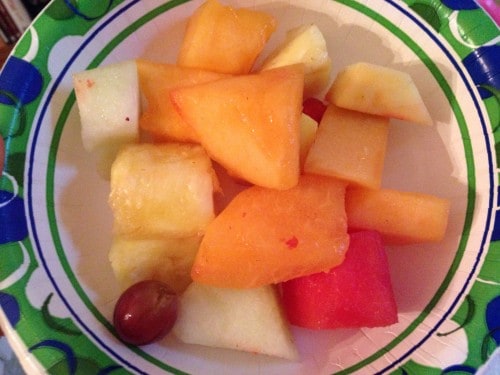 I skipped the chocolate cheesecake everyone else ate back at my parent's house and stuck with fruit salad.  I had another small serving after this and also a half cup of black coffee.  I never usually have coffee past 10am but it was getting late and I was exhausted so went for it.
We started heading home at about 9:15 (it's a little over an hour to drive home) and I started getting hungry in the car so had some trail mix brought from home: almonds, raisins, cranberries and a few sunflower seeds.  Not my favorite taste or digestive wise but it worked for the moment.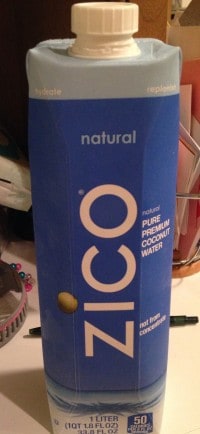 At home I had some coconut water before bed.  It definitely seems like the more I eat sweeter foods the more I crave a sweet taste.  No new discovery there but since I usually don't eat too many sweets I sometimes forget how that works.  Also, although I drank a bottle of water in the afternoon (not pictured) I felt that I was under-hydrated for the day which might have also contributed to wanting a sweet taste. I went to bed way too late, slept poorly, and ran early the next morning.  In terms of self-care, this was not remotely a good day for me but spending fun quality time with my family more than made up for any damage done.  Now that we're all getting back in a routine to prepare for the kids starting school, I'm feeling much more like myself, and my digestion seems back to normal as well.
How do you make healthy choices for yourself when you're away from home?  How does consecutive days of poor sleep affect you?   What do you do to get back into a routine after a week being completely off?