Hello!  And welcome to WIAW – a food journal in pictures that happens once per week (Wednesdays!) in my world 🙂  I usually present some sort of "theme" for the week and today it's all about getting back to normal.  Well, sort of.
When I say "normal" I'm referring to Paleo and low FODMAP eating with minimal added sugar – which seems to be the only way to really keep my IBS symptoms controlled and not ready to randomly make 2 days of my life miserable.
I think because I'm not training for anything, I allowed my diet to slide a bit since the Boston Marathon.  I started sneaking in garlic, onions, spicier foods, more sugar, more wine, etc and unfortunately learned a couple of times this past month that being more "boring" with what I eat is ultimately what I need to do to feel healthy.
So, I've been a lot more mindful about my choices and I definitely feel the difference in a positive way.  Marathon training or not – this is how I have to eat!   So now, I present to you my food on Sunday, July 3.
WIAW Back to Normal (Sort of)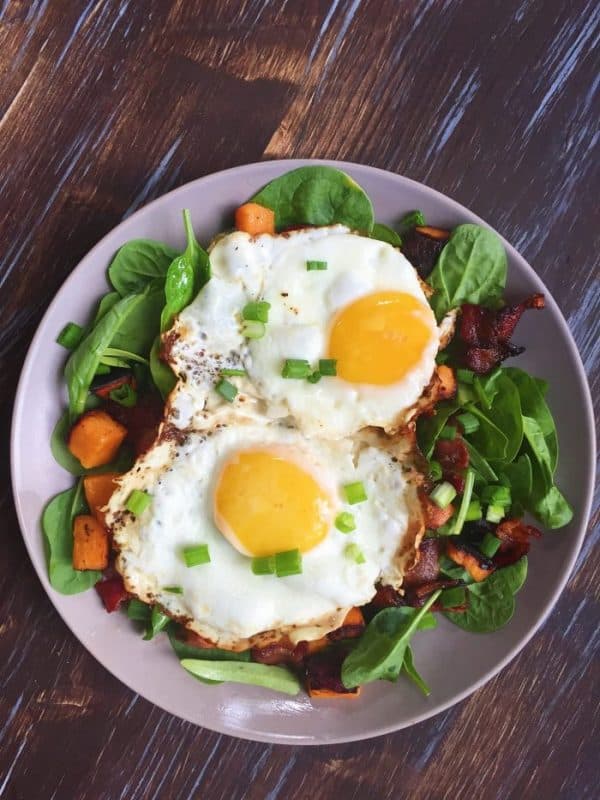 Breakfast: If you're looking into eating low FODMAP, I recommend you get real nice and cozy with chives and scallions.  GREEN ONIONS 4 LYFE #lowFODMAP.  I kid you not.  There are things I haven't yet tried, such as garlic infused oil which is low FODMAP friendly, but for now, fresh chives and green onions and a good dose of sea salt really help flavor my food!
Crispy eggs, bacon, and sweet potatoes don't hurt either – just saying.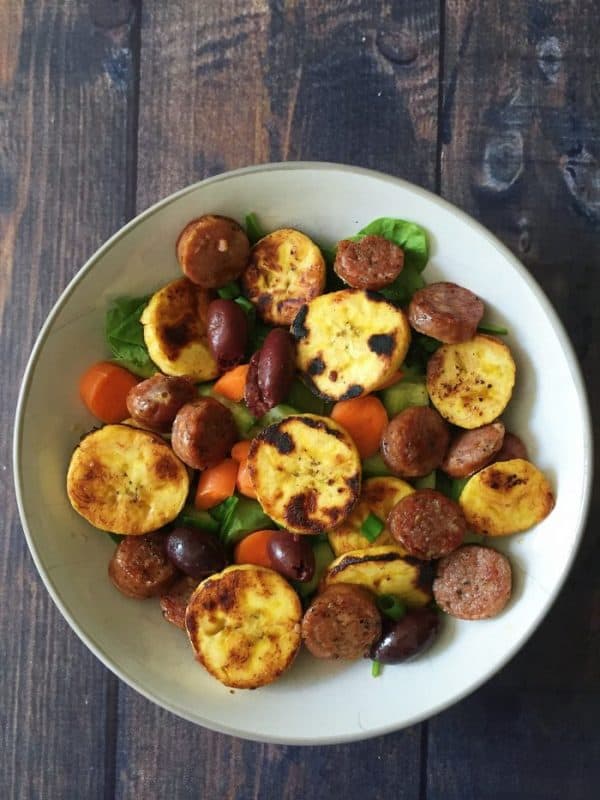 Lunch: For those of you who may be new readers, you should know that I put kalamata olives in my meals whenever I can get away with it.  Seriously, they just randomly appear on plates and bowls because, once again, they add a great punch of flavor and I have no issues with them.
I also have spinach, cucumbers, carrots, grilled plantains and pork sausage in my bowl.  Definitely a few random vegetables in there based on what was left in the fridge.
Cookies!  Specifically, my Ultimate Chewy Chocolate Chip Cookies.  I made a double batch Saturday morning (pictured here) to bring to my parent's house, and, heck yes – we brought home the leftovers.  I left my dad with 2 pints of cashew milk ice cream so I got to keep the cookies 🙂
Anyway, the kids, Adam and I finished them off no problems by Sunday night.  I had one and a half I believe.
Not pictured:  An afternoon homemade kombucha that was newly bottled and not flavored.  Sometimes I actually crave the really tart unflavored ones.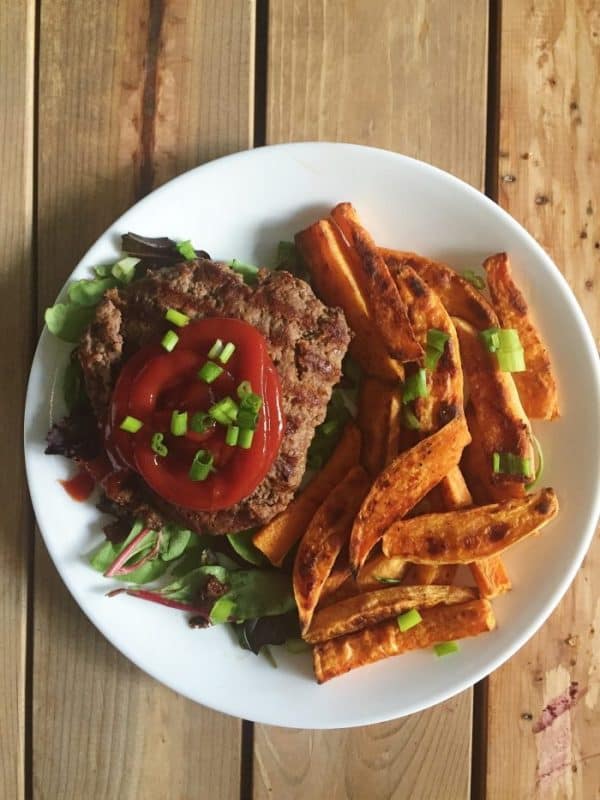 Dinner: We grilled twice this weekend – which is my favorite possibly only because Adam cleans the grill!  Typically I cook in cast iron pans which I don't really encourage him to clean since I have a specific method.  The grill is all his though, even though I still do the cooking on it.
I had a simple grass-fed beef burger with ketchup (not low FODMAP, just store bought organic) with greens and roasted sweet potato fries.  I've yet to attempt sweet potatoes on the grill!  I'll definitely give it a try this summer.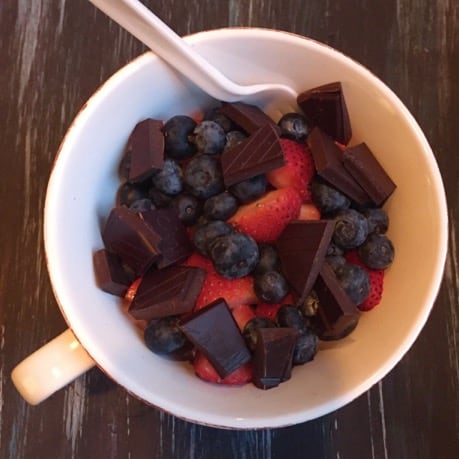 This was the first night in possibly 2 weeks that I didn't have homemade ice cream in the freezer.  Therefore, I went back to my usual berries and dark chocolate.  Of course berries and chocolate are really yummy, but  I missed the ice cream!  I know I said that I'm planning to try out another recipe or two and it's on my to-do list this week.  Now, I just have to narrow down what flavor I want to try out.
What did you eat over the holiday weekend?
What's your all-time favorite ice cream flavor?
Are you in "back to normal" mode this week?