Long run Saturdays are back, for now.  Aside from my kids not getting Saturday morning bacon and pancakes, this means one thing – you will likely see more than one WIAW post focused on what I refueled with after my long run, Paleo style, as usual.
Exciting, no?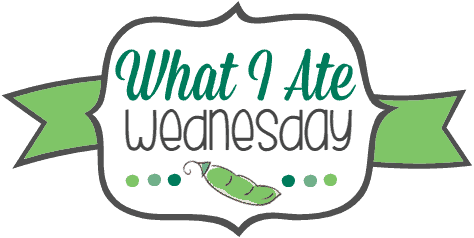 The funny thing is – though the number one question I'm asked by readers is how to fuel for marathon training while eating Paleo – I do not actually think I eat much differently when training versus when not training.  An extra meal here and there, made up of mostly the same food I ate at the last meal, plus an extra treat if I'm shooting a dessert recipe.
But really, those things seem to happen whether I'm training for a marathon or not.
Truthfully, I don't give much actual thought or planning to what I'm going to eat as it pertains to training, and it seems to serve me well.  If I were to analyze my intake (which I won't be doing anytime soon) I'm sure I'd see myself consuming more of everything throughout the week – not just on one particular day.
It wasn't always this way, of course, in the beginning I had to figure out what I needed and when.  Now – over two years and 3 marathons later, eating/fueling/refueling with real food is second nature.  Let's take a look at my first long run day!
WIAW – Long Run Saturday Paleo Style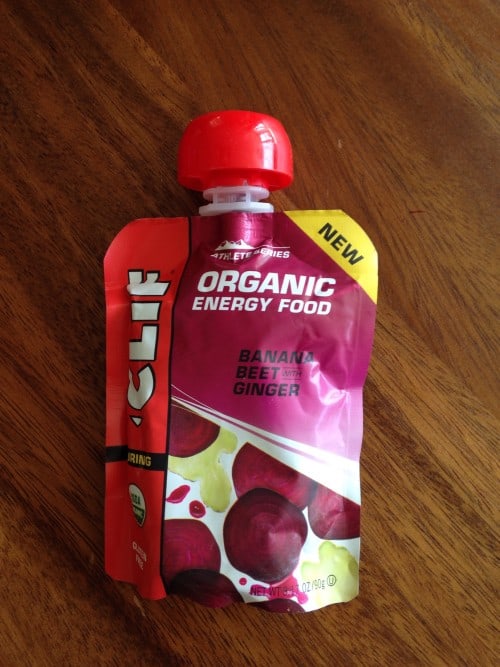 Sometimes I eat a banana before a long run, but I wasn't hungry at all when I woke up, so I skipped it, knowing it doesn't seem to affect me either way.
I still have a few of these Clif Organic Energy Food pouches left over from my NYC Marathon training (and the race itself) so, despite what I felt like during that race, I brought one along for my 13 miles and had it right around 5-6 miles.  I sort of sipped it slowly hoping I'd digest it better that way.
I experienced a little bit of heartburn, but nothing that affected the run.  Despite eating probably 95% "Paleo", I'm a big believer that when it comes to long run fuel – just do whatever it takes to feel your best!  Whatever that means, it's most likely the healthiest thing for you.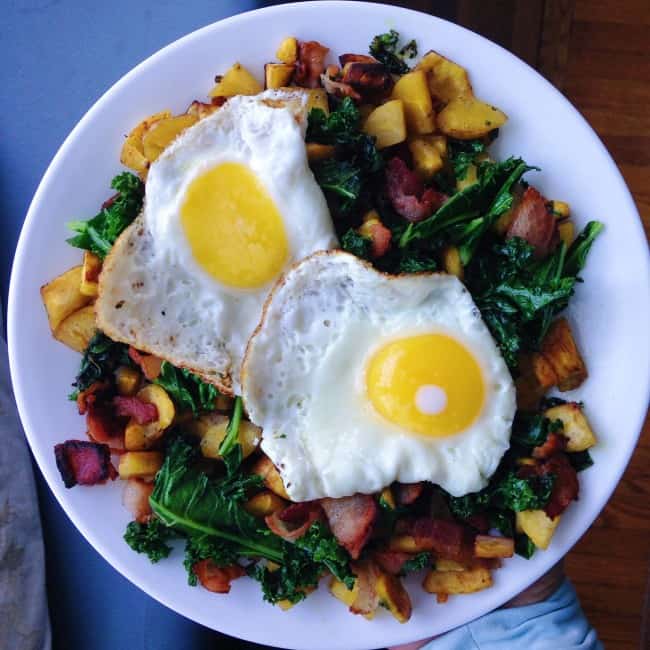 There are some days when I crave a breakfast that's 100% savory/crispy/salty – you get the picture.  Those days are most likely a longer or harder run day.  I decided to make a hash with green plantains, bacon, and kale – all cooked together for the ultimate crispy hash!  Topped with two crispy eggs, of course.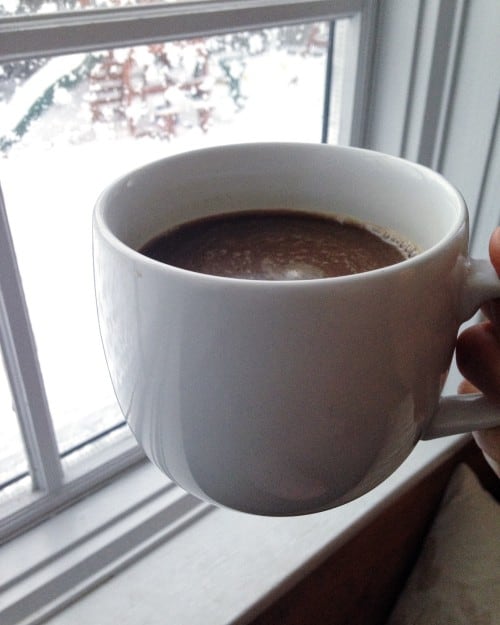 I showered and had coffee while starting an older recipe I planned to take some new pictures of.  I like making treat recipes on the weekend if I can, since it doubles as being a "fun mom."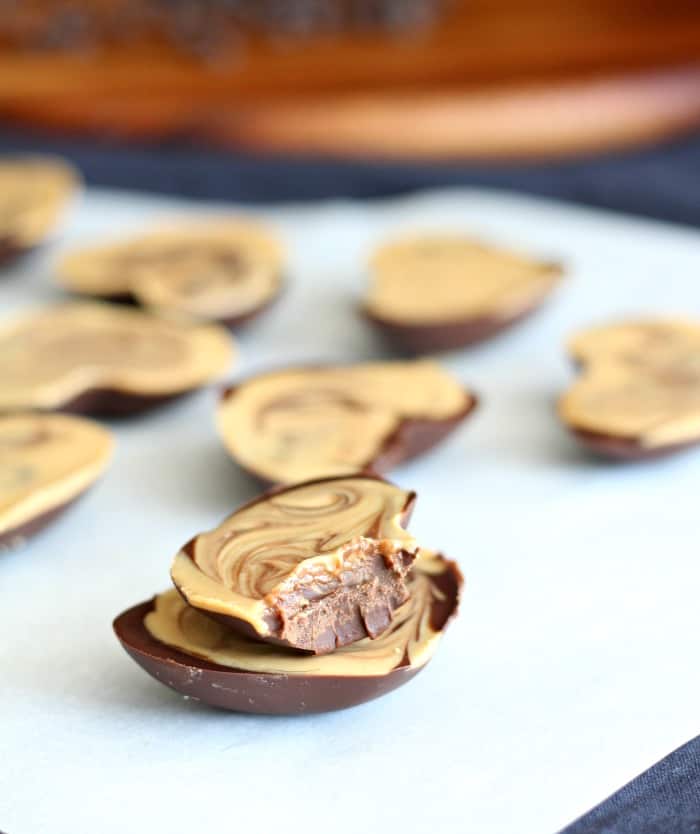 Have you seen these Chocolate Cashew Butter Candy Cups?  They're heart shaped for Valentines Day!  I made them last year and the pictures were absolutely terrible, so the post got a little makeover this past weekend.  In the meantime, I ate one of the hearts during/after shooting.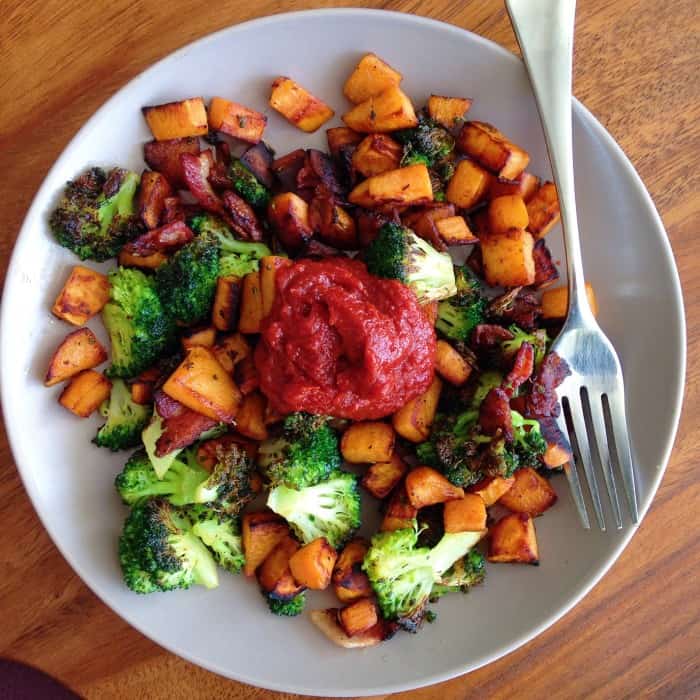 My Maple Chipotle Ketchup was still going strong as of Saturday, so a big dollop on my lunch was totally necessary.  I think you've seen this before – it's sweet potatoes, bacon, and broccoli – once again all cooked together in one pan.  One pan meals have been my thing lately with breakfast and lunch.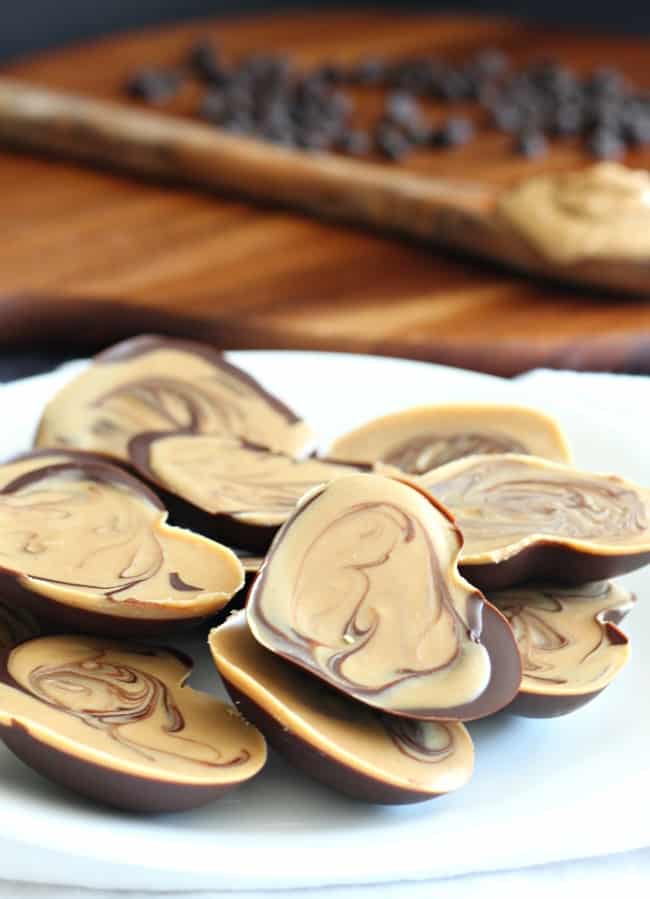 I had another one of the Chocolate Cashew Butter Cups at some point in the afternoon (post haircut refuel?) along with tea.  I had a headache most of the day, I think as a result of a long run in the cold plus my headlamp – something that seems to happen from time to time with winter training.  Anyone else get this?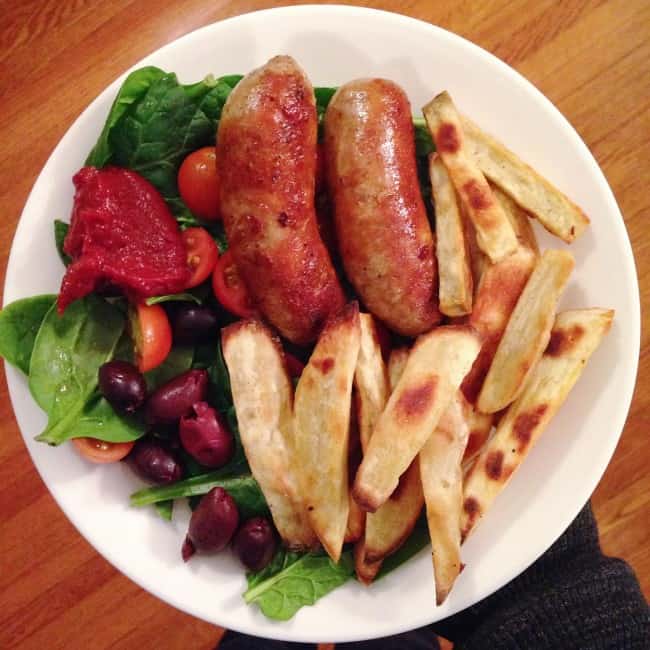 I'm sure you've seen this dinner before!  I feel like I make it on the weekends quite a bit – it's my family's favorite sweet Italian sausage made by our local store, with roasted Japanese sweet potato fries.  Also on my plate is spinach, tomatoes, olives, and more maple chipotle ketchup!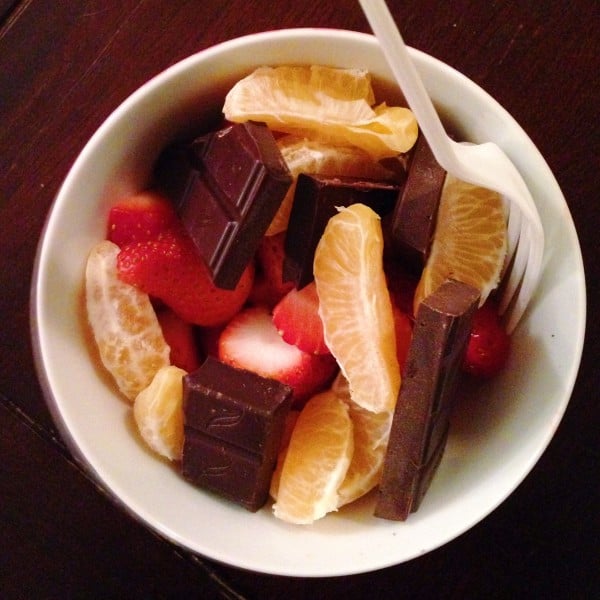 Yes – I think this is the same picture from last week, but, this has not changed and will not be changing anytime soon.  My go-to bedtime snack/dessert with strawberries, a mandarin orange, and my favorite 85% Green & Black chocolate.  Sometimes if I'm craving it I'll throw a banana in, but I was pretty full from dinner, so, this was perfect.  I had herbal tea along with it, no picture.
Are one-skillet/pot meals a thing for you?
What's your favorite post long-run meal?  Or a meal you crave later on?
Ever get a headache after a long run in the cold?