Well, hello.  Yup, it's me again telling you all about what I ate on some random day.  Blogging is such a strange thing sometimes.   
On this particular day-in-the-life, it was a Saturday, I had a 14 mile run scheduled that I planned to do fasted (read why in my post on glycogen depletion) and the friendly people at Healthy Skoop had just sent me a large bag of their plant-based protein powder to try out.  It just felt like a WIAW in the making.
So, I started my day at 5:45 am with nothing but water on my back and compression sleeves on my legs.  And I ran.  It was fine, pretty humid and not so amazing like last week, but nonetheless I was happy to finish.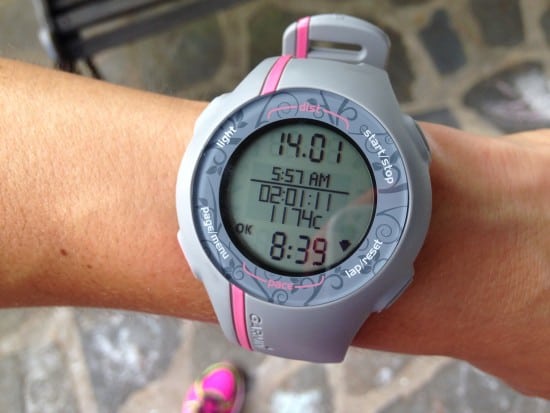 When I got home I was starving and made a smoothie.  Now I don't usually drink smoothies – not sure why, maybe laziness? – but this was a good time to try out Skoop B.  So in my smoothie went a small banana, some frozen strawberries, about a cup of coconut water, and 2 scoops of the Skoop B.  Now it is not strict paleo because it contains pea protein and brown rice protein, but it is soy, dairy, and gluten free making it A-Okay in my book (or really my gut.)
According to the company the B Strong formula has a complete profile of amino acids, lots of antioxidants and a full compliment of vitamins and minerals.  Definitely check them out for more info at healthyscoop.com, Twitter, and Instagram.
The taste was good, vanilla-like and not what I would consider chalky or grainy.  I genuinely liked it and I'm not used to protein powder.  My two younger kids insisted on trying it and they enjoyed their sips as well.  Plus my husband approved of it.  I'll definitely be including it in a new post-run recovery smoothie routine now.  It totally kept my hunger in check for 45 minutes while I stretched and made my breakfast!  Plus, it's worth noting that I didn't experience any digestive issues at all after having this, it seems very "gentle" and digestible, good things for me after a run 🙂
Around 9am I finally ate a full meal:  A plantain sliced and fried in coconut oil, kielbasa sausage also fried in coconut oil plus sauteed kale and an egg.  Plus I had to have coffee with coconut milk like I do every day of my life.  Getting a good picture of my coffee is one of my long-term life goals.  I'm definitely not there yet.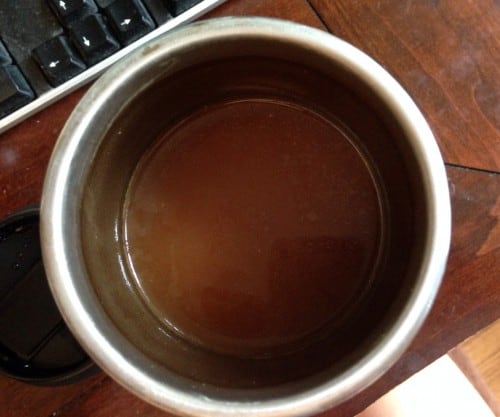 I remembered I was defrosting a turkey tenderloin and wanted to use it for lunch.  Since we had leftover pesto and homemade mayo in the fridge, I made a salad with the cooked turkey meat in a pesto-mayo and put it over baby spinach, grape tomatoes and raw jicama.  It was DELICIOUS and different.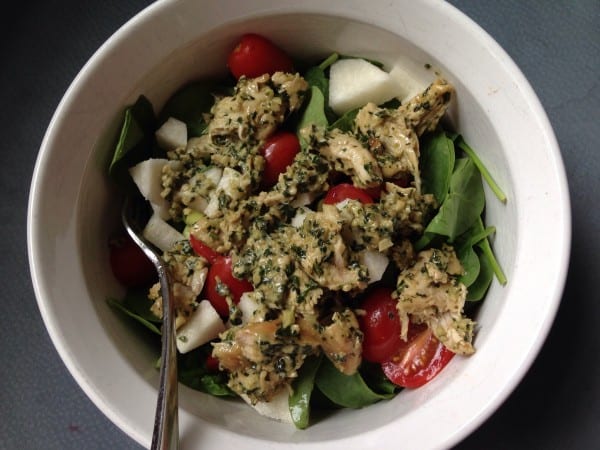 Then we did all sorts of wild weekend fun activities.  Either that or dragged the kids to our local running store to buy a new foam roller and gels for me and new shoes for my husband.   It was the highlight of the day for real, and that's totally fine with me.
When we came home it was snack time for me, so I had a sliced banana, plum, and broken up Lara bar all in a fun little bowl.  Plus a kombucha because I'm a little hooked on those things.
Dinner was simple and delicious:  A chili-spiced grassfed beef burger with avocado and sweet potato fries, over a little salad.  After I took the picture I also put some Sir Kensington's Chipotle Mayo on it (which is awesome and you need to try!)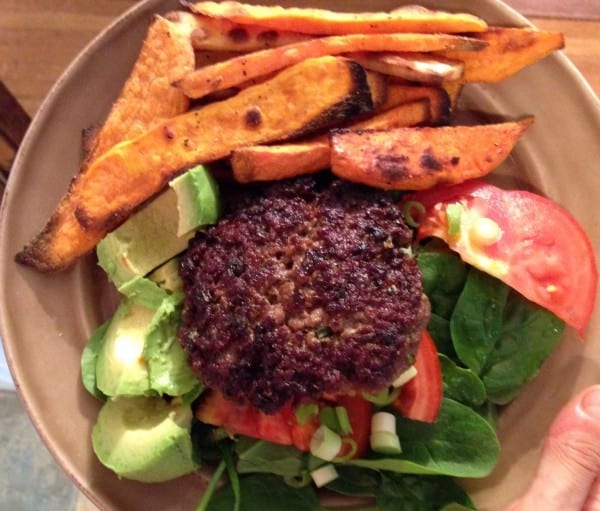 After dinner I had a whole lot of coconut water, mainly because I just really like it and had it in the fridge.   It never lasts long, especially on a long run day.  Before bed I had more coconut water plus sliced peaches and strawberries.
And that was it.  Hope you enjoyed my food as much as I did!  I know, that's silly and impossible.  Just making conversation 🙂
Do you use protein powder as a part of your fueling or recovery routine?  What's your favorite one that you've tried?