Having my long run day on Sunday this past week sort of threw me off – I kept forgetting later in the day that I actually ran at all in the morning!  Sundays are typically total rest days, so I found myself going up the stairs with laundry and wondering why I felt like I was dying.
Sort of like the runners equivalent of looking all over for your phone when it's in your pocket (or hand.)  I probably wondered 5 times on Sunday why my legs were so fatigued/tight on a rest day before remembering (happily) that it was because I ran 13 miles that morning.  Right!  Well then with that new information, I feel spectacular.  Now please pass the fudge.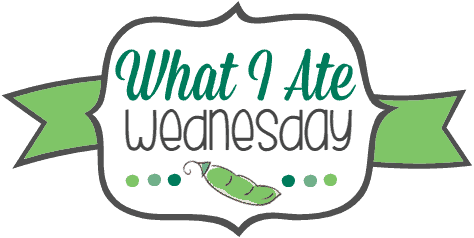 And on that note, it's WIAW so let's look at what I ate on Sunday, before, during, and after that run.
WIAW Long Run Day and The Best Fudge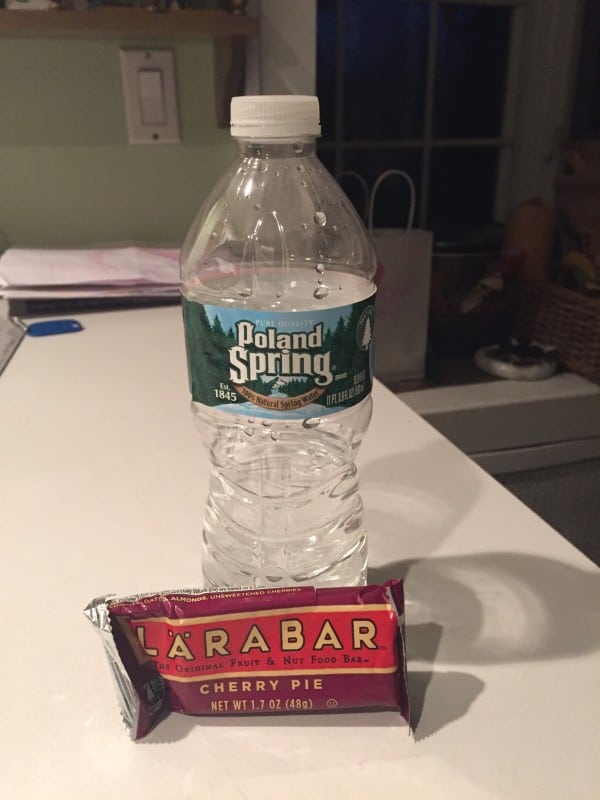 Pre-run and run – I'm not typically hungry prior to running but I felt like I needed something this morning.  I wound up breaking this cherry pie larabar into three pieces and eating one prior to running (with about half a water bottle) and taking the second two pieces with me on the run for fuel.
I just rolled up the wrapper, put it in my pocket and went on my way.  I had part of it around mile 5 and the last of it around mile 10.  No heartburn or stomach issues!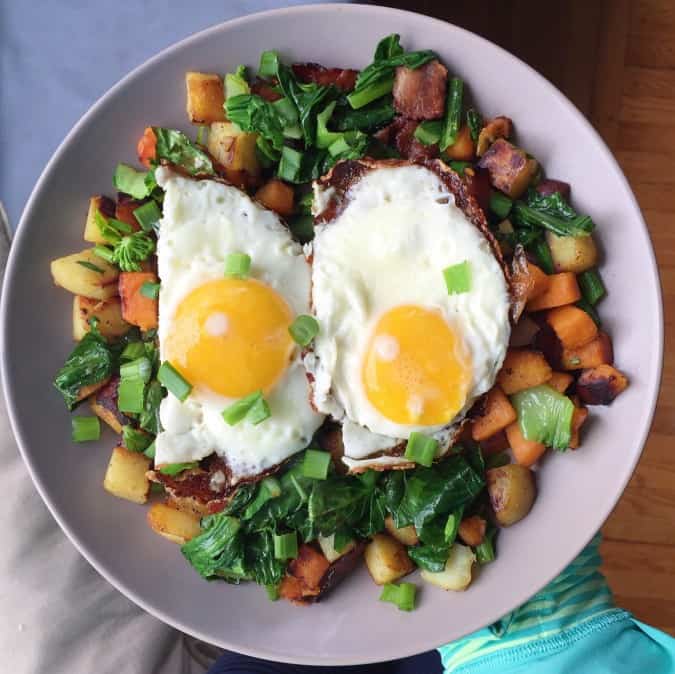 Post Run Breakfast – Even with the larabar I was still pretty hungry as soon as I got home, so before showering or anything I made this – sweet potato bacon hash with baby bok toy and chinese broccoli topped with 2 eggs.  The sweet potatoes were already chopped and I cooked them covered with the bacon – done in 10 minutes.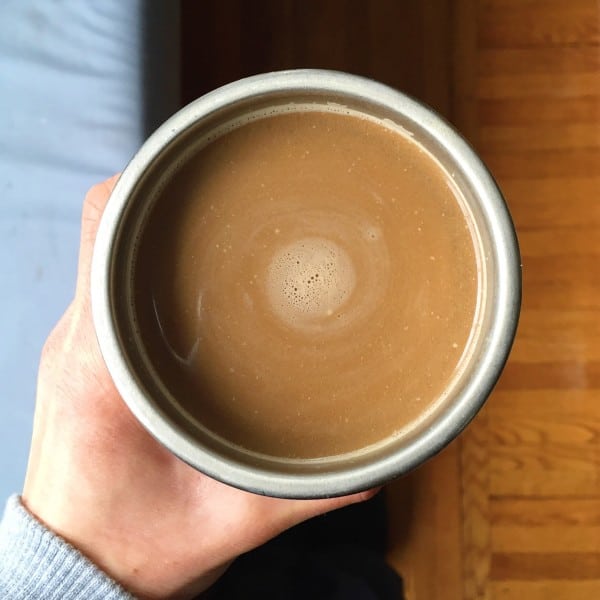 Post-shower coffee – My typical coffee with thick creamy coconut milk.  Coffee after shower has become my long run routine lately.  You have to shower at some point, right?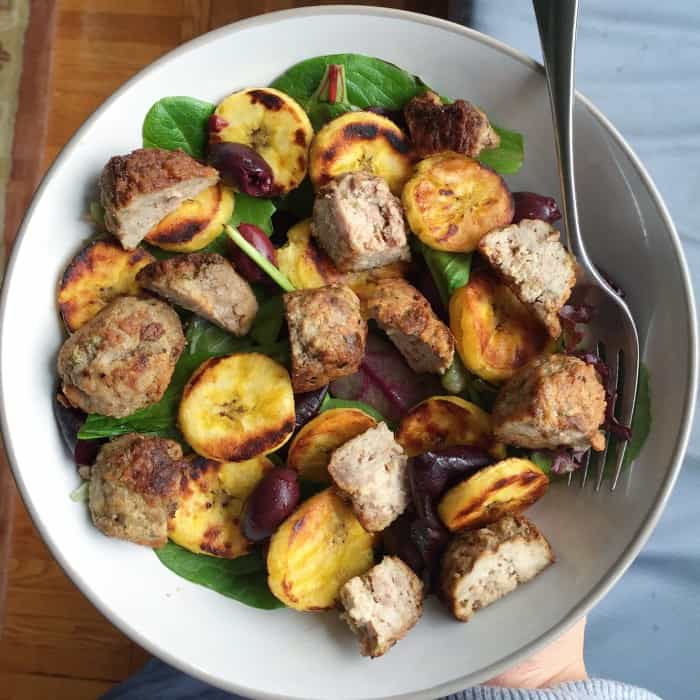 Lunch – Leftover sausage-meatballs (made from pork and beef and seasoned sort of like sausage) with sweet plantains, olives, and fresh mixed greens.  With leftover meatballs the only thing I had to do was fry the plantains – awesome 🙂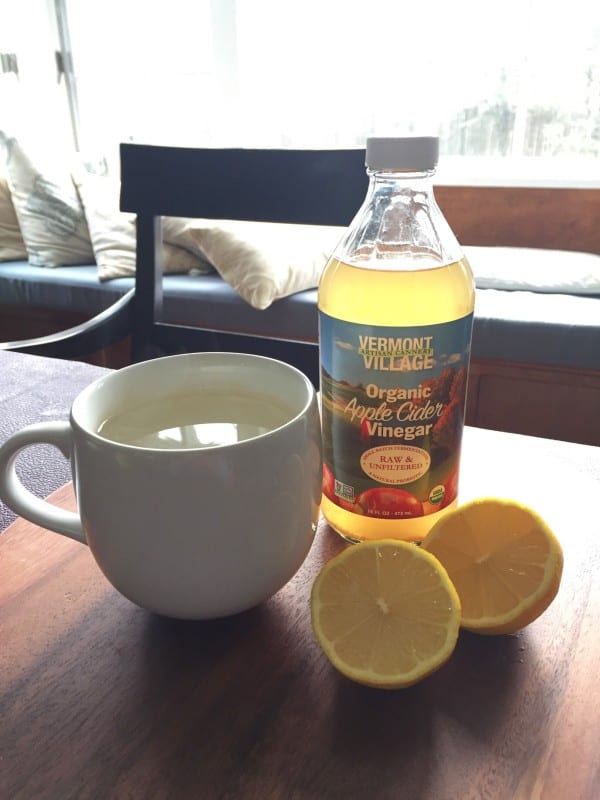 Since I had no kombucha around (and haven't recently since my current batch is taking forever) I decided to make a warm drink with lemon juice and apple cider vinegar.  Because it's supposedly healthy and I actually don't mind drinking things that taste like vinegar.  Maybe it's from years ago when I drank concoctions like this to help my vocal chords for singing, but vinegar and lemon seems healing to me!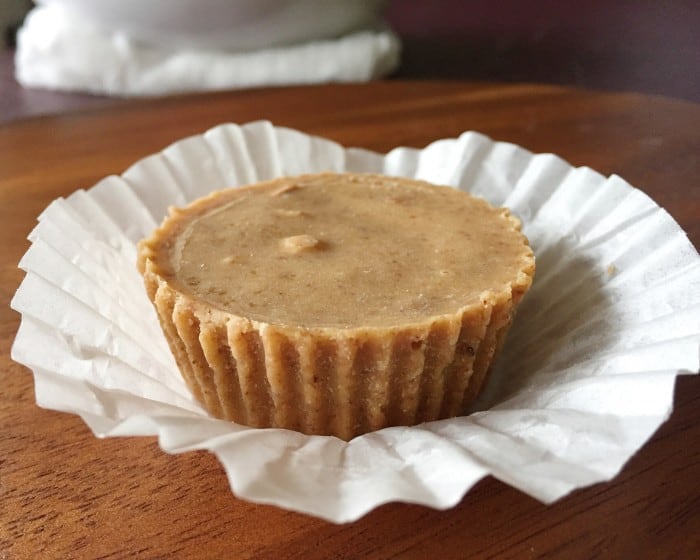 The best fudge, ever.  ACV is great and all, but dang, it's not fudge.  Not even in the same category.  It's like comparing vinegar to fudge, literally.
Anyway, I made this honey almond fudge, and, it's incredible.  It's easily the easiest fudge I've made (yes, double easy) but according to Adam it's also the best dessert I've made, ever.  He's a "live in the moment" type though so I'm not sure we should take him totally seriously on that one.  Still, it's delicious, and the recipe will be up Friday!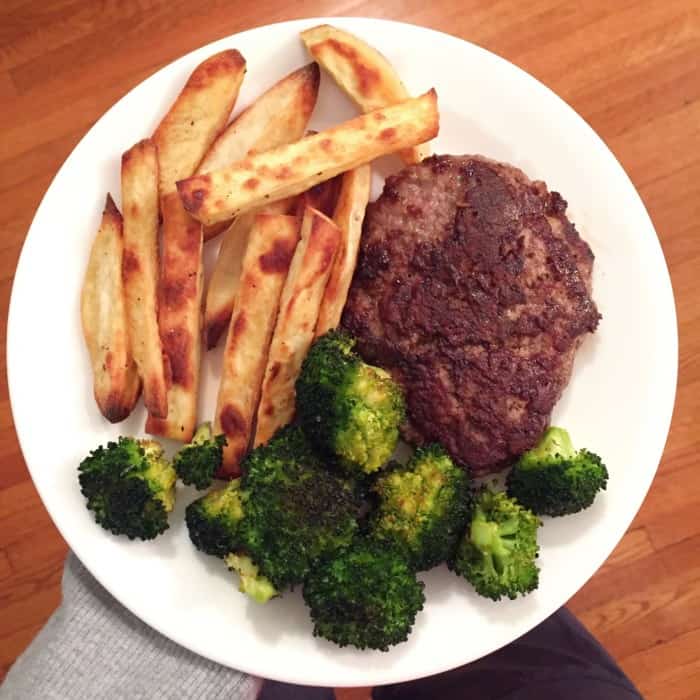 Dinner – I decided to be wild and have serve broccoli with our burgers and sweet potato fries tonight.  I actually just really did not want a salad again and we had broccoli that was begging to be roasted.  It was only Adam and I eating it anyway, since the kids' tummies were not up for it yet, so I figured I'd eat the leftovers for breakfast the next day – mission accomplished.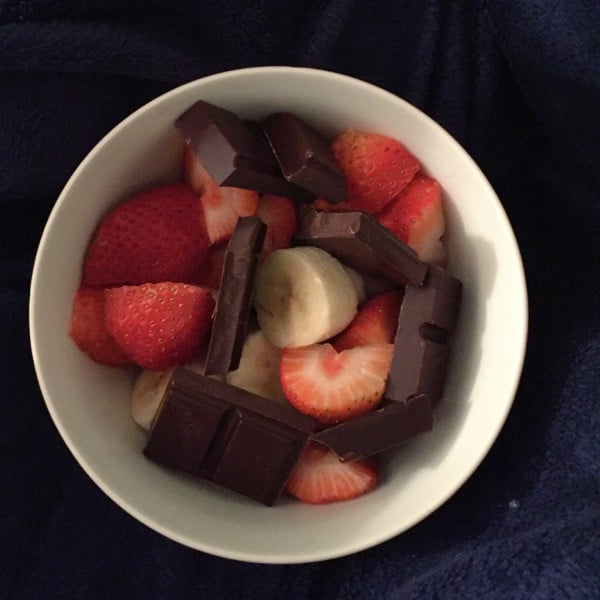 Dessert – It wouldn't be a complete day without my fruit/chocolate bowl.  Tonight it was bananas and strawberries with Green and Black's 85%.  Also tea, not pictured.
Do you ever forget that you ran/worked out it's not on your typical schedule?
Best healthier dessert you've ever made?
Feelings about ACV?